The $15,000 WEC Derby 3′ Non Pro saw a field of 34 entries vying for the win, but it was Christine Campbell and her own Stallone (Silver Train x Mickey's Gal) took home the blue ribbon, notching their first-ever hunter derby victory. Campbell and the 8-year-old Thoroughbred gelding earned top placings in the Performance Hunters at the McDonogh Winter Classic in late January, preparing them well for this afternoon's class. The pair navigated a spectacular first round, choosing all four high options for a score of 85. They returned for the handy round with the same finesse from the first round, opting for inside turns to fences 2 and 9, along with all four high options. The duo earned a handy round score of 86, totaling 171 for the win.
Madison Ryan and Kevin Eufemia's Maguro also found two fantastic rounds in the top placings in the $15,000 WEC Derby 3′ Non Pro. Ryan and the 10-year-old Holsteiner gelding have earned ribbons in the Junior Hunters throughout the World Equestrian Center – Ocala Winter Spectacular and were well prepared for this afternoon's derby. The pair earned scores of 82 and 85.5, totaling 167.5 for 2nd place.
Haleigh Landrigan and Ava Berman's Skorekeeper (Casall) were just behind Ryan and Maguro. The 17-year-old Warmblood gelding has taken ribbons in the $15,000 WEC Derby 3′ Non Pro this season with owner Ava Berman, but Landrigan had the ride today. The dup earned scores of 79 and 88, totaling 167 and sliding into 3rd place.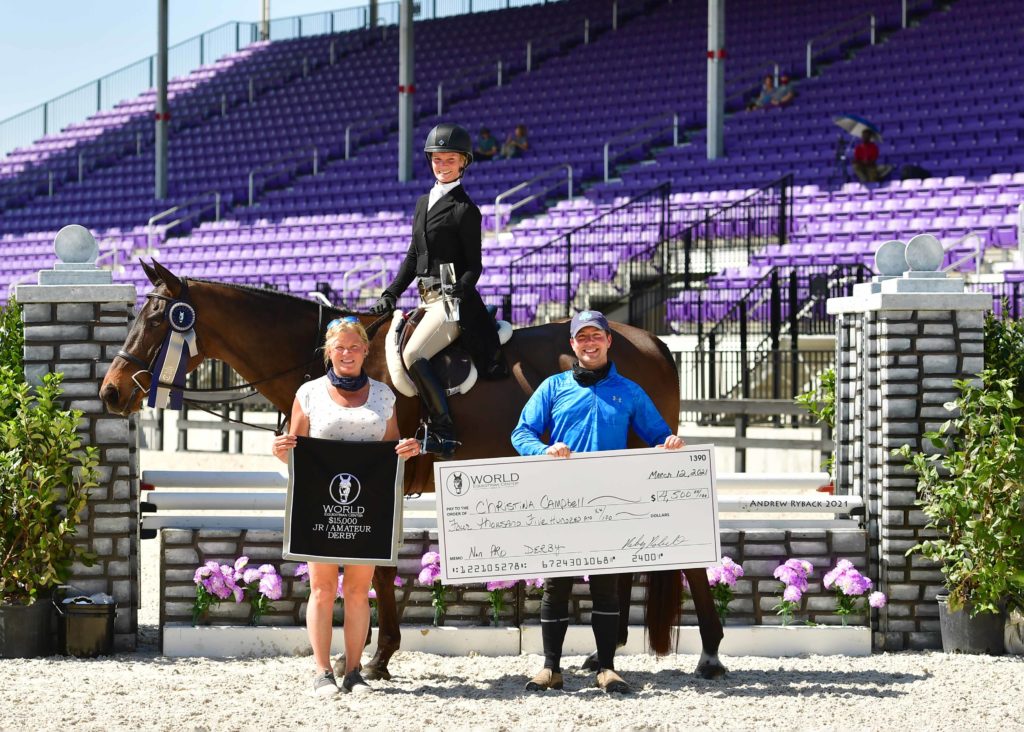 "We've done a lot of derbies, but this is our first derby win," Campbell said. "I was crying hysterically. We usually just shoot for making it back, so to win here was truly a surprise. My horse is perfect. It was a great course, there were a lot of options and a lot of single jumps, and that is where Stallone excels. The wide sweeping turns and the inside options were ideal for him. He went in and picked up a great canter, then held it throughout the course. It was a long course, so rhythm was really important."
When asked about Stallone, Campbell replied, "He is a Thoroughbred, so it's not very common to see them winning a derby. I've had him for a little over a year and we do everything from the Thoroughbred Hunters, to the derbies to the Amateur Owner Hunters. He's a really solid horse, I get nervous and he stays steady."
She also added, "I am a mom of two boys and I'm an attorney in Philadelphia, so I'm actually showing in between conference calls. My barn is at WEC for two weeks and I was able to fly back and forth to show. It takes a village, and I have a very supportive village. They keep him going while I'm not here, so he's ready to go when I get off of the plane. This isn't always thought of as a team sport, but I have a real team supporting me."
FEATURED AWARDS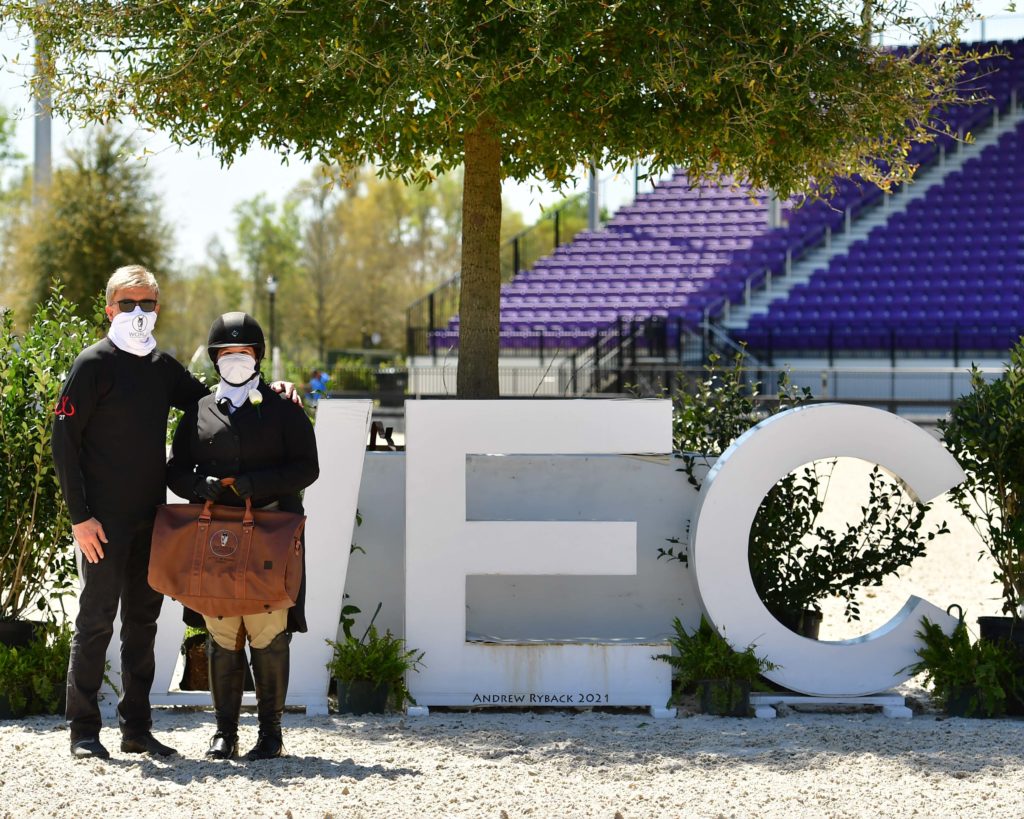 Before the start of the handy round in the $15,000 WEC Derby 3′ Non Pro, the prestigious Style of Riding Award was presented to Samantha Ruttura for her classic style and her sportsmanship. The Style of Riding Award is generously donated by Bill Rube to be awarded to the rider who best displays the American Style of riding in the ring and sportsmanship outside of the competition arena. The recipient serves as a role model for preserving the integrity and tradition of equestrian sport. "This award is very special to me because the recipient of this award pays it forward both in and out of the show ring," says Rube. Ruttura received an elegant leather duffel bag and wore a white rose corsage on her lapel throughout the handy round to signify her achievement.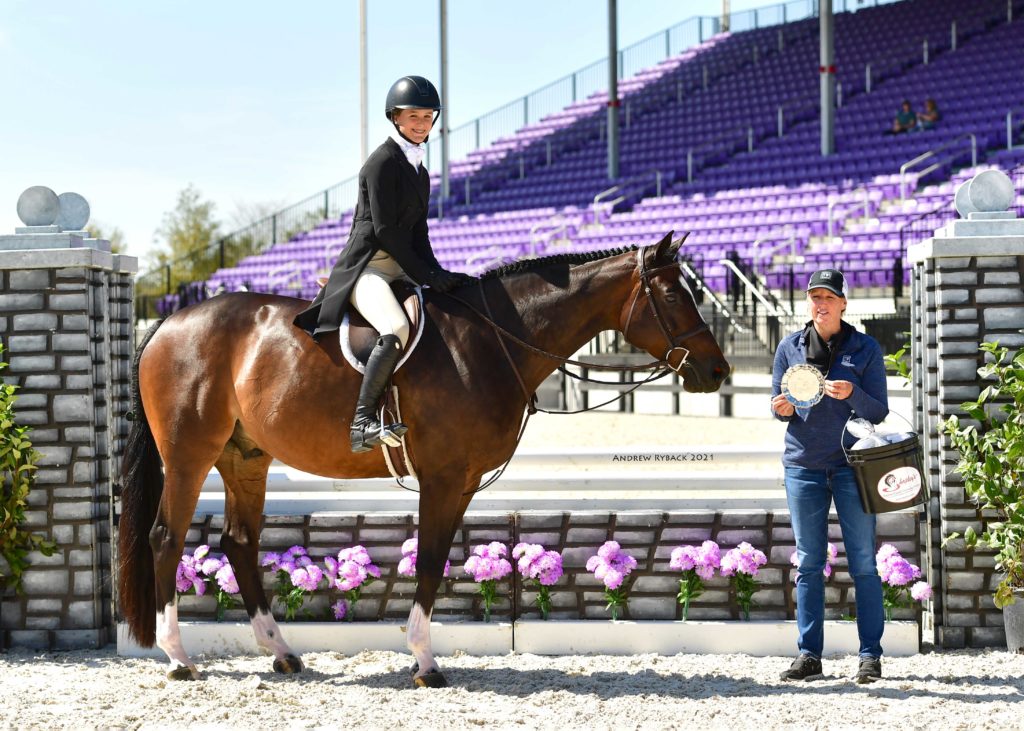 The Shapley's Champion Groom Award for the best turnout in the class was presented to the groom of 7th place finisher in the $15,000 WEC Derby 3′ Non Pro, Quoted (Quidam De Revel x Unoria). Shapley's is a proud sponsor of the World Equestrian Center and is thrilled provide an award each week of the Winter Spectacular to the groom of the best turned out horse. Quoted's groom received a Shapley's Award Bucket for the gelding's stunning turnout.
$15,000 WEC Derby 3′ Non Pro Results
Stallone, Christine Campbell – 85 | 86 | 171
Maguro, Madison Ryan – 82 | 85.5 | 167.5
Skorekeeper, Haleigh Landrigan – 79 | 88 | 167
Sandro, James Hassinger – 87 | 78.5 | 165.5
Idalgo, Elizabeth Phillips – 81 | 84 | 165
Primus Rex, Izabelle Quadracci – 88 | 76 | 164
Quoted, Lauren Gee – 83 | 79.5 | 162.5
Hatful of Hollow, Claire Burke – 77 | 79 | 156
Golden Ticket, Addison McQuaker – 86 | 69 | 155
Quinn, Samantha Ruttura – 83.5 | 44 | 127.5
Photos courtesy of Andrew Ryback Photography.