By Summer Grace and Sabrina Brashares for Jennifer Wood Media, Inc.
Thirty-five pony hunter riders competed for the tricolor ribbon in the Medium Pony Hunter division, sponsored by Always Faithful Equestrian Club, in Ring 11 on Sunday. Due to the large amount of entries, the class was held in a California split format and awarded two champions. Vivian Golden, of Reading, PA, piloted her own Goldhills As You Like It to the Section A championship and Ava Barnes, of Liberty TWP, OH, aboard Ellie Sadrian's Cleverist, earned the Section B top prize.
Golden has already been in the winner's circle this week after she topped the $5,000 USHJA Pony Derby with D'Artagnan on Friday. Her success continued through the weekend with her long-time partner, Goldhills As You Like It. Golden and the 13-year-old Welsh Pony mare by Gayfields Call the Cops earned three firsts, a second, and a fifth place ribbon in the division to claim top honors.
"This is my third WEF on her," explained Golden. "We have been together for a little while now, and she's such a good girl and I love her so much. She has such a funny personality, and she goes to every show with us."
The duo received two scores of 86.5 on Saturday to win both over fences class as well as a blue ribbon in the under saddle. Golden is hoping to continue her success this year at both Devon and Pony Finals.
"Yesterday I won all three classes," said Golden. "She moves really well, so that helped in the hack. In both of our rounds, all the jumps matched, and they were super nice rounds."
Reserve champion in Section A went to Katherine Mercer, of Wellington, FL, riding Calder Trotz's Not So Secret. The pair earned first and second place ribbons.
Barnes and her mount Cleverist took home two firsts, a third, and two fifth place ribbons in the Always Faithful Equestrian Club Medium Pony Hunters to secure their championship title. The duo has been paired together for one year, and their strong partnership showed when Barnes rode the 19-year-old Welsh Pony Cross gelding by Bennos Dream to a high score of 90.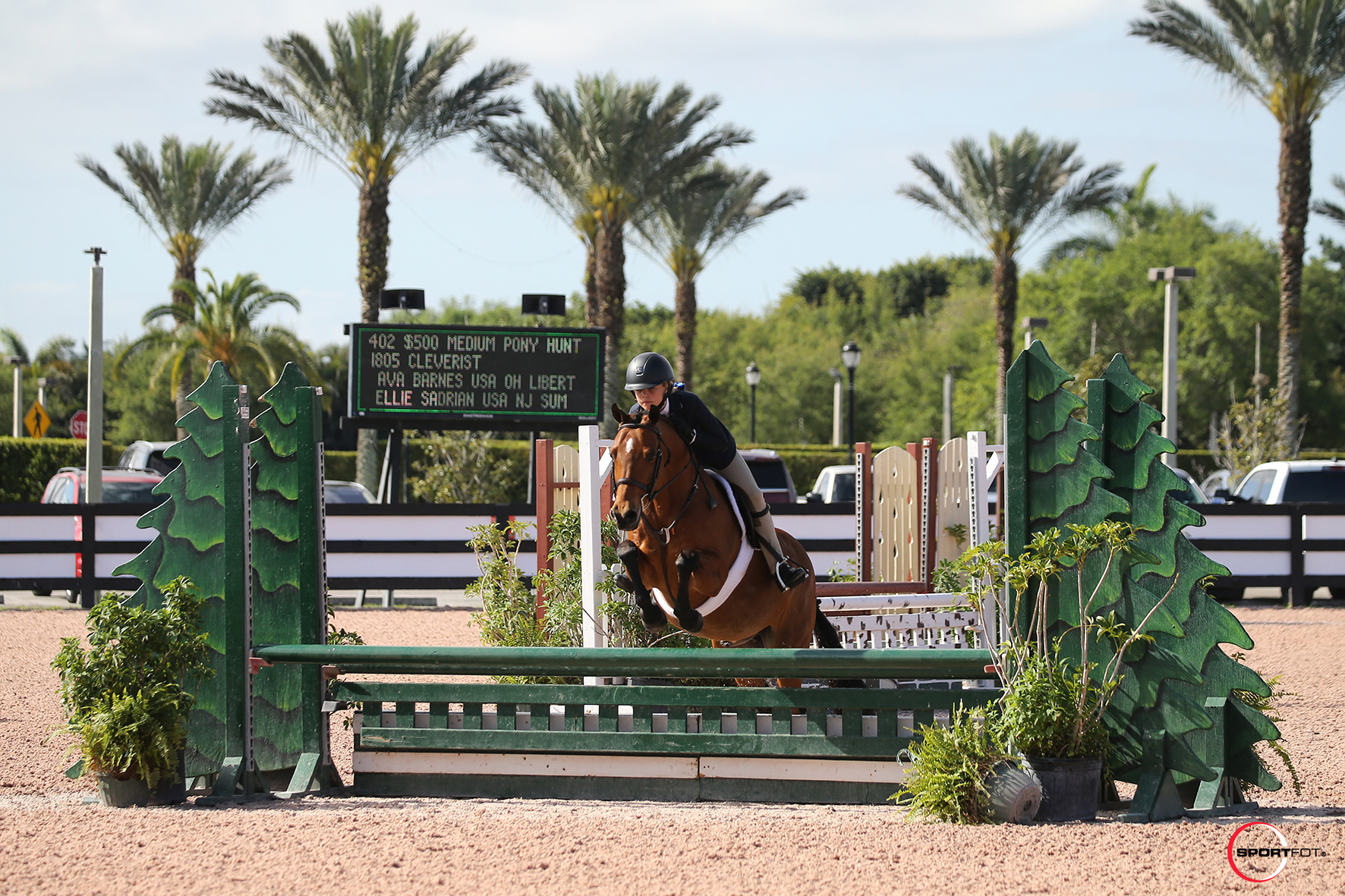 "He does whatever I ask him to do in the ring," commented Barnes. "We won both classes today, which was awesome, and our rounds were great. There were definitely a lot of ponies, and this was the time to qualify for Devon for me, so to get champion meant a lot."
Barnes also has high hopes for Devon and Pony Finals as well as continuing her success in the small, medium, and large pony hunters.
Eva Mackenzie, of Darien, CT, and her own Anisette received the reserve champion title for Section B. Mackenzie rode Anisette to a first place as well as third, seventh, and eighth place ribbons.