The $15,000 WEC Derby 3′ Non Pro hosted a field of 38 entries with 13-year-old Addison McQuaker and her own Golden Ticket (Stakkato Gold) earning their second win of the class this winter. McQuaker and the 5-year-old Oldenburg gelding earned the blue ribbon in the $15,000 WEC Derby 3′ Non Pro during Week 9 of the World Equestrian Center – Ocala Winter Spectacular and were on fire again. The pair was flawless in the first round, earning a score of 90. The returned near the end of the order in the handy round, taking the inside track to fence 4 along with all four high options, earning a score of 88.5, with a total of 178.5 for 1st place.
Lauren Reid and Capstone Farm LLC's Legacies Dream were just behind McQuaker and Golden Ticket. The pair earned a score of 85 in the first round, then returned for the handy round, taking inside turns to fences 4 and 5, along with all four high options. They earned a score of 91, totaling 176 for 2nd place.
Elizabeth Kenny and Jai Smith Rezac's J'Adore Z finished off the top three placings. Kenny and the 5-year-old Zangersheide mare earned top placings in the Young Hunters this week, preparing them well for this afternoon's derby. The duo earned scores of 86 and 88, totaling 174 for 3rd place.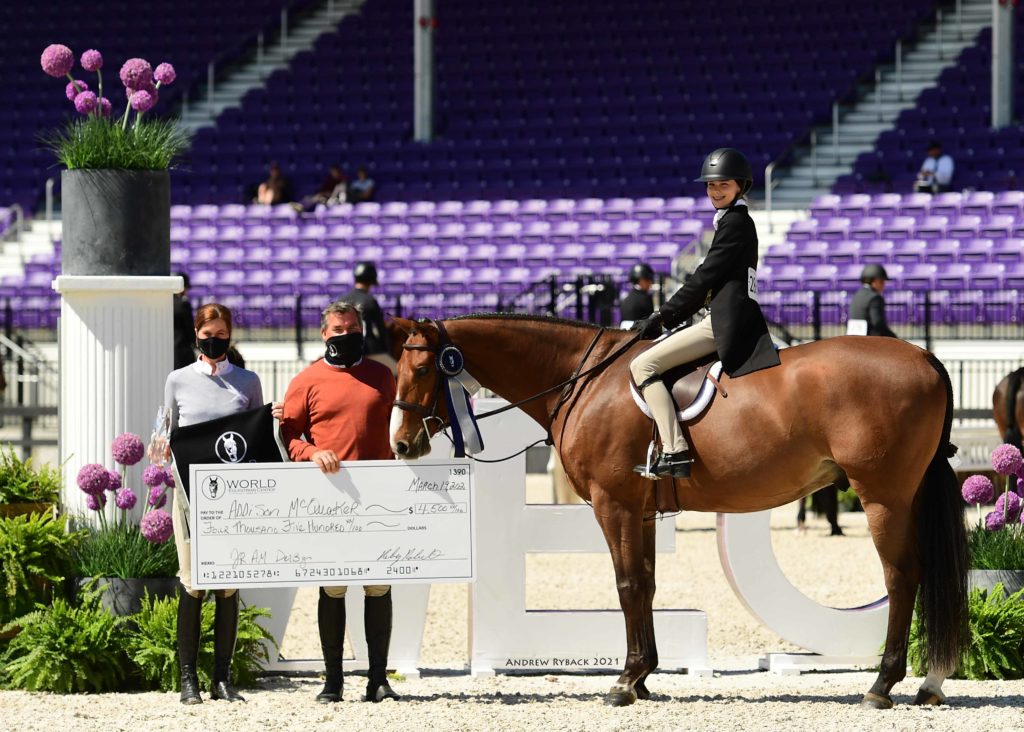 "[Golden Ticket] was really good today," said McQuaker, Ontario, Canada. "Some of the jumps were new, so I was worried that he might be a little spooky, but he was really brave. In the handy round we weren't going to do the inside turn, but I ended up doing it."
When asked about Golden Ticket's green braids, McQuaker replied, "Green is his color, he always has green braids!"
$15,000 WEC Derby 3′ Non Pro Results
Golden Ticket, Addison McQuaker – 90 | 88.5 | 178.5
Legacies Dream, Lauren Reid – 85 | 91 | 176
J'Adore Z, Elizabeth Kenny – 86 | 88 | 174
Moonwalk, Kendall Meijer – 91 | 81.5 | 172.5
Tomcat, Sarah Tredennick – 89 | 83 | 172
Quoted, Lauren Gee – 79 | 89 | 168
Imagine That, Gabriella Savettiere – 87.5 | 80 | 167.5
Alaska, Elizabeth Crevar – 83 | 84 | 167
G.P. Burdell, Isabel Harbour – 84 | 82 | 166
Lorenzo, Katelyn Rezac – 87 | 71 | 158
FEATURED AWARDS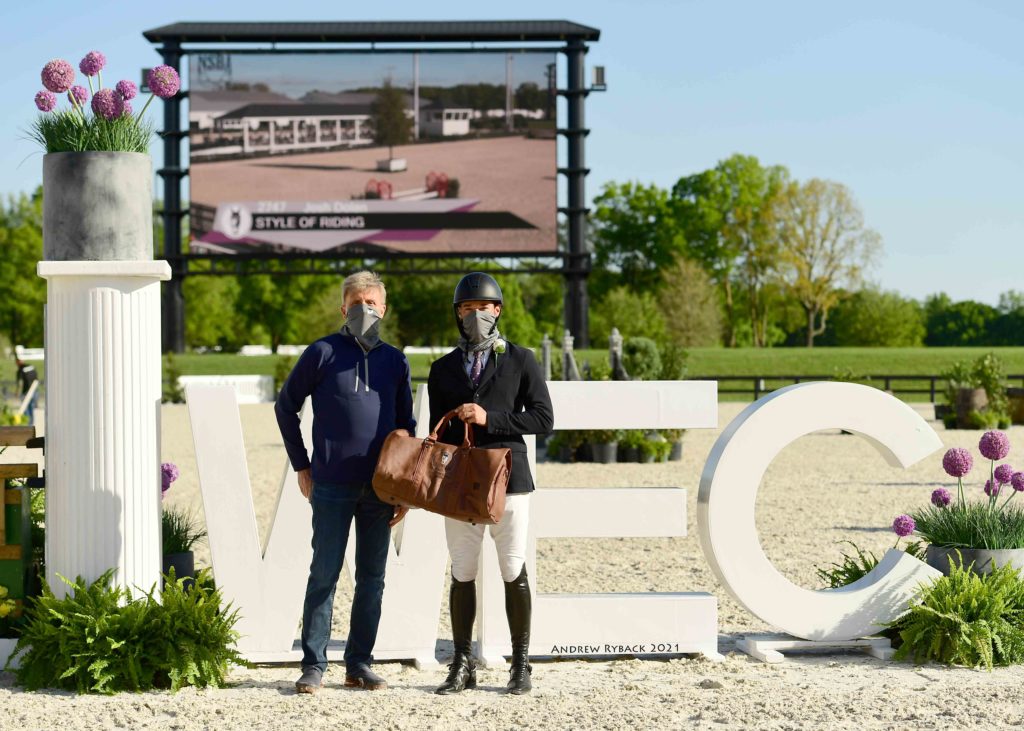 Before the start of the handy round in the $20,000 WEC Hunter Derby 3'6″-3'9″, the prestigious Style of Riding Award was presented to Josh Dolan for his classic style and his sportsmanship. The Style of Riding Award is generously donated by Bill Rube to be awarded to the rider who best displays the American Style of riding in the ring and sportsmanship outside of the competition arena. The recipient serves as a role model for preserving the integrity and tradition of equestrian sport. "This award is very special to me because the recipient of this award pays it forward both in and out of the show ring," says Rube. Dolan, who co-founded The Peeps Foundation with partner Alex Granato, received an elegant leather duffel bag and wore a white rose corsage on his lapel throughout the handy round to signify his achievement.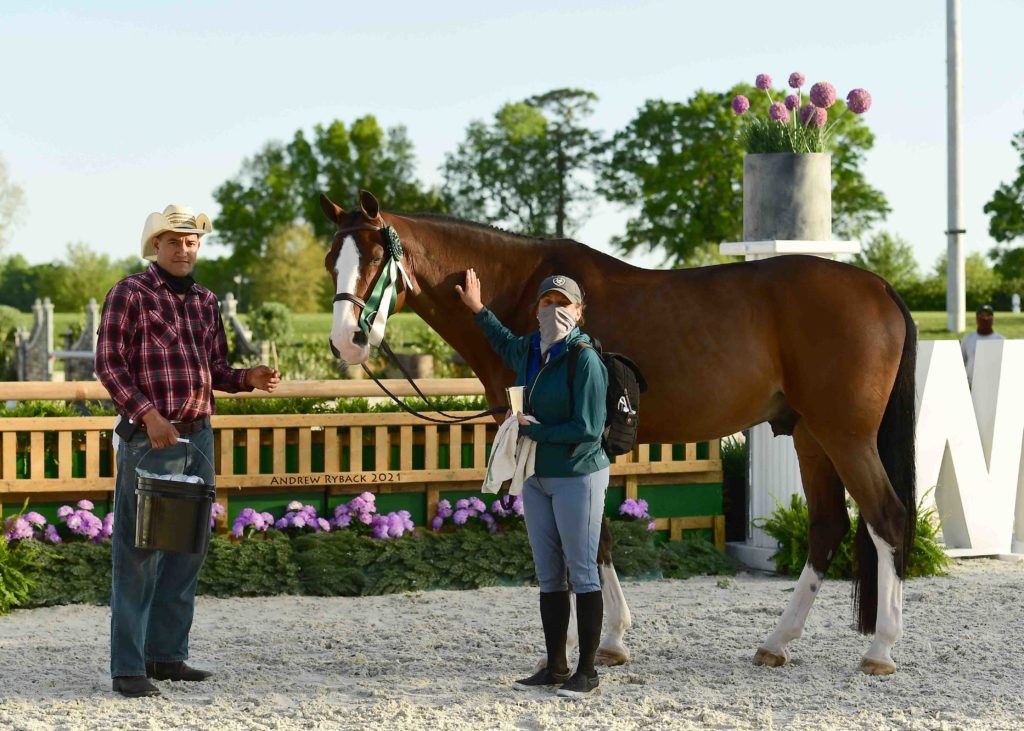 The Shapley's Champion Groom Award for the best turnout in the class was presented to Sergio Martinez and Gina Virga, grooms of 6th place finisher in the $20,000 WEC Hunter Derby 3'6″-3'9″, Caspari (Eurocommerce Berlin x Lady-Desi). Shapley's is a proud sponsor of the World Equestrian Center and is thrilled provide an award each week of the Winter Spectacular to the groom of the best turned out horse. Martinez and Virga received a Shapley's Award Bucket for the gelding's stunning turnout.
Photos courtesy of Andrew Ryback Photography.