Nearly 100 entries took to the Stadium at World Equestrian Center – Ocala for Week 11's Derby Friday to contest the $20,000 WEC Hunter Derby 3'6″-3'9″, $15,000 WEC Derby 3′ Open and $15,000 WEC Derby 3′ Non Pro. Courses for the classes were designed by Patrick Rodes and featured fences that emulated natural hunt field obstacles including hedges, stone walls and hay bales.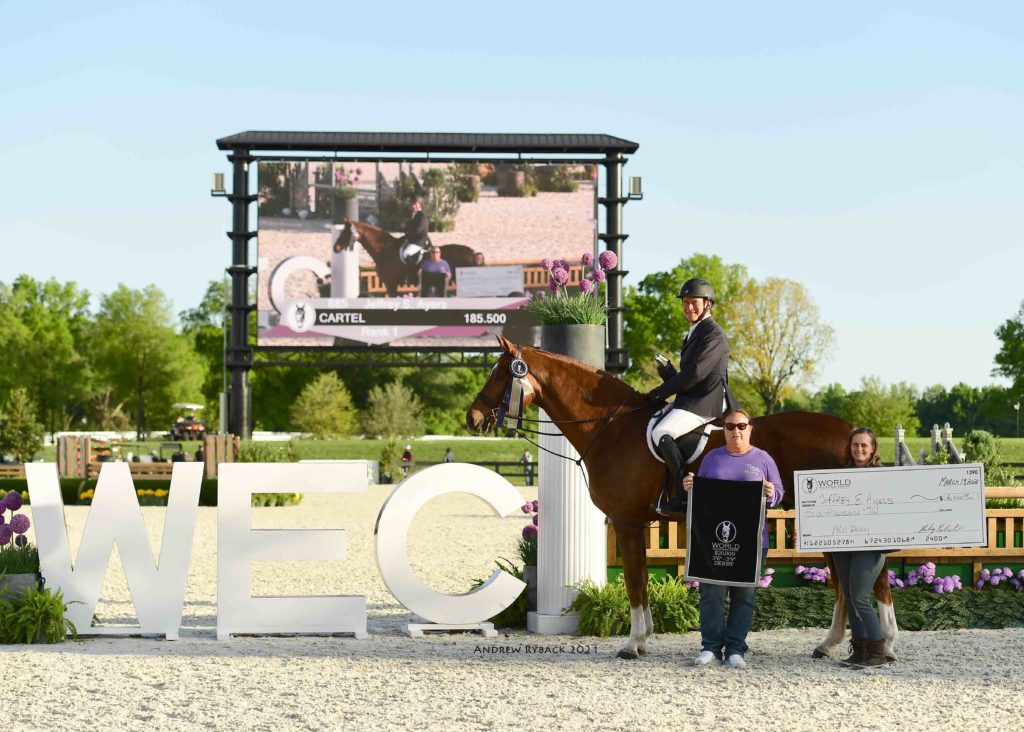 Nineteen entries contested the course in the $20,000 WEC Hunter Derby 3'6″-3'9″. The track featured several opportunities for handy inside turns, as well as a cluster of jumps at the top of the ring that allowed riders to choose a single trot fence or to trot in and canter out of a one-stride line. Entries used the variety of options to their advantage, each choosing a unique set of fences and turns to fit their mount, but it was Jeffrey Ayers and his own Cartel who wowed the judges for top honors in the class.
Ayers and his 10-year-old Warmblood gelding have collected top placings in the $20,000 WEC Hunter Derby 3'6″-3'9″ throughout the World Equestrian Center – Ocala Winter Spectacular. The pair laid down a stellar first round, taking all four high options for a score of 94. They returned last in the order for the handy round, hugging the inside track to fence 3 and choosing the single trot jump option at the top of the ring, as well as all four high options. Ayers and Cartel were rewarded with a score of 91.5 for their stylish performance, and a combined 185.5 to win the class.
Jeff Gogul and Abby Wagner's No Doubt (Nerrado x Abba II) were also impressive in this afternoon's derby. Gogul and the 8-year-old Holsteiner gelding topped Week 3's $15,000 WEC Derby 3′ Open and stepped up to the higher derby today. The duo earned scores of 89.5 and 93, totaling 182.5 for 2nd place.
Dorrie Douglas and MTM Farm's S & L Lion King also delivered two beautiful rounds this afternoon. Douglas and the 10-year-old Belgian Warmblood gelding have earned three ribbons in the $20,000 WEC Hunter Derby 3'6″-3'9″ this season and brought their A-game today. The pair earned scores of 90 and 91, totaling 181 for 3rd place.
Ayers of Equi-Ventures Inc. in Sellersville, Pensylvania, and Ocala, Florida, took a moment to chat ringside about his win aboard Cartel, "I was really happy with my horse. He was very consistent in both rounds, which is something that we've been working on. In previous weeks, our first round has been a bit better than our second round, and he was very good in both rounds today."
When asked about his plan in the handy round, Ayers commented, "I watched the riders that went before me and saw what they did, and I realized that I didn't have to make as many hard turns as I had originally thought. I aimed to keep it consistent and find nice distances. Cartel jumps well, so I knew he would take care of that."
Ayers added, "I am probably the oldest rider out there today at 61 years old, so a win makes me happy!"
$20,000 WEC Hunter Derby 3'6″-3'9″ Results
Cartel, Jeffery Ayers – 94 | 91.5 | 185.5
No Doubt, Jeff Gogul – 89.5 | 93 | 182.5
S & L Lion King, Dorrie Douglas – 90 | 91 | 181
Like Always, Josh Dolan – 86.5 | 91 | 177.5
Carsten S, Jennifer Tate – 88 | 89 | 177
Caspari, Jennifer Tate – 87.5 | 89 | 176.5
Stellar, David Beisel – 87 | 87 | 174
Finch Hatton, Kimberly Maloomian – 86 | 87 | 173
Farcolle, Mckenzie Clayton – 86 | 78 | 164
In Favor, Hannah Matts – 81 | 82 | 163
Aiden, Timothy Maddrix – 90 | 70 | 160
Fitz, Isabel Harbour – 82 | 72 | 154
Photos courtesy of Andrew Ryback Photography.