By Kate Pettersen, Summer Grace, and Sabrina Brashares for Jennifer Wood Media, Inc.
Wellington, FL – March 19, 2021 – Ben Maher (GBR) and Ginger-Blue, owned by Jane Forbes Clark, moved masterfully across the 1.50m course to win the $37,000 Adequan® WEF Challenge Cup Round 10 CSI3* on Friday, March 19, in the International Arena at the Palm Beach International Equestrian Center (PBIEC) in the tenth week of the 2021 Winter Equestrian Festival (WEF).
WEF 10 features three-star competition in the International Arena, sponsored by Horseware Ireland, which runs through March 21. Saturday's schedule is highlighted by the $37,000 CaptiveOne Advisors 1.50m Classic, and it's an action-packed Sunday schedule with the $50,000 Hermès Under 25 Final as well as the $137,000 Horseware Ireland Grand Prix CSI3*. Feature classes are available free live and on-demand on the livestream.
Course designer Michel Vaillancourt (CAN) challenged the competition with a technical 1.50m track that featured 16 jumping efforts. A starting field of 93 entries was narrowed down to just nine qualifying and seven electing to return for the jump-off. Maher led the way as the first to return in the subsequent round, setting the pace aboard the 10-year-old Dutch Warmblood mare by Plot Blue x Royal Bravour, with a clear effort in 39.66 seconds.
"I thought it was a big enough course for her," said Maher of the mare's double clear performance. "It's tough here at WEF because the CSI3* weeks are very competitive, and the track is probably a lot bigger than a typical three-star grand prix qualifier. I think that proved it with only nine clears out of 93 horses, so it was clever course building and quite technical in the middle [of the course].
"It was a long day; I think she jumped three and a half hours ago and thought it was dinner time," Maher continued with a laugh. "It was difficult to go first, but I rode the plan, and fortunately for me I forced the others to make mistakes."
Third to return in the jump-off, Margie Engle (USA) and Dicas, a 12-year-old Rheinlander gelding (Diarado x Cassini I) owned by Storm Ridge Capital LLC, Show Horses, Selma Garber, and Gladewinds Partners LLC, gave it a solid run, clearing all the fences in a time of 39.96 seconds.
Last to go, Darrah Kenny (IRL) rounded at the podium with just one rail aboard Great-Tikila J for Whiterock Farm and HKC Collection. Kenny and the 10-year-old Dutch Warmblood mare by Carosso VDL x Nabab De Reve stopped the clock with the fastest time of the day in 38.20 seconds.
Maher and 'Cookie,' as she's affectionately referred to in the stable, have been developing their partnership for two years now. The talented mare missed most of 2020 competition, but continues to grow with experience at this level.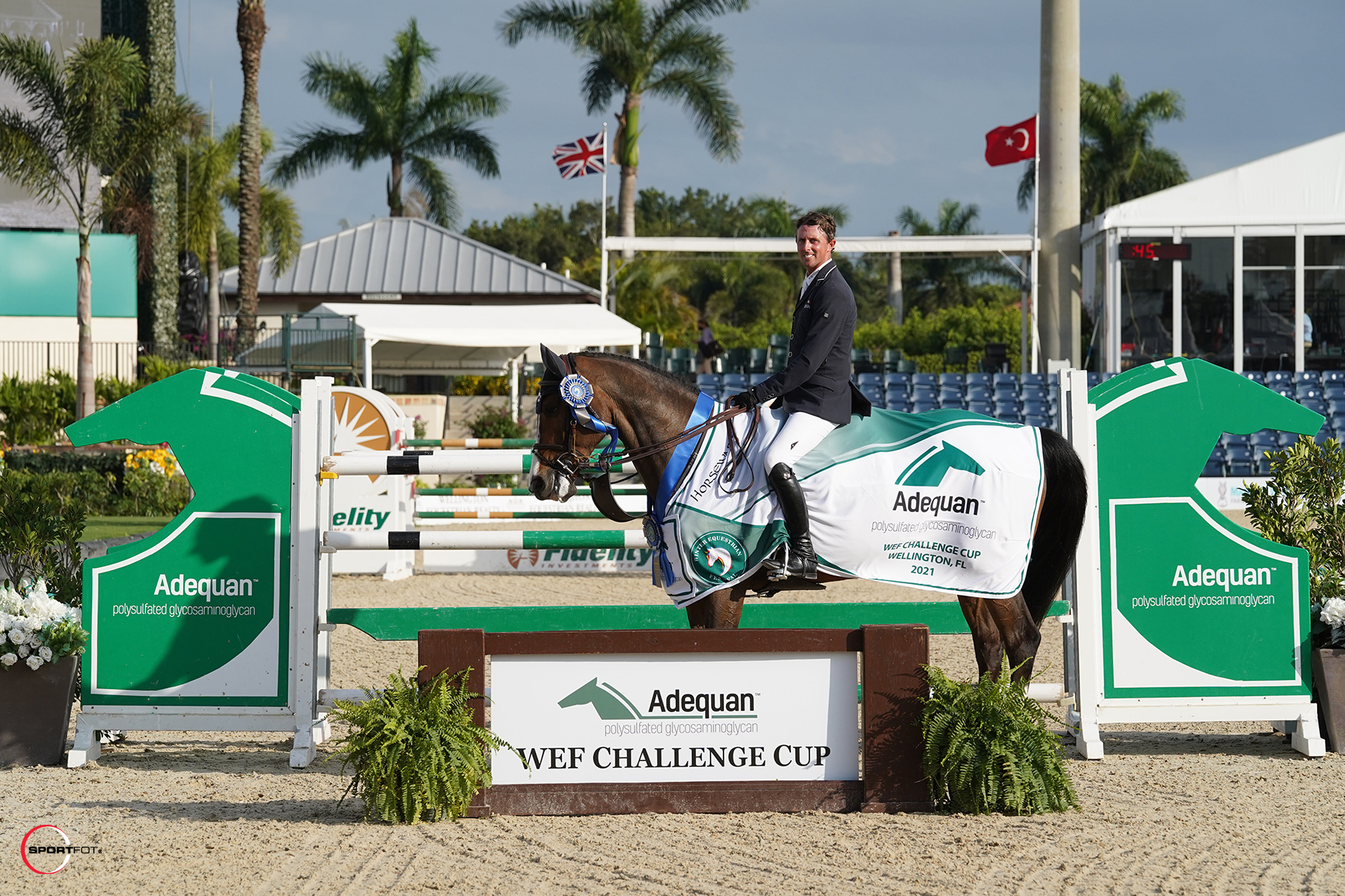 "She's still learning a lot," said Maher. "We didn't jump anything last year at all due to my back surgery and then COVID, so she really is behind for her age. She's very careful and has all the ability; she just needs the experience. I'm hoping with that kind of course today she walks back to the stable feeling confident in herself and we can really build on this kind of result because I think there's a lot more to come from her in the future."
There will be an opportunity to continue growing that confidence on Sunday at WEF for Ginger-Blue as she'll get the chance to jump in the $137,000 Horseware Ireland Grand Prix CSI3*.
"We've done a lot of smaller classes to build her up," said Maher. "Hopefully now we're ready to go, so I'm really looking forward to Sunday."
Final Results: $37,000 Adequan® WEF Challenge Cup Round 10 CSI3*
1. GINGER-BLUE: 2011 Dutch Warmblood mare by Plot Blue x Royal Bravour
BEN MAHER (GBR), Jane Forbes Clark: 0/0/39.66
2. DICAS: 2009 Rheinlander gelding by Diarado x Cassini I
MARGIE ENGLE (USA), Storm Ridge Capital LLC, Show Horses, Selma Garber & Gladewinds Partners LLC: 0/0/39.96
3. GREAT-TIKILA J: 2011 KWPN mare by Carosso VDL x Nabab De Reve
DARRAGH KENNY (IRL), Whiterock Farm and HKC Collection: 0/4/38.20
4. LAZZARO DELLE SCHIAVE: 2009 Italian Sporthorse gelding by Acodetto 2 x Gluecksgriff
MAX WACHMAN (IRL), Coolmore Show Jumping: 0/4/42.97
5. H5 ELVARO: 2009 KWPN stallion by Calvaro F.C. x Heartbreaker
EDUARDO MENEZES (BRA), H5 Sport Horses LLC: 0/8/38.93
6. ACUERO: 2010 Hanoverian gelding by Acorado x Citoka
ALONSO VALDEZ PRADO (PER), Alonso Valdez Prado: 0/12/41.27
7.= VITI DE LONGA: 2009 Selle Français mare by Contendro I x Galoubet A
LACEY GILBERTSON (USA), Seabrook LLC: 0/EL
7.= OAKS REDWOOD: 2005 Warmblood gelding by ASB Conquistador x Verdi
NAYEL NASSAR (EGY), Evergate Stable LLC: 0/WD
7.= OAK GROVE'S LAITH: 2011 Selle Français gelding by London x Sirene De Riverland
ABDEL SAID (EGY), AB Sporthorses: 0/WD
10. MANHATTAN: 2012 BWP mare by Cardento x Indoctro
GEORGIAN BLOOMBERG (USA), Gotham Enterprizes, LLC: 1/74.34
11. GAZELLE: 2006 Belgian Warmblood mare by Kashmir van Schuttershof x Indoctro
KENT FARRINGTON (USA), Kent Farrington & Robin Parsky: 1/74.42
12. LISSINO: 2011 Holsteiner stallion by Limbus x San Patrignano Cassini
DARRAGH KERINS (IRL), Eve Jobs: 1/75.46