By Kate Pettersen, Summer Grace, and Sabrina Brashares for Jennifer Wood Media, Inc.
Competition in the International Arena at the Palm Beach International Equestrian Center kicked off Friday morning with the final competition for young five-, six-, and seven-year-old horses in the Developing Jumper Series (DJS) sponsored by Spy Coast Farm. The seven-year-old horses were the first to debut in the $20,000 DJS 7-Year-Old Classic where Alex Matz (USA) took the victory aboard the Vintage Sales entry, Jillz. Jillz was also presented with the Champion Equine Insurance Jumper Style Award presented by Laura Fetterman.
Matz and Jillz navigated both the first round and jump-off track fault-free and ultimately cleared the shortened effort the fastest by clocking in at 33.63 seconds. Matz has been partnered with the seven-year-old KWPN mare (Denzel VT Meulenhof x Cartina) since she was purchased at the VDL auction in Wellington, FL, last season and has big plans for the bright young horse.
"This mare has quite a lot of scope when I ride her the right way," Matz detailed. "I think she has a good future ahead of her so I have been careful not to push her too fast, but she has a big personality and is a lot of fun to work with. She has won probably at least 10 classes since we purchased her last year."
He added that the Developing Jumper Series gives young horses a great chance to get immersed in a more competitive environment.
"Today's course was nice," Matz said. "It was a bigger track than the previous seven-year-old courses have been, which was appropriate as it was the final. It is really great to have a championship event to introduce these young horses to, and I am very thankful to Spy Coast for sponsoring."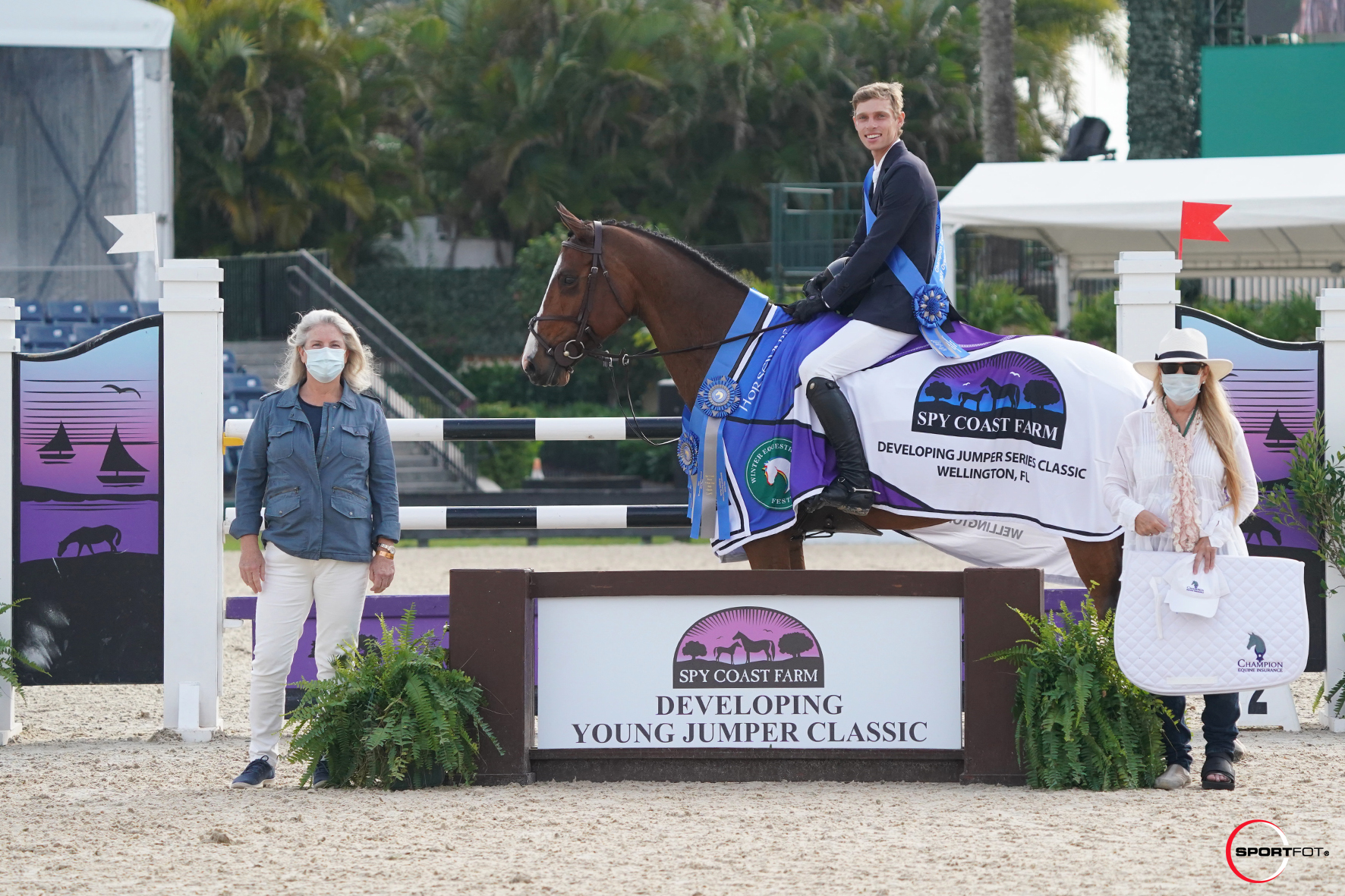 The second place honors went to Ashlee Bond (ISR) aboard Ionesco Sitte, a Belgian Warmblood gelding (Hunters Scendro x Adora Sitte). Bond piloted the Aurora Farms, LLC-owned entry to one of five clear jump-off rounds with a runner-up time of 33.68 seconds. Rounding out the top three was young professional Wilton Porter (USA) aboard Whisker EB, owned by Sleepy P Ranch LLC. Porter piloted the Zangersheide gelding (Chellano Alpha Z x Tamina I) into third with a time of 36.77 seconds.
Christian Coyle and C&C Willow Win $15,000 DJS Six-Year-Old Classic, Presented by Spy Coast Farm
The six-year-old horses in the Developing Jumper Series classic were the next to take center stage in the International Arena. The top-placing 25 entries from the series returned to contest the track but Christian Coyle (IRL) ultimately piloted C&C Willow to the winning title. He expertly rode his young Irish Sport Horse mount (Emerald Van't Ruytershof x Cortynan Loughahoe Girl) through double-clear rounds with a leading time of 35.00 seconds.
Coyle has had the young mare since she was a four-year-old after seeing her at the Northern Ireland Championships.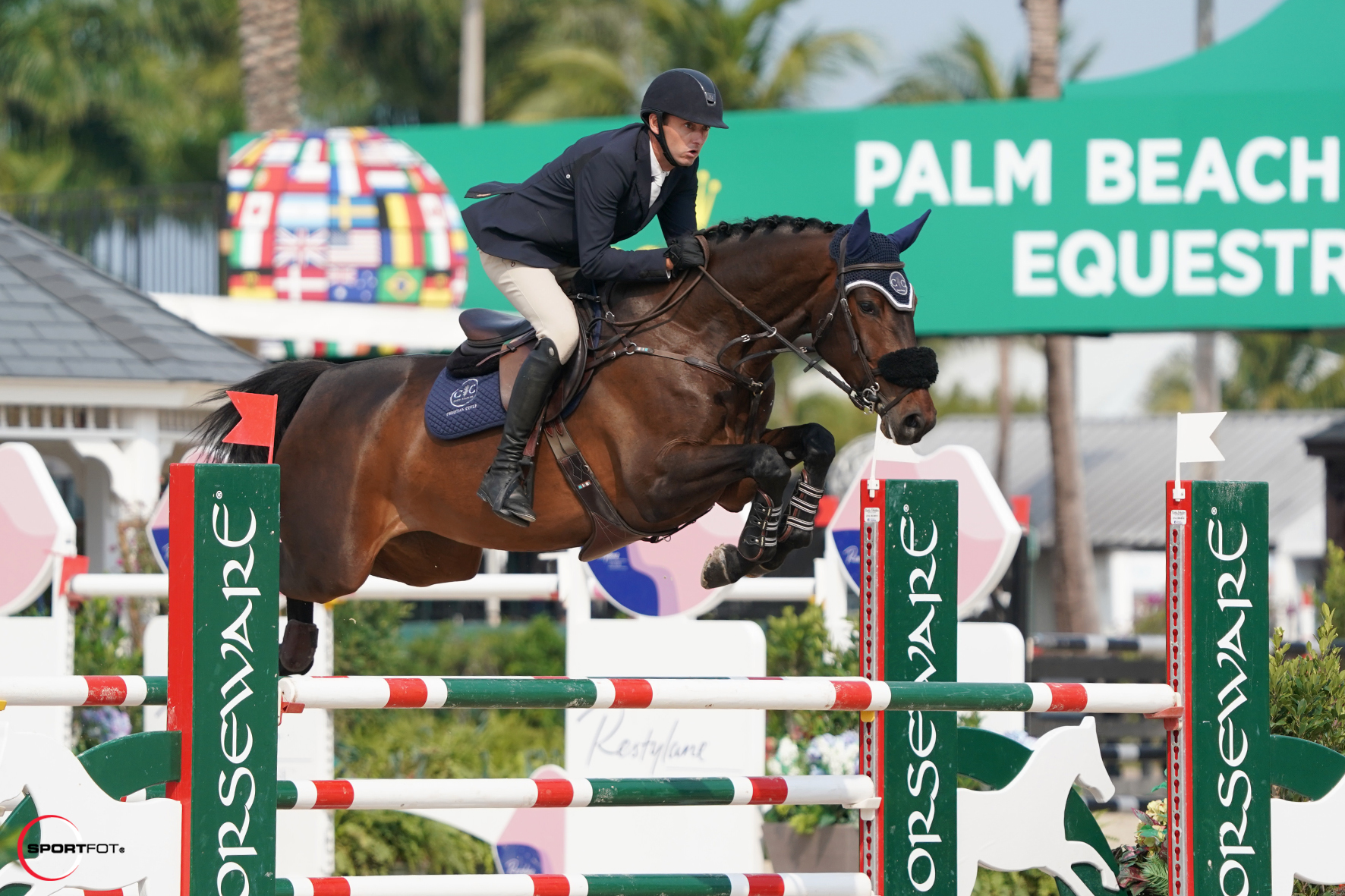 "She has always been a brilliant horse," Coyle explained. "I brought her to Florida at the end of last year with these classes in mind, and she has really been exceptional."
C&C Willow not only won Friday's Classic but also took the top spot in the qualifier for her division as well.
"She is everything you would look for in a young horse," Coyle added. "She is very easy on the eyes, has a phenomenal jump, and I have yet to get to the end of her because she truly enjoys her work. She is one of the best horses I have sat on."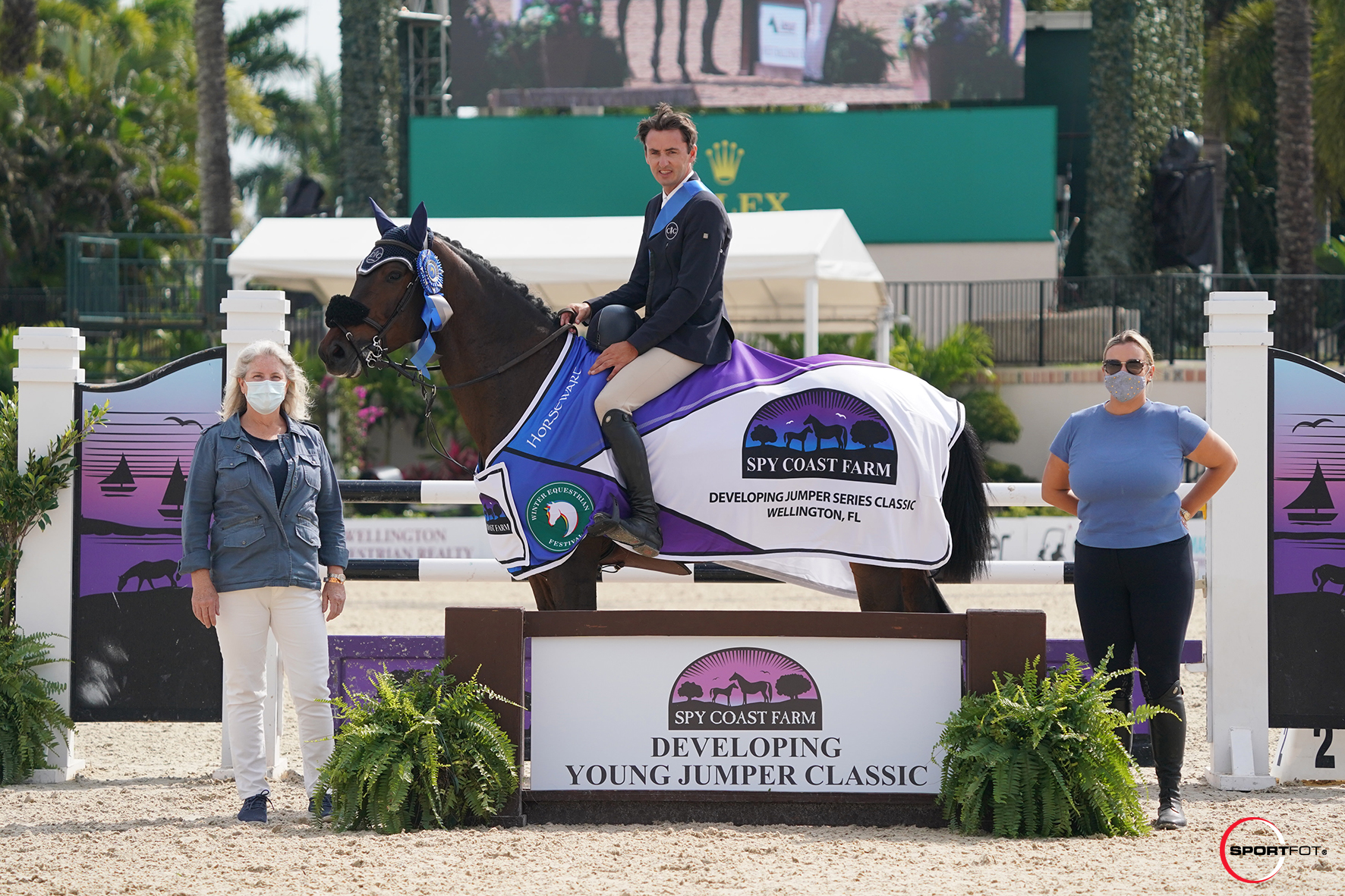 Söhnke Theymann (GER) and Henrietta were the second fastest and fault-free combination to earn the red ribbon. Theymann and the Platinum Capital Management LLC-owned Holsteiner mare (Contefino x O Black Cherry) left all the fences standing with a time of 36.34 seconds. The final top three honors were earned by Candice King (USA) and Ventura Z. King guided the Dutch Warmblood gelding (Cidane x Twirania Z) owned by Brock Clermont in double clear with a final time of 36.38 seconds.
Lovely Finish for Ireland's Daniel Coyle and Lovely Boy P in the $10,000 Developing Jumper Series Five-Year-Old Classic, Presented by Spy Coast Farm
In the series finale of the Developing Jumper Series (DJS) sponsored by Spy Coast Farm, for five-year-old Developing Jumpers, Daniel Coyle (IRL) and Lovely Boy P, owned by Ariel Grange, produced a stellar double clear effort to take the blue ribbon. The new partnership is blossoming quickly as Friday's win marked just the third time Coyle has ever ridden the five-year-old Dutch Warmblood gelding by Campbell VDL x Arezzo VDL. The pair finished in a tie for fourth place on Wednesday in the qualifier.
With eight horse-and-rider combinations qualifying to jump-off over a shortened track in Sunday's final, Coyle piloted the talented youngster effortlessly around the course to finish in a time of 35.17 seconds, taking the win by nearly a full second.
"On Wednesday I thought he jumped just okay, and today he was much better," explained Coyle. "I didn't make any adjustments after Wednesday because I don't know him, and he doesn't know me, so I thought I'd just jump him again and see how it goes. Today he was great! It's always a sign of a good horse, when they get better every time you jump them, so it's exciting."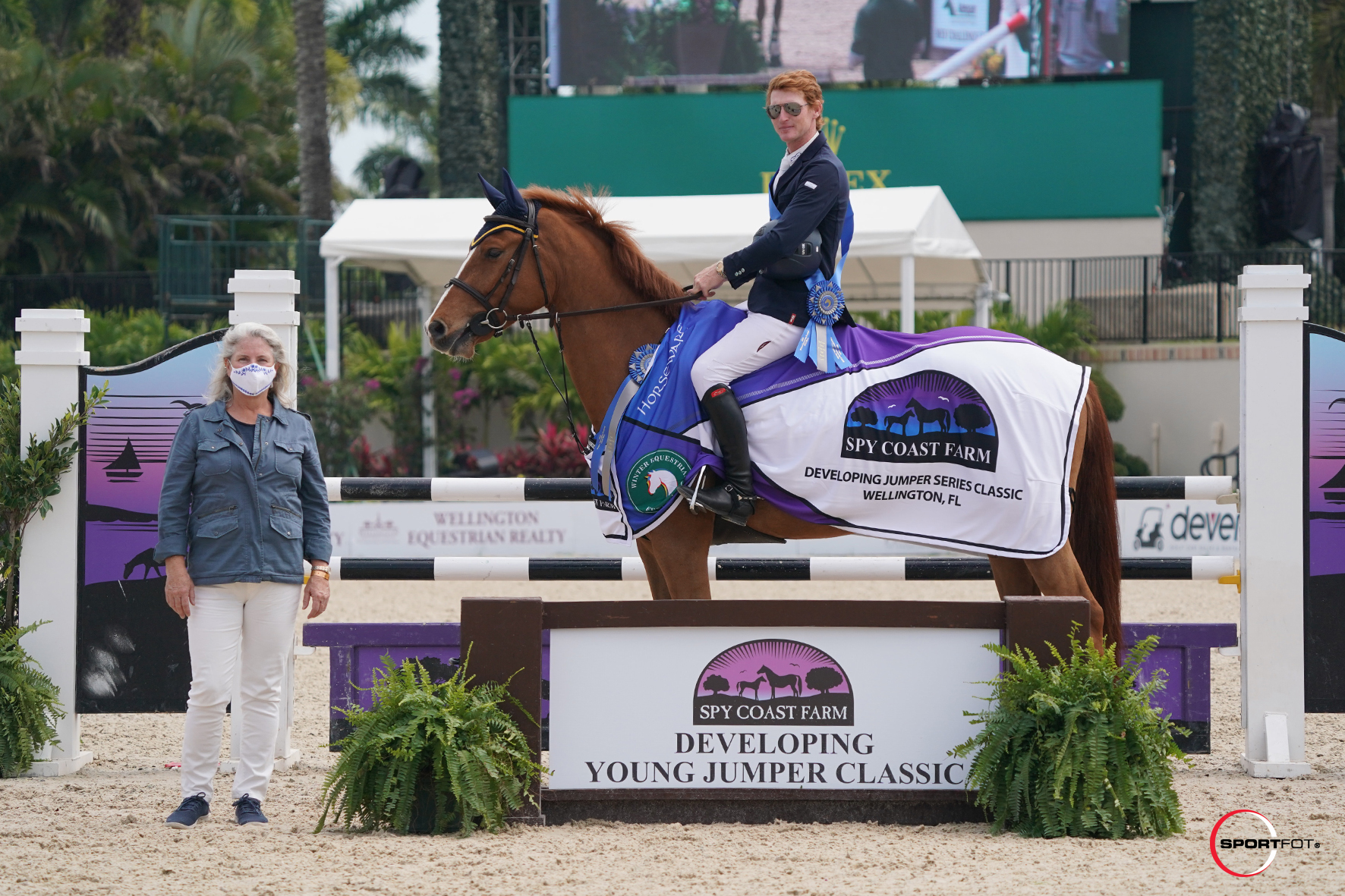 Lovely Boy P was purchased by Ariel Grange a few weeks ago in the WEF Sport Horse Auction, which features horses from the distinguished VDL Stud.
"I watched him in the auction and thought he was super," said Coyle. "He has everything you want in a young horse; he's very, very balanced, easy, and a very good jumper on top of that. Hyde Moffat tried the horse before the auction and also said it was very good, so Ariel [Grange] decided to buy him and I'm glad she did."
Grange and her team have experienced great success over the years with horses purchased from the WEF Sport Horse Auction including Farrel, an 11-year-old Dutch Warmblood gelding by Cardento 933 x Stakkato, who continues to produce top results with Coyle in the irons at the top international level.
"With the young horses, you can see a lot without a rider on them. His innate skill as a youngster is very impressive," said Grange of Lovely Boy P. "His mental state is very good. He's very calm on his own, which is rare.
"Janko Van De Lageweg's program [VDL Stud] and all of his horses are really, really top end," continued Grange continued. "I've seen the stallions and his handlers. Everything is very well done. The sport horse coming here fits the atmosphere really well. I have confidence that the horses [in the auction] are brought up properly for the most important years when they're growing and that they get all the basics done right."
Following the class, a series of special awards were presented for both horses and riders in each category.
In the seven-year-old division, Victoria Colvin (USA) was named the Best Under 25-year-old Rider, Ben Meredith (AUS) was awarded the Best Over 25-year-old Rider and Katherine Kaneb was recognized for the Best American Bred seven-year-old with One and Only.
In the six-year-old division, Delaney Flynn (USA) was named the Best Under 25-year-old Rider and Taylor Flury (USA) was awarded the Best Over 25-year-old Rider as well as being recognized for the Best American Bred 6-year-old with Palano ABF.
In the five-year-old division, Hayley Ianotti (USA) was crowned the Best Under 25-year-old Rider and Matthew Boddy (GBR) was named the Best Over 25-year-old Rider while also being recognized for having the best scores over the week aboard Roxette, bred by Gotham Enterprizes, as the Best American Bred five-year-old horse.