Thirty-nine entries filled the Stadium for the $15,000 WEC Derby 3′ Open. The handy round saw fierce competition with a cut-off score of 87.5, but none could best Tracy Fenney and MTM Farm's MTM Animated (Swarovski x Kirunett). Fenney and the 7-year-old Dutch Warmblood gelding topped the $15,000 WEC Derby 3′ Open during Week 2 of the World Equestrian Center – Ocala Winter Spectacular and returned on the hunt for another win. The pair earned a score of 94 over the first course, the highest score of the first round. They returned last in the order for the handy round, opting for inside turns to fences 4 and 5, along with all four high options. Fenney and MTM Animated were rewarded with a score of 93 for their efforts, bringing their overall score to 187 and landing them in 1st place.
Kate Conover and Take 3 LLC's Point Blank (Cascari x Hallig VI) were hot on Fenney and MTM Animated's trail. Conover and the 10-year-old Holsteiner gelding earned 2nd place in last week's $15,000 WEC Derby 3′ Open and were on form again this morning. The pair earned a pair of 92 scores, totaling 184 for another 2nd place.
Rounding out the top three placings were Belynda Bond and Gesture, LLC's Norderney. Bond and the 6-year-old Hanoverian mare have earned ribbons in the $15,000 WEC Derby 3′ Open throughout the World Equestrian Center – Ocala Winter Spectacular and were impressive again today. The duo earned scores of 91.5 and 90.75, totaling 182.25 for 3rd place.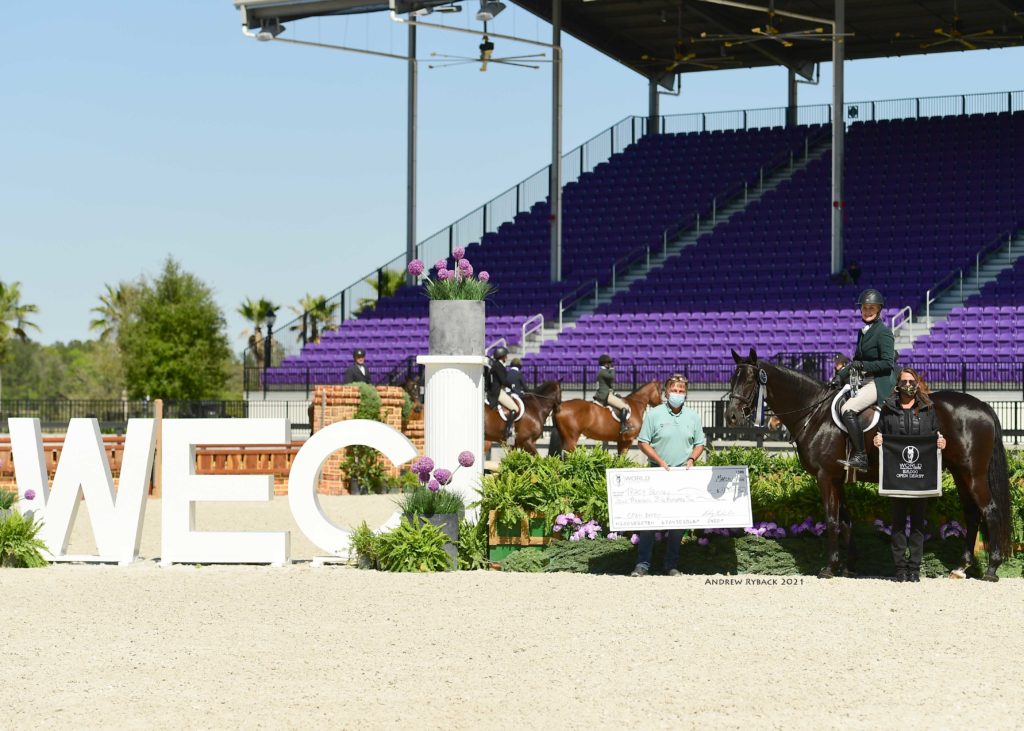 Fenney of MTM Farm in Flower Mound, Texas, took a moment to chat ringside about her win aboard MTM Animated, "It's so fun to come here and show, it's just beautiful. The jumps are amazing. I was super happy with MTM Animated. We are preparing for the $75,000 WEC Derby 3′ Open next week, so this was a good way to head into that class."
When asked about her plan in the handy round, Fenney responded, "Everyone chose the same track, so I didn't have much choice but to do the same inside turns. The points were so close coming into the handy that I had to just go for it. MTM Animated went in and did exactly what I asked of him. I did tight turns and left a stride out in one of the lines. He hasn't done too many shows, due to COVID, so I love it that he just walks in and is perfect."
She added, "I would like to thank everyone that helped me get here and thank everyone who supports me. We love WEC, we're hoping to show here this summer. It's beautiful, you couldn't ask for a nicer facility."
$15,000 WEC Derby 3′ Open Results
MTM Animated, Tracy Fenney – 94 | 93 | 187
Point Blank, Kate Conover – 92 | 92 | 184
Norderney, Belynda Bond – 91.5 | 90.75 | 182.25
MTM Dashing, Dorrie Douglas – 89.5 | 90.5 | 180
No Doubt, Jennifer Jones – 90 | 89 | 179
Biarritz, Jeffery Ayers – 87.5 | 91 | 178.5
Ambition, Jennifer Ritucci – 88 | 90 | 178
Suede, Hillary Johnson – 91 | 86.5 | 177.5
MTM Self Made, Amanda Steege – 89 | 88 | 177
Southern Ground, Amanda Steege – 89.25 | 87 | 176.25
Photos courtesy of Andrew Ryback Photography.