By Kate Pettersen and Sabrina Brashares for Jennifer Wood Media, Inc.
In the culmination of a season-long series, it was Mimi Gochman (USA) and Celina BH, owned by Gochman Sport Horses, LLC, who prevailed in the $50,000 Hermès Under 25 Final CSI3* on Sunday afternoon in the International Arena.
Riders were faced with a technical track built by Michel Vaillancourt (CAN) with 29 competitors in the starting order. A total of eight horse-and-rider combinations qualified to return for the jump-off representing four different countries: Belgium, Greece, Great Britain, and the United States.
The standard was set for the rest of the field as the first two pairs to return, Zoe Conter (BEL) and Caitlyn Connors (USA), both posted double clear efforts and jumped into a tie for the early lead in a time of 38.69 seconds. Third to return in the subsequent round, Natalie Dean (USA) and Dotcom D'Authuit, owned by Marigold Sporthorses, LLC, followed up with their own double-clear effort. Dean and the eight-year-old mare by Diamant De Semilly x Quidam De Revel solidified what would ultimately be a third-place finish in a time of 37.67 seconds.
Just two riders after that, series leader Ashley Vogel (USA) and her own Bellissimo Z, a 12-year-old Zangersheide mare by Bamako de Muze x Chin Chin, found a way to shave time off the clock, with their own double-clear effort in 36.60 seconds to take over top spot.
The leapfrogging on the leaderboard didn't stop there as the next rider found a way to do it faster once again. Gochman and the 11-year-old Holsteiner mare by Canstakko executed slick turns and opted to do one less stride up the line heading into the double combination, a decision that paid off as they stopped the clock in 35.11 seconds to take the lead.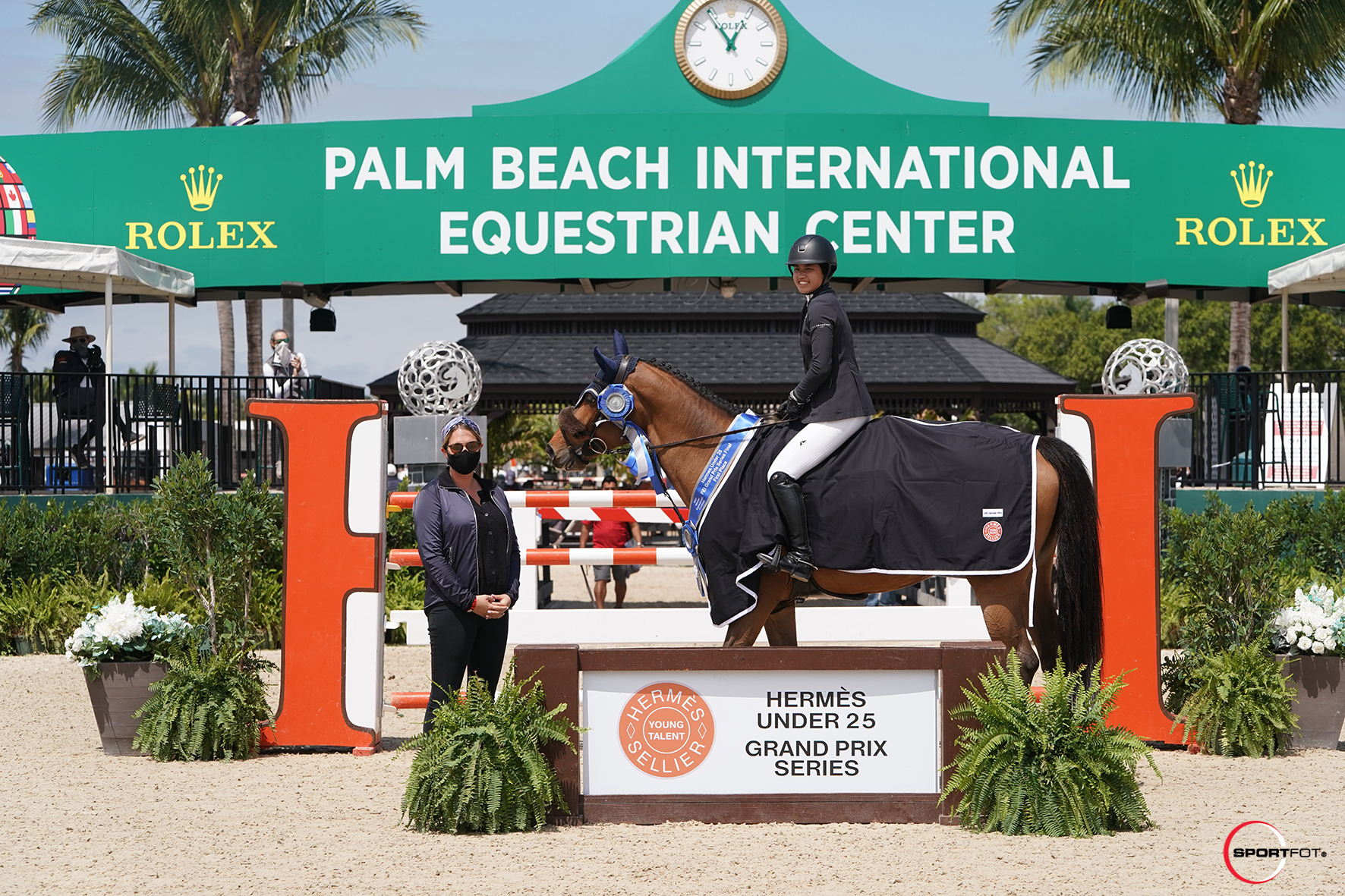 "When I walked the course with Ken, the plan was to go smooth and careful," said Gochman of her conversation with trainer Ken Berkley. "I did plan to do six down the line [into the double combination] but when I watched Natalie and Ashley go before me, I knew the six was going to get easy. The plan was never to go running down that line; it was to do six [strides], but I just saw the distance on the turn forward and the five kind of just came up. I stuck with it, and it worked out.
"I've had Celina for about three years now," continued Gochman. "We imported her as a young seven-year-old, and my trainer Amanda Derbyshire actually started out with her to give her some experience in the U.S. She's incredible! She's the most flexible, adjustable, talented horse ever. I started her in the low junior jumper divisions, and my goal was always to do grand prixs with her. I think that will be the plan for the future. I feel confident in the U25 now, and she obviously has gotten quite good at it, so I'm hoping I can do grand prix with her throughout the summer."
Subtle tests throughout the course caught many riders in the class, and the open water proved to be a difficult task for a handful of competitors as well. For Vogel, the strategy at the tricky water jump was "less is more," a plan she also went with in Saturday's welcome class, finishing ninth.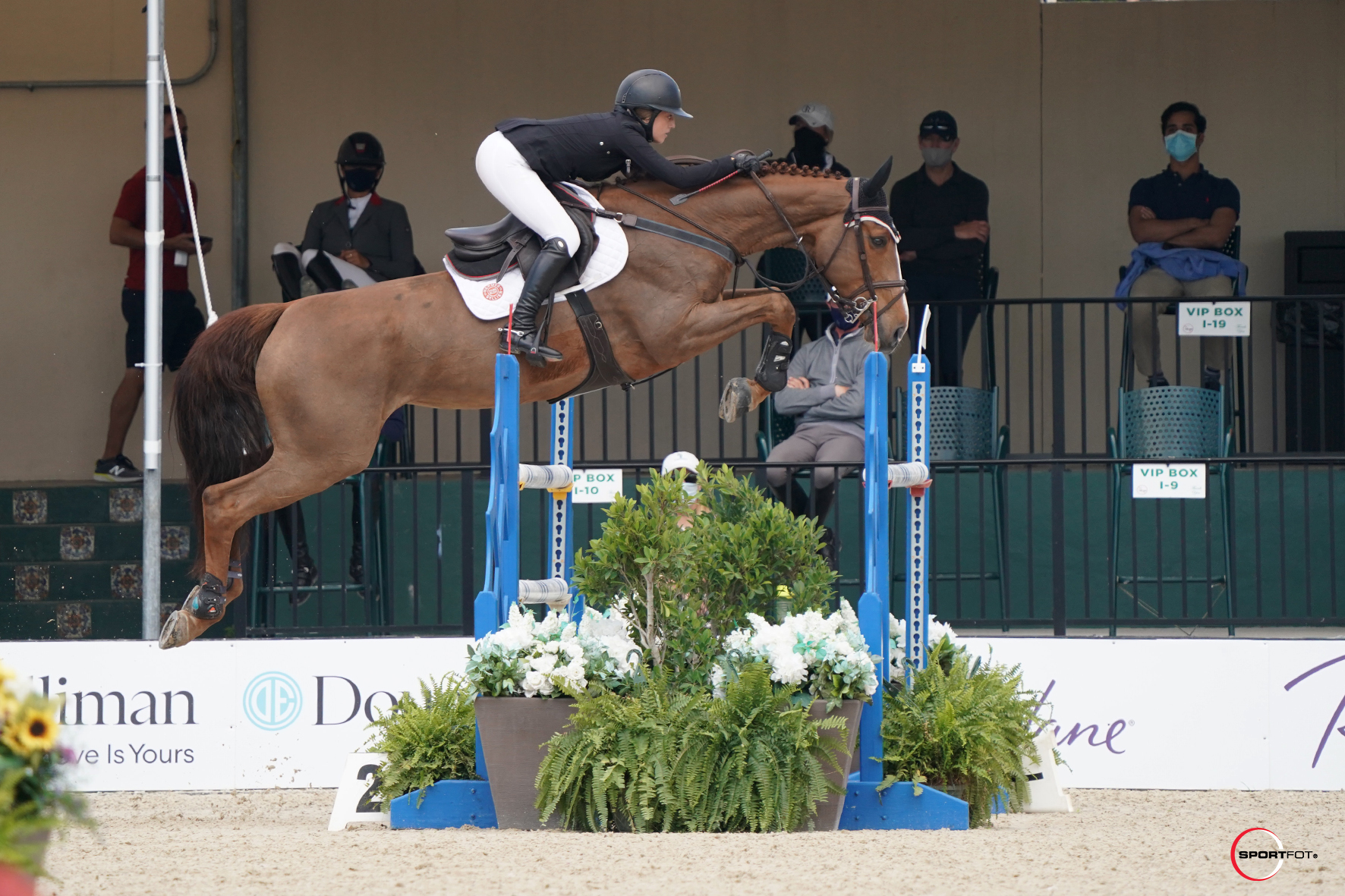 "Bellissimo is a pretty experienced water jumper," said Vogel. "She's definitely jumped it enough times that she's very comfortable with it. We've schooled it at home but didn't jump it yesterday in the class because we just didn't really feel the need."
Despite being on one of the youngest horses in the field, Dean also executed her plan for a stellar finish on the day.
"My horse is pretty young but really brave," said Dean of her plan heading into the final. "She jumped a lot in Europe in the young horse classes, so I just rode it and gave her a lot of confidence. She jumped it well yesterday, but my trainer said to make sure I ride it well still today because some people were having issues with it, so I just really kicked across it."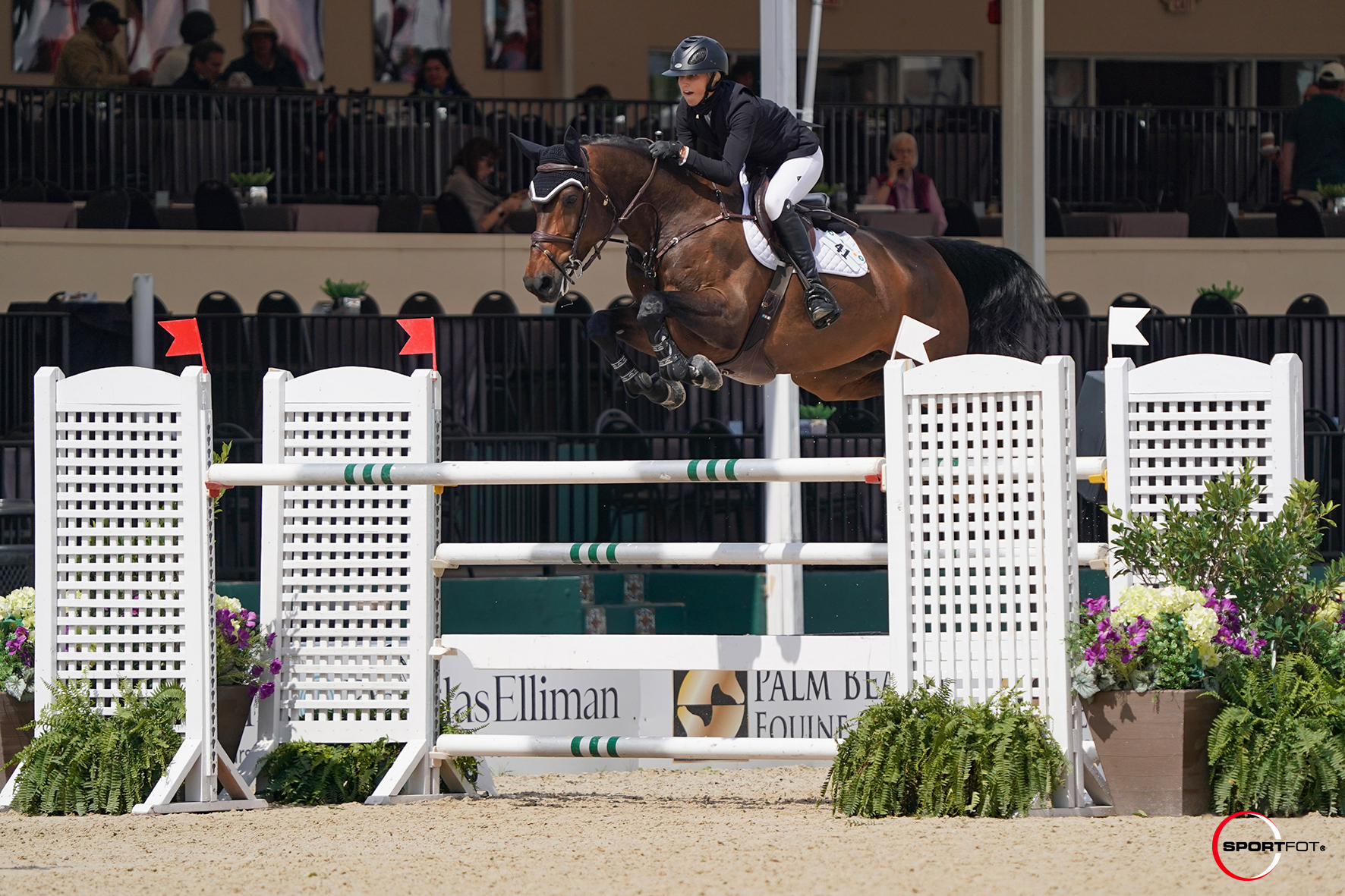 Vogel posted consistent results throughout the season, winning both the Welcome and Grand Prix during WEF 2, placing in every class in between, and wrapping up the season with a second-place finish in the $50,000 Hermès Under 25 Final. Those impressive results tallied up enough points for Vogel to land in top position with her mount Bellissimo Z, to win the overall title for 2021 Hermès Under 25 Series.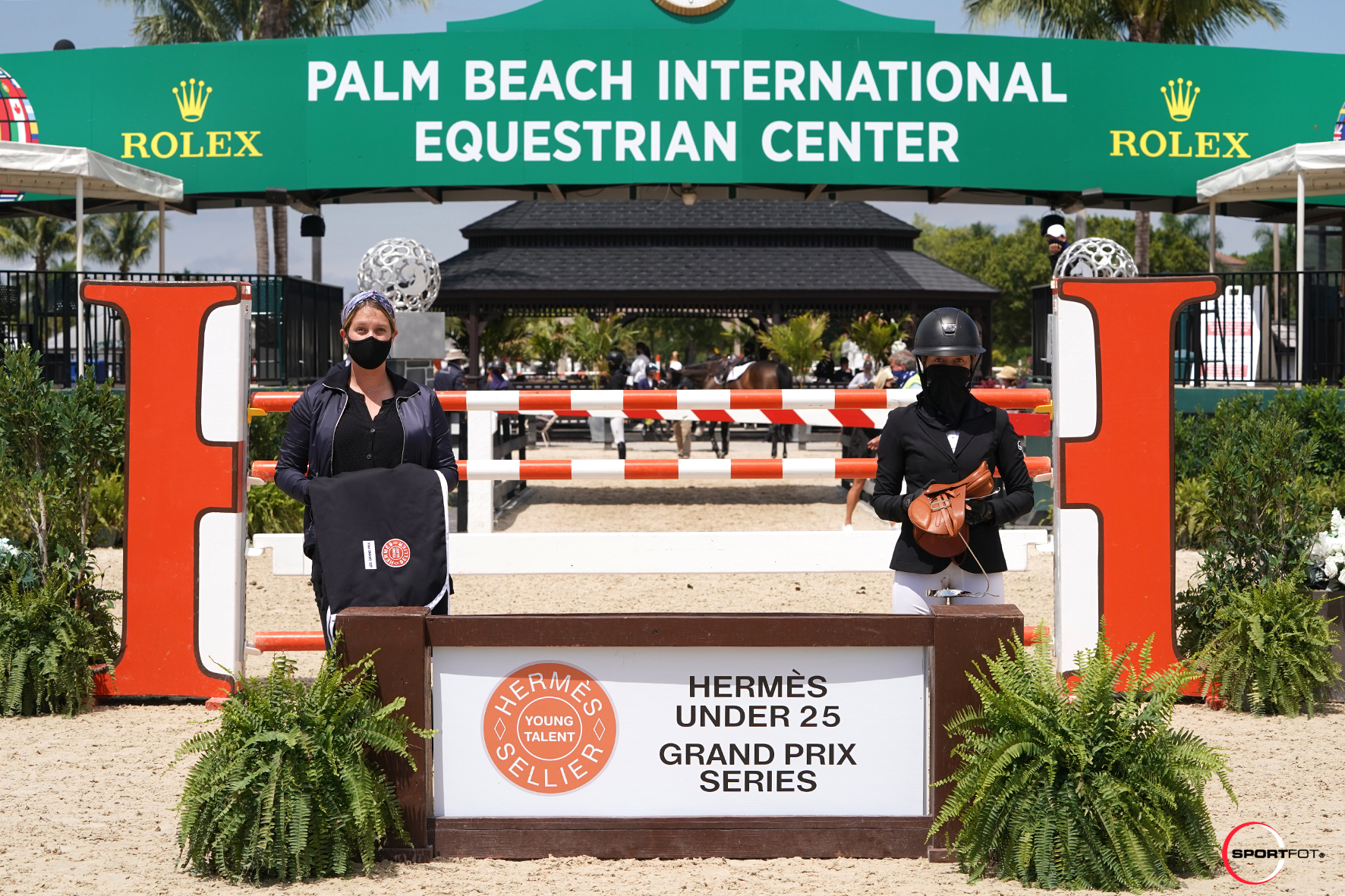 "It's a really cool series," said Vogel who participated for her first time this season. "It gives the riders coming up ready to jump the bigger level a lot of experience, and it's a super competitive division. I didn't have any high expectations; I was just hoping to have some good rounds and gain experience with Bellissimo, who I got over the summer. She's a lovely horse. She definitely has shown me the ropes and been really competitive. Once we got going, she gave me a top result in every welcome and grand prix, and that was a pretty incredible feeling. It is an honor, and Hermès sponsoring it makes it really exciting."
Final Results: $50,000 Hermès Under 25 Series Final Grand Prix
1. CELINA BH: 2010 Holsteiner mare by Canstakko
MIMI GOCHMAN (USA), Gochman Sport Horses LLC: 0/0/35.11
2. BELLISSIMO Z: 2009 Zangersheide mare by Bamako de Muze x Chin Chin
ASHLEY VOGEL (USA), Ashley Vogel: 0/0/36.60
3. DOTCOM D'AUTHUIT: 2013 Selle Francais mare by Diamant De Semilly x Quidam De Revel
NATALIE DEAN (USA), Marigold Sporthorses, LLC: 0/0/37.67
4.= DAWA DE GREENBAY Z: 2012 Zangersheide gelding by Diarado x Schilling ET
ZOE CONTER (BEL), Stephex Stables: 0/0/38.69
4.= EXPRESS BLUE GP DU BOIS MADAME: 2010 Belgian Warmblood gelding by Ultra Blue J x Zeus
CAITLYN CONNORS (USA), Caitlyn Connors LLC: 0/0/38.69
6. BOHEME DE LA ROQUE: 2011 Selle Français mare by Kannan x Medine d'Amaury
GRACE DEBNEY (GBR), Temple Equestrian LLC: 0/4/35.66
7. CAIAM D'IVRAIE: 2012 Selle Français gelding by Dolla dela Pierre x Iago C
IOLI MYTILINEOU (GRE), Elia Construction SA: 0/4/38.12
8. FANTAST VAN HET VINCKENHOF: 2010 KWPN gelding by Cicero Z Van Paemel x Temilione
KRISTEN BERIAN (USA), Coral C Stables, LLC: 0/8/40.57
9. DELIA B: 2008 KWPN mare by Cantos x Omelia H
DOMINIC GIBBS (USA), Mountain King Ranch, LLC: 4/73.88
10. CON PLEASURE 5: 2009 Westphalian gelding by Contendro 1 x Funny Fasion
FLO NORRIS (GBR), Cisca Norris: 4/74.21
11. J'ADORE FLAMENCO: 2012 Sel Francais gelding by Je T'aime Flamenco x Conafino Z
MARIA BRUGAL (DOM), Maria Brugal: 4/75.81
12. DUNDEE: 2008 KWPN gelding by Lupicor x Capricette T.D. Z
MAREK LEUFKENS (NED), Dundee Group: 4/76.20