By Kate Pettersen for Jennifer Wood Media, Inc.
Wellington, FL – March 24, 2021 – The eleventh week of the 2021 Winter Equestrian Festival (WEF) opened with Harrie Smolders (NED) and Une De L'Othain, owned by Evergate Stables, LLC, claiming victory in the $37,000 Douglas Elliman Real Estate 1.45 Jumpers CSI5* on Wednesday, March 24, on the grass Derby Field at Equestrian Village.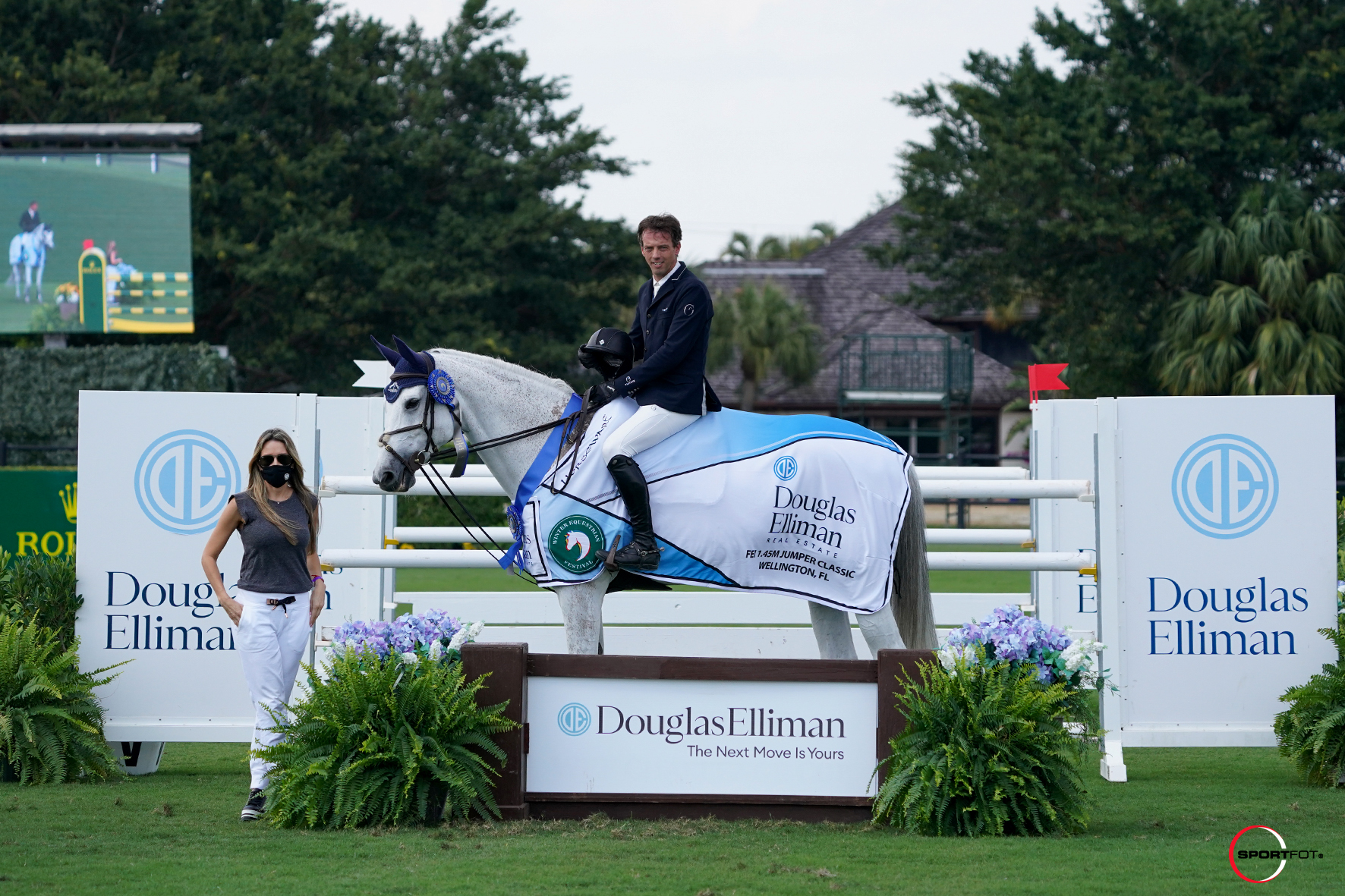 WEF 11, sponsored by Rolex, continues through March 28 with CSI5* competition on the grass Derby Field at Equestrian Village with a concurrent CSI2* taking place in the Global International Arena. Thursday's schedule features the $137,000 Adequan® WEF Challenge Cup Round 11 CSI5* and $6,000 CabanaCoast 1.40m Jumpers CSI2*. On Friday, it's the $37,000 Bainbridge Companies 1.45m Jumpers CSI5* and the $37,000 CabanaCoast 1.45m Jumpers CSI2* at Equestrian Village, along with the WEF Equitation Championship taking place in the International Arena at Palm Beach International Equestrian Center (PBIEC).
On Saturday afternoon, it's the biggest class of the season at 1 p.m. with the $500,000 Rolex Grand Prix CSI5* taking center stage on the grass Derby Field. The $6,000 CabanaCoast 1.40m Jumpers CSI2* also runs on Saturday, and the week concludes on Sunday with the $50,000 CabanaCoast Grand Prix CSI2*, as well as the $50,000 CaptiveOne Advisors 1.50m Grand Prix on the main grounds at PBIEC. All feature classes can be watched for free both live and on-demand on the livestream.
Jumping a 1.45m course set by 2016 Olympic Games designer Guilherme Jorge (BRA), 59 entries competed over fences one through 13 in a two-phase format. The best of the day, Smolders and the 13-year-old Selle Français mare by Conterno Grande x Cento completed their fault-free round in a time of 29.70 seconds.
"This week the plan was to only do this class with her because she usually does the bigger classes," said Smolders of his winning partner. "With that plan in mind, I thought, "Why don't we give it a go today?" She's probably not a typical speed horse, but she went very smooth every turn and saw every distance fairly early so everything worked out according to plan. She's good on all kinds of surfaces. She's very scopey, very careful, and today I think it was my turn to win."
It was a good day for the Mexican contingent as they rounded out the podium with Eugenio Garza Perez and Patricio Pasquel finishing second and third respectively. Garza piloted the El Milagro-entry Caracas, a 12-year-old Holsteiner gelding by Cachas, to a clear effort in 29.75 seconds. Pasquel was less than a second behind with his own nine-year-old mare, Yoga Santa Rosa, finishing without fault in a time of 30.18 seconds.
Smolders, ranked 20th in the world, has been splitting his time between Europe and WEF throughout the winter but circled WEF 11 as an important week to attend.
"You can see that all the big guns are coming out; everybody has brought their best horses for the final weeks," he said. "It's going to be very tough competition. Today's win is in the pocket, and anything else that comes this week is a bonus for me. It gives you extra motivation because you want to compete against the best in the world, and you want to prove that you belong here. I have a few new horses coming up but nevertheless, I'm going to try my best and give it a good shot."
Wednesday's classes also marked the welcomed return of international competition to the grass Derby Field at Equestrian Village with three successful weeks earlier in the circuit already in the books on the beloved turf.
"I think for the horses it's super to have different kinds of footing and different venues," said Smolders. "It keeps them fresh mentally, and this is a fantastic field. It doesn't get better anywhere else in the world."
To open the day, Ireland's Cian O'Connor captured the $1,000 Bainbridge Companies 1.40m Jumpers CSI5* aboard Dourados, an eight-year-old Westphalian gelding by Diarado x Cornet Obolensky owned by Ronnoco Jump Ltd. The pair put forth a double-clear effort in the two-phase competition and crossed the finish line in 32.96 seconds.
Final Results: $37,000 Douglas Elliman Real Estate 1.45 Jumpers CSI5*
1. UNE DE L'OTHAIN: 2008 Selle Français mare by Conterno Grande x Cento
HARRIE SMOLDERS (NED), Evergate Stables LLC: 0/0/29.70
2. CARACAS: 2009 Holsteiner gelding by Cachas
EUGENIO GRAZA PEREZ (MEX), El Milagro: 0/0/29.75
3. YOGA SANTA ROSA: 2012 CCDM mare
PATRICIO PASQUEL (MEX), Patricio Pasquel: 0/0/30.18
4. INDRA VAN DE OUDE HEIHOEF: 2008 Belgian Warmblood mare by Casantos x Action-Breaker
SHANE SWEETNAM (IRL), The Blue Buckle Group: 0/0/30.20
5. LAFAYETTE VAN OVERIS: 2011 BWP gelding by Kashmir van Schuttershof x Tauber van het Kapelhof
ADRIENNE STERNLICHT (USA), Starlight Farms 1 LLC: 0/0/30.27
6. VOLAGE DU VAL HENRY: 2009 Selle Francais mare by Quidam de Revel x Cassini I
JESSICA SPRINGSTEEN (USA), Stone Hill Farm: 0/0/30.52
7. HUNGRY HEART: 2012 SWB gelding by Baltimore 1178 x Loucaibo
JESSICA SPRINGSTEEN (USA), Stone Hill Farm: 0/0/30.96
8. JACK VAN'T KATTENHEYE: 2009 Belgian Warmblood by Diabeau x Canadian River
ERYNN BALLARD (CAN), Lindemann Barnett Sporthorses: 0/0/31.36
9. CARECA LS ELITE: 2011 SLS gelding by Carusso LS La Silla x Rebeca LS
CIAN O'CONNOR (IRL), Ronnoco Jump Ltd: 0/0/31.41
10. BOHEME DE FLEYRES: 2011 Selle Français mare by Vargas De Ste Hermelle x Easy Boy
ASHLEE BOND (ISR), Little Valley Farms: 0/0/31.60
11. VALENTINO TUILIERE: 2009 Selle Français gelding by Diamant De Semilly x Silvio
EVE JOBS (USA), Eve Jobs: 0/0/31.78
12. GERDINIEKE: 2011 KWPN mare by Bacardi VDL x Cornieke
JOHN PEREZ (COL), Daniel Rihan Salum: 0/0/32.15