By Kate Pettersen and Sabrina Brashares for Jennifer Wood Media, Inc.
Wellington, FL – March 25, 2021 – An impressive group of international competitors took center stage on the grass Derby Field at Equestrian Village as Ashlee Bond (ISR) and Donatello 141, owned by Little Valley Farms, flew to the top of the $137,000 Adequan® WEF Challenge Cup Round 11 on Thursday, March 25, at the Winter Equestrian Festival (WEF).
The eleventh week of WEF, sponsored by Rolex, continues through March 28 with CSI5* competition on the grass Derby Field at Equestrian Village with a concurrent CSI2* taking place in the Global International Arena. Friday's schedule is highlighted by $37,000 Bainbridge Companies 1.45m Jumpers CSI5* and the $37,000 CabanaCoast 1.45m Jumpers CSI2* at Equestrian Village, along with the WEF Equitation Championship taking place in the International Arena at Palm Beach International Equestrian Center (PBIEC).
The biggest class of the season is scheduled for Saturday afternoon at 1 p.m. in the $500,000 Rolex Grand Prix CSI5* on the grass Derby Field. The $6,000 CabanaCoast 1.40m Jumpers CSI2* also runs on Saturday, and the week concludes on Sunday with the $50,000 CabanaCoast Grand Prix CSI2*, as well as the $50,000 CaptiveOne Advisors 1.50m Grand Prix on the main grounds at PBIEC. All feature classes can be watched for free both live and on-demand on the livestream.
A total of 56 combinations were represented in the starting order over a 1.55m course set by 2016 Olympic Games designer Guilherme Jorge (BRA) featuring 16 jumping efforts. With 22 pairs qualifying to return for the jump-off, the competition was fierce as 14 elected to return and battle for top spot in the grand prix qualifying class.
First to return in the subsequent round, Chloe Reid (USA) and Souper Shuttle set the pace for the remaining competitors as she piloted the 10-year-old Hanoverian mare by Stakkato x Luise Marie, owned by Live Oak Plantation, LLC, to a clear effort in a time of 41.66 seconds. Just two horses later, the lead changed as Ireland's Cian O'Connor (IRL) and his mount Kilkenny, owned by Ronnoco Jump Ltd, produced an even quicker clear round in 41.12 seconds.
Second last to go, Ashlee Bond (ISR) and the 10-year-old Westphalian gelding by Diarado x Lamoureux I produced the quickest effort of the day, jumping to the victory in a time of 40.29 seconds.
"I felt he was jumping a little bit too high in the first round, which is a good feeling, but I wanted him to level down a little bit for the jump-off," explained Bond of her decision to return for the jump-off. "My plan was just to gallop and take as much risk as I wanted but I didn't want to put everything out there. I felt like I just rode my own track. I didn't think about who was leading or what I had to do to win. It was just for him, what is the best preparation for Saturday's grand prix, and I felt that the round that I gave him got him in the right space in terms of how high he was jumping over the fence, how well he was getting across, and being careful off the front rails. It felt really, really good."
In the end, O'Connor and the nine-year-old Irish Sport Horse gelding by Cardento x MHS Pembrook Lady would hold on for a third-place finish. Fellow Irishman Darragh Kenny and Vinci De Beaufour, a 12-year-old Selle Français gelding by Diamant de Semilly x Heartbreaker owned by Devon MacNeil, would finish the day in third position with a time of 41.40 seconds.
For Bond, the victory marks another successful outing as she and the talented gelding finished second in the CSI4* grand prix on the Derby Field during WEF 4. The pair also jumped one of just six double clear efforts in the CSIO4* Nations Cup during WEF 8. While they've proven their ability to compete at all of the venues offered during the winter circuit, jumping on the turf track is something she considers the best for her talented horse.
"I love the field," exclaimed Bond. "He's always done really well on grass. He's really good on big, open fields so I was thrilled because he has jumped so well here, and it changes it up. Every time it's going to be over at WEF, it's going to be a night classes, and he's great at those too, but it's nice to be out here and during the day in a big grass field for a $500,000 class, so I'm excited."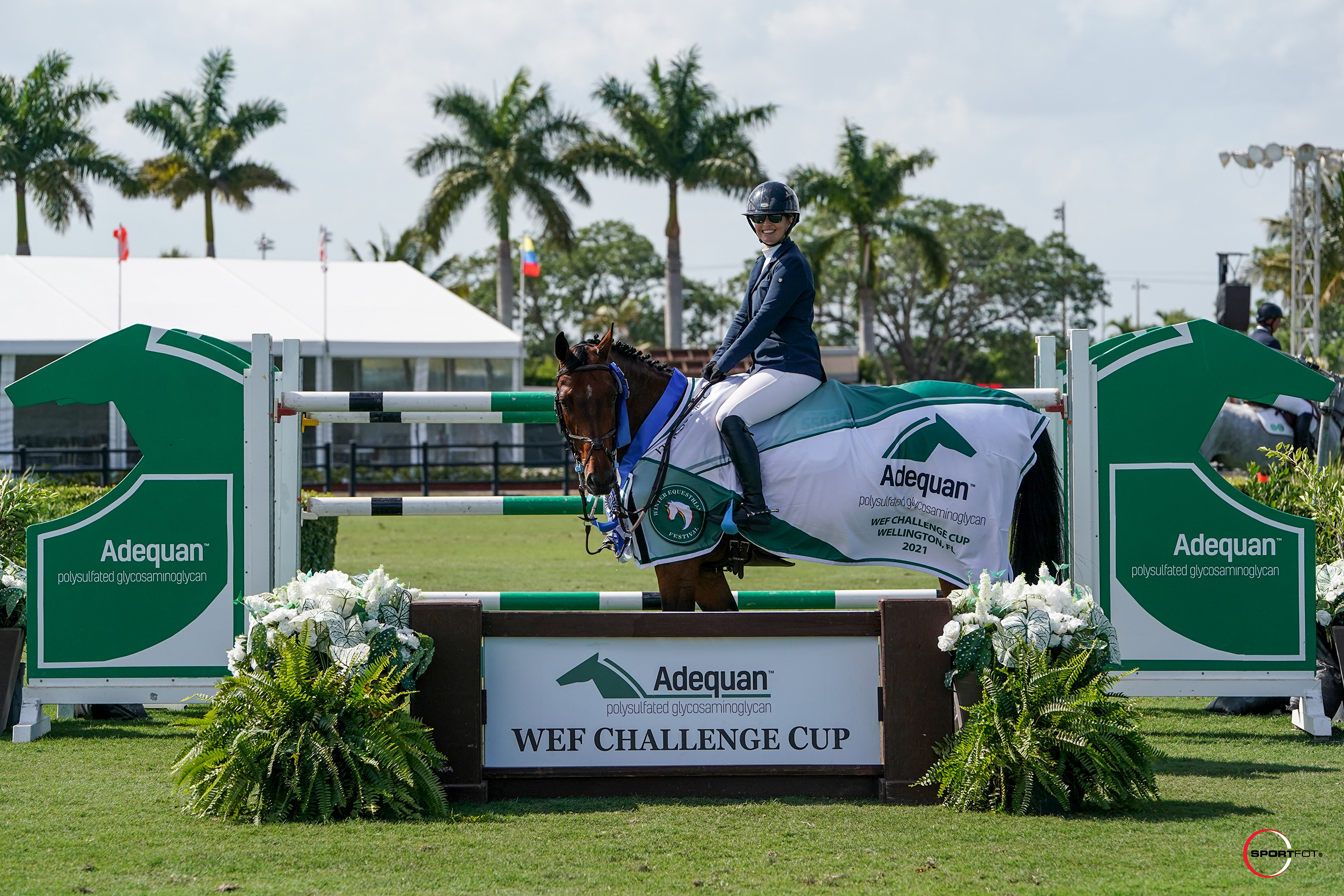 With just one more day before Saturday's main event, the $500,000 Rolex Grand Prix CSI5*, the plan for "Donnie" is simple as he's proven to be a fairly straightforward horse to prepare.
"He knows his job now," she said. "If he hasn't jumped in a couple of weeks on the big field, especially on the grass, he gets a little bit impressed in a good way to where he just needs one class to level out a little for a big, big class.
"My dad Steve is the only one that sits on him the day before a class," she continued. "He flats him the day before and then we give the horse a light lunge, just a 15- to 20-minute trot lunge, and then we go and try to win the class."
Final Results: $137,000 Adequan® WEF Challenge Cup Round 11
1. DONATELLO 141: 2011 Westphalian gelding by Diarado x Lamoureux I
ASHLEE BOND (ISR), Little Valley Farms: 0/0/40.29
2. KILKENNY: 2012 Irish Sport Horse gelding by Cardento x Mhs Pembrook Lady
CIAN O'CONNOR (IRL), Ronnoco Jump Ltd: 0/0/41.12
3. VINCI DE BEAUFOUR: 2009 Selle Français gelding by Diamant de Semilly x Heartbreaker
DARRAGH KENNY (IRL), Devon MacNeil: 0/0/41.40
4. BINGO DU PARC: 2011 Selle Français gelding by Mylord Carthago *HN x Diamant de Semilly
HARRIE SMOLDERS (NED), Copernicus Stables, LLC: 0/0/41.41
5. SOUPER SHUTTLE: 2011 Hanoverian mare by Stakkato x Luise Marie
CHLOE REID (USA), Live Oak Plantation, LLC: 0/0/41.66
6. GOLDWIN: 2012 BWP gelding by Emrald x Divine Idylle GTW De Tinmont
LAURA KRAUT (USA), Stars and Stripes: 0/0/48.76
7. KASPER VAN HET HELLEHOF: 2010 BWP stallion by Emerald x Hadise Van Het Hellehof
MCLAIN WARD (USA), Poden Farms: 0/4/40.02
8. CARLCHEN W: 2008 Mecklenberg gelding by Chacco-Blue x Continue
ALEX GRANATO (USA), Page Tredennick: 0/4/40.30
9. GLAMOUR GIRL: 2011 KWPN mare by VDL Zirocco Blue x Moonlight II
HENRIK VON ECKERMANN (SWE), Portfolio Horses, LLC: 0/4/41.66
10. IBELLE ASK: 2008 BWP mare by Verdi x Robin Des Bruyeres
YURI MANSUR (BRA), Stutteri Ask A/S: 0/4/41.91
11. KAMILLA D: 2011 SCSL mare by Kashmir von Schuttershof x Canturo*Bois Margot
ERYNN BALLARD (CAN), Erynn Ballard: 0/4/45.68
12. COCOLINA: 2011 Oldenburg mare by Conthargos
NATALIE DEAN (USA), Marigold Sporthorses LLC: 0/4/46.74