The $75,000 WEC Derby 3′ Non Pro saw a highly competitive field of 38 entries vying for the win. Competition was fierce, but it was Haleigh Landrigan and Ava Berman's Skorekeeper (Casall) that prevailed, taking home the blue ribbon and the lion's share of the $75,000 purse.
Landrigan and the 17-year-old Warmblood gelding earned 3rd place in the $15,000 WEC Derby 3′ Non Pro during Week 10 of the World Equestrian Center – Ocala Winter Spectacular and were on the hunt for the win this afternoon. The duo found a foot-perfect first round, taking all four high options for a score of 90. They returned near the end of the order in the handy round, delivering a second stunning course for a score of 87, totaling 177 for the win.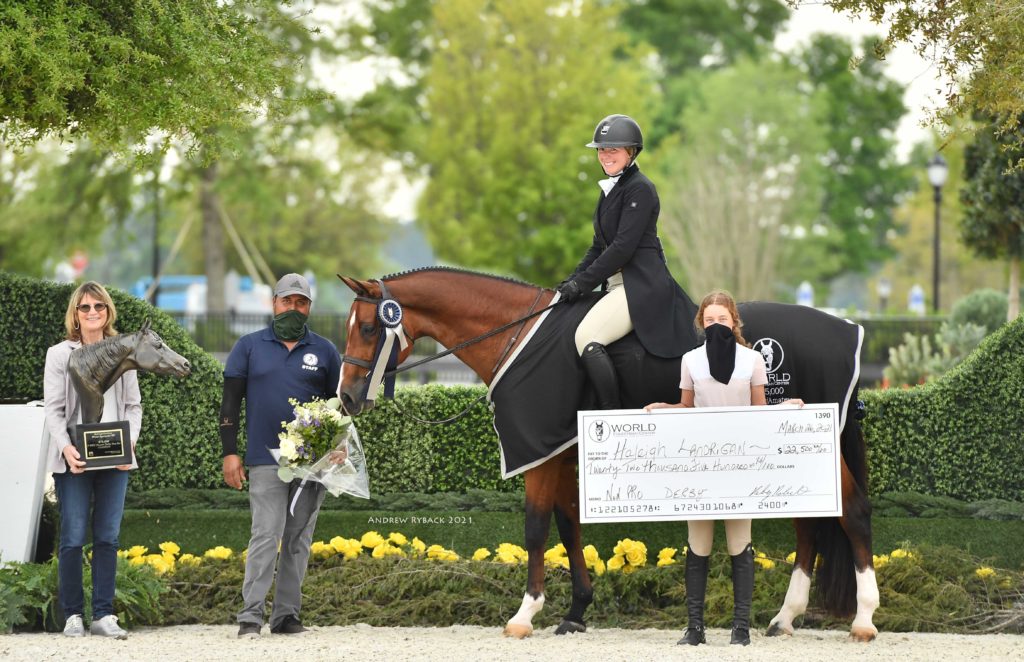 Sarah Tredennick and Agneta Currey's Tomcat (Mezcalero x Kitten) were hot on Landrigan and Skorekeeper's trail. Tredennick and the 17-year-old warmblood gelding earned 5th place in last week's $15,000 WEC Derby 3′ Non Pro and were well prepared this afternoon. The pair eared scores of 86 and 88, totaling 174 for 2nd place.
Trailing by just one point were Madeline Jordan and her own Congo MCF (Indoctro x Katynka). Jordan and the 10-year-old Continental Warmblood gelding finished in 3rd place in Week 3's $15,000 WEC Derby 3′ Non Pro and were impressive again this afternoon. They earned scores of 82 and 91, totaling 173 for another 3rd place finish.
$75,000 WEC Derby 3′ Non Pro Results
Skorekeeper, Haleigh Landrigan – 90 | 87 | 177
Tomcat, Sarah Tredennick – 86 | 88 | 174
Congo MCF, Madeline Jordan – 82 | 91 | 173
Lion King, Ryleigh Threatt – 86.5 | 86 | 172.5
Moonwalk, Kendall Meijer – 88 | 84 | 172
Fitz, Isabel Harbour – 85 | 85 | 170
Freedom G, Addison Reed – 84.5 | 84 | 168.5
Bode Well, Tracy Scheriff Muser – 85.5 | 78 | 163.5
Gabriel, Ellen Toon – 92 | 65 | 157
Quinn, Samantha Ruttura – 83 | 73 | 156
FEATURED AWARDS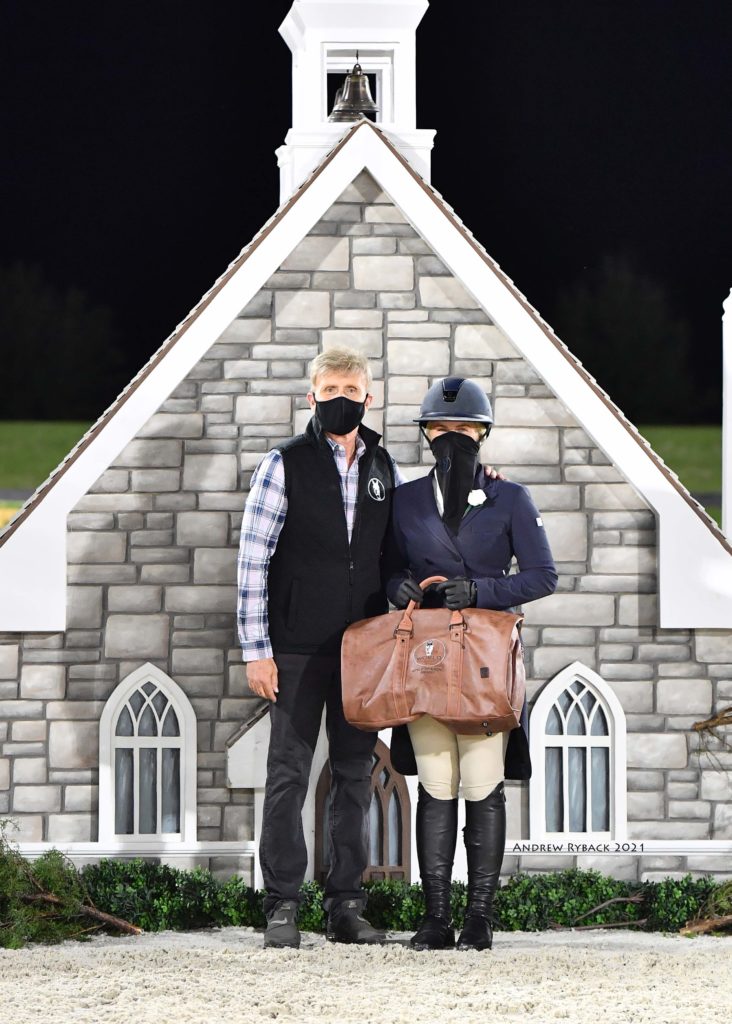 Before the start of the handy round in the $75,000 WEC Hunter Derby 3'6″-3'9″, the prestigious Style of Riding Award was presented to Samantha Schaefer for her classic style and her sportsmanship. The Style of Riding Award is generously donated by Bill Rube to be awarded to the rider who best displays the American Style of riding in the ring and sportsmanship outside of the competition arena. The recipient serves as a role model for preserving the integrity and tradition of equestrian sport. "This award is very special to me because the recipient of this award pays it forward both in and out of the show ring," says Rube. Schaefer received an elegant leather duffel bag and wore a white rose corsage on her lapel throughout the handy round to signify her achievement.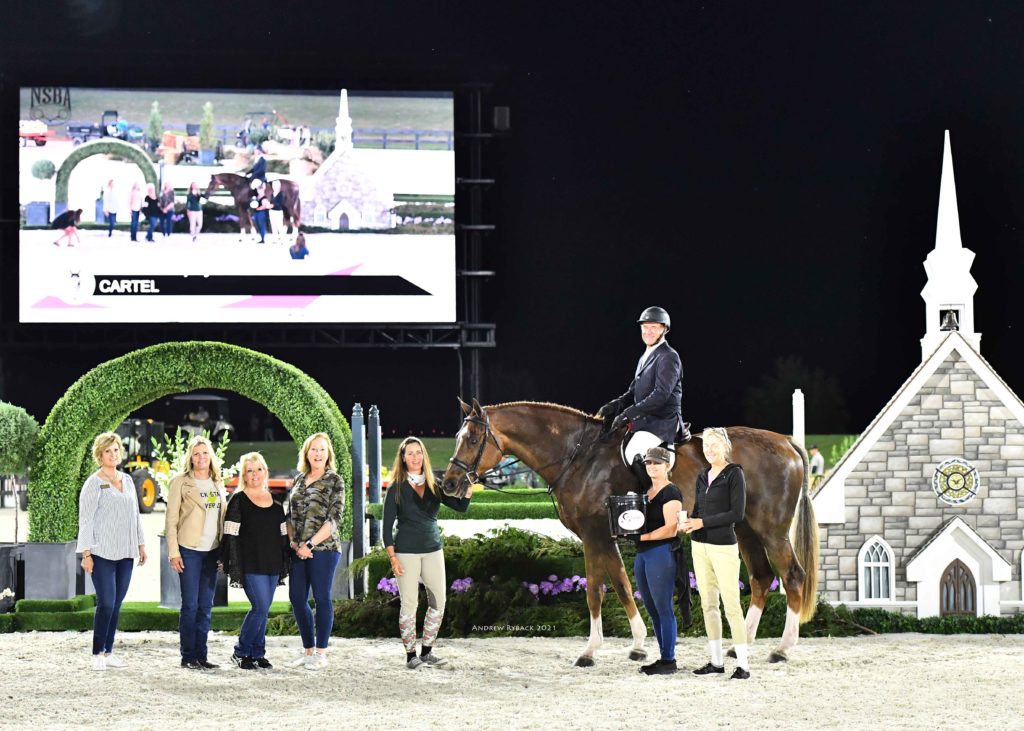 The Shapley's Champion Groom Award for the best turnout in the class was presented to the grooms of 3rd place finisher in the $75,000 WEC Hunter Derby 3'6″-3'9″, Cartel. Shapley's is a proud sponsor of the World Equestrian Center and is thrilled provide an award each week of the Winter Spectacular to the groom of the best turned out horse. Cartel's grooms received a Shapley's Award Bucket for his stunning turnout.
Photos courtesy of Andrew Ryback Photography.