By Sabrina Brashares and Jennifer Wood for Jennifer Wood Media, Inc.
Wellington, FL – March 26, 2021 – Equitation riders took their turn in the International Arena at the Palm Beach International Equestrian Center (PBIEC) on Friday, March 26, in the WEF Equitation Championship during the 2021 Winter Equestrian Festival (WEF). After three technical rounds of competition, Natalie Jayne and Heritage Farm, Inc.'s Charisma took home the blue ribbon.
Zayna Rizvi and Jordyn Rose Freedman's Finnick earned second place. Third place honors went to Dominic Gibbs aboard Mountain King Ranch LLC's Cent 15, and fourth place went to Alexander Alston riding Waldo, owned by Missy Clark and North Run.
The eleventh week of WEF, sponsored by Rolex, continues through March 28 with CSI5* competition on the grass Derby Field at Equestrian Village with a concurrent CSI2* taking place in the Global International Arena. The biggest class of the season is scheduled for Saturday afternoon at 1 p.m. in the $500,000 Rolex Grand Prix CSI5* on the grass Derby Field. The $6,000 CabanaCoast 1.40m Jumpers CSI2* also runs on Saturday, and the week concludes on Sunday with the $50,000 CabanaCoast Grand Prix CSI2*, as well as the $50,000 CaptiveOne Advisors 1.50m Grand Prix on the main grounds at PBIEC. All feature classes can be watched for free both live and on-demand on the livestream.
Forty-three riders qualified for the championship by winning an equitation class during the 2021 WEF season, the 2020 Holiday and Horses Horse Show, or the 2020 Holiday Finale series. The class consisted of three rounds with all competitors navigating the 12-fence first course designed by Andy Christiansen. The top 15 riders were called back for a second round, and only the top four competitors returned for the final test. As an added challenge, riders were not allowed to communicate with trainers or staff and handed in their cell phones prior to the class starting. Competitors had to walk the course, come up with a plan, and school their horse with only one groom.
The judging was split into two panels with Ralph Caristo and Michael Morrissey Jr. in panel one and Chris Kappler and Keri Kampsen as panel two. Eric Strauss and Diane Landerville observed the schooling area for the first two rounds to give riders a score ranging from minus two to plus two points. The schooling score was added to the combination's overall score.
After the first round, Rizvi and Finnick sat at the top of the class with the high score of 92. The rider held onto her lead during the second round with a score of 84.5 and earned an overall score of 176.50. Right behind Rizvi was Jayne with scores of 90 and 86.25 for a total score of 176.25.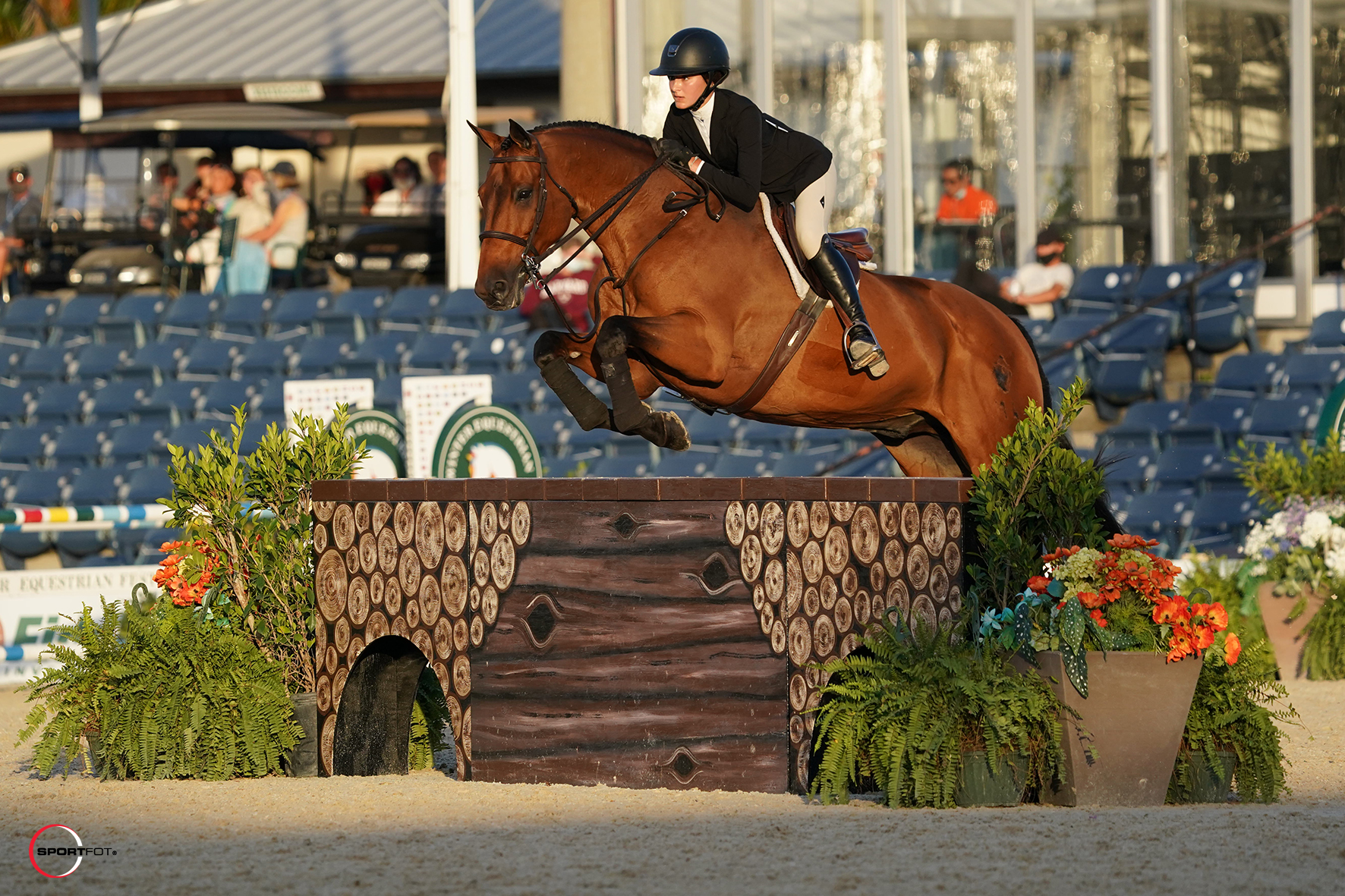 Rizvi, Jayne, Gibbs, and Alston returned in reverse order for the final test of the evening. Competitors were told the test while in the ring and were asked to trot a jump, counter canter a fence, and demonstrate a hand gallop to the last oxer. After producing a flawless round, Jayne and Charisma took over the top spot in the class.
Jayne, of Elgin, IL, was thrilled to finish her last year showing at WEF as a junior with one of the biggest accomplishments of her career so far.
"I've been doing well throughout the circuit but consistency has been a bit of an issue for me, so it feels awesome to finally be able to win one of these classes," commented Jayne. "I haven't won a big class like this before, so it feels awesome."
Although this was the first time that 16-year-old Alston, of New Albany, OH, competed in the WEF Equitation Championship, his mount Waldo is a seasoned professional and won the class in 2019 with Sam Walker. They scored 85.75 in the first round and 87.25 in the second round for a total of 173.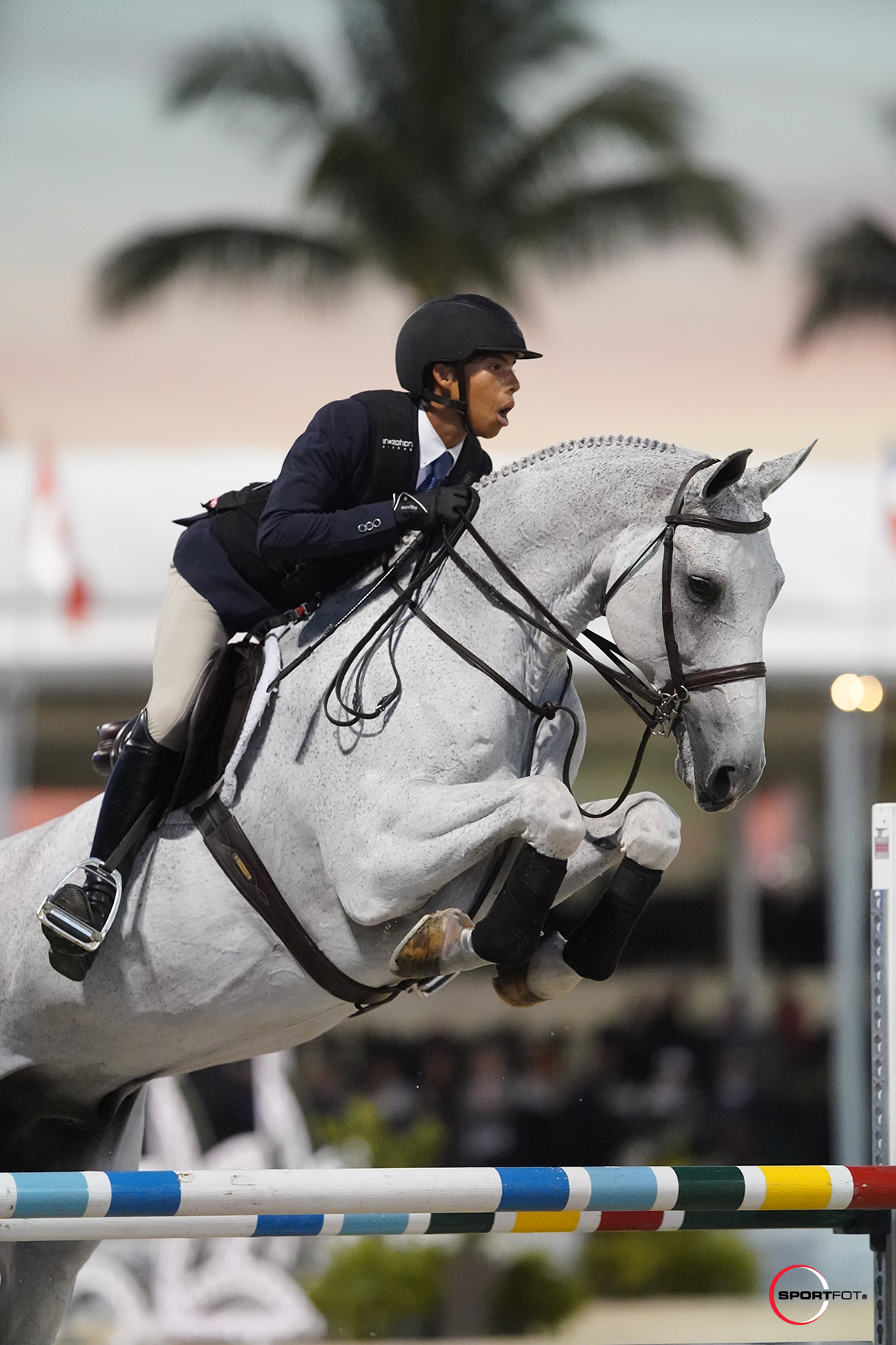 "He's very brave, so nothing out of the normal routine was needed to get him ready," Alston said of his preparation for this class. "He won [in 2019] with Sam Walker. I tried to fill the big shoes. There wasn't any extra pressure [though]. It feels really good to be in the top four, seeing that he is consistent with top people, and that I'm the one getting to ride him."
Third-place finisher Gibbs, of Colorado Springs, CO, received a score of 84.75 to put him and Cent 15 in sixth place after the first round. The pair then produced an impressive second round with a score of 89 to move into third.
Gibbs made sure he had a plan for his specific horse in the schooling area and tried to base his strategy off of what he has learned from trainers at Beacon Hill Show Stables.
"I think that I just took the ideas that my trainer has been teaching me and really emphasizing with me with this horse in particular and incorporating those into my own style of warm-up," explained Gibbs. "With this horse in particular, I need him to really stretch across the oxers, so I jump a wider oxer in the warm-up, which I don't do on all of the horses, but for him it's very important. It's really just focusing on what we've been doing at home and what's been important for me and the horse."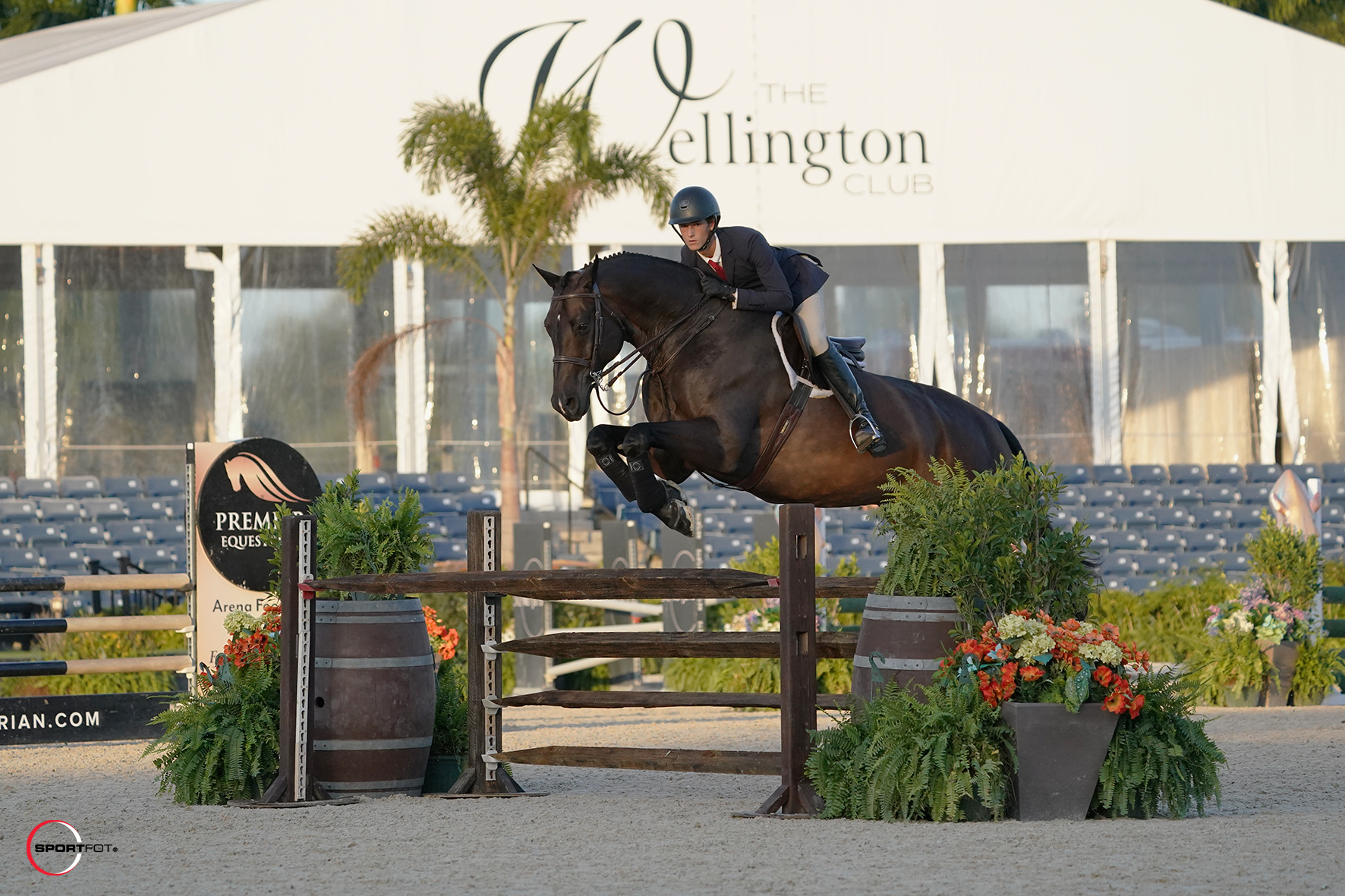 This was also Rizvi's first time competing in the WEF Equitation Championship, and the rider was happy to have her trusted mount Finnick by her side.
"I am going on almost three years with him," said Rizvi, of Greenwich, CT. "Before I rode him, my sister Yasmin had him. After she had been riding him I was under a little pressure to do well on him, but the first time I showed him was actually at Maclay Regionals and I was eighth there, so after that I knew that he and I would be a good match. He's one of the sweetest horses I've ever known, and he's constantly learning new things and teaching me new things. I couldn't ask for a better horse."
Only a fraction of a point behind Rizvi, Jayne knew that she had to go all out in the test in order to win. The rider did an impressive inside turn that impressed the judges and moved Jayne and Charisma, a 14-year-old Warmblood gelding by Stakkato, to the top of the leaderboard.
"I went in, and I knew I just had to do the best I could," said Jayne. "I wanted to take risks. I was sitting in second, and I knew I had to go all out to try and move up, so that's what I did and it worked out. I know my horse is really well schooled. He's done classes like this for many years, so I knew it would be easy for him and I knew I had to take risks. I knew he could do it so I decided to try."
Jayne's trainers Andre Dignelli, Patricia Griffith, Laena Romond, and Lynn Jayne received the Trainer Award. Awards for the families of the top two riders, Natalie Jayne and Zayna Rizvi, were given in honor of their support.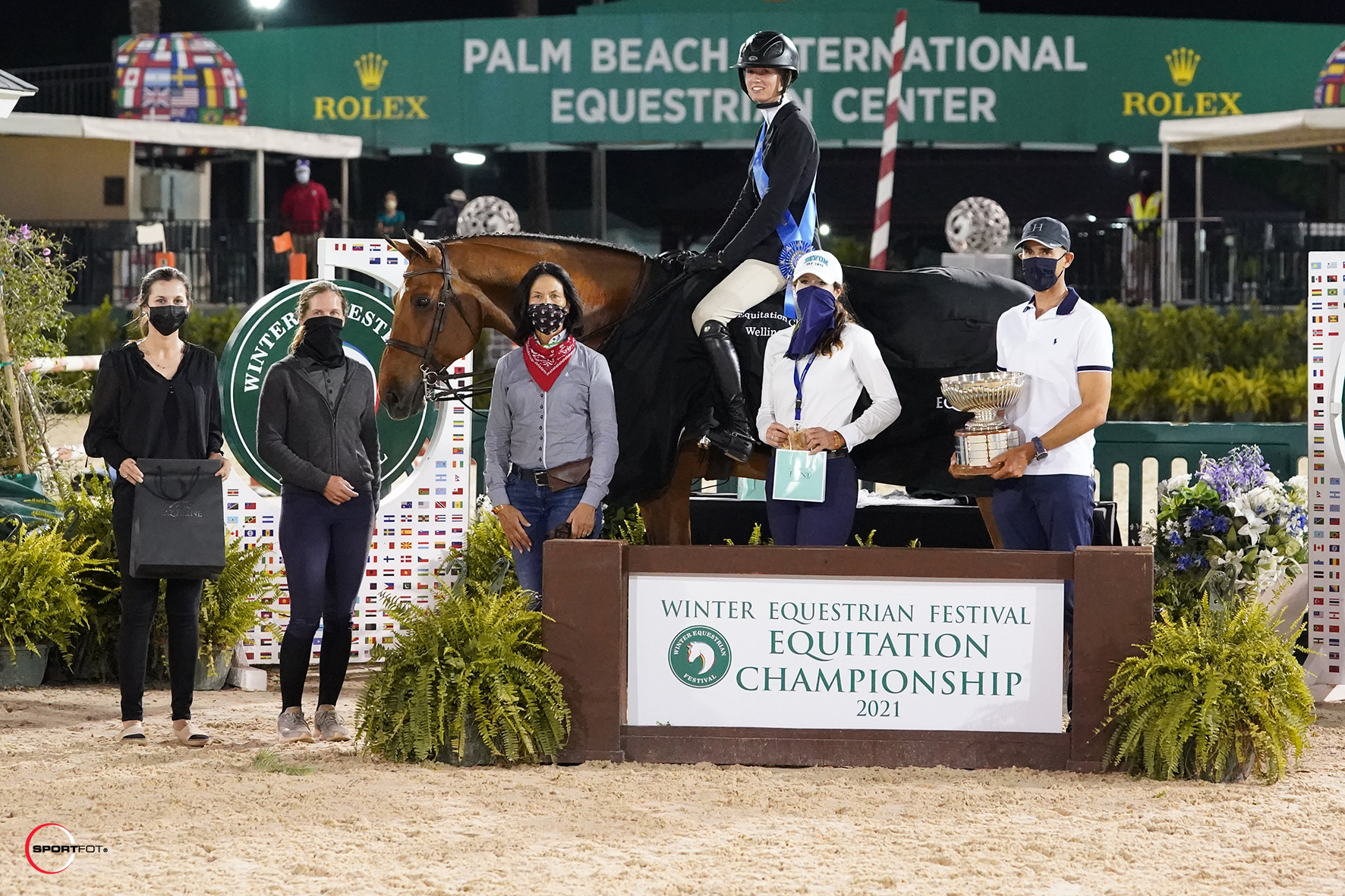 The "Class Action" Best Equitation Horse Award was given to Finnick, ridden by Zayna Rizvi and owned by Jordan Rose Freedman, and presented by Stacia Madden. It is awarded to the owner of the horse in the class that is viewed as a true partner with the rider and enjoys rising to the occasion and was chosen by the judges.
The Best Turned Out Horse Award was presented to Donald Stewart's Iwan, ridden by Madison Rauschenbach, and groom Leo Hernandez.
Saturday competition will feature the highlight event of the season, the $500,000 Rolex Grand Prix CSI5* on the Derby Field at Equestrian Village.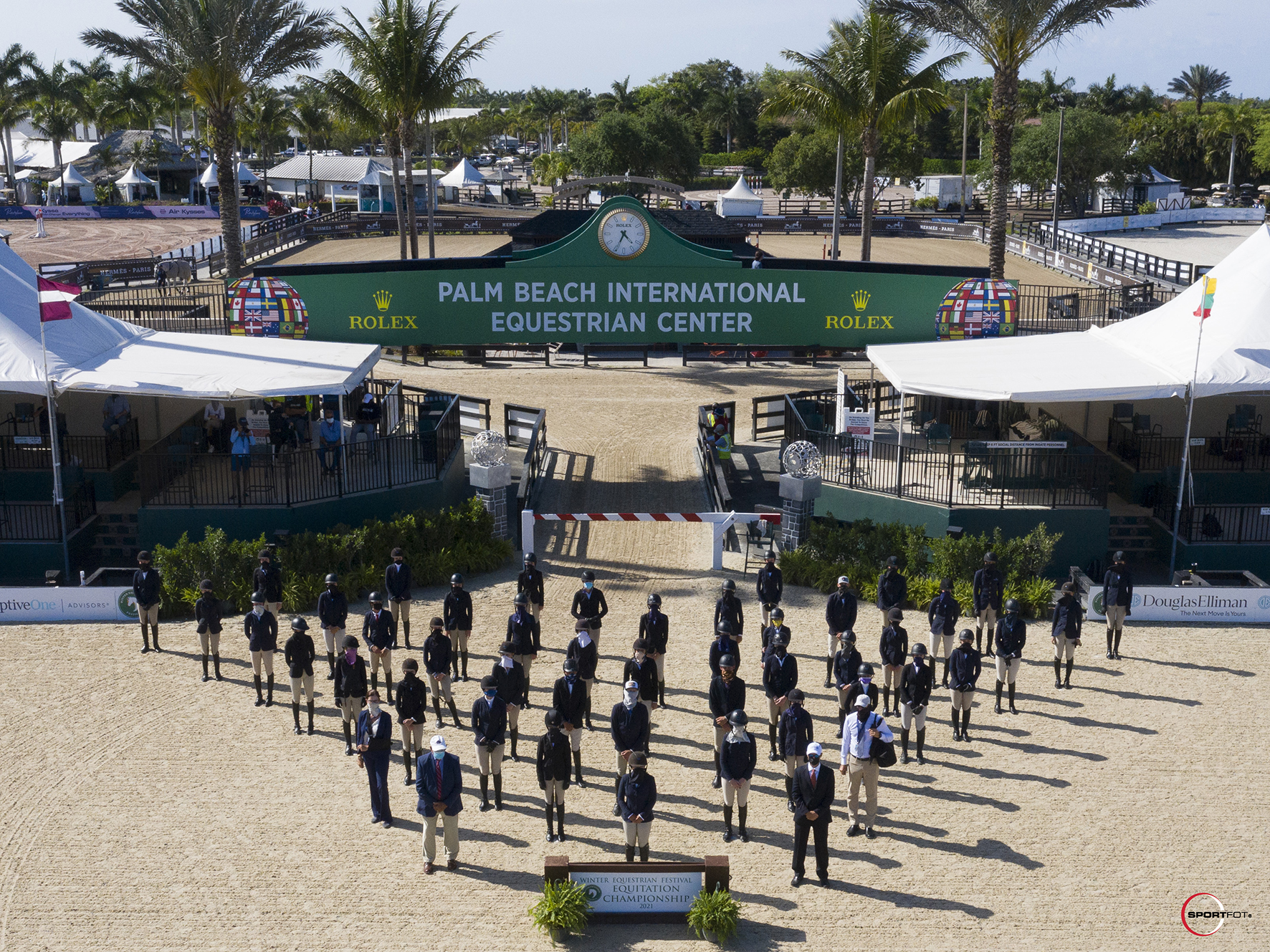 Final Results: WEF Equitation Championship
Top four were tested in a third round to determine final placings, but only scores from the first two rounds were announced.
1 NATALIE JAYNE | CHARISMA | HERITAGE FARM, INC.
R1 / R2 | TOTAL
90 / 86.25 | 176.25
2 ZAYNA RIZVI | FINNICK | JORDYN ROSE FREEDMAN
R1 / R2 | TOTAL
92 / 84.50 | 176.50
3 DOMINIC GIBBS | CENT 15 | MOUNTAIN KING RANCH LLC
R1 / R2 | TOTAL
84.75 / 89 | 173.75
4 ALEXANDER ALSTON | WALDO | MISSY CLARK & NORTH RUN
R1 / R2 | TOTAL
85.75 / 87.25 | 173
5 IWAN | MADISON RAUSCHENBACH | DONALD STEWART
R1 / R2 | TOTAL
85.5 / 84.50 | 170
6 MIMI GOCHMAN | HEROY VON DE HEI | GOCHMAN SPORT HORSES LLC
R1 / R2 | TOTAL
86.87 / 82.75 | 169.62
7 ERIC KRAWITT | ASTRO DE RAVEL | OLIVIA ROBERTSON
R1 / R2 | TOTAL
83.50 / 82.75 | 166.25
8 BLYTHE GOGUEN | JARINKA | EMMA CALLANAN
R1 / R2 | TOTAL
83.25 / 80 | 163.25
9 AMIRA KETTANEH | GOSSIP SA | HERITAGE FARM & LEIGH KETTANEH
R1 / R2 | TOTAL
83 / 80 |163
10 TESSA DOWNEY | QUITE CASSINI | ASHLAND FARMS
R1 / R2 | TOTAL
88 / 75 | 163
11 ALEXA ELLE LIGNELLI | ANY GIVEN SUNDAY | DONALD STEWART
R1 / R2 | TOTAL
83.25 / 79 | 162.25
12 AVERY GLYNN | CAMPREOLL | MISSY CLARK & NORTH RUN
R1 / R2 | TOTAL
82.75 / 78 | 160.75
13 AUGUSTA IWASAKI | ATTENDU DE LANNOIS Z | ASHLAND FARMS
R1 / R2 | TOTAL
84.37 / 64.50 |148.87
14 BAYLEE MCKEEVER | SALVATORE | MCLAIN WARD
R1 / R2 | TOTAL
83.51 / 64 | 147.50
15 HENSLEY HUMPHRIES | IMAGINATOR | FINDLAY'S RIDGE
R1 / R2 | TOTAL
84.25 / 56.50 | 140.75