By Sabrina Brashares and Jennifer Wood for Jennifer Wood Media, Inc.
Galloping swiftly across the grass Derby Field at Equestrian Village, Shane Sweetnam (IRL) and Indra van de Oude Heihoef, owned by The Blue Buckle Group, won the $37,000 Bainbridge Companies 1.45m Classic CSI5* on Friday.
Out of 46 entries in the class, 19 were clear over the speed course designed by Guilherme Jorge (BRA). Starting the class off with a bang, Olympic individual gold medalist Eric Lamaze (CAN) and Chacco Kid, a 15-year-old Oldenburg by Chacco Blue x Come On owned by Chacco Kid Group, raced to set the leading time of 62.24 seconds, which would hold up for second place after the remaining 45 entries.
Riding early in the class as well in the fifth spot in the order, Sweetnam and Indra van de Oude Heihoef shaved almost a full second off the winning time, taking it down to 61.26 seconds.
No one else was able to catch Sweetnam's time, but Jessica Springsteen (USA) and Hungry Heart, a nine-year-old Swedish Warmblood gelding by Baltimore 1178 x Loucaibo owned by Stone Hill Farm, came closest in 63.10 seconds for third place.
Although Sweetnam had not seen Lamaze's round, seeing his time gave Sweetnam a good idea of what kind of speed he would need.
"I had walked a plan for myself," explained Sweetnam. "Everything came up the way I had planned it and imagined it. On Wednesday, I thought I could have won that class as well, but I just got caught in one place with a second distance. Today, everything came up nice. It was beatable, but it was going to force people to always have to try hard for it."
Sweetnam noted that having everything show up out of stride in Friday's course made his horse's path smooth and quick, due to "Ivy's" way of going.
"She has a very big stride, so when everything shows up, it makes it a bit easier," he said of the 13-year-old Belgian Warmblood mare by Casantos x Action-Breaker. "If you have to slow down with her, it definitely takes a half a second from you when you have to add a stride. Also, she jumps quite high, so all those inches and extra strides make a big difference to her. You have other horses that naturally are quick and can add a little stride here and there, like McLain's horse [Catoki], who is super quick without leaving out strides. For a class like this, to win it, it has to all show up."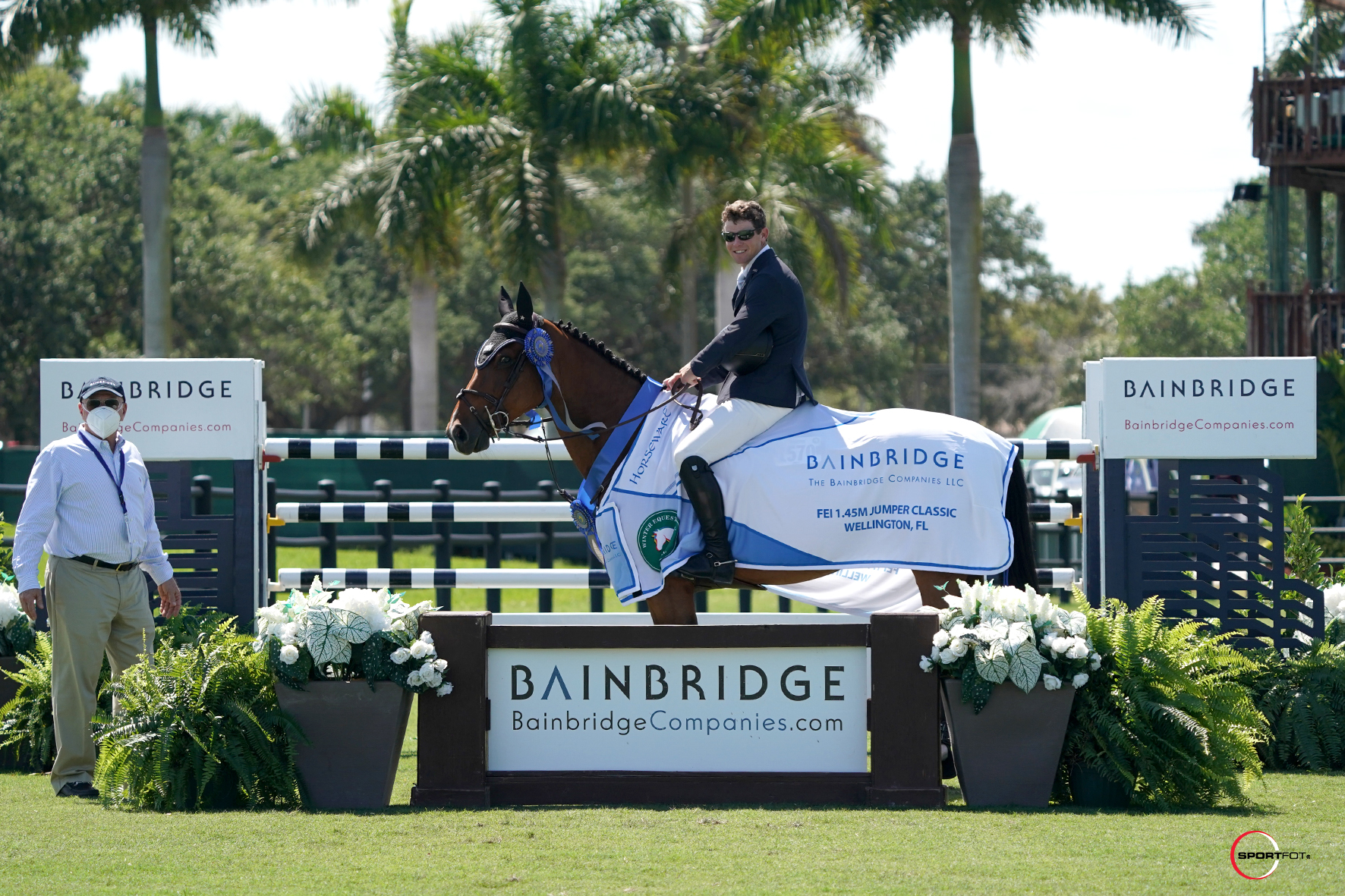 Ivy has competed on Nations Cup teams for Ireland and in multiple five-star events with Sweetnam. In last year's WEF, a small injury kept her out of competition until the final weeks, and COVID then changed everyone's plan. After a solid start in the 2021 WEF, the horse had a month off of competition and has come back fresh for the final two weeks. Sweetnam is aiming Indra for the $73,000 CaptiveOne Advisors 1.50m Series Final in WEF 12.
"The first day she was a little rusty; today she felt smooth," said Sweetnam. "It's nice for her to get out here on the grass and help her feel good. This will help her feel confident going into next week."
Final Results: $37,000 Bainbridge Companies 1.45m Classic CSI5*
1. INDRA VAN DE OUDE HEIHOEF: 2008 Belgian Warmblood mare by Casantos x Action-Breaker
SHANE SWEETNAM (IRL), The Blue Buckle Group: 0/61.26
2. CHACCO KID: 2006 Oldenburg by Chacco Blue x Come On
ERIC LAMAZE (CAN), Chacco Kid Group: 0/62.24
3. HUNGRY HEART: 2012 SWB gelding by Baltimore 1178 x Loucaibo
JESSICA SPRINGSTEEN (USA), Stone Hill Farm: 0/63.10
4. OAK GROVE'S LAITH: 2011 Selle Français gelding by London x Sirene De Riverland
ABDEL SAID (EGY), AS Sporthorses: 0/64.09
5. KIANA VAN HET HERDERSHOF: 2010 BWP mare by Toulon x Starlight VD Hemelseschoot
DANIEL DEUSSER (GER), Stephex Stables: 0/64.29
6. VIENNA: 2011 Hanoverian mare by Valentino x Leena J
TIFFANY FOSTER (CAN), Artisan Farms, LLC: 0/64.59
7. ATHOS D'ELLE: 2010 Selle Français stallion by Apache d'Adriers x Papillon Rouge
KATHERINE DINAN (USA), Grant Road Partners LLC: 0/64.66
8. HERMELIEN VD HOOGHOEVE: 2007 Belgian Warmblood mare by Tangelo VD Zuthoeve x Thunder VD Zuthoeve
NAYEL NASSAR (EGY), Evergate Stables, LLC: 0/65.61
9. BOHEME DE FLEYRES: 2011 Selle Français mare by Vegas de Ste. Hermelle x Easy Boy
ASHLEE BOND (ISR), Little Valley Farms: 0/65.82
10. CONNER 70: 2011 Holsteiner gelding by Connor 48 x Cosimo
MARTIN FUCHS (SUI), Thomas Fuchs: 0/66.03
11. OPIUM DU SOUFFLET: 2009 Swiss gelding by Ogano Sitte x Landjuweel St. Hubert
NICHOLAS DELLO JOIO (USA), Rocking D Ranch: 0/66.04
12. COMEDIE DE TALMA: 2012 Selle Français mare by Kannan x Contender
ERYNN BALLARD (CAN), Ilan Ferder and Esperanza Imports: 0/66.27