By Sabrina Brashares and Jennifer Wood for Jennifer Wood Media, Inc.
The two-star division continued on Friday in the Global International Arena with the $37,000 CabanaCoast CSI2* Qualifier with 55 entries. There were seven that found the key to a clear round and advanced to the jump-off as riders were aiming to qualify for Sunday's $50,000 CabanaCoast Grand Prix CSI2*.
Riding second to last in the jump-off, Ellen Whitaker (GBR) and Atevla, owned by Maggie Kehring, brought in a quick time of 34.17 seconds for victory.
They were chasing a time of 35.39 seconds, set by Johan Kachelhoffer (RSA) and Cosmona, a 2011 DWB mare by Cosmeo x Bogegardens Apollo owned by Anton Marano, who would eventually finish in second place. Third place went to Matthew Boddy (GBR) and Balotelli 5, an 11-year-old Hanoverian gelding by Balou du Rouet x Contendro I owned by Purple Road, LLC. They finished clear in a time of 36.08 seconds.
This marks a return to the winner's circle at WEF for the 35-year-old Whitaker, who has not competed at WEF since she was 19 years old. "The last time I was here, I won loads of classes!" she laughed.
It was also a return for Whitaker with Atevla, a horse she started showing at the FEI level in February 2018. Her brother, Donald Whitaker, took over the ride in 2019 and competed the stallion through November of 2020, after which it was purchased by amateur rider Maggie Kehring.
"I brought him over here before Christmas and sold him to Maggie Kehring," explained Whitaker. "Maggie asked me to ride him again this week for her, so this is the first week I've ridden him in quite a long time. The relationship is as good as it was before! Before he came to America, I had lent him to my brother, who is working for Darragh [Kenny], who's my boyfriend. He needed a horse to show in the bigger classes. He was jumping and doing well and got sold, and now he's back."
The course, designed by Mauricio Garcia (PUR), offered a challenge for riders.
Whitaker agreed, "I thought it was quite technical everywhere, and the time was quite tight. It was a really careful course. I just tried to make sure I had really good control and hit everything exactly like I wanted to, because I don't think it was a course that allowed you to make too many mistakes today. It helped that he was feeling fantastic. He jumped amazing. I was really pleased with him."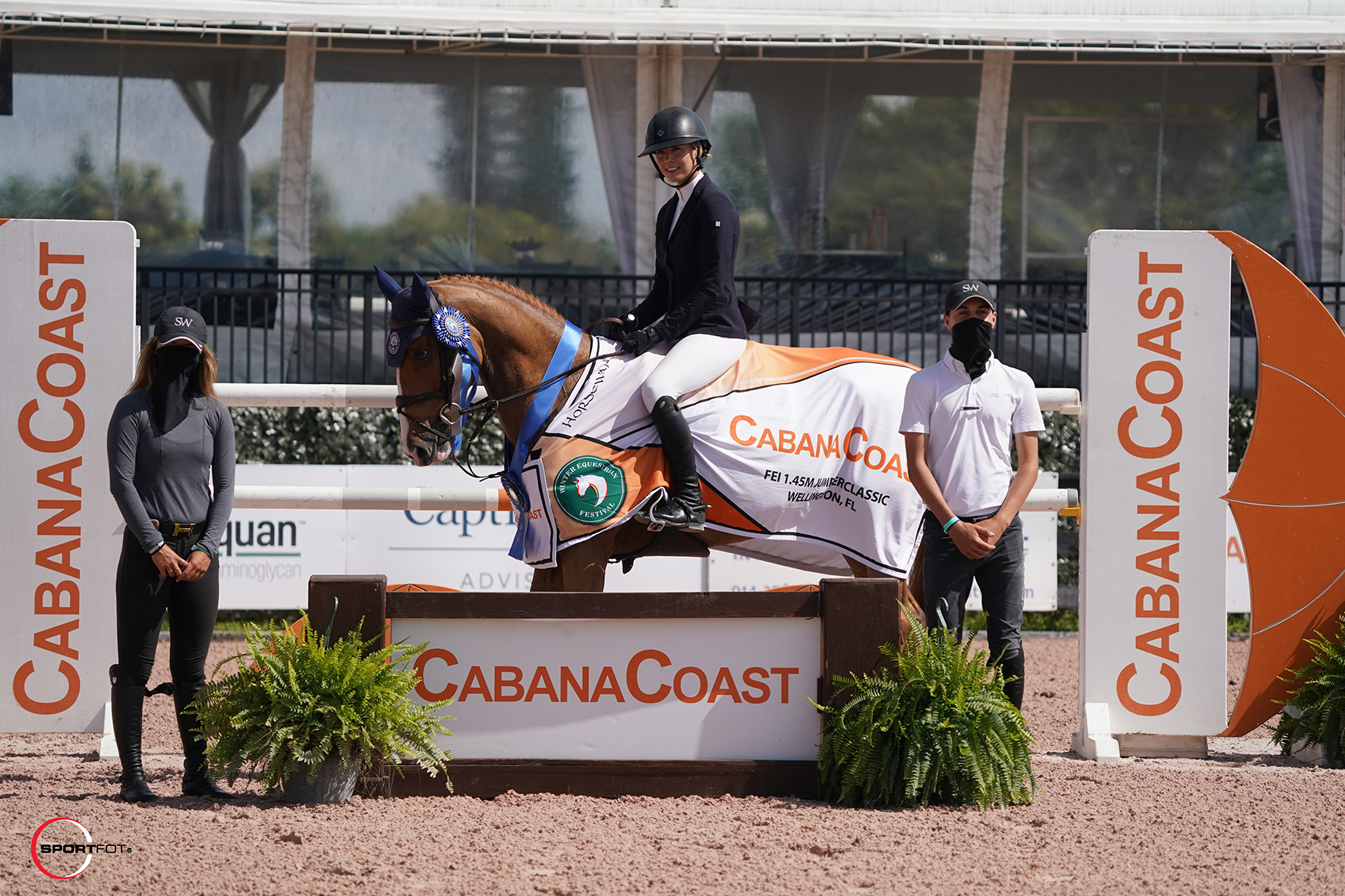 Whitaker plans to show Atevla in Sunday's grand prix. She remarked, "I'm really looking forward to it; it's good to have him back, and I'm enjoying it."
Final Results: $37,000 CabanaCoast 1.45m CSI2* Qualifier
1. ATEVLA: 2010 Selle Français stallion by Rissoa d'Ag x Lagardere II
ELLEN WHITAKER (GBR), Maggie Kehring: 0/0/34.17
2. COSMONA: 2011 DWB mare by Cosmeo x Bogegardens Apollo
JOHAN KACHELHOFFER (RSA), Anton Marano: 0/0/35.39
3. BALOTELLI 5: 2010 Hanoverian gelding by Balou du Rouet x Contendro I
MATTHEW BODDY (GBR), Purple Road, LLC: 0/0/36.08
4. DESTINY SECOND LIFE Z: 2010 Zangersheide mare by Diamant De Semilly x Cassina St Gyvan Z
CLAUDIA BALLESTEROS (MEX), Claudia Ballesteros: 0/0/40.16
5. ALL IN: 2005 KWPN gelding by Aachen x Indoctro
KATHERINE STRAUSS (USA), Katherine Strauss LLC: 0/4/35.79
6. CHANDON BLUE: 2005 Oldenburg gelding by Chacco Blue x Landcapitol
LAURA CHAPOT (USA), Mary Chapot: 0/8/33.47
7. GOTICO DI CA' SAN GIORGIO: 2011 Italian Sport Horse gelding by Diamant de Semilly
MARIA SCHAUB (USA), Evergate Stables LLC: 0/27/59.12
8. ALMA Z: 2007 Oldenburg mare by Chacco-Blue x Pablo
DANIEL CYPHERT (USA), Heathman Farm, LLC: 1/73.98
9. TIESTO DU PARSIS Z: 2013 Zangersheide gelding
CHRIS PRATT (CAN), Little Creek Investment and Marie Lahy: 1/74.00
10. H5 JEMOUSIN: 2009 BWP gelding by Vivaldi du Seigneur x Lipton
CARLOS HANK GUERREIRO (MEX), H5 Stables: 2/77.24
11. TEAM DE COQUERIE: 2007 Selle Francais gelding by Heartbreaker x Papillon Rogue
STEPHEN MOORE (IRL), Vlock Show Stables, LLC: 4/69.46
12. CHACCO BUMPY: 2010 Oldenburg mare by Chacco-Blue x Toulon
LUIS PEDRO BIRABEN (ARG), Miguel Madero and Luis Pedro Biraben: 4/69.73