By Jennifer Wood, Kim Beaudoin, and Sabrina Brashares for Jennifer Wood Media, Inc.
Wellington, FL – March 26, 2021 – Extending an astonishing winning streak at the 2021 Winter Equestrian Festival, World Number Three rider Daniel Deusser (GER) showed once again why he's one of the best, riding to the top of the $500,000 Rolex Grand Prix CSI5* with Scuderia 1918 Tobago Z, owned by Stephex Stables and Scuderia 1918.
The eleventh week of WEF, sponsored by Rolex, concludes on Sunday, March 28, with the $50,000 CabanaCoast Grand Prix CSI2* at the Global International Arena at Equestrian Village, as well as the $50,000 CaptiveOne Advisors 1.50m Grand Prix on the main grounds at PBIEC. All feature classes can be watched for free both live and on-demand on the livestream.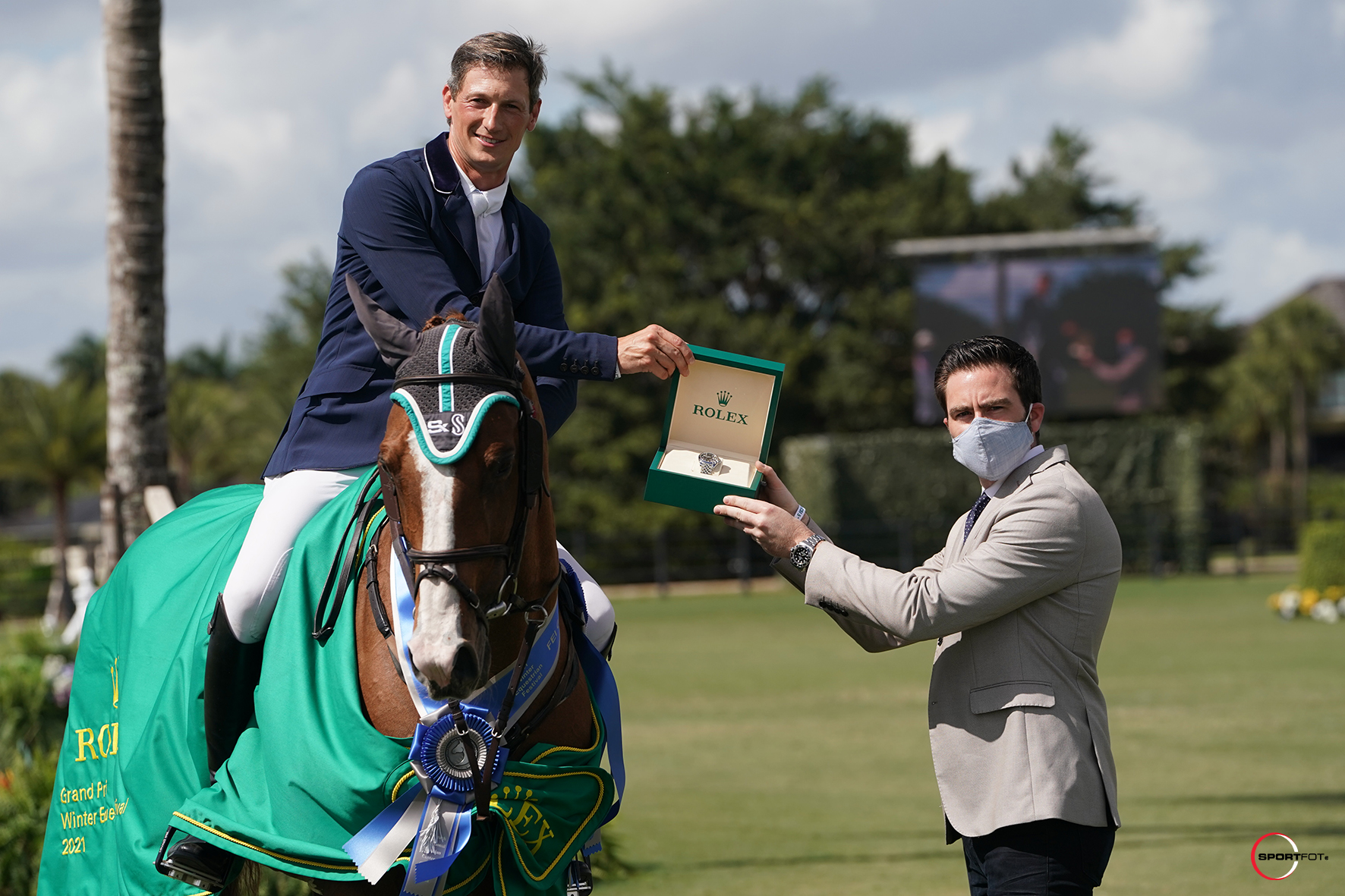 Forty of the best riders in the world took to the grass Derby Field at Equestrian Village on a picture-perfect day for the feature class of the circuit. Eight pairs were clear in the first round to continue to the jump-off. Returning first was the round one trailblazer, Santiago Lambre (MEX), and his own Chacco Blue II. They finished with one rail for sixth place. An eight-fault performance followed from Yuri Mansur (BRA) and his own Vitiki, which ended in eighth place. Swiss rider Beat Mändli and Dsarie, owned by Grant Road Partners GmbH, had eight faults in the second round as well to finish in seventh place. It was a heart-breaking four-fault effort for Jessica Springsteen (USA), who challenged for the lead but had a rail at the final Rolex oxer, ending up in fifth place with Don Juan van de Donkhoeve, owned by Stone Hill Farm.
The first double clear in the jump-off came from the next rider in, Harrie Smolders (NED), and Bingo du Parc, owned by Copernicus Stables LLC. They set the time to beat at 36.74 seconds, which would hold up for third place.
A third-place finish was an impressive performance for Bingo du Parc, a 10-year-old Selle Français gelding by Mylord Carthago *HN x Diamant de Semilly, showing in its third five-star competition with Smolders.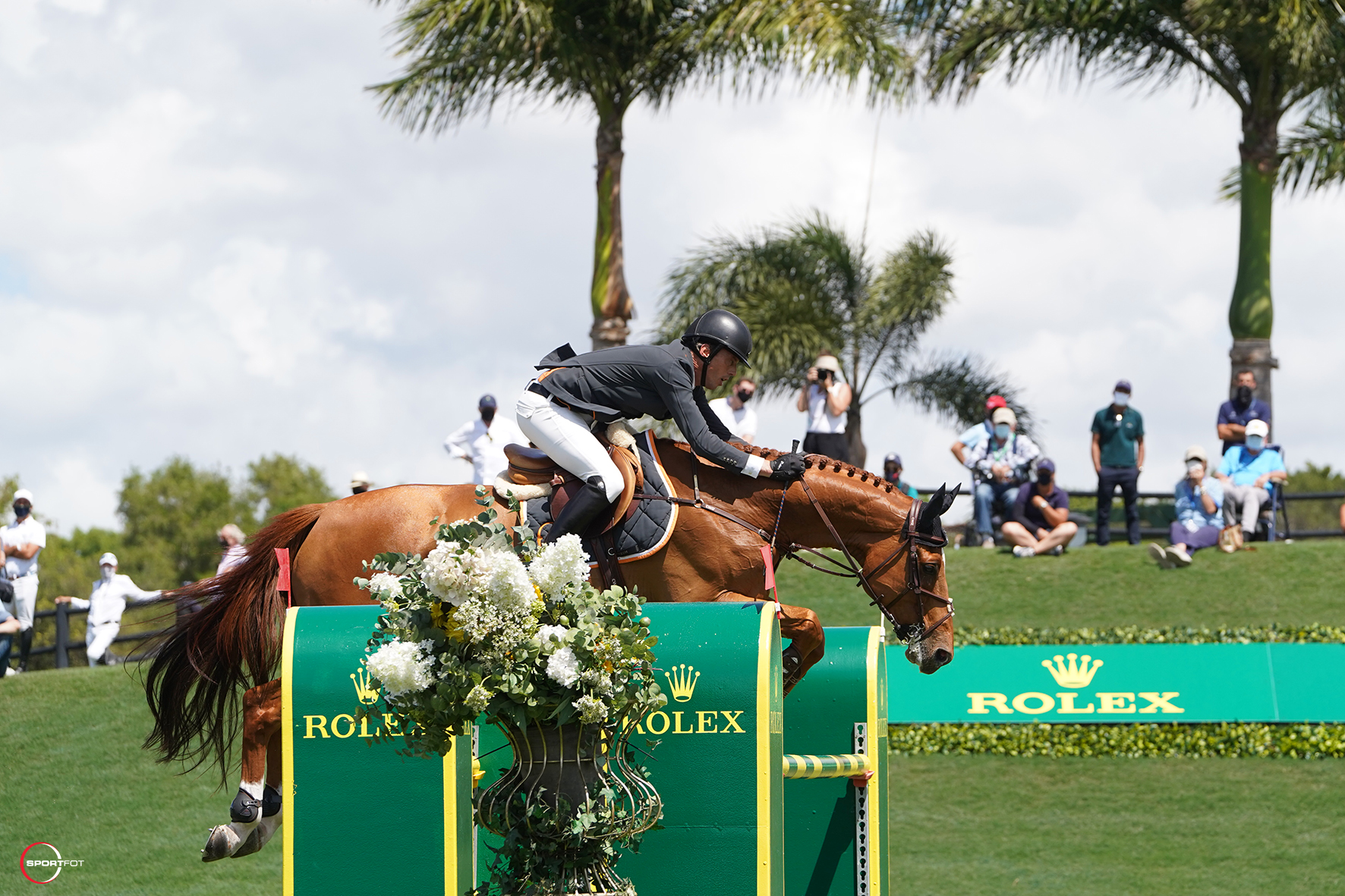 "Today he did a fantastic job," remarked Smolders. "It was a serious test for him, a big class. I think we have seen several horse-and-rider combinations that we will see back in the [2021 Tokyo] Olympics. I still feel some places where I can improve, so hopefully in the future I can come close or beat the gentleman (Deusser) in front of me. But I am very pleased with the performance of my horse and I am looking forward to the future."
Coming in just two-tenths of a second faster, Daniel Bluman (ISR) lowered the leading time to 36.54 seconds riding Gemma W, owned by Blue Star Investments and Over the Top Stables. Their fault-free performance would land them in second place.
"I think there were definitely a couple places I could have been faster in the jump-off, but realistically I know that whatever I did, McLain [Ward] and Daniel [Deusser] were going to follow just as fast, or faster," admitted Bluman. "My strategy was to put a good time, do the right strides that I want to do and be smooth, and then put enough pressure that they have to take risks.
"I'm not going to say that I'm surprised that Daniel beat me," he continued with a smile. "He is a little bit of a pain for us when he shows up, because he is just on a different level. You have to say it how it is; we have to keep working to be able to ride the way that he rides. I am extremely happy with the result anyway. I thought Gemma was amazing."
Bluman has been riding Gemma W, a 10-year-old KWPN mare by Luidam x Unaniem, for five years and but recognized her talent from the start.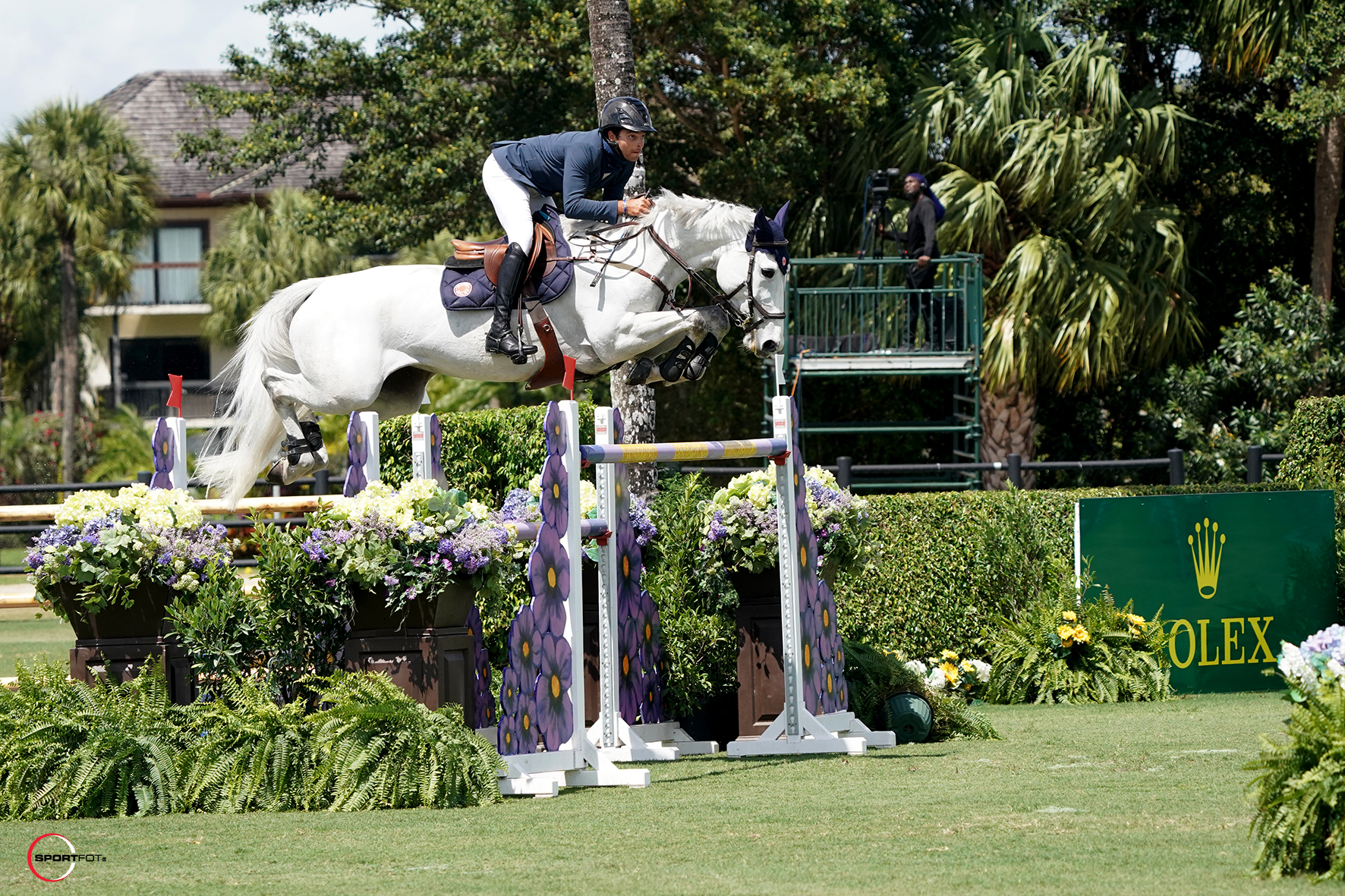 "This is the first year jumping the five-star level," he said. "I always believed in her from the beginning to be a very, very special horse, so I honestly wasn't surprised to see her perform the way she did. She has performed this whole season and every step that she has done since a young horse has been like this. We have been patient, and it has paid off."
Bluman was the winner of the feature grand prix event at the 2012 WEF, the $500,000 FTI Consulting Finale Grand Prix CSI5*, with Sancha LS.
"I think the field was great, and I thought having the Rolex Grand Prix here was a great decision by the management team," he said. "I'm looking forward to being able to win this class in the next 10 years at least one time."
With the fastest time of the jump-off in 34.94 seconds, two-time Olympic team gold medalist McLain Ward (USA) was by far the speediest with the Beechwood Stables, LLC-owned entry Contagious, but a costly rail in the 'b' element of the Rolex double combination dropped him to fourth place.
As the last to go in the jump-off, Deusser had the advantage of knowing the time to beat and used it to his advantage, coming in just under the winning time in 36.40 seconds.
This was Deusser's seventh win at WEF, his fourth CSI5* class victory, and his third grand prix win, having captured the $214,000 Marshall & Sterling Grand Prix CSI4* with Killer Queen VDM and the $214,000 Grand Prix CSIO4*, presented by Lugano Diamonds, with Scuderia 1918 Tobago Z.
Deusser's top horse, Scuderia 1918 Tobago Z, was fit and prepared for the biggest class of the season.
"Tobago has been my best horse for years," said Deusser of the 13-year-old Zangersheide stallion by Tangelo Vd Zuuthoeve x Mr Blue. "He has won many grand prix [classes], and also he really likes big grass arenas. He was in very, very good shape already the last couple of weeks here. That doesn't necessarily mean he wins today, but he kept his form and he performed great. It was a little bit in my favor today that I had to start second to last in the first round and last in the jump-off. I knew exactly what I had to do. And in the end, I have to say once it works out and the horse jumps how he jumps, it was not too difficult."
After an injury in late 2019, "Toby" only came back to competition at the end of the year in 2020.
"He actually came back better than before," said Deusser. "These couple of weeks here at WEF have given the horse a lot of strength again. Hopefully he stays exactly in that form, and I'm really looking forward to a great rest of season."
Deusser echoed the feelings of his fellow competitors about having the opportunity to compete during challenging times.
"We are in a very lucky position that we are able to ride here," he confirmed. "Maybe for me it's a little bit more, also for Harrie. Coming from Europe, we know in the moment with the current situation of COVID how difficult it is to organize events, how difficult it is for the sport, and also how difficult life in Europe is in the moment. A big congratulations and also a big thank you to the organization and also to the sponsor that we are allowed to ride here."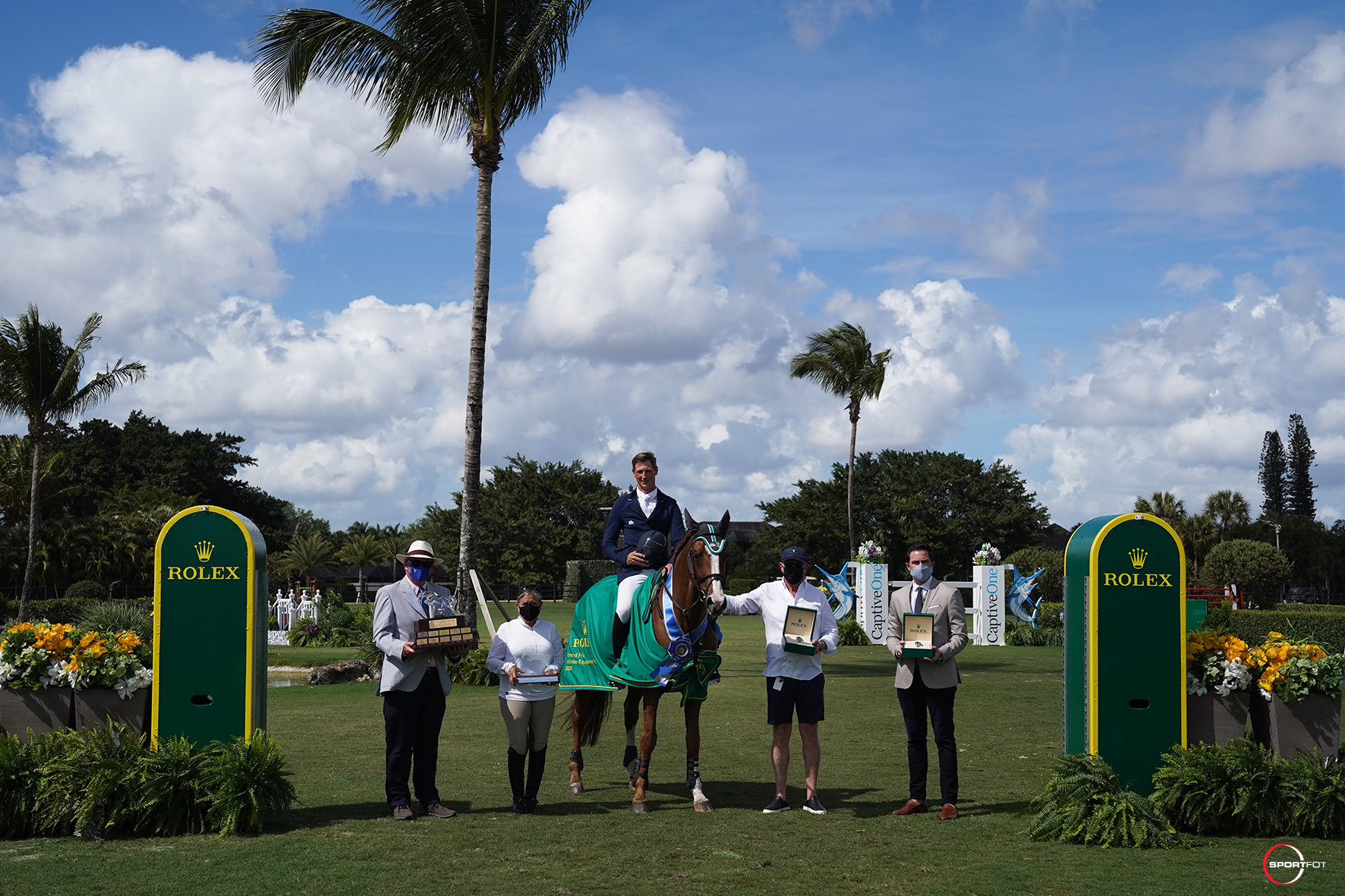 Final Results: $500,000 Rolex Grand Prix CSI5*
1. SCUDERIA 1918 TOBAGO Z: 2008 Zangersheide stallion by Tangelo Vd Zuuthoeve x Mr Blue
DANIEL DEUSSER (GER), Stephex and Scuderia 1918: 0/0/36.40
2. GEMMA W: 2011 KWPN mare by Luidam x Unaniem
DANIEL BLUMAN (ISR), Blue Star Investments and Over The Top Stables: 0/0/36.54
3. BINGO DU PARC: 2011 Selle Français gelding by Mylord Carthago *HN x Diamant de Semilly
HARRIE SMOLDERS (NED), COPERNICUS STABLES, LLC: 0/0/36.74
4. CONTAGIOUS: 2009 German Sport Horse gelding by Contagio x For Keeps
MCLAIN WARD (USA), Beechwood Stables LLC: 0/4/34.94
5. DON JUAN VAN DE DONKHOEVE: 2009 SBS stallion by Bamako de Muze x Heartbreaker
JESSICA SPRINGSTEEN (USA), Stone Hill Farm: 0/4/37.21
6. CHACCO BLUE II: 2007 Oldenberg stallion by Chacco Blue x Cincaba Rouge
SANTIAGO LAMBRE (MEX), Santiago Lambre: 0/4/43.14
7. DSARIE: 2008 KWPN mare by Veron x Ahorn
BEAT MÄNDLI (SUI), Grand Road Partners, GmbH: 0/8/37.42
8. VITIKI: 2008 Hanoverian by Valentino x For Expo
YURI MANSUR (BRA), Yuri Mansur: 0/8/38.35
9. BALOU DU REVENTON: 2006 Oldenburg stallion by Cornet Obolensky x Georgia
BRIAN MOGGRE (USA), Ann C Thompson: 1/88.62
10. AMSTERDAM 27: 2010 Holsteiner gelding by Catoki x Acord II
TEDDY VLOCK (ISR), Vlock Show Stables, LLC: 1/88.66
11. CARLCHEN W: 2008 German Warmblood gelding by Chacco-Blue x Continue
ALEX GRANATO (USA), Page Tredennick:
12. PACINO AMIRO: 2012: Irish Sport Horse gelding by Pacino x NC Amiro
BERTRAM ALLEN (IRL), Aiden McGregory: 4/84.71