By Jennifer Wood, Kim Beaudoin, and Sabrina Brashares for Jennifer Wood Media, Inc.
Saturday at WEF 11 commenced with yet another two-star victory in the Global International Arena at Equestrian Village for Gabriela Reutter (CHI) and Atticus Diamant, this time in the $6,000 CabanaCoast1.40m Jumpers CSI2*. Reutter was victorious in Thursday's opening CSI2* speed class.
Reutter and the 2009 Selle Français gelding by Diamant De Semilly x Vas Y Donc Longane owned by Lumiere Horses Inc., bested a 10-horse-and-rider line-up to produce the fastest of five double-clear rounds. Clearing the jump-off timers in 26.75 seconds, Reutter explained that her plan was to approach the entire class as if it was a speed round.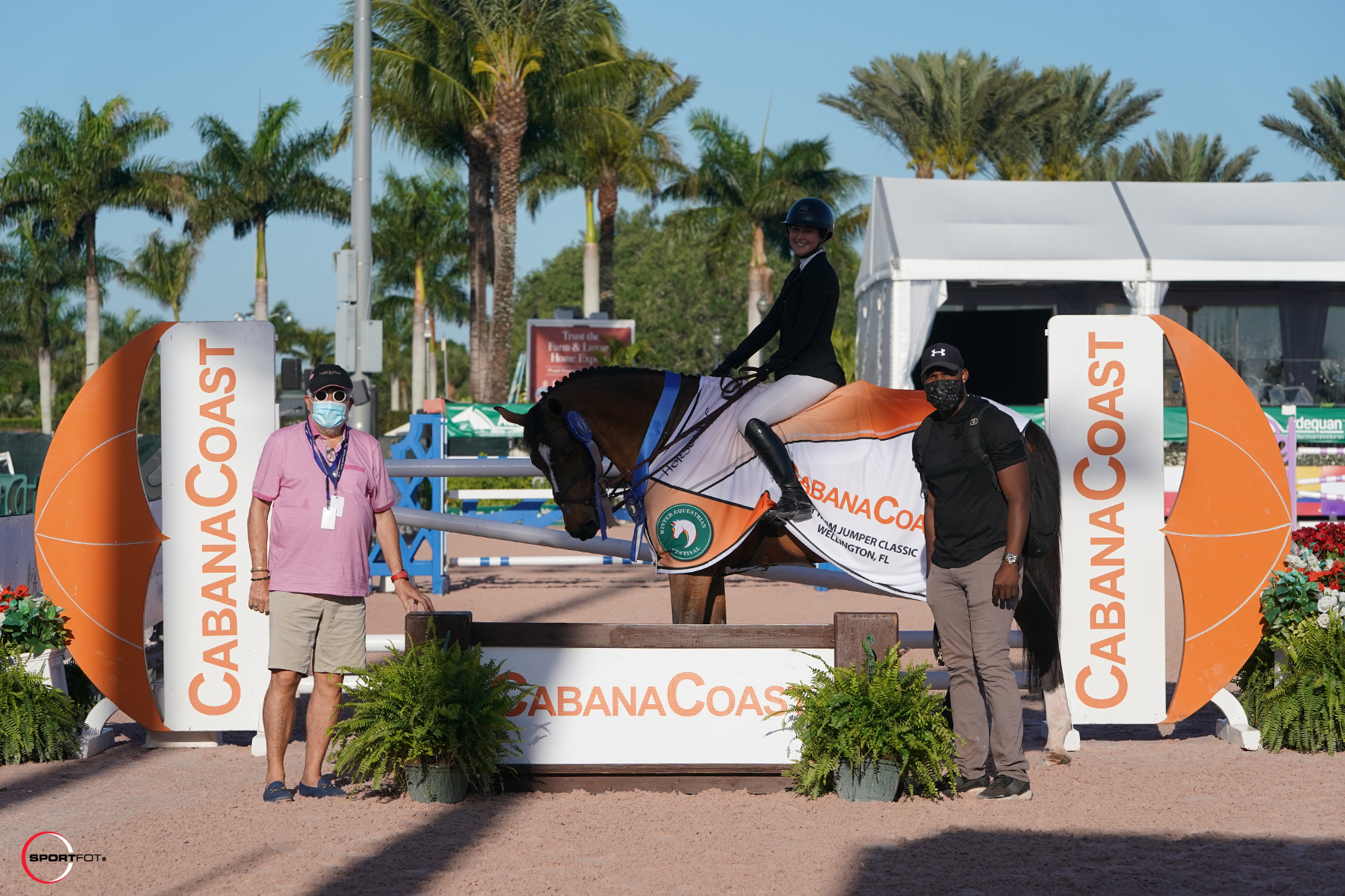 "We worked on our pace in the warm-up," she explained, "which is what we did last time as well. We didn't jump as much because he knows his job. When we went in there, I tried to teach the entire track as a speed course, just because that seems to keep him thinking and on his toes, and I think he likes that, to be tested. I wanted to keep that momentum and the element of surprise, and it keeps me in the moment and really thinking about what our next move is."
Reutter and "Monty" have been paired together for several years now, and Reutter joked, "The other day he didn't get to ride in his awards presentation; I had my other horse sub in, so I think he was a little jealous and wanted his chance too!"
She continued, "It's awesome to win twice! I really wanted to win again. He's my heart horse, and I feel super connected with him. It's almost like we're thinking the same thing at the same time, and we are good at compensating for one another. I really wanted this for both of us, mostly because he deserves it. We haven't had two wins in one week like this, so it's a great feeling."
Second place went to Max Wachman (IRL) on Dorette, Coolmore Show Jumping's 2009 Oldenburg by Dollar Du Murier x Foxy Brown, who clinched the red ribbon after a double clear round concluding in 27.34 seconds. Third was captured by Sergio Nieto Del Rio (MEX) on Elexo, his own 2009 KWPN by Numero Uno x Petunia, after crossing fast track timers in 27.69 seconds.