By Kate Pettersen, Kim Beaudoin, and Sabrina Brashares for Jennifer Wood Media, Inc.
Forty-five combinations took their final turn around the Global International Arena at Equestrian Village of the season on Sunday morning as they contested the $50,000 CabanaCoast Grand Prix CSI2*. Last to go in the jump-off, it was Ireland's Stephen Moore aboard Vlock Show Stables' Team De Coquerie that took the lead in a time of 40.81 seconds over a course designed by Mauricio Garcia (PUR).
"We've been building up for a few weeks for this class," explained Moore. "This is his second two-star grand prix of the season; we started slowly. He jumped good in the qualifier and had one down that kept us out of the jump-off. In the first round today, we got lucky in a few spots and had a few rubs, but he's always so fast. In the jump-off we were last to go, and I knew the ones that were ahead of me were quite quick, but he's so fast and turns well so I just had to let him do his thing and hope that his food speed would be fast enough."
The 2007 Selle Français gelding by Heartbreaker x Girl De Coquerie has been a part of the Vlock Show Stables' program for about four years, and Moore has had the ride on and off throughout that period of time.
"I rode him when we first got him, and then Darragh [Kenny] who is also a part of our program, rode him for a while," said Moore. "I've been with him for the last year now. He won a grand prix at Deeridge last winter and then had a great summer, so it's good to leave Wellington with another win under his belt."
Moore concluded, "I thought the courses all week were very well done. It's hard to build for the two-star classes because you're limited with your height, so they have to be technical. That called a lot of people out in several places, even I was lucky myself to get through the first round without having one down."
Second place in the $50,000 CabanaCoast Grand Prix CSI2* went to Canada's Jacqueline Steffens on Eye Candy Jumpers' 2007 Selle Francais gelding by Heartbreaker x Girl De Coquerie, Cat Ninja, who crossed through the fast track timers in 41.42 seconds. Third was awarded to Samantha Wight (USA) riding Melissa Wight's 2008 Zangersheide mare by Cap Kennedy x Ma Jolie D'Troteval, Crunch De Troteval Z, finishing their jump-off in 42.54 seconds.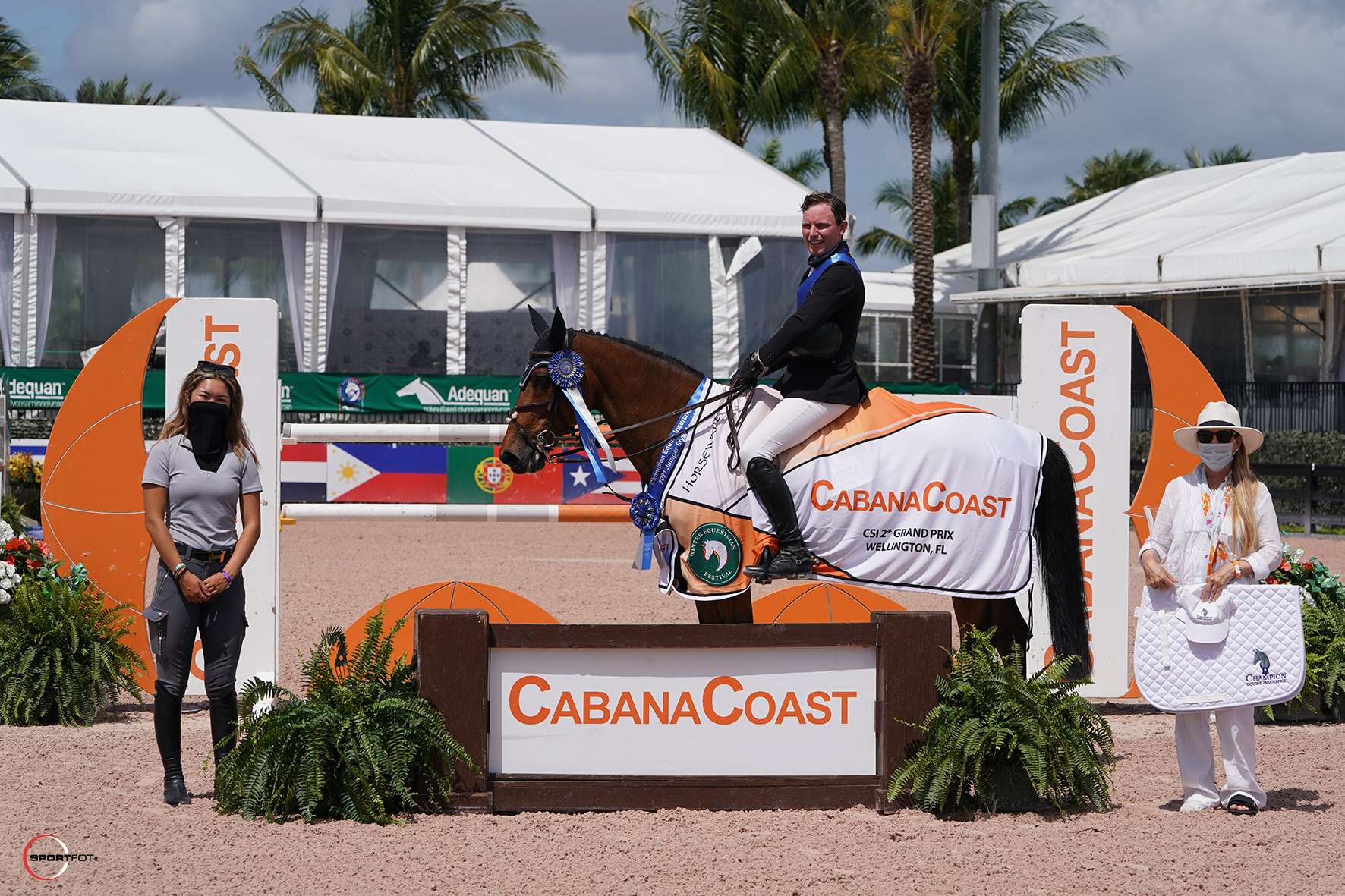 Final Results: $50,000 CabanaCoast Grand Prix CSI2*
1. TEAM DE COQUERIE: 2007 Selle Francais gelding by Heartbreaker x Girl De Coquerie
STEPHEN MOORE (IRL), Vlock Show Stables: 0/0/40.81
2. CAT NINJA: 2008 KWPN mare by Zirocco Bleu x Wyrusa H
JACQUELINE STEFFENS (CAN), Eye Candy Jumpers: 0/0/41.42
3. CRUNCH DE TROTEVAL Z: 2008 Zangersheide mare by Cap Kennedy x Ma Jolie D'Troteval
SAMANTHA WIGHT (USA), Melissa Wight: 0/0/42.54
4. BALOU'S FLY HIGH: 2007 Oldenburg stallion by Balou Du Rouet x Alianz
ISABELLA RUSSEKOFF (USA), Suave Pony LLC: 0/1/45.39
5. FEMINKA: 2010 KWPN mare by Verdi TN x Vaminka
TANIMARA MACARI (MEX), Tanimara Macari: 0/4/40.35
6. IKAROS: 2012 Swedish Warmblood gelding by Chelltago Z x Electra
MAX WACHMAN (IRL), Coolmore Show Jumping: 0/4/42.86
7. GOTCHA: 2011 Holsteiner mare by Stakkato x Zicchini
SIMON MCCARTHY (IRL), Rock Ridge Farms: 0/8/39.93
8. FIREFLY: 2010 KWPN gelding by VDL Wittinger x Urette VDL
SERGIO NIETO DEL RIO (MEX), Sergio Nieto Del Rio: 1/78.40
9. CASSINA 64: 2008 Oldenburg mare by Collado x Loise
RALEIGH HILER (USA), Kurt Hiler: 1/79.22
10. BALOTELLI 5: 2010 Gelding by Balou Du Rouet x Conny
MATTHEW BODDY (GBR), Purple Road LLC: 4/71.82
11. CHADON BLUE:2005 Oldenburg gelding by Chacco-Blue x Bluebell
LAURA CHAPOT (USA), Laura and Mary Chapot: 4/72.16
12. BACCARAT DU TERTRE: 2011 Selle Francais mare by Putch Des Isles x Kassandre Erger
KAREN POLLE (JPN), Karen Polle: 4/72.63