By Kate Pettersen for Jennifer Wood Media, Inc.
Wellington, FL – March 31, 2021 – On the opening day of the final week of the 2021 Winter Equestrian Festival (WEF), Kristen Vanderveen (USA) and Bull Run's Faustino De Tili, owned by Bull Run Jumpers Five, LLC, flew to a winning finish in the $10,000 Douglas Elliman Real Estate 1.45m Jumpers CSI4* on Wednesday, March 31, in the International Arena at the Palm Beach International Equestrian Center (PBIEC).
The twelfth week of WEF, sponsored by Wellington Agricultural Services, begins on Wednesday, March 31, with CSI4* competition along with a concurrent CSI2* running through Sunday, April 4, the final day of the 2021 WEF. Thursday's schedule is highlighted by the $50,000 Adequan® WEF Challenge Cup Round 12 followed by a busy Friday featuring the $37,000 1.45m CSI2* and the $73,000 CaptiveOne Advisors 1.50m Classic Series Final. An exciting weekend of show jumping begins with the $214,000 Wellington Agricultural Services Grand Prix CSI4* and WEF Circuit Champion Parade on Saturday and concludes with the $50,000 1.45m Grand Prix CSI2* on Sunday.
Hunters will be featured on the grass during WEF 12 at the Derby Field at Equestrian Village. On Friday at 9:30 a.m. is the $15,000 International Hunter Derby Hunt & Go, followed by the $10,000 USHJA National Hunter Derby Open, presented by Restylane and the $10,000 USHJA National Hunter Derby Junior/Amateur. The $50,000 USHJA International Hunter Derby Round 1 is on Saturday at 11 a.m. and will be followed by the top 12 returning for a handy round. All feature classes can be watched for free both live and on-demand on the livestream.
In the concluding class on Wednesday, 50 horse-and-rider combinations attempted the 1.45m two-phase course set by Olaf Petersen Jr. (GER), a qualifier for Friday's $73,000 CaptiveOne Advisors 1.50m Classic Series Final. The track featured fences numbered one through seven in the first phase, with eight through 12 representing the jump-off.
Just ninth in the starting order, Vanderveen and the 16-year-old Belgian Warmblood stallion by Berlin x Darco, flew around the second phase, leaving all the jumps up in a time of 21.92 seconds, fast enough to hold the lead until the end.
"My plan was actually not to try and win," she said. "He felt like winning today. He jumped the first half really nice, and he likes to go fast so I figured I would let him have it. I definitely changed my plan midway through. It went from a nice schooling round to a 'let's have some fun.'"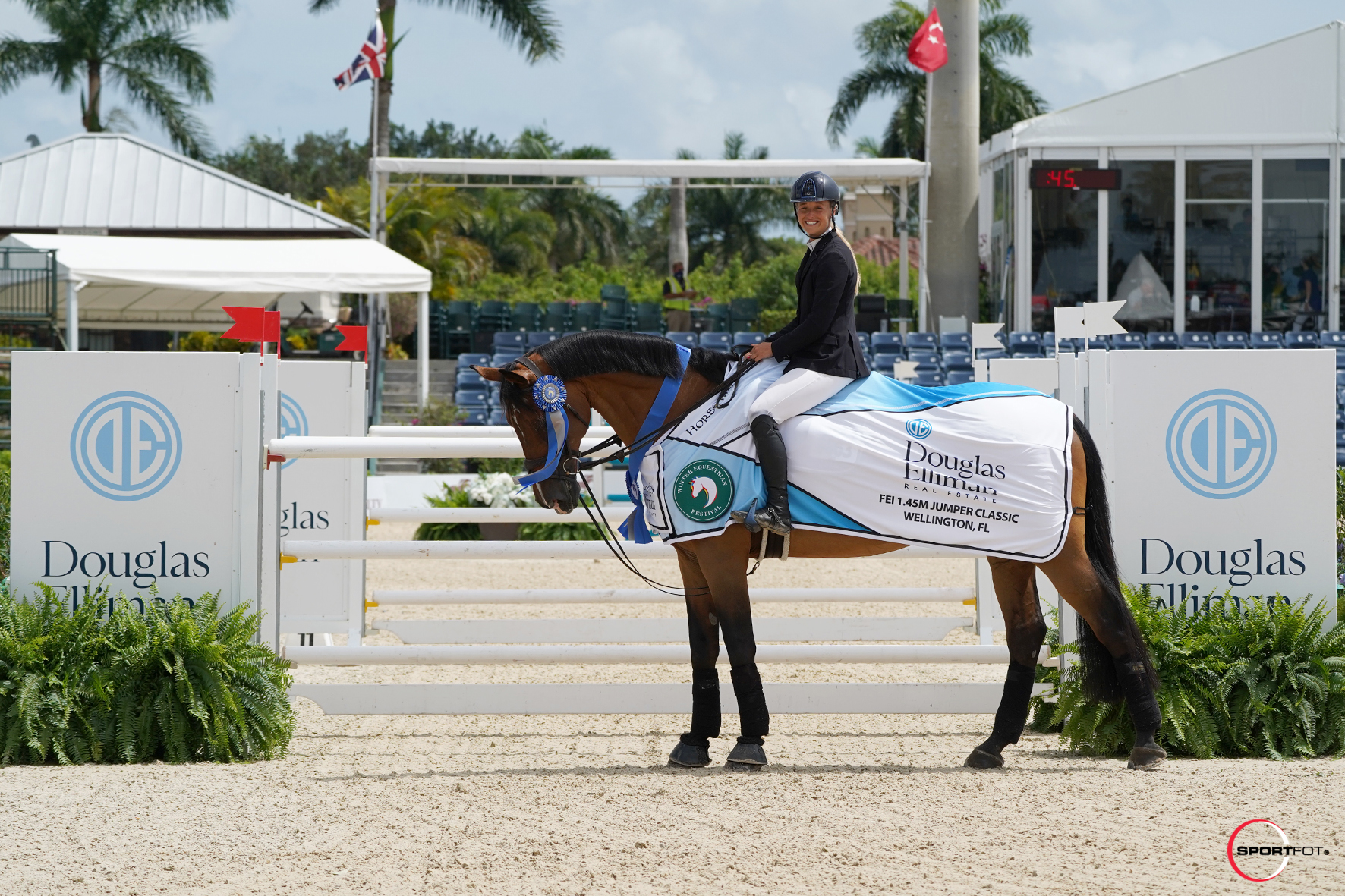 Canada's Tiffany Foster and Brighton, a 15-year-old Dutch Warmblood gelding by Contender II x Quick Star, owned by Artisan Farms, LLC, finished in second place with a clear effort in 23.46 seconds. It was also a podium finish for Israel as Daniel Bluman guided Colestina H, an 11-year-old German Sport Horse mare by Colestus x Cardenio 2, for Blue Star Investments and Kim Douglas to a third-place finish in a time of 24.30 seconds.
Vanderveen and her talented partner known as "Frosty" in the barn will jump the $73,000 CaptiveOne Advisors 1.50m Classic Series Final, one they're both looking forward to.
"He's been my long-time partner for now for five years," she said. "He's been really unique for me as he won a CSI5*, he's won a few CSI4* classes, but he's also won so many speed classes. Now, I mostly use him as a speed horse. This is his specialty."
Vanderveen will also campaign Bull Run's Risen during WEF 12, jumping Thursday's $50,000 Adequan® WEF Challenge Cup Round 12 in hopes of qualifying for the grand prix. While the 12-week circuit is coming to a close, the 31-year-old rider feels she's in top form to keep on rolling into a busy spring of competitions in Wellington, Florida.
"I broke up my 2021 WEF really nicely so I still feel very fresh," she said. "I try to plan our winter circuit smart, so no one gets too drained. We're actually excited for the CSI3* spring shows that were added, and we're ready to keep rocking."
To open the day, Kevin Mealiff (IRL) and Bel Star, owned by Whiterock Farm, Ltd, captured the blue ribbon in the $6,000 1.40m Jumpers CSI2*. Mealiff and the 10-year-old Selle Français gelding by Untouchable M completed the jump-off portion of the two-phase course with a clear effort in 25.12 seconds.
Following that, fellow Irishman Jordan Coyle piloted Warnike, an 11-year-old Dutch Sport Horse mare by Eldorado Vd Zeshoek x Vingino owned by Elan Farm, won the $1,000 Bainbridge Companies 1.40m CSI4* with a double clear effort in 26.40 seconds.
Final Results: $10,000 Douglas Elliman Real Estate 1.45m Jumpers CSI4*
1. BULL RUN'S FAUSTINO DE TILI: 2005 Belgian Warmblood stallion by Berlin x Darco
KRISTEN VANDERVEEN (USA), Bull Run Jumpers Five, LLC: 0/21.92
2. BRIGHTON: 2006 KWPN gelding by Contender II x Quick Star
TIFFANY FOSTER (CAN), Artisan Farms, LLC: 0/23.46
3. COLESTINA H: 2010 German Sport Horse mare by Colestus x Cardenio 2
DANIEL BLUMAN (ISR), Blue Star Investments and Kim Douglas: 0/24.30
4. COLLIN: 2007 KWPN gelding by Colandro x Amethist
LUIZ FRANCISCO DE AZEVEDO (BRA), Luiz Francisco de Azevedo: 0/24.43
5. KALINKA DE KALVARIE: 2010 BWP mare by Mr Blue x Acord I
BEN MAHER (GBR), Poden Farms: 0/24.81
6. PRADO K: 2003 Westphalian gelding by Prado x Dynast
BLISS HEERS (USA), Bridgeside Farms, LLC: 0/25.05
7. INDRA VAN DE OUDE HEIHOEF: 2008 Belgian Warmblood mare by Casantos x Action-Breaker
SHANE SWEETNAM (IRL), The Blue Buckle Group: 0/25.10
8. DICAS: 2009 Rheinlander gelding by Diarado x Cassini I
MARGIE ENGLE (USA), Storm Ridge Capital LLC, Show Horses, Garber and Gladewinds Partners, LLC: 0/25.13
9. GOLDWIN: 2012 BWP gelding by Emrald x Divine Idylle GTW De Tinmont
LAURA KRAUT (USA), Stars and Stripes: 0/25.45
10. PRESENCE: 2008 Holsteiner stallion by Contendro II x Ulibra
MARIA COSTA (USA), Ravello Farms, LLC: 0/25.52
11. KS CORADINA: 2007 LWB mare by Corlensky G x Cardento 933
SUSAN HORN (CAN), Kingsfield Farm: 0/25.53
12. CINDERELLA Z: 2010 Zangersheide mare by Chacco-Blue x Julio Mariner XX
MARK REID (IRL), Caroline's Kids, LLC: 0/26.06