By Sabrina Brashares and Kate Pettersen for Jennifer Wood Media, Inc.
On the final day of the WEF 2021 season, Amber Broder and Tip Jar bested a field of 14 adult equitation riders in the Rost Arena to claim the top prize in the Bruno Delgrange Palm Beach Adult Medal. Tracey Gorin-Byrne and Fiach Byrne Inc.'s Honor Hill's Giovanni were awarded as the Bruno Delgrange Palm Beach Adult Medal Series Winners.
Equitation riders were asked to navigate an over fences course and then the top 12 scores returned for a flat phase in the medal. Broder, of Setauket, NY, and Tip Jar, owned by Kimberly Griffiths, earned a score of 85 in the first round and moved up two spots in the flat portion to take home the blue ribbon.
"I felt like I did all of the jumps really well," commented Broder. "I was just trying to make all my distances match and be consistent. He was really with me today. To end so strong with one of my favorite horses and a horse I feel so lucky to ride was amazing."
Broder is going into her second year showing in the equitation with the coming 16-year-old Warmblood gelding by Cassini I. The pair trains with Chris Ewanouski and hopes to attend NHS Finals this year.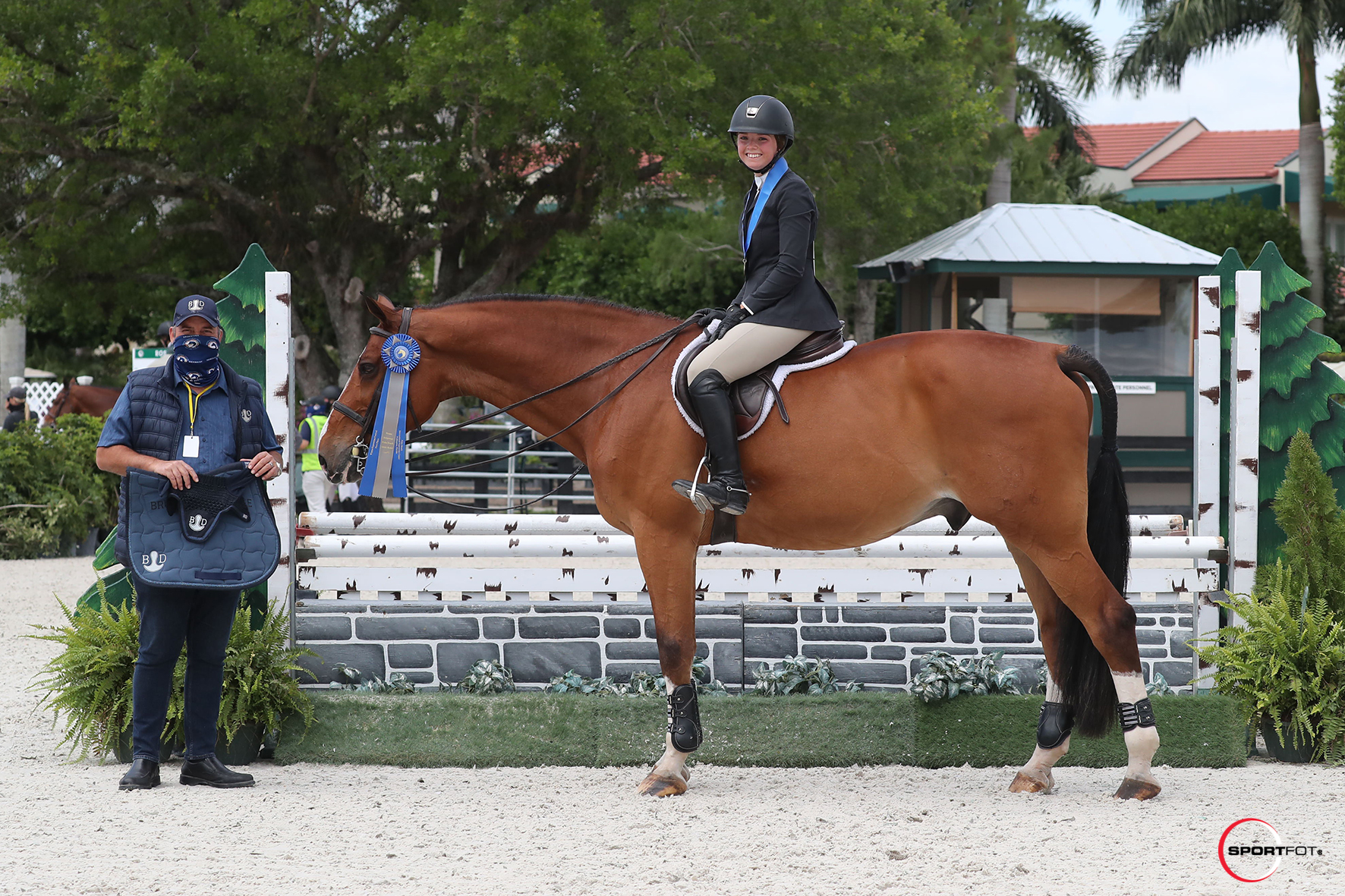 "Originally my mom leased him from Don Stewart," explained Broder. "When she got injured over the summer of my freshman year of college, I started riding him and fell completely in love with him, so my parents told me I could finish out the lease. Then for my 20th birthday that year they surprised me by actually buying him out because I wanted to keep doing the adult equitation."
Lindsey Tomeu, of Wellington, FL, and Sweet Oak Farm's Sunman took home second place in the medal. The pair earned a score of 82 in the first round and moved up five spots in the flat phase. After receiving a first round score of 83, Gorin-Byrne and Honor Hill's Giovanni moved up three places to claim third place honors.
Leading by over 20 points, Gorin-Byrne, of Noank, CT, and Honor Hill's Giovanni earned the Bruno Delgrange Palm Beach Adult Medal Series title.
"I'm really excited," said Gorin-Byrne. "I do a lot of different adult [divisions], and I've always really wanted to win this circuit award and I never have. I was really excited to get that goal accomplished, and I'm so proud of my horse and really happy!"
"For me it's been really fun to see [Honor Hill's Giovanni] come along this year," continued Gorin-Byrne. "Every week I feel like I think he couldn't go any better, and then every week he comes out and he does something that we have been working on a little better every time. He tries really hard, and he learns a lot. It's been really cool over the last few months to see how much he's changed and grown."