Julie Curtin (Woodstock, GA) and Salter Hydinger's Anthem, the 2008 Hanoverian gelding (Argentinus x Unknown), were unstoppable in the $2,500 USHJA National Hunter Derby, scoring an 87 in the first round along with an 85 in the second for a total of 172, leading the field of 14 over the Dean Rheinheimer course design. Curtin also claimed third place honors with her second mount, Narrator, the 2015 Hanoverian gelding owned by Amy Squier Perez, on a total score of 164. Caroline Biggs (Knoxville, TN) and Ashland Farms' Dress Balou, the 2009 Oldenburg gelding (Quintender x Wienna) had an impressive total score of 169 for second place.
Curtin was very pleased with how the course rode, saying, "The course was good. It rode and flowed nicely. We were able to get pretty handy and do some tight turns. It was fun to get out here! The footing is always great, even with all of the rain yesterday. The footing was so good today. It's always nice to show here and have such a nice facility."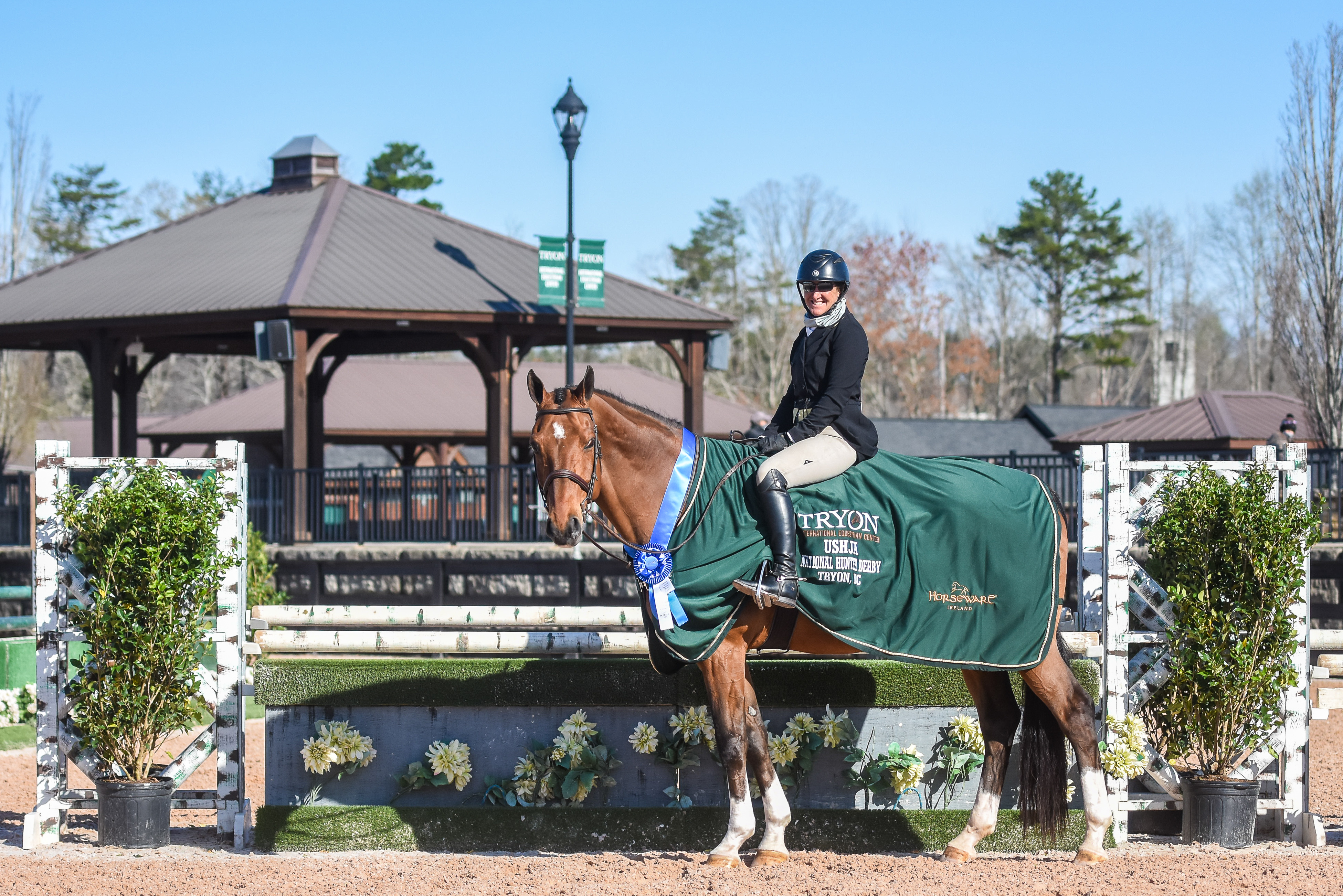 Despite unpleasant weather, Curtin's mount Anthem was unfazed. "I went in on top, so I just didn't want to do anything stupid. I didn't want to take any chances, and just go smooth and tidy. He was really good and turned well for me. He really held it together even though it's cold and windy. He was a really good boy! I'm proud of him."
Hunter Highlights:
The Junior Hunter 3'3" 15 & Under Division concluded with Madison Keese (Woodstock, GA) and her own True Enough claiming the tricolor, with Sophia Tabasso (Malvirn, PA) and her own Esperanza earning the reserve champion title.
The Baby Green Hunter 2'6" Division champion ribbon was awarded to Jennifer Schwartz (King of Prussia, PA) and The New Normal for owner Tammy Shaw. The reserve champion rosette was earned by Wimberly Debono (Birmingham, AL) and her horse By Far.
Lily Caslin (Charlotte, NC) and Narnia dominated the Children's Hunter Horse 15-17 Division, earning champion. Stephanie Strean (Charlotte, NC) and her own Arcturus received reserve champion of the week.
Jumper Highlights:
The 1.20m Open Jumper Division resulted in Maryann Charles (Southern Pines, NC) and her own Call Me Maybe claiming championship honors, while Amelia Nowicki (Inman, SC) and her own Daredevil took reserve on the week.
Ricardo Villa (Campobello, SC) and Jumping VG King, owned by Gareth Williams, earned champion status in the Developing Jumper Series 6/7 Year Old Jumper Division, with reserve going to David O'Brien (Lexington, KY) in the irons with the Spy Coast Farm LLC entry, Polaris SCF.
Hannah Collins (Hillsborough, NC) and her own Monkey Boy were champions in the .90m Non-Pro Jumper Division, with reserve earned by Mya Stollery (King City, Ontario) and her own Absolut K.
View all division results from Tryon Welcome 2 here.
For full results from the $2,500 USHJA National Hunter Derby, click here.