Wellington, FL – April 11, 2021 – The first week of the 2021 ESP Spring Series took place April 7-11 at the Palm Beach International Equestrian Center (PBIEC), with Sunday's action capping off the first week of National competition following the Winter Equestrian Festival. Concluding the first of five installments of the Spring Series as the week's big winner, Germany's Wilhelm Genn and Bugatti celebrated victory in the $35,000 ProElite Spring I Grand Prix after beating a small three-horse field in the jump-off.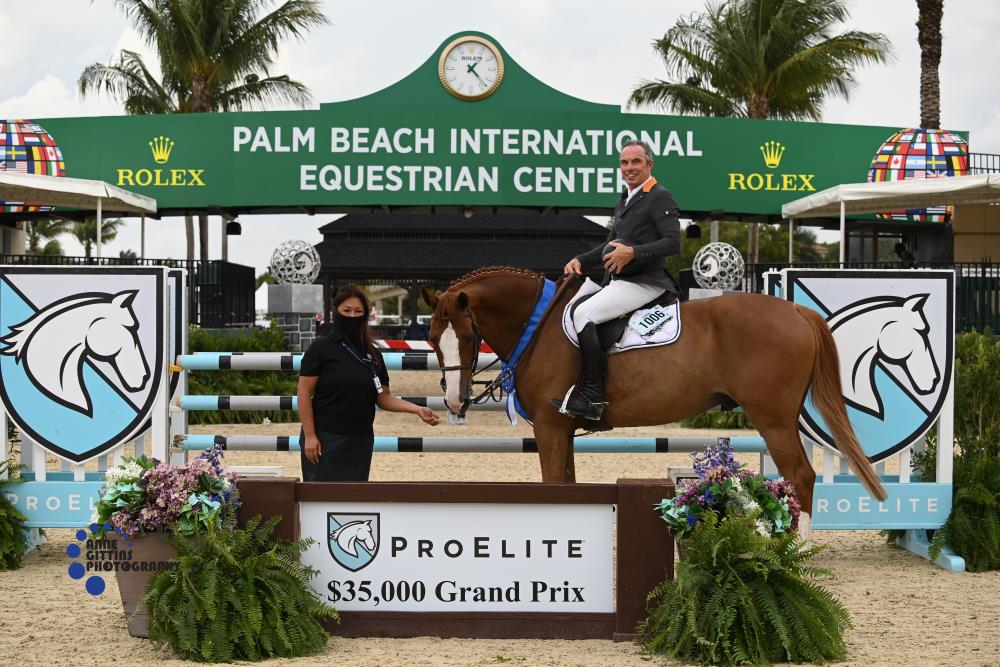 The 2021 ESP Spring Series will continue with four more weeks of competition. The next two weeks, Spring II and III, will be held at both Equestrian Village for the jumpers and PBIEC for the hunters. FEI competition at the CSI3* level will feature international competitors, including Spring II's $137,000 Bainbridge Companies Grand Prix CSI3* on Sunday, April 18, and Spring III's $137,000 Palm Beach County Sports Commission Grand Prix CSI3* on Sunday, April 25. Live Streamed content will be available each week here.
The feature event of the week, the $35,000 ProElite® Spring 1 Grand Prix attracted a field of 28 horse-and-rider duos to compete for the top prize. Challenged over a course of 13 efforts from designer Héctor Loyola (PUR), only three duos from the starting field advanced to the tie-breaker round, which trimmed the list of double-clears down to only two. As the last to go during the jump-off, Genn and longtime partner Bugatti, owned by Eduaro Leon, took the leading position in a fault-free time of 42.38 seconds.
"[Bugatti] felt really, really good today, and he was fantastic on Friday. I wasn't sure how he was going to feel today. He's the kind of horse who has to feel good. It's like us old guys! If we feel good, we can win any day, but if we don't, it's not a good day!" remarked Genn of the 13-year-old Dutch Warmblood (Heartbreaker x Pilot). 
Genn and Bugatti's victory added to their success for the week, having already earned third place on Friday in the $25,000 Premier Equestrian Spring Welcome Grand Prix.
"We've been longtime partners, so I knew what I could get away with today. On Friday, I was 11th in the jump-off out of 24, so I gave it a good go, but there were still 13 who went after me," noted Genn of his jump-off strategy on Friday. "If they go behind you, they're able to see what they need to do. The really good, fast riders that have a good horse know what to do. That's what I did today because I was last to go. Of course, even then, everything still has to go right."
Second place in the class went to Mexico's Santiago Lambre and Comtess 202, the 2011 Westphalian mare owned by Mario Onate. The pair were the first to try their hand in the jump-off round and went double-clear over the fences in a time of 43.23 seconds, just behind Genn. Competing for Israel, Alberto Michan, atop his own mount Case-Tout Z, a 2009 Zangersheide gelding (Clinton x Chellano Z), followed Lambre in the jump-off order and earned third place after knocking down only one rail.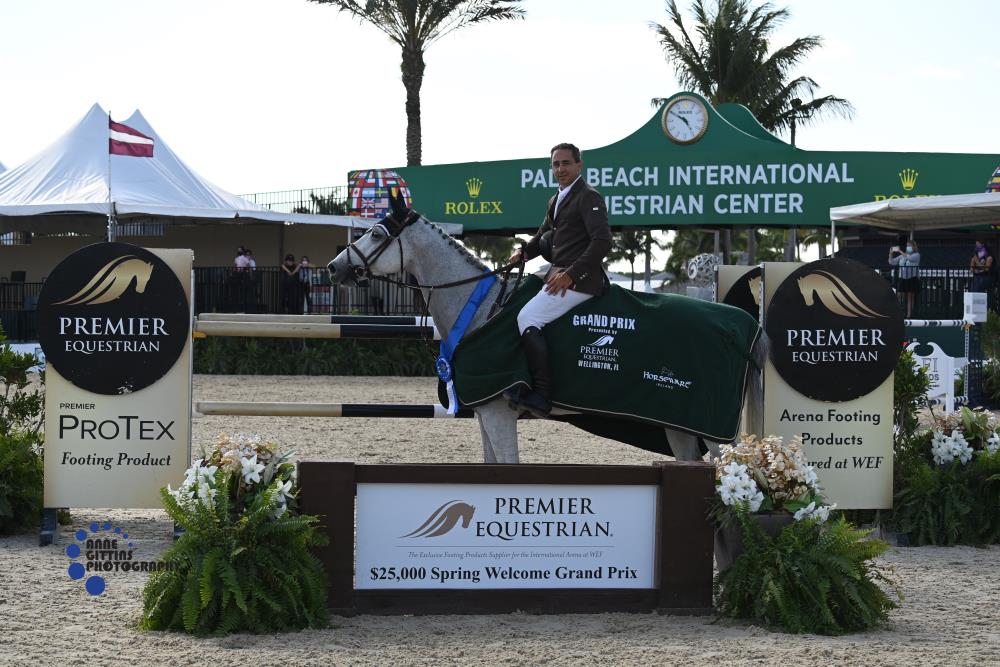 Friday's action was highlighted by the $25,000 Premier Equestrian Spring Welcome Grand Prix, which featured a whopping 24 pairs qualified for the jump-off. By the end of the second round, 15 of those contenders had jumped to a double-clear finish, led by the winning pair of Argentina's Gustavo Prado on King Van Het Keizershof, owned by Kisma Equestrian, LLC. Thanks to a fault-free time of 37.97 seconds, the combination claimed victory by nearly two seconds ahead of the next-closest competitor.
"With how many horses were going clear and going onto the jump-off, I knew I had to either go very slow and clear to get a good placing or go for the class, and I decided to go for the class!" commented Prado of his jump-off strategy with King Van Het Keizershof.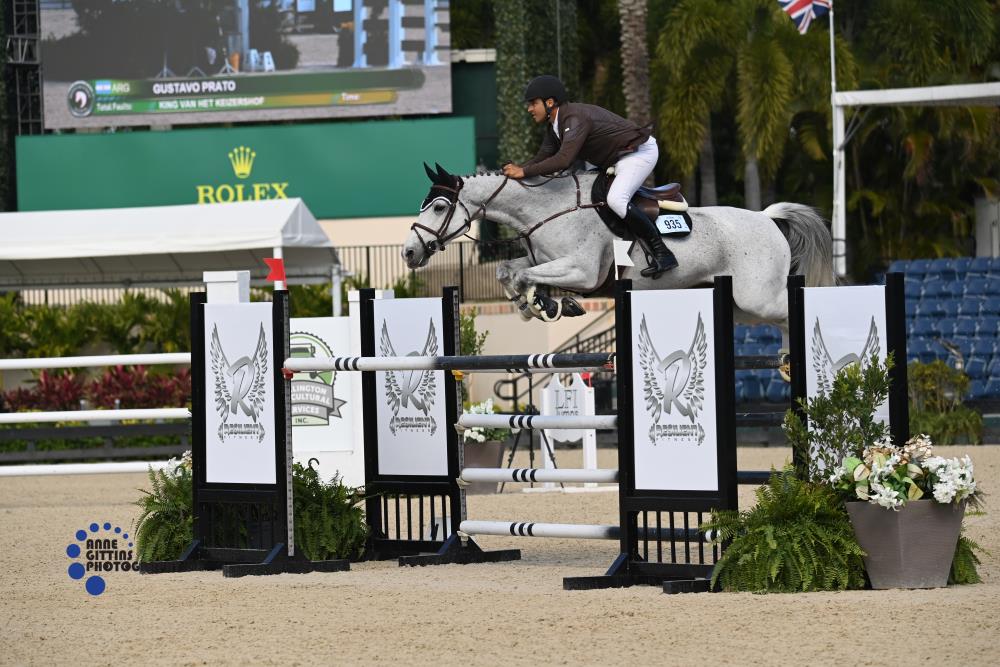 "I've been down here the whole [Winter Equestrian Festival] season, but I just got this horse. This is only my fourth or fifth time competing on him, so it's a new partnership," said Prado of the 11-year-old Belgian Warmblood (Clearway x Phin Phin). "I think I had the advantage today from the very first fence. He's absolutely fantastic and incredibly fast."
Second place in the class went to Anya Bereznicki of Calgary, Canada, riding Kari Kerr's Diazella. Bereznicki and the 13-year-old Holsteiner mare (Diamant de Semilly x Candillo) tripped the timers with no faults in 39.91 seconds to earn the runner-up honors. Genn and Bugatti rounded out the podium with a foot-perfect performance in 40.94 seconds.
The 2021 ESP Spring Series will continue for Spring II from April 14-18. Hunters will compete at PBIEC while upper-level jumpers will ride at Equestrian Village. Spring II will feature CSI3* classes.
Final Results: $35,000 ProElite® Spring 1 Grand Prix
1. BUGATTI: 2003 Selle Français gelding by Indoctro x Diamant De Semilly
WILHELM GENN (GER), Eduardo Leon: 0/0/42.38
2. COMTESS 202: 2011 Westphalian mare by Comme II Faut 5 x Pilot
SANTIAGO LAMBRE (MEX), Mario Onate: 0/0/43.23
3. CASSE-TOUT Z: 2009 Zangersheide gelding by Clinton x Chellano Z
ALBERTO MICHAN (ISR), Alberto Michan: 0/4/44.373
4. QH ALFONS SANTO ANTONIO: 2007 gelding by Aromats x False Pass
YURI MANSUR (BRA), Yuri Mansur: 4/72.80
5. DARING QUEEN: 2011 Holsteiner mare by San Patrignano Cassini
YURI MANSUR (BRA), Yuri Mansur: 4/73.49
6. BILLY MANJARO: 2010Anglo European (AES) gelding by Animo x Cevin Z
KEVIN MEALIFF (IRL), Whiterock Farm LTD: 4/74.10
7. LAURIER: 2011 Belgian Warmblood gelding
NICOLA PHILIPPAERTS (BEL), Nicola Philippaerts: 4/75.14
8. ABSOLUTE DU MIO: 2010 gelding by Mylord Carthago*hn x Cylverado D'inxent
ALESSANDRA VOLPI (USA), Alessandra Volpi: 4/75.76
9. ESCADA 289: 2012 Holsteiner mare by Clearway x Coriano
TAYLOR GRANAT (USA), Windridge Farm LLC: 4/75.932
10. LA JOLIE VAN'T EIGENLO: 2011 Belgian Warmblood mare
CELSO ARIANI (BRA), Ricardo Romero: 5/77.742
11. COCO CHANEL M: 2007 Dutch Warmblood mare by Tuschinski x Rousseau
RYAN GENN (USA), James Lovett: 8/71.865
12. UKULMAN DE LA NUTRIA: 2008 Selle Français by Quick Star
CELSO ARIANI (BRA), Ricardo Romero: 8/75.599
For the full results of the $35,000 ProElite® Spring 1 Grand Prix, presented by #1 Education Place, please click HERE.