By Kate Pettersen for Equestrian Sport Productions
Wellington, FL – April 15, 2021 – The second week of the 2021 ESP Spring Series opened on the grass Derby Field at Equestrian Village, kicking off the first of two consecutive weeks of three-star competition. In Thursday afternoon's feature class, Kristen Vanderveen (USA) and Bull Run's Faustino De Tili, owned by Bull Run Jumpers Five, LLC, jumped to the top of the podium, taking top honors in the $37,000 CCTV Agent 1.45m Jumpers CSI3*.
ESP Spring II continues with a busy Friday of competition at both Equestrian Village and the Palm Beach International Equestrian Center (PBIEC), featuring the $37,000 JTWG Qualifier CSI3* on the grass Derby Field and the $10,000 USHJA National Hunter Derby presented by Perfect Products in the International Arena at PBIEC. Saturday's schedule features the $37,000 HorseLinc 1.50m Classic CSI3* and the week concludes with the $137,000 Bainbridge Companies Grand Prix CSI3* on Sunday, April 18. The 2021 ESP Spring Series continues with a total of five weeks of competition until Sunday, May 15. Feature classes will be available live and on-demand for free on the livestream.
Over a technical speed track set by Catsy Cruz (MEX) and Andy Christiansen (ECU), 50 horse-and-rider combinations took on the test, with 19 pairs producing clear efforts. Vanderveen proved to be the quickest of the day, crossing the finish line in a blistering 61.31 seconds. The victory also marked a pair of firsts for Vanderveen as she jumped on the grass for the first time this season and campaigned her veteran mount for the first time ever on the distinguished turf track.
"Just because of the way my schedule unfolded this winter, it's my first time getting a chance to jump on the grass field," said Vanderveen. "Even though I've had 'Frosty' for so long, this is actually his first time jumping on the grass. He's naturally pretty fast so I wanted to go quick enough but not too fast. I saw Erynn [Ballard] go and she was fantastic, so I tried to do about the same track she did and then just one less stride to the last jump. He felt fantastic."
The aforementioned Erynn Ballard (CAN) landed in the runner-up position with her clear effort aboard Verdict De Kezeg, owned by Ilan Ferder. Ballard and the 12-year-old
Selle Français gelding by Diamant De Semilly x Hazelle De Rhuys stopped the clock in 62.38 seconds. Ireland's Darragh Kenny and Arena UK Winston, a 12-year-old Irish Sport Horse stallion owned by Normal Oley, rounded out the podium in a time of 62.56 seconds, to finish in third.
Notching an impressive win by a margin of more than a full second, Vanderveen credits her horse's big stride for helping her gain the edge in the opening class.
"With his big stride, I can do things that a lot of other horses just don't have the range for," she said. "We ended up doing four strides down the last line, which I think helped land and hit the timers the right way.
"I'm not normally a big fan of grass myself as a rider," she continued. "I'm always a little hesitant but the field was great. I thought the footing was nice and I'm really happy with the result today."
Looking ahead, Vanderveen will focus on Saturday's $37,000 HorseLinc 1.50m Classic CSI3* with Bull Run's Faustino De Tiliwhile her other mount Bull Run's Prince of Peace will contest Friday's $37,000 JTWG Qualifier CSI3* in hopes of qualifying for the grand prix on Sunday.
Earlier in the day, Ireland's Conor Swail piloted Gamble, a 10-year-old Dutch Warmblood gelding owned by Asta Torokvei, to a victory in the $6,000 Bainbridge Companies 1.40m jumpers CSI3*. A starting field of 65 entries challenged the two-phase format, with Swail posting a double-clear effort and stopping the clock in an impressive 30.80 seconds in the jump-off portion.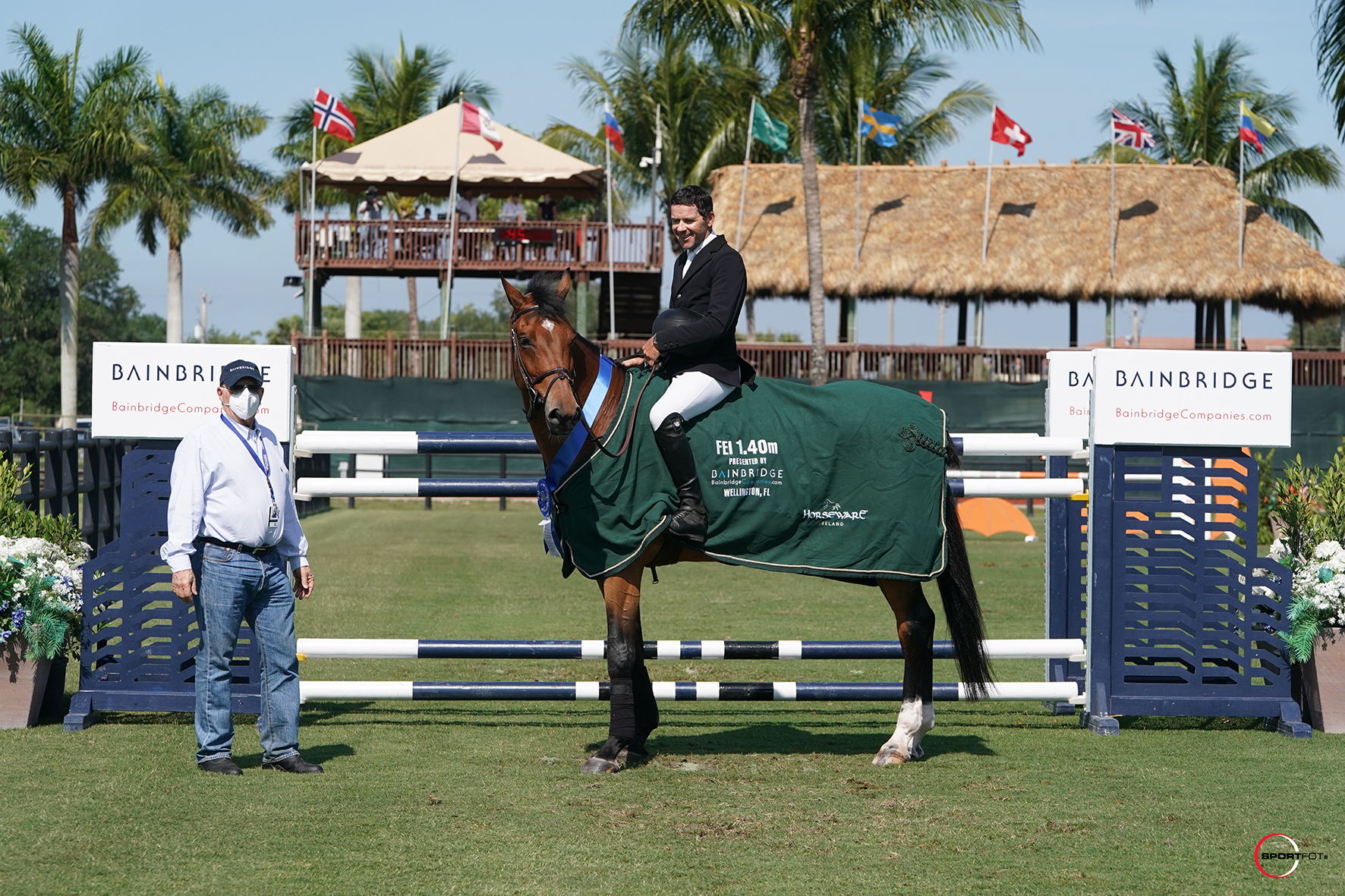 "Every time you go in the ring, he gives you 100 percent, which is very pleasing," said Swail of the gelding by Vingino x Indoctro. "My plan was to have a nice jump around. There was one inside turn, and I did six [strides] to the double combination, which was a little long. The idea in the second phase with him is always just to canter along a little bit because he does enjoy doing that and I think it does help his jumping performance as well. This is all obviously to set him up for Friday's class, as I want to be able to have a good round with him tomorrow."
Gamble was originally imported from Europe by Torokvei as a four-year-old. Three years ago, she gave the ride to Swail, who has moved him up from the 1.25m level and into the bigger international classes since then. As the partnership continues to grow, a change in bits this past fall has helped the gelding reach even greater heights.
"I decided to put him into a hackamore when we were in Europe," he said. "For me, it seemed to just loosen up his shoulder a little bit and it helps prevent me from interfering with his front end as much whenever I'm balancing and trying to get a good spot for him to jump from. His shoulder works really well, and he seems to like it a lot. I was really happy with the way he jumped today."
Final Results: $37,000 CCTV Agent 1.45m Jumpers CSI3*
1. BULL RUN'S FAUSTINO DE TILI: 2005 Belgian Warmblood stallion by Berlin x Darco
KRISTEN VANDERVEEN (USA), Bull Run Jumpers Five, LLC: 0/61.31
2. VERDICT DE KEZEG: 2009 Selle Français gelding by Diamant De Semilly x Hazelle De Rhuys
ERYNN BALLARD (CAN), Ilan Ferder: 0/62.38
3. ARENA UK WINSTON: 2009 Irish Sport Horse stallion by Waldo Van Dungen x Hamilton Tropics
DARRAGH KENNY (IRL), Norman Oley: 0/62.56
4. COLLIN: 2007 KWPN gelding by Colandro x Amethist
LUIZ FRANCISCO DE AZEVEDO (BRA), Santa Cecilia Stables: 0/63.13
5. IGOR VAN DE WITTEMOERE: 2008 BWP gelding by Cooper Vd Heffinck x Dahlia Vd Heffinck
NAYEL NASSAR (EGY), Evergate Stables, LLC: 0/63.88
6. BALLYHEERIN BAY STAR: 2011 Irish Sport Horse gelding by Fanad West Air Jordan C x Drossan
DANIEL COYLE (IRL), Ariel Grange: 0/64.76
7. CHACCO-SAN: 2011 Hanovarian gelding by Chacco-Blue x Sandro Boy
EDUARDO MENEZES (BRA), H5 Sport Horses, LLC: 0/66.04
8. CORALISSA: 2010 Holsteiner mare by Com Air x Corrado I
SAM WALKER (CAN), Marbill Hill Farm: 0/66.31
9. VITIKI: 2008 Hanoverian gelding by Valentino x For Expo
YURI MANSUR (BRA), Yuri Mansur: 0/67.34
10. DUDOK: 2008 KWPN gelding by Kashmir Van Schuttershof x Le Mexico
MARK REID (IRL), Caroline's Kids, LLC: 0/67.66
11. COSMONA: 2011 Dutch Warmblood mare by Cosmeo x Bogegardens Apollo:
JOHAN KACHELHOFFER (RSA), Anton Marano: 0/67.83
12. MAESTRO VICA V/D ARK: 2012 BWP stallion by Lordanos x Heartbreaker
NATALIE DEAN (USA), Marigold Sporthorses, LLC: 0/69.46
For the full results of the $37,000 CCTV Agent 1.45m Jumpers CSI3*, please click HERE.