By Kate Pettersen for Equestrian Sport Productions
A total of 49 horse-and-rider combinations contested the $10,000 USHJA National Hunter Derby presented by Perfect Products held in the International Arena at the Palm Beach International Equestrian Center (PBIEC) on Friday morning. Entering the ring as the 18th to go in the starting order, Jennifer Bliss and Face the Music, owned by Harris Hill Farm, LLC, galloped smoothly over fences one through 12, jumping all four of the high options, to finish on an impressive score of 96 and lead the classic round.
The top twelve pairs were invited back to contest a handy round with a cut-off score of 86.5 making for a very competitive finish. Last to go, Bliss of Loxahatchee, FL, was smooth once again as she posted a score of 100, which included bonus points for handiness, making her two-round total 196 points to secure the win.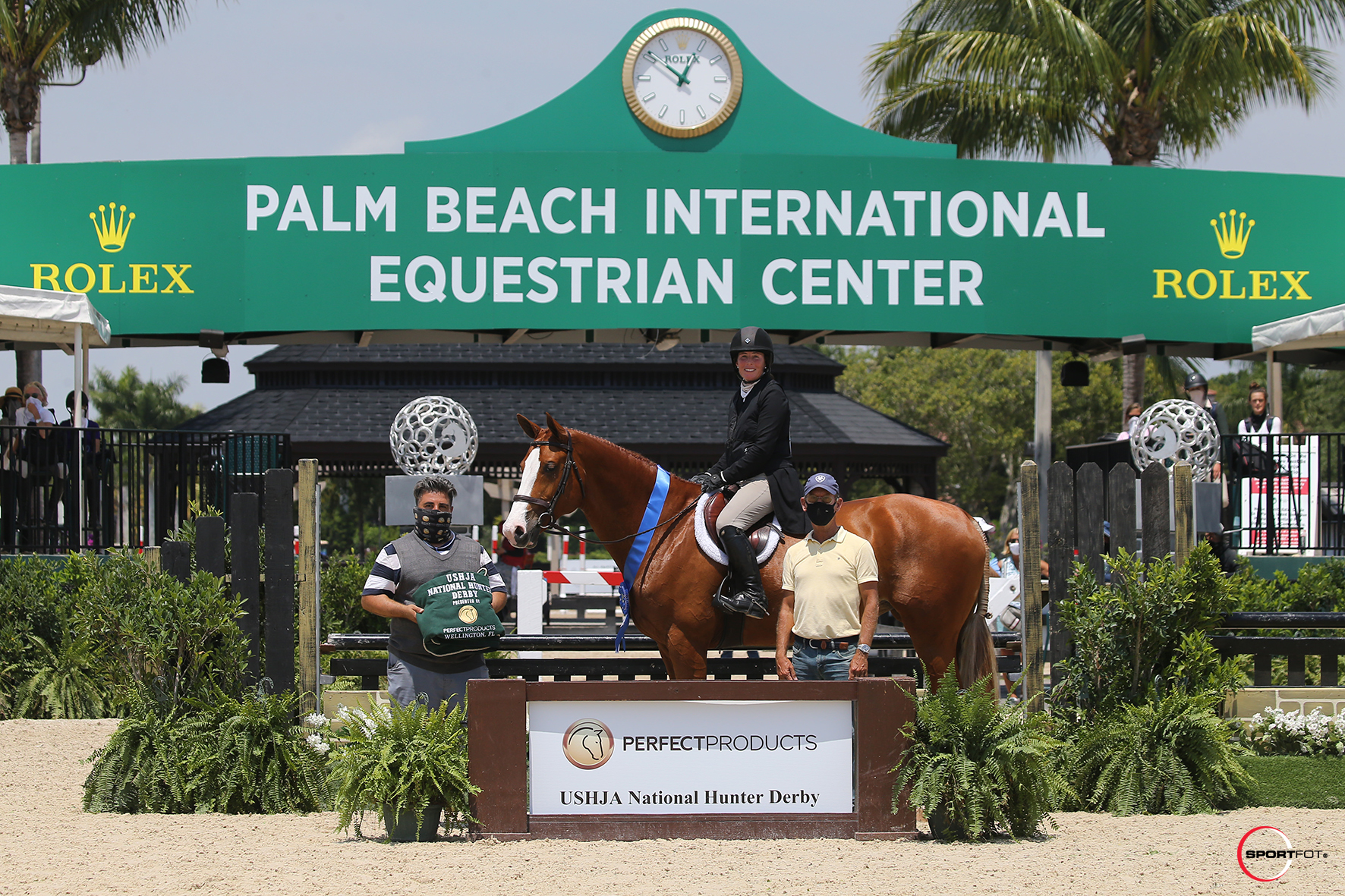 "I was lucky enough to have another horse that I got to go earlier on in the handy round," said Bliss. "There was one inside turn to the second jump that we tested out. She's not typically as handy as my other horse but we're working on that with her so we tried to just stick to that plan and practice being as handy as we could. She was nice about it today."
Hannah Isop of Pawling, NY, returned for the handy round sitting in second place aboard Carousel, owned by Lisa Longo, with a score of 93. The pair topped things off by earning a 99, holding on to finish in the runner-up position with a two-round total of 192 points.
Molly Sewell of Wellington, FL, and Narco, owned by Kimberly Dunn, improved upon their classic round score of 91.5 with 96 points in the handy phase for a two-round total of 187.5 to finish in third.
Following the class, Bliss spoke highly of her winning mount who possesses all the qualities needed to be a champion in the hunter ring.
"She's so scopey, brave and has a big stride," she said. "It's all really natural for her but she's a real chestnut mare, so you have to make her your friend and keep her in the right headspace. Once you do that, a lot of the hard stuff comes natural for her if she's feeling comfortable and confident."
For Bliss the victory is even sweeter as it has been a long road to recovery after an illness sidelined "Kitty," an incredibly talented 10-year-old mare, for nearly two full years.
"We got her as a young horse and started her out in the Pre-Green division and the First Years," said Bliss. "Unfortunately, she had some health issues, so it has been a slow road of bringing her back. This is really her first season back with any sort of consistency so she's really just getting in the groove. We've always loved her, but we've just had some bad luck. I was able to do a little bit in the High Performance division this winter and some of the international derbies to get that going with her.
"This week we wanted to take advantage of getting to show in the International Arena," Bliss continued. "It's really a treat to get to go out there and I couldn't be happier with our finish today."
Also on Friday, junior riders tested their horses during the WIHS Hunter Phase, presented by Score At The Top. Riding to a score of 89 thanks to their smooth way of going and effortless trip over the fences, Catalina Peralta of Geneva, FL and Helen Signe Ostby's Menelik captured first prize in the class. The duo topped a class of 27 competitive pairs, with owner-rider Sterling Malnik of Ocean Ridge, FL, piloting Charlie to a runner-up score of 87, followed by Catherine Kramer of Indianapolis, IN, riding Don Stewart's Fact Check to third place with 86.5 points.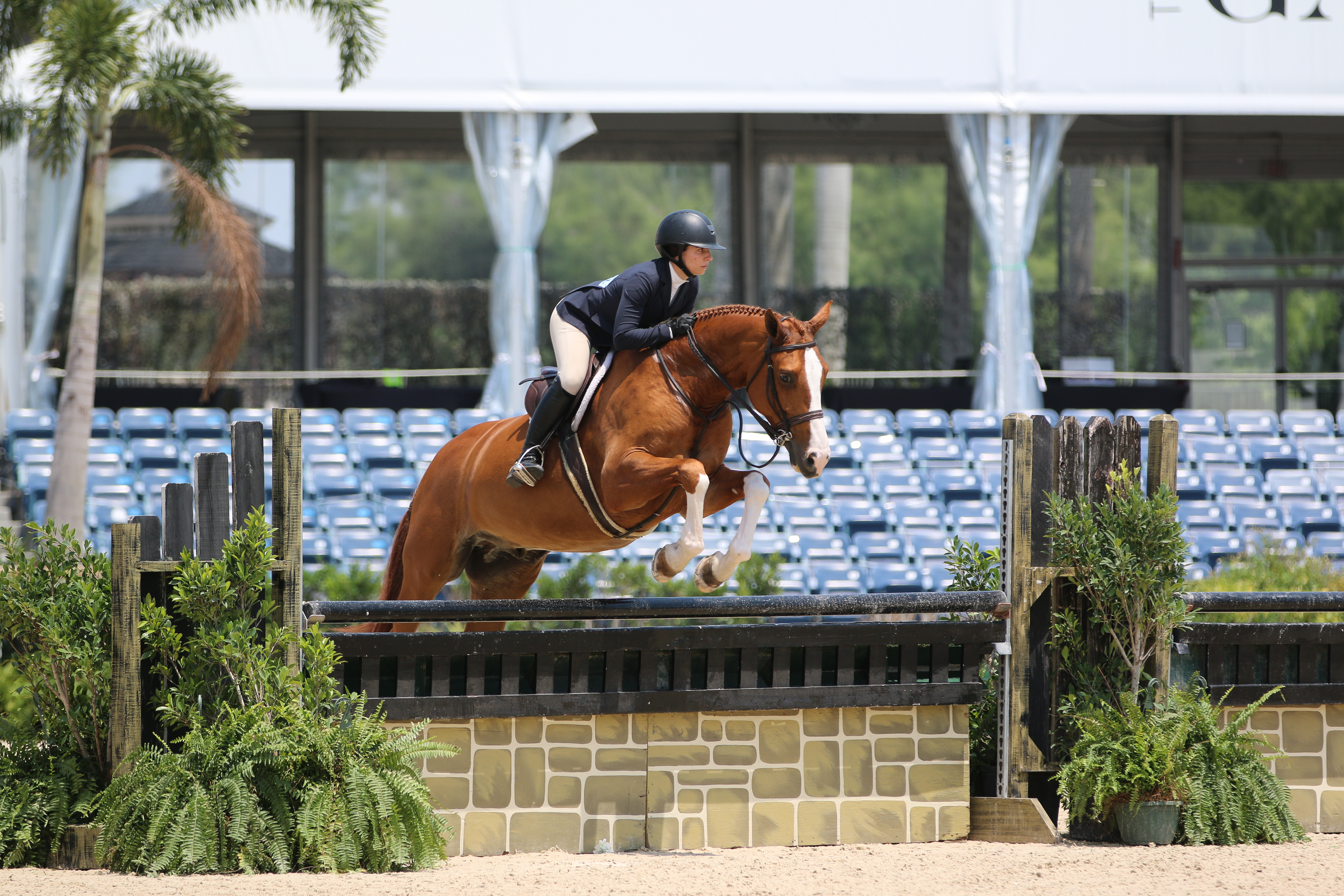 Thanks to a fifth-place finish in the WIHS Hunter Phase and a blue ribbon in the WIHS Jumper Phase, Austin Krawitt of Okotoks, Alberta, and Heritage Farm, Inc.'s Cassin U earned the overall title. The partnership scored 85.5 points in the Hunter Phase and 90 points in the Jumper Phase for a final tally of 175.5, seven points ahead of the next-closest pair.
Final Results: $10,000 USHJA National Hunter Derby presented by Perfect Products
HORSE / RIDER / OWNER / R1 SCORE / R2 SCORE / TOTAL
1. Face The Music / Jennifer Bliss / Harris Hill Farm, LLC / 93 / 99 /196
2. Carousel / Hannah Isop / Lisa Longo / 93 / 99 / 192
3. Narco / Molly Sewell / Kimberly Dunn / 91.5 / 96 / 187.5
4. Avatar Z / Victoria Colvin / Isabella Watson / 91 / 95 / 186
5. Ocean Road / Ariana Marnell / Keri Kampsen and Lexy Reed / 90 / 93 / 183
6. Catena 5 / Julia Weiss / Julia Weiss / 92.5 / 90 / 182.5
7. Sugarman / Jennifer Bliss / Harris Hill Farm, LLC / 88 / 92 / 180
8. Gabriel / Ellen Toon / J T Farm / 91.75 / 88 / 179.75
9. Sincerely / Hannah Isop / Heidi Tummel / 92 / 85 / 177
10. Casting Call / Brady Mitchell / Float On Equestrian, LLC / 87 / 89 / 176
11. MTM Hands Down / Cameron Kohls / Cameron Kohls / 87.5 / 86 / 173.5
12. KT Lansini / Campbell Brown / MMK Equestrian, LLC / 86.5 / 80 / 166.5
For the full results of the $10,000 USHJA National Hunter Derby, presented by Perfect Products, please click HERE.