By Kate Pettersen for Equestrian Sport Productions
Wellington, FL – April 16, 2021 – As the 2021 ESP Spring Series continues on the grass Derby Field at Equestrian Village, it was a day for Brazil to shine as Eduardo Menezes guided H5 Elvaro, owned by H5 Sport Horses, LLC, to a spectacular winning finish in the $37,000 JTWG Qualifier CSI3*.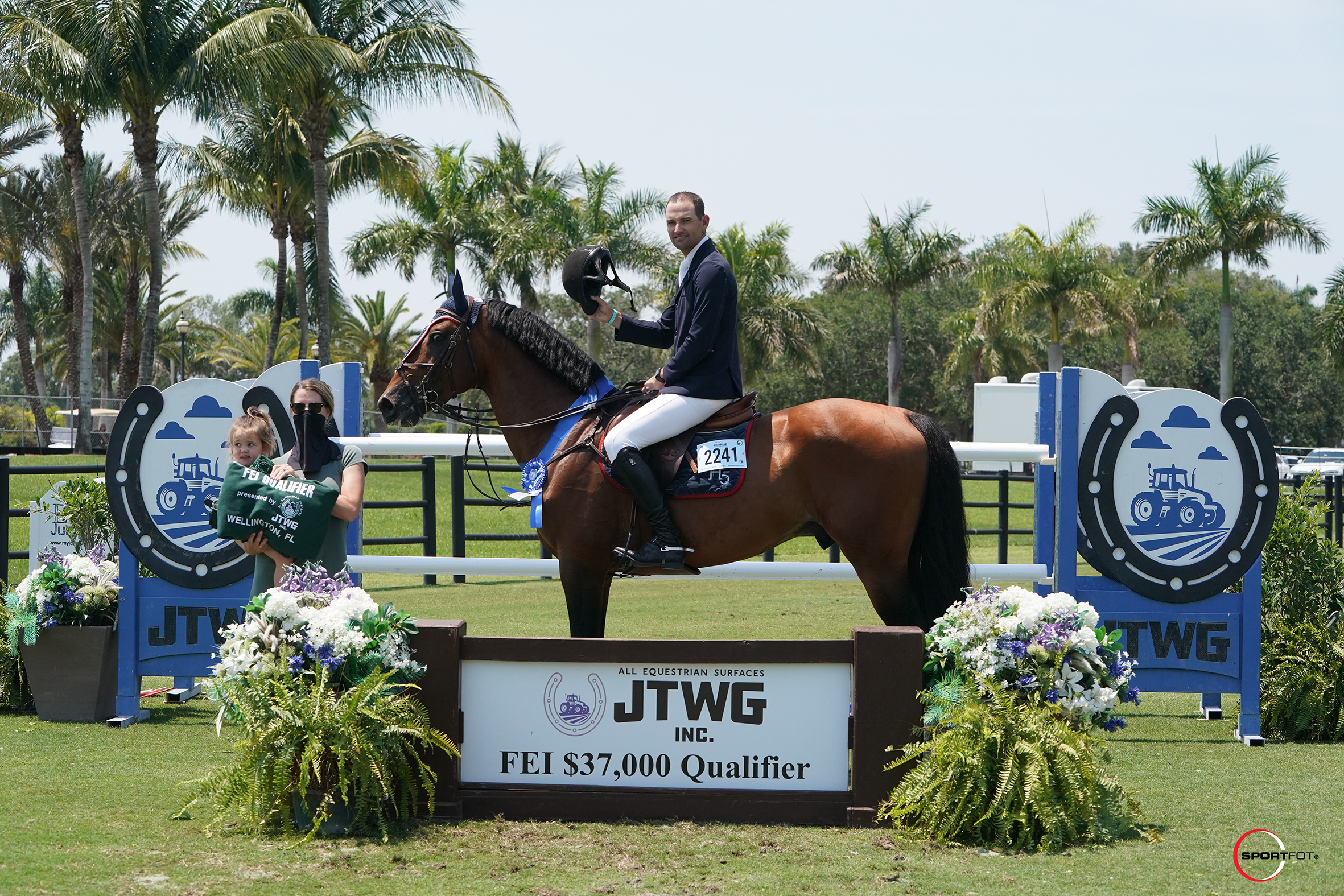 ESP Spring II continues with jumpers competing at Equestrian Village and hunters taking center stage at the Palm Beach International Equestrian Center (PBIEC). Highlighting the schedule on Saturday is the $37,000 HorseLinc 1.50m Classic CSI3* and the week concludes with the $137,000 Bainbridge Companies Grand Prix CSI3* on Sunday, April 18. The 2021 ESP Spring Series continues with a total of five weeks of competition until Sunday, May 15. Feature classes will be available live and on-demand for free on the livestream.
Friday morning's feature class represented a qualifier for Sunday's $137,000 Bainbridge Companies Grand Prix CSI3* over a track designed by Catsy Cruz (MEX) and Andy Christiansen (ECU). With 75 entries listed in the starting order, a total of 12 pairs qualified to return for the jump-off with eight combinations electing to do so.
First to return, Menezes and the 12-year-old Dutch Warmblood stallion by Calvaro F.C. x Heartbreaker produced a fault-free round in a time of 38.65 seconds. While the execution of the second-round course was quite technical, Menezes credits his success to having a very simple plan.
"Going first, you need to go as fast as you can and try to leave the jumps up," he said. "We had a couple of lines where I could use his big stride and leave one [stride] out. I started with that in the first line and once it worked, I just stayed on that rhythm."
Margie Engle (USA) gave the shortened course her best shot aboard Dicas for Storm Ridge Capital, LLC, Show Horses, Garber, and Gladewinds, Inc. The 68-year-old Olympic veteran galloped the 12-year-old Rheinlander gelding by Diarado x Cassini I to a double-clear round, finishing to land in second place in 40.17 seconds.
The third nation represented on the podium would be Columbia as Camilo Rueda Giraldo and her own Chaccornet, a 12-year-old Oldenburg gelding by Chacco Blue x Cornet Obolensky, also produced a clear jump-off round, stopping the clock in 41.51 seconds.
While the winning plan was inherently simple, Menezes couldn't say enough good things about the quality of his partner and his talents in the show ring.
"He's lovely," he said. "I like everything about him. He's a horse that combines so many good qualities and advantages. He's careful, unbelievably brave and he's the sweetest horse in the barn. He's a stallion and just went on Tuesday to collect before he came to the show and he's just fine now. He's a lovely horse and I'm so glad that H5 Stables has given me the opportunity to ride such an unbelievable horse."
The winning horse, H5 Elvaro, will get a chance to rest for the rest of the week with the plan to jump him in the Spring III grand prix next week. In the meantime, the win secures a spot for Menezes in Sunday's feature class as he plans to challenge aboard another talented mount, H5 Quintol.
"Wellington is home for me," said Menezes with a smile. "It's unbelievable to have these extra FEI weeks to show. I'm still hoping they add some more."
In the final class of the day on the grass Derby Field at Equestrian Village, Abigail McArdle (USA) and Victorio Equine Group, LLC's Victorio 5 took top honors, winning the $10,000 Bainbridge Companies 1.40m Open Stake. McArdle and the 15-year-old Hanoverian stallion by Uccello x Graf Top finished without fault over the two-phase course, crossing the timers in 25.06 seconds in the speed portion to claim the victory.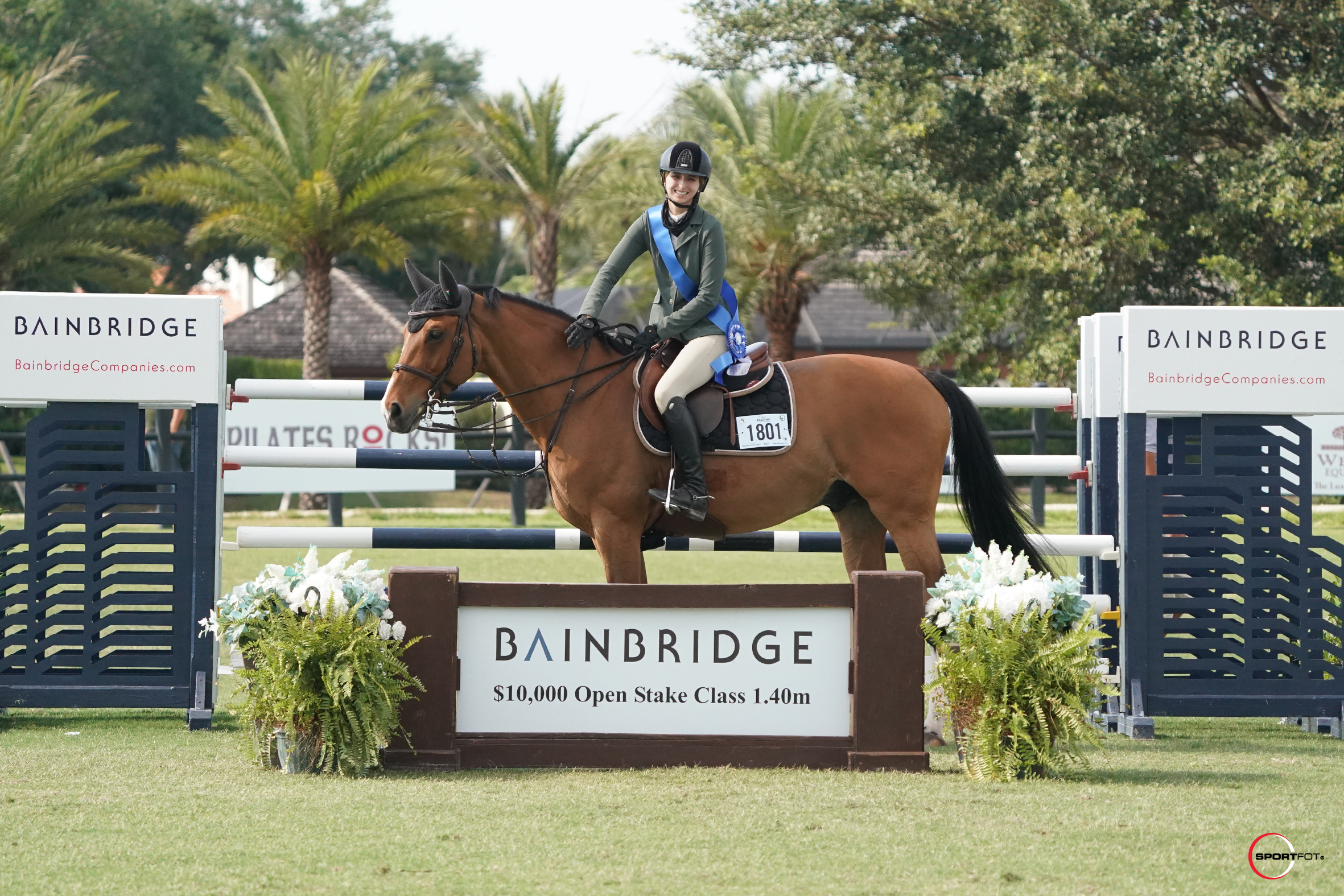 Roberto Teran Tafur (COL) rode Eldorado V owned by Yuri Mansur, to a second place finish while Grace Debney (GBR) jumped Zarina De Vidau owned by Temple Equestrian, LLC, into third.
Final Results: $37,000 JTWG Qualifier CSI3*
1. H5 ELVARO: 2009 KWPN stallion by Calvaro F.C. x Heartbreaker
EDUARDO MENEZES (BRA), H5 Sport Horses LLC: 0/0/38.65
2. DICAS: 2009 Rheinlander gelding by Diarado x Cassini I
MARGIE ENGLE (USA), Storm Ridge Capital LLC, Show Horses, Selma Garber & Gladewinds Partners LLC: 0/0/40.17
3. CHACCORNET: 2009 Oldenburg gelding by Chacco Blue x Cornet Obolensky
CAMILO RUEDA GIRALDO (COL), Camilo Rueda Giraldo: 0/0/41.51
4. BALOUTINUE: 2010 Hanoverian gelding by Balou du Rouet x Landor S
LAURA KRAUT (USA), St. Bride's Farm: 0/0/43.77
5. VERDINI D'HOUTVELD Z: 2011 KWPN gelding by VDL Groep Verdi TN x Caretino 2
SHARN WORDLEY (NZL), Lauren Balcomb: 0/0/44.06
6. IBELLE ASK: 2008 BWP mare by Verdi x Robin Des Bruyeres
YURI MANSUR (BRA), Stutteri Ask A/S: 0/4/40.09
7. ADAMO: 2005 KWPN gelding by Lupicor x Ekstein
MOLLY ASHE-CAWLEY (USA), Louisburg Farm: 0/4/40.82
8. VOLO'S DIAMOND: 2011 Oldenburg gelding by Stakkatol x Baloubet Du Rouet
SHANE SWEETNAM (IRL), Triple S Group and Shane Sweetnam: 0/4/41.09
9= SKARA GLEN'S CHANCELLORESS: 2009 KWPN mare by Chacco Blue x Balou du Rouet
PAUL O'SHEA (IRL), Skara Glen Stables: 0/WD
9= DSARIE: 2008 KWPN mare by Veron x Ahorn
BEAT MÄNDLI (SUI), Grand Road Partners LLC: 0/WD
9= MY WAY: 2010 Oldenburg stallion by Mylord Carthago x Cassini II
LUIZ FRANCISCO DE AZEVEDO (BRA), Santa Cecilia Stables: 0/WD
9= FOSTER 39: 2008 Hanoverian gelding by For Edition x Adlantus AS
ALESSANDRA VOLPI (USA), Alessandra Volpi: 0/WD
For full results from the $37,000 JTWG Qualifier CSI3*, please click HERE.