By Kate Pettersen for Equestrian Sport Productions
It was another beautiful day on the grass Derby Field at Equestrian Village as international show jumpers competed in the first of two three-star weeks as part of the 2021 ESP Spring Series. After notching a win in Thursday's 1.45m Jumpers, Kristen Vanderveen (USA) and Bull Run's Faustino De Tili, owned by Bull Run Jumpers Five, LLC stole the show once again, claiming victory in the $37,000 HorseLinc 1.50m Classic CSI3*.
ESP Spring II wraps up on Sunday, April 18 with hunters competing at the Palm Beach International Equestrian Center (PBIEC) and jumpers taking center stage at Equestrian Village. The concluding class of the week is the $137,000 Bainbridge Companies Grand Prix CSI3*, showcasing the week's top talent on the grass Derby Field. The 2021 ESP Spring Series continues with a total of five weeks of competition until Sunday, May 15. Feature classes will be available live and on-demand for free on the livestream.
With 45 entries represented in the opening round, a total of only five horse-and-rider combinations qualified to return for the jump-off over a shortened track set by Catsy Cruz (MEX) and Andy Christiansen (ECU). First to return, Ireland's Darragh Kenny and Madorada DW, owned by Gerard O'Neil, set the tone for the remainder of the field with just a single knockdown landing them on four faults. The ninth-ranked rider in the world guided the nine-year-old Belgian Warmblood mare by Breemeersen Adorado to a very quick time, crossing the finish line in 37.36 seconds.
Just two riders later, it was Nicola Philippaerts (BEL) and his own Laurier to produce the first double-clear of the day. Philippaerts and the 10-year-old Belgian Warmblood stallion by Zirocco Blue x Chin Chin jumped into the lead in a time of 40.48 seconds. The next pair to contend would prove to be the best once again as Vanderveen and the 16-year-old Belgian Warmblood stallion by Berlin x Darco flew across the turf track, leaving all the jumps in their cups along the way to post the winning time of 38.68 seconds. That would settle the score as Philippaerts ended the day in second place and Kenny rounded out the podium to finish third.
With a winning margin of nearly two seconds, Vanderveen says there was still some gas left in the tank.
"It was nice that there were only five of us in the jump-off," she said. "I went near the end of the order, and normally he is super-fast, and I would risk a lot in a jump-off. But, knowing that there was only one clear, and it wasn't super-fast, I did try and find the middle ground in terms of how much risk we took, which for me can be challenging."
"I've jumped him in so many speed classes during the season that I was excited to get to do him in an actual grand prix class," Vanderveen continued. "I thought that was maybe the best he's jumped all season. The first round felt phenomenal, and I think he really enjoys the grass. It was a lot of fun to feel him jump like that."
The win marks their second of the week after capturing the $37,000 CCTV Agent 1.45m Jumpers CSI3* on Thursday afternoon. Vanderveen said she thinks the key to her success is "Frosty's" big stride as it gives her lots of different options in the ring, but went on to describe how special he is as a horse.
"He really is amazing," she gushed. "He's such a pet in the barn and so nice to have around the stable. To still be a top performer in the ring is really special. He's been my soundest horse and he's never had a problem. I think he'll go forever."
"We're starting to have some of his babies," Vanderveen continued. "I just got some pictures yesterday of his foals that have started to hit the ground, so that's very exciting."
Vanderveen remains undecided regarding her plans for next week's three-star competition as she wants to make sure all of her horses get the chance to jump, but her success this week has her considering putting Frosty at the top of the list for Spring III.
Wrapping up a busy Saturday afternoon, a pair of winners were crowned in Section A and Section B of the $5,000 Omega Alpha 1.35m Jumper Stake. Darragh Kenny (IRL) picked up his second podium finish of the day with a first-place finish in Section A aboard Carla, owned Heathman Farm, LLC. Kenny and the nine-year-old German Sport Horse mare by Conthargos x Larino completed the jump-off course with a fault-free effort, stopping the clock in 37.25 seconds.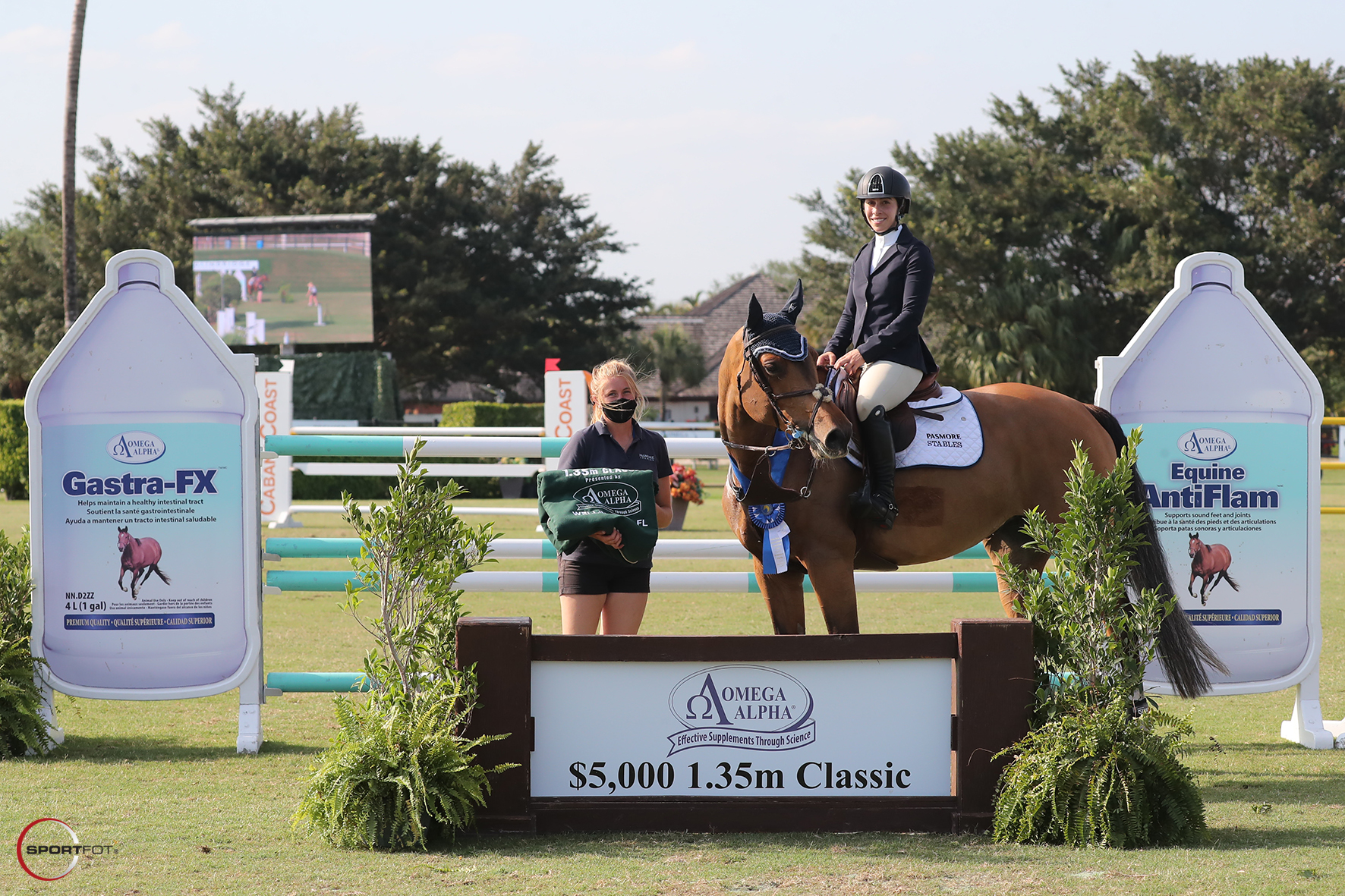 In Section B, it was the best for last as the final combination of Catherine Pasmore (NED) and Celesta Z, owned by Pasmore Show Stables BV, took the top spot. Pasmore and the 11-year-old Zangersheide mare by Calvaro FC cruised over the first round and finished with a clear effort in the jump-off, posting the winning time of 37.65 seconds.
Final Results: $37,000 HorseLinc 1.50m Classic CSI3*
1. BULL RUN'S FAUSTINO DE TILI: 2005 Belgian Warmblood stallion by Berlin x Darco
KRISTEN VANDERVEEN (USA), Bull Run Jumpers Five LLC: 0/0/38.68
2. LAURIER: 2011 Belgian Warmblood stallion by Zirocco Blue x Chin Chin
NICOLA PHILIPPAERTS (BEL), Nicola Philippaerts: 0/0/40.48
3. MADORADA DW: 2012 BWP mare by Breemeersen Adorado
DARRAGH KENNY (IRL), Gerard O'Neil: 0/4/37.36
4. IGOR VAN DE WITTEMOERE: 2008 Belgian Warmblood gelding by Cooper VD Heffinck x Orlando 96
NAYEL NASSAR (EGY), Evergate Stables, LLC: 0/4/37.81
5. LIGHTHOUSE GIRL: 2010 Westphalian gelding by Light On x Rockwell
SPENCER SMITH (USA), Michael Wittschier: 0/8/39.49
6. CINDERELLA Z: 2010 Zangersheide mare by Chacco-Blue x Julio Mariner XX
MARK REID (IRL), Caroline's Kids, LLC: 1/76.49
7. CORNER POCKET Z: 2012 Zangersheide gelding by Cornet Obolensky x La Belle
ERYNN BALLARD (CAN), The Z Group: 1/77.01
8. CLASSIC DREAM: 2010 German Sport Horse gelding by Colestus x Inster Graditz
ALEXANDRA THORNTON (GBR), Dunwalke, LLC: 1/77.72
9. CHACCO-SAN: 2011 Hanovarian gelding by Chacco-Blue x Sandro Boy
EDUARDO MENEZES (BRA), H5 Sport Horses, LLC: 4/72.74
10. VERDICT DE KEZEG: 2009 Selle Français gelding by Diamant De Semilly x Hazelle De Rhuys
ERYNN BALLARD (CAN), Ilan Ferder: 4/73.03
11. MANHATTAN: 2011 American Warmblood by Metropolitan x Langer III
GEORGINA BLOOMBERG (USA), Gotham Enterprizes, LLC: 4/73.80
12. BERDIEN: 2011 Zangersheide mare by Bustique x Querlybet Hero
MOLLY ASHE CAWLEY (USA), Louisburg Farm: 4/74.39
For full results from the$37,000 HorseLinc 1.50m Classic CSI3*, please click HERE.