By Kate Pettersen for Equestrian Sport Productions
In the final class of Spring II on Sunday afternoon, Darragh Kenny (IRL) and Idalville D'Esprit, owned by Heathman Farm, LLC, jumped into the winner's circle in the $35,000 Resilient Fitness Spring II Grand Prix.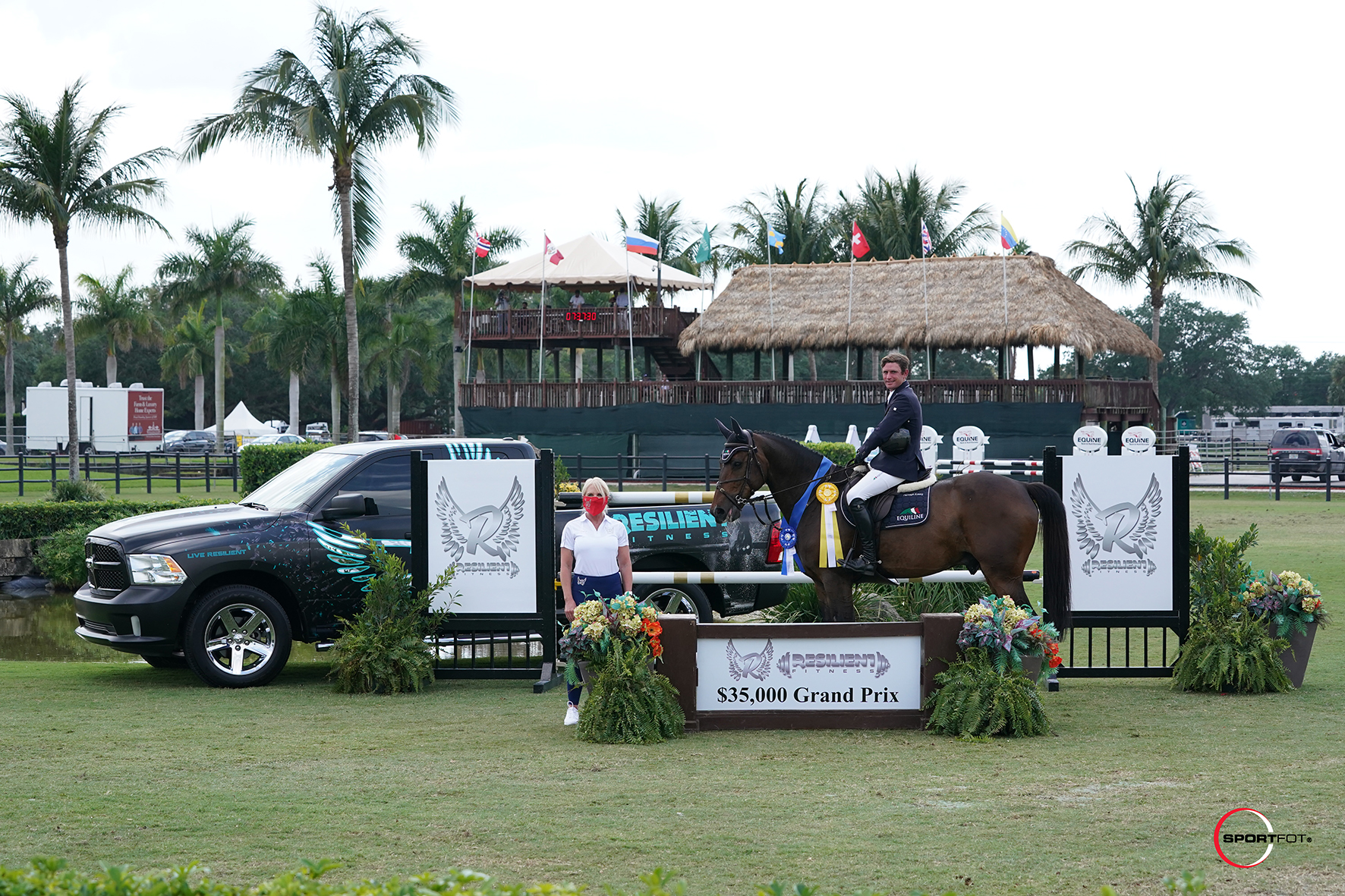 A field of 50 horse-and-rider combinations challenged the opening round with just four pairs qualifying to ride the final jump-off track of the week set by Catsy Cruz (MEX) and Andy Christiansen (ECU). A total of three entries elected to return, including Kenny with two different mounts. First to go, the ninth-ranked rider in the world guided Idalville D'Esprit, a 13-year-old Belgian Warmblood gelding by Carabas van de Wateringhoeve x Nabab de Reve, to a clear effort in 42.68 seconds.
After a short break to warm up his next mount, Kenny came close to beating his own leading time with Scarlett Du Sart Z, owned by Vlock Show Stables, LLC. He and the 11-year-old Zangersheide mare by Stakkato de hann x First Bride left all the jumps up in 43.37 seconds to slide into second.
Last to challenge was Grace Debney (GBR) on Zarina De Vidau, owned by Temple Equestrian, LLC. The 16-year-old rider and the 10-year-old CDE mare by Diamant de Semilly x Carina XXXVii Ch flew into second place with the clock stopping at 43.22 seconds.
The win marked the beginning of what promises to be a bright future for a new partnership between Kenny and Idalville D'Esprit, with only four weeks of training together.
"He's an exceptionally talented horse," he said. "He had a great record with Eric [Lamaze] jumping some really big grand prix classes and was fantastic. I think the horse is incredible and I've just been building him up slowly, but his jump feels amazing. He feels like he can jump anything and do anything, so I'm really excited."
"I wanted to get to know the horse more than anything," Kenny explained of his plan for the jump-off. "He jumped fantastic in the first round and that was the first jump-off I've done on him. I wanted to see what my boundaries were and how fast I could go. He was brilliant. He was careful, rideable, and he jumped great, so I was really, really happy with him."
Following the class, Kenny echoed the thoughts many of his competitors have expressed throughout the week regarding the opportunity to compete through the ESP Spring Series in Wellington, FL.
"I think what the show is doing here is fantastic," he said. "They're running a great show and the more we can get to jump in these good classes like the three-star and National grand prix classes is amazing. It gives us a chance to build horses up and I think it's brilliant."
In the opening class on Sunday morning, a pair of blue ribbons were awarded in Section A and Section B of the $2,500 High Junior/Amateur Owner Jumper Classic sponsored by Equiline. Daneli Miron (USA) and Vox Dei owned by Miron Sport Horses, LLC, flew to a win in Section A with a double-clear effort in 39.511 seconds. Juan Jose Bancalari (DOM) and his own entry Mafiosi 111, took the victory in Section B as they also put forth a double-clear effort, crossing the finish line in 40.468 seconds.