A group of 15 horse and rider combinations contested the $7,500 Futures Prix 1,30m at the World Equestrian Center — Ohio Winter Classic 18, which featured a course designed by Bobby Murphy of Lexington, Kentucky.  Although 5 pairs qualified to jump off, none could catch Jill Gaffney and Z Love Story who set an early time to beat that could not be bested.
Gaffney of Freestyling Farms LLC in Batavia, Ohio, and Z Love Story (Hunter x Elli) a 14-year-old bay Holsteiner mare, are frequent visitors to the winner's circle at World Equestrian Center. Second on course, the pair produced a clear first round and headed straight for the jump off. They attacked the course with their signature style, stopping the clock at an impressive 31.613, which proved impossible to beat.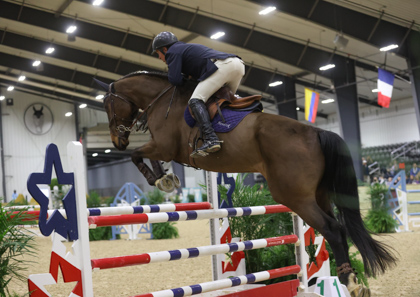 David Beisel piloted Hendrik (Bustique x Utareusa) to a clear first round and continued on to navigate a clean jump off in 33.806, for a second pace finish. Beisel of David Beisel Stables in Goshen, Ohio and the 9-year-old bay Dutch Warmblood gelding owned by Chris Richards, placed 6th in last week's $7,500 Futures Prix..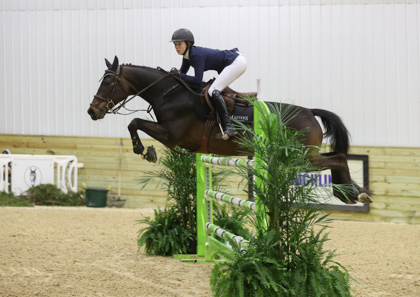 Lani Hutchison and Light Show (Quasimodo Z x Predente) owned by Diane Masters of Sunbury, Ohio, earned a clean and clear first round to qualify for the jump off. Hutchison and the 13-year-old bay Dutch Warmblood gelding stopped the jump off clock at 35.803 with no faults to secure a third place finish.
$7,500 Futures Prix Results
Z Love Story, Jill Gaffney – 0 | 0 | 31.613
Hendrik, David Beisel – 0 | 0 | 33.806
Light Show, Lani Hutchison – 0 | 0 | 35.803
La Dolche Vita VDL, Allison Vinatieri – 0 | 0 | 35.899
Ebellenosa, Sam Berry – 0 | 0 | 35.966
Fawkes, Lindsay Lydon – 0 | 0 | 36.460
Jarroco Blue, Sam Berry –
PDR Pinlon, Diana Conlon –
Ismael, Ashley Stumm – 8 | 76.390
Carpaethian Z, Sara Ring – 8 | 81.197
Photos courtesy of Winslow Photography.