By Kate Pettersen for Equestrian Sport Productions
Kicking off another beautiful day of the ESP Spring Series, Erynn Ballard (CAN) and Jack Van't Kattenheye, owned by Lindemann Barnett Sporthorses, flew to the top of the leaderboard to claim victory in the $37,000 Equine Tack and Nutritionals Qualifier CSI3* on the grass Derby Field at Equestrian Village.
The third week of the ESP Spring Series will continue with a busy weekend highlighted by the $37,000 Nutrena 1.50m Classic CSI3* on Saturday, followed by the $137,000 Palm Beach County Sports Commission Grand Prix CSI3* and the $35,000 Wellington Agricultural Services Spring III Grand Prix on Sunday, April 25. Feature classes will be available live and on-demand for free on the livestream.
A field of 55 entries contested the two-phase track set by Olympic course designer Guilherme Jorge (BRA). A total of 13 horse-and-rider combinations from the starting field qualified for the jump-off, with eight pairs electing to give it a shot. Ballard and the 12-year-old Belgian Warmblood gelding by Diabeau x Canadian River posted the fastest time of the day, finishing on a double-clear jumping score in 34.39 seconds.
"Jack is quite new for me," said Ballard of her winning mount. "It's only our fourth week showing together. So far it has been very straightforward. He is just a reliable guy; he knows the game, he does what he's supposed to do when he's out there, and he tries his best to give us a good effort every time. Darragh [Kenny] is hard to beat so we just ran from start to finish and it ended up in our favor, so that was pretty cool. It's a privilege to be able to ride in these classes."
A regular winner on the Derby Field, Ireland's Darragh Kenny landed in second place with Arena UK Winston, owned by Norman Oley. The ninth-ranked rider in the world rode the 12-year-old Irish Sport Horse stallion by Waldo Van Dungen x Hamilton Tropics to a double-clear finish in 34.58 seconds. The third nation represented on the podium was Great Britain as Matthew Boddy guided Balotelli 5, an 11-year-old Hanoverian gelding by Balou du Rouet x Contendro I, for Purple Road, LLC, to a clear jump-off, crossing the finish line in 37.77 seconds.
While Ballard has experienced a great deal of success throughout her career, the sport always finds a way to keep her humble. These past few weeks she's come close to the winner's circle, so Friday's victory felt even more rewarding.
"In the grand prix last week, I had the fastest time with one jump down," she said. "Thursday, I had the fastest time with a rail once again, so it felt like it was time. Like Ilan [Ferder] says, you can't win if you don't practice going fast and trying to win, so today everything felt right."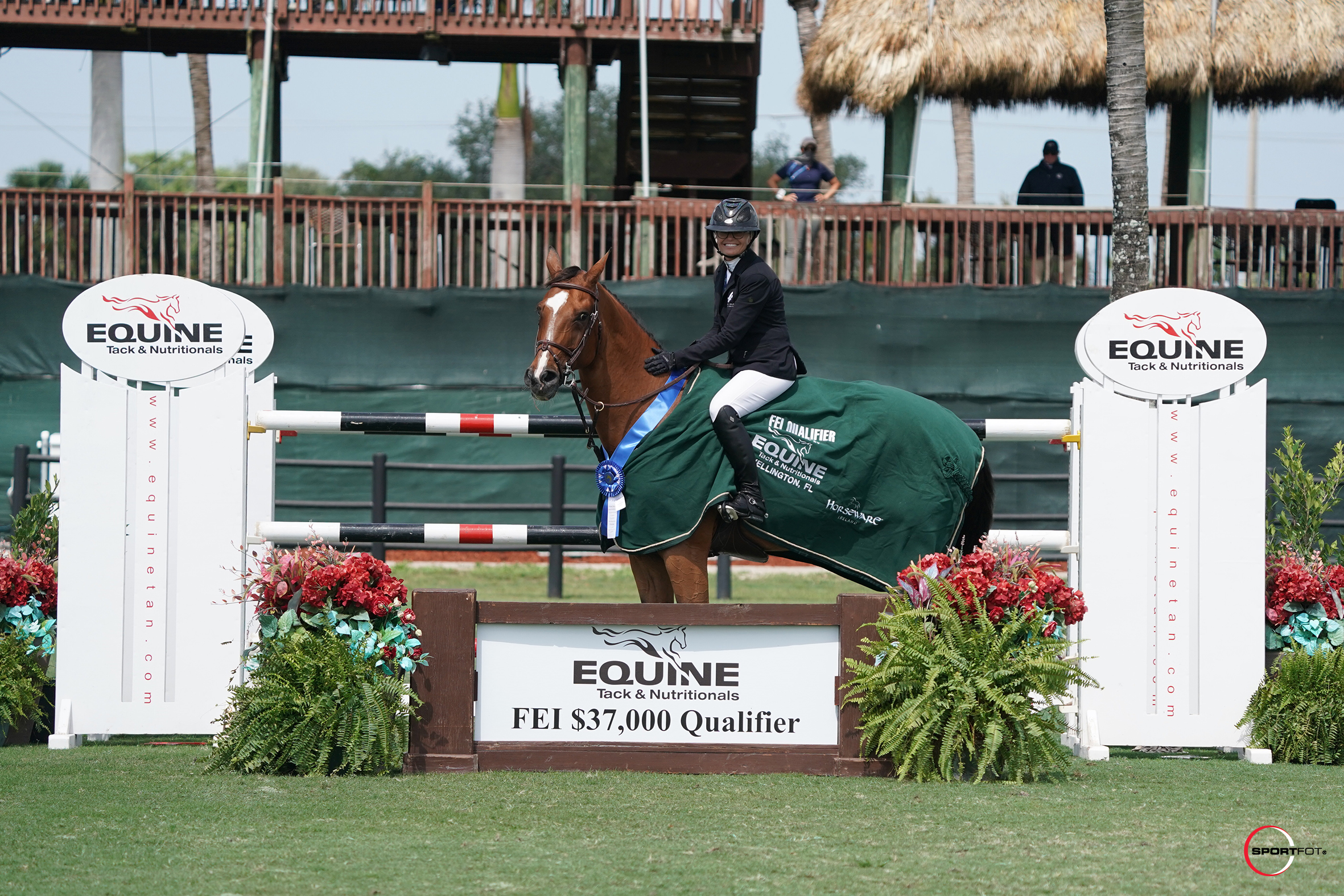 The Canadian veteran has made Wellington, FL, home since the COVID-19 pandemic forced show jumping events to shut down last March. The decision to stick around is one that has paid off as she notes her horses are back in top form despite the pause on the season last year.
"I think I'm probably the biggest fan of WEF," she said. "We started here at Equestrian Village in June because the organizers were at the forefront of restarting horse shows after the pandemic hit. I haven't missed any opportunities; the horses haven't missed any classes and they're right where they should be, where maybe last year you felt a young horse didn't get enough experience. They're all caught up by now and ready to go anywhere."
"These two three-star spring shows are certainly a bonus," she continued. "They've afforded us the opportunity to give the five-star horses a little bit of a recovery while still staying at the top of the sport. It has certainly not been easy to win these past two weeks and I think that says something for the people that chose to stay here and support. This grass is my favorite ring in the whole world and competing against the best in the world week after week here in Wellington just makes you better."
Wrapping up an exciting Friday afternoon on the grass Derby Field, a pair of winners were crowned in Section A and Section B of the $10,000 Bainbridge Companies 1.40m Open Stake.
Sam Walker (CAN) rode Evita, owned by Marbill Hill Farm, to a victory in Section A. The 19-year-old rider completed a fault-free jump-off round in an impressive time of 38.55 seconds. Paul O'Shea (IRL) finished in the runner-up spot with his own Primo Havall, leaving the jumps in their cups in a jump-off time of 38.96 seconds. Rounding out the podium to cap off a fantastic day, Walker rode his second mount Coralissa, owned by Marbill Hill Farm, to a double clear effort in 39.76 seconds.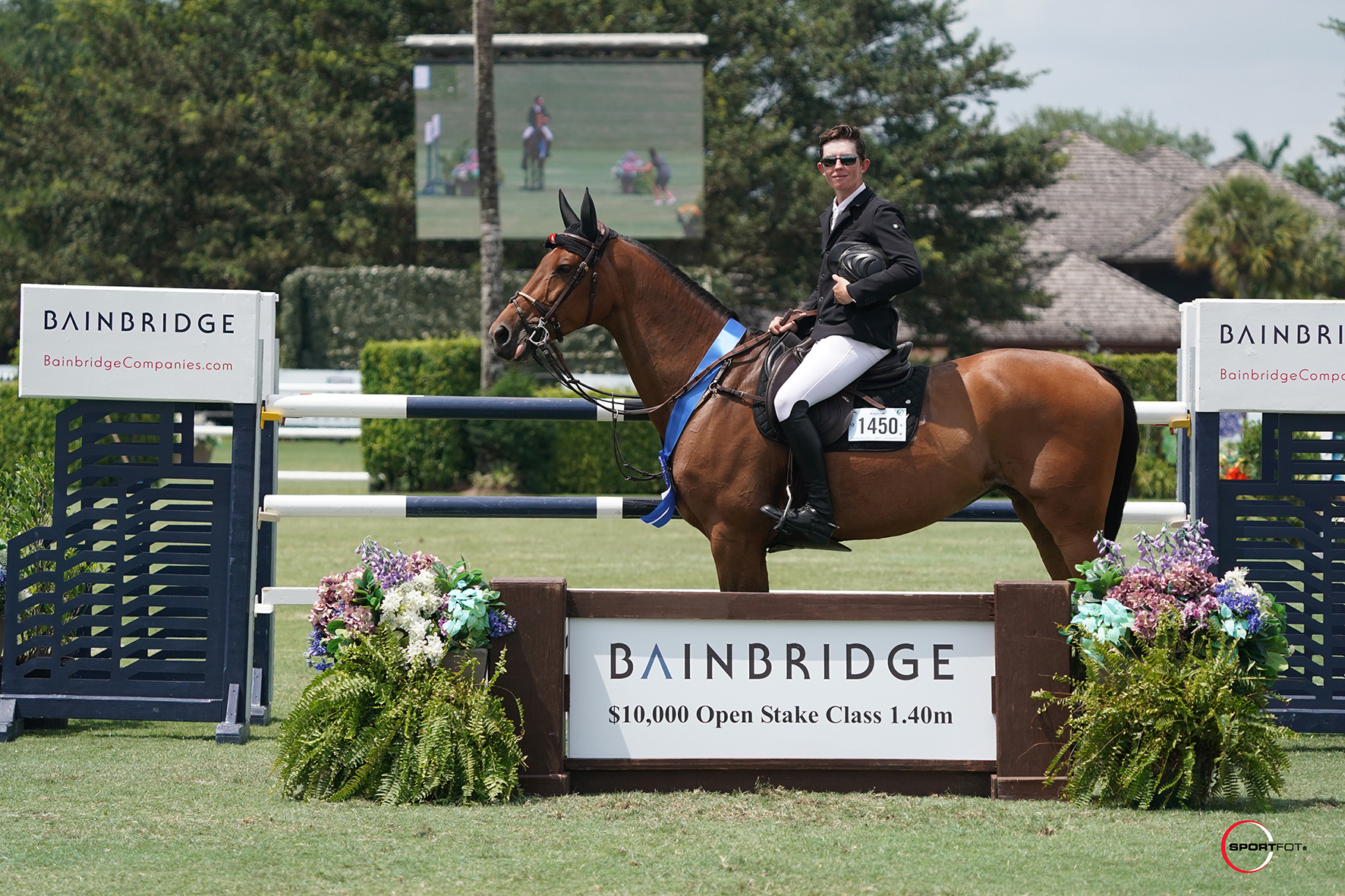 Enrique Gonzalez (MEX) and Filemon, owned by E2 Stables, captured the blue ribbon in Section B, finishing with a double-clear effort in 40.25 seconds. Cormac Hanley (IRL) and RMF Chacco Top, owned by Rushy Marsh Farm, LLC, finished in second, stopping the clock in a fault-free 41.36 seconds. Anna Dryden (USA) finished third aboard Carioca K, owned by Double Meadows Farm, LLC, with a clear jump-off round in a time of 42.06 seconds.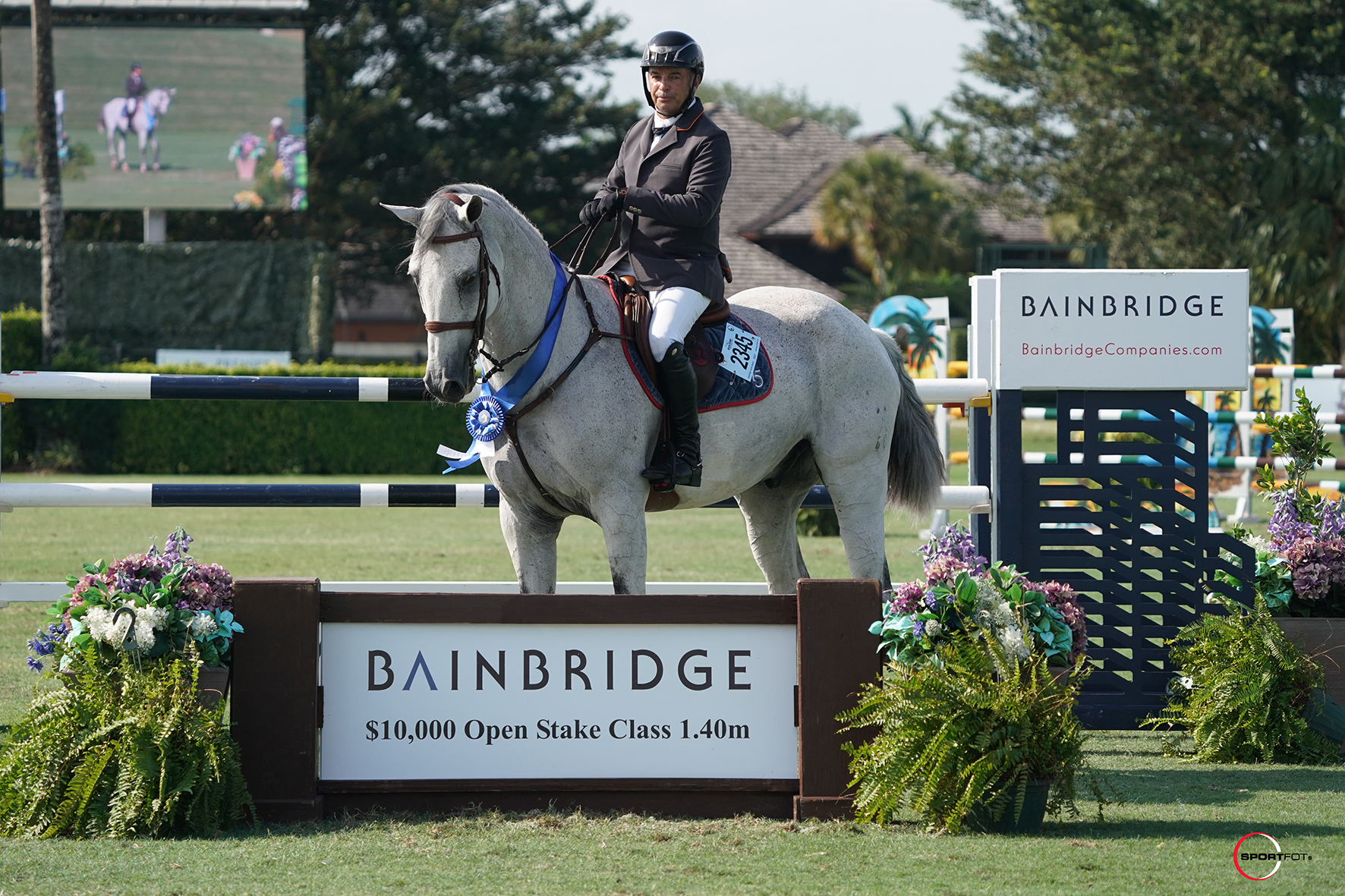 Final Results: $37,000 Equine Tack and NutritionalsQualifier CSI3*
1. JACK VAN'T KATTENHEYE: 2009 Belgian Warmblood by Diabeau x Canadian River
ERYNN BALLARD (CAN), Lindemann Barnett Sporthorses: 0/0/34.39
2. ARENA UK WINSTON: 2009 Irish Sport Horse stallion by Waldo Van Dungen x Hamilton Tropics
DARRAGH KENNY (IRL), Norman Oley: 0/0/34.58
3. BALOTELLI 5: 2010 Hanoverian gelding by Balou du Rouet x Contendro I
MATTHEW BODDY (GBR), Purple Road, LLC: 0/0/37.77
4. HADJA VAN ORSHOF: 2007 Belgian Warmblood mare by Cabrio van de Heffinck
KELLI CRUCIOTTI VANDERVEEN (USA), Kelli Cruciotti: 0/0/38.28
5. DEZ OOKTOFF: 2008 KWPN stallion by Colandro x Lys Rouge
ROBERTO TERAN TAFUR (COL), Roberto Teran Tafur: 0/0/38.54
6. COCOLINA: 2011 Oldenburg mare by Conthargos x Carolina
NATALIE DEAN (USA), Marigold Sporthorses, LLC: 0/4/35.98
7. BARDOLINA 2: 2009 Holsteiner mare by Clarimo x Landos
MARIO DESLAURIERS (CAN), Wishing Well Farm LLC: 0/4/36.12
8. GAMBLE: 2011 KWPN gelding by Vingino x Indoctro
CONOR SWAIL (IRL), Asta Torokvei: 0/4/36.82
9= KATANGA VAN HET DINGESHOF: 2010 BWP mare by Cardento 933 x Tabelle DIngeshod Z
NICOLA PHILIPPAERTS (BEL), Nicola Philippaerts: 0/WD
9= DICAS: 2009 Rheinlander gelding by Diarado x Cassini I
MARGIE ENGLE (USA), Storm Ridge Capital LLC, Show Horses, Garber & Gladewinds Partners LLC: 0/WD
9= EMMERTON: 2009 KWPN gelding by Silvio I x Artuna
RENE DITTMER (GER), SHL Farm: 0/WD
9= SQUIRT GUN: 2011 Oldenburg gelding by Diarado x Quick Star
PAUL O'SHEA (IRL), Eye Candy Jumpers: 0/WD
9= SOUPER SHUTTLE: 2011 Hanovarian mare by Stakkato x Luise Marie
CHLOE REID (USA), Live Oak Plantation: 0/WD
For full results from the $37,000 Equine Tack and Nutritionals Qualifier CSI3*, please click HERE.