By Kate Pettersen for Equestrian Sport Productions
On the final day of Spring III on the grass Derby Field at Equestrian Village, Santiago Lambre (MEX) flew to a first-place finish aboard Mario Onate's Easy Girl in the $137,000 Palm Beach County Sports Commission Grand Prix CSI3*.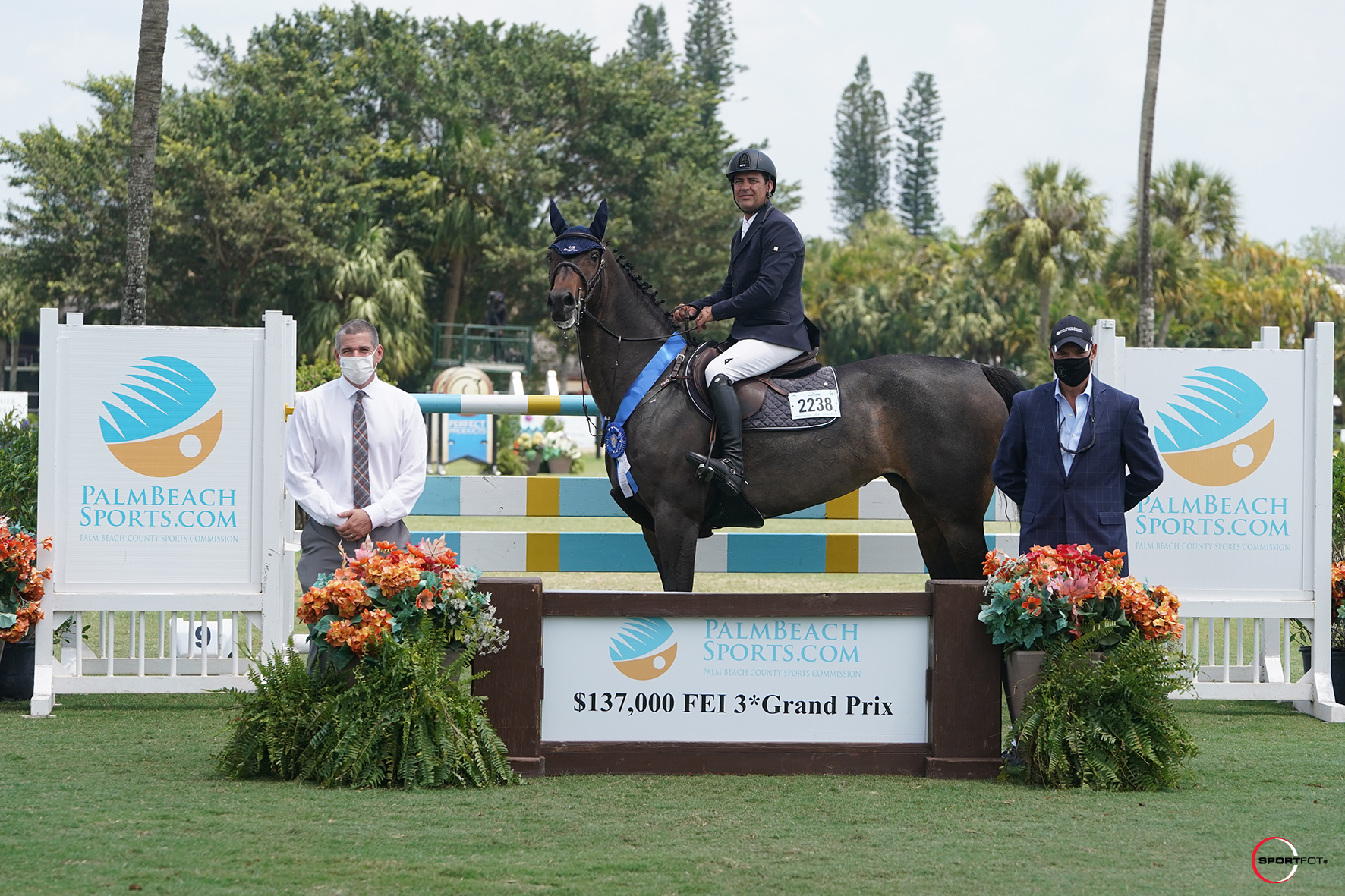 A total of five weeks of competition as part of the ESP Spring Series will continue until Sunday, May 16, with hunter and jumper competition running at Equestrian Village for Spring IV and Spring V. The fourth week will be highlighted by the $25,000 Palm Beach Equine Clinic Grand Prix on the stunning grass Derby Field. The full prize list for the 2021 ESP Spring Series can be found online by clicking here.
Olympic course designer Guilherme Jorge (BRA) set the track for the feature class as 42 horse-and-rider combinations entered the opening round. That number was narrowed down to just 13 that qualified to return to jump over a shortened course.
In the subsequent round, Colombia's Roberto Teran Tafur was the first to put forth a clear effort as he guided his own Dez Ooktoff, a 13-year-old Dutch Warmblood stallion by Colandro x Lys Rouge, across the track swiftly to take over the lead in 42.69 seconds. The first to catch him was Ireland's Paul O'Shea aboard Squirt Gun, owned by Eye Candy Jumpers, shaving nearly four seconds off the leading time. He and the 10-year-old Oldenburg gelding by Diarado x Quick Star stopped the clock in a clear time of 38.70 seconds.
Returning eleventh in the order, Margie Engle (USA) and Dicas, owned by Storm Ridge Capital, LLC, Show Horses, and Garber and Gladewinds Partners, LLC, came close to the top with a clear effort of their own. The Olympic veteran guided the 12-year-old Rheinlander gelding by Diarado x Cassini I, across the track in 39.31 seconds. Last to go, Lambre and the 10-year-old Oldenburg mare by Conthargos x Nintender did it best, stopping the clock fault-free in 38.02 seconds to claim the victory.
"When I saw that I was last on the order of go, I was happy because that meant I was able to be last in the jump-off," said Lambre. "After watching the first few go, I changed my plan because in the end, with one jump down and a fast time, we would still be in the top five. There was no point of going slow and clear. I tried to be as quick as I could, and it worked."
O'Shea and Squirt Gun ended the day with a second-place finish as they continued their success together on the grass Derby Field. The turf track marked the place they picked up a win in their first grand prix class together last spring while also notching a victory in a national grand prix class during the 2021 Winter Equestrian Festival (WEF).
"My plan was to go as fast as I could smoothly," O'Shea said. "The numbers that I wanted came up and I probably could've been quicker back to the double, so maybe I lost it there, but he jumped great. Squirt Gun has no weaknesses, really. It feels as though it doesn't matter what type of track is built, he's able to jump it. He's a very special horse."
With their double-clear effort, Engle and Dicas rounded out the podium in third place.
"Dicas has been so consistent this season," said Engle. "A lot of people had rails down so first and foremost, I wanted to finish clean. He's a big horse and I don't know that I'm going to be faster than those smaller, really quick horses. He tried hard everywhere he was, and I tried to go fast where I thought I could. I'm just thrilled because he's been so consistent. He's been a real steady Eddie for me and he's not flashy, but he does what he needs to do and he's just a good guy. He's like a big lap dog, I just love him!"
"It's great jumping out on the grass," she continued. "The horses love the field, and it seems to be holding up well. They're doing a fantastic job keeping it in great shape. Guilherme [Jorge] built a great course for a good group of horses; it was tough enough without scaring anybody, so it's been wonderful getting to go out here [on the grass Derby Field]."
For Lambre, his long-term plan has come together nicely as jumping the three-star grand prix during Spring III has been a goal he's been working towards with Easy Girl. The pair has been working together for a year now and the partnership continues to blossom.
"We jumped smaller classes during the last three weeks of WEF," he said. "She got some great experience this winter. I did a lot of national shows and she improved every week. We also got a chance to jump on the grass Derby Field before WEF in November and December and jumped very well, so I felt confident coming into the three-star."
Final Results: $137,000 Palm Beach County Sports Commission Grand Prix CSI3*
1. EASY GIRL: 2011 Oldenburg mare by Conthargos x Nintender
SANTIAGO LAMBRE (MEX), Mario Onate: 0/0/38.02
2. SQUIRT GUN: 2011 Oldenburg gelding by Diarado x Quick Star
PAUL O'SHEA (IRL), Eye Candy Jumpers: 0/0/38.70
3. DICAS: 2009 Rheinlander gelding by Diarado x Cassini I
MARGIE ENGLE (USA), Storm Ridge Capital LLC, Show Horses, Garber and Gladewinds Partners LLC: 0/0/39.31
4. DEZ OOKTOFF: 2008 KWPN stallion by Colandro x Lys Rouge
ROBERTO TERAN TAFUR (COL), Roberto Teran Tafur: 0/0/42.69
5. VINCI DE BEAUFOUR: 2009 Selle Français gelding by Diamant de Semilly x Heartbreaker
DARRAGH KENNY (IRL), Devon MacNeil: 0/4/37.52
6. AGANA VAN HET GERENDAL Z: 2011 Zangersheide stallion by Aganix Du Seigneur x Naminka
LILLIE KEENAN (USA), Chansonette Farm, LLC: 0/4/38.11
7. AMEX Z: 2009 Zangersheide Mare by Andiamo Z x Landaris
TODD MINIKUS (USA), Bit By Bit Group: 0/4/38.97
8. GAMBLE: 2011 KWPN gelding by Vingino x Indoctro
CONOR SWAIL (IRL), Asta Torokvei: 0/4/39.72
9. VERY CHIC DU TILLARD: 2009 Selle Français gelding by Diamant de Semilly x Quidam de Revel
GAVIN HARLEY (IRL), E2 Showjumpers: 0/4/40.27
10. INDUS VAN HET KEYSEREYCK: 2008 Gelding
CAMILO RUEDA GIRALDO (COL), Camilo Rueda Giraldo: 0/4/41.44
11. KATANGA VAN HET DINGESHOF: 2010 BWP mare by Cardento 933 x Tabelle DIngeshod Z
NICOLA PHILIPPAERTS (BEL), Nicola Philippaerts: 0/8/40.36
12. UNCLE BLUE: 2008 Swedish Warmblood gelding by Chacco Blue x Robin Z
SPENCER BRITTAN (USA), Spencer Brittan: 0/8/41.35
For full results from $137,000 Palm Beach County Sports Commission Grand Prix CSI3*, please click HERE.