By Kate Pettersen for Equestrian Sport Productions
To wrap up an exciting day of competition, 39 horse-and-rider combinations jumped the $35,000 Wellington Agricultural Services Spring III Grand Prix. A total of 13 pairs qualified to return for the jump-off, including Ireland's Darragh Kenny, who rode all four of his entries to clear efforts in the opening round.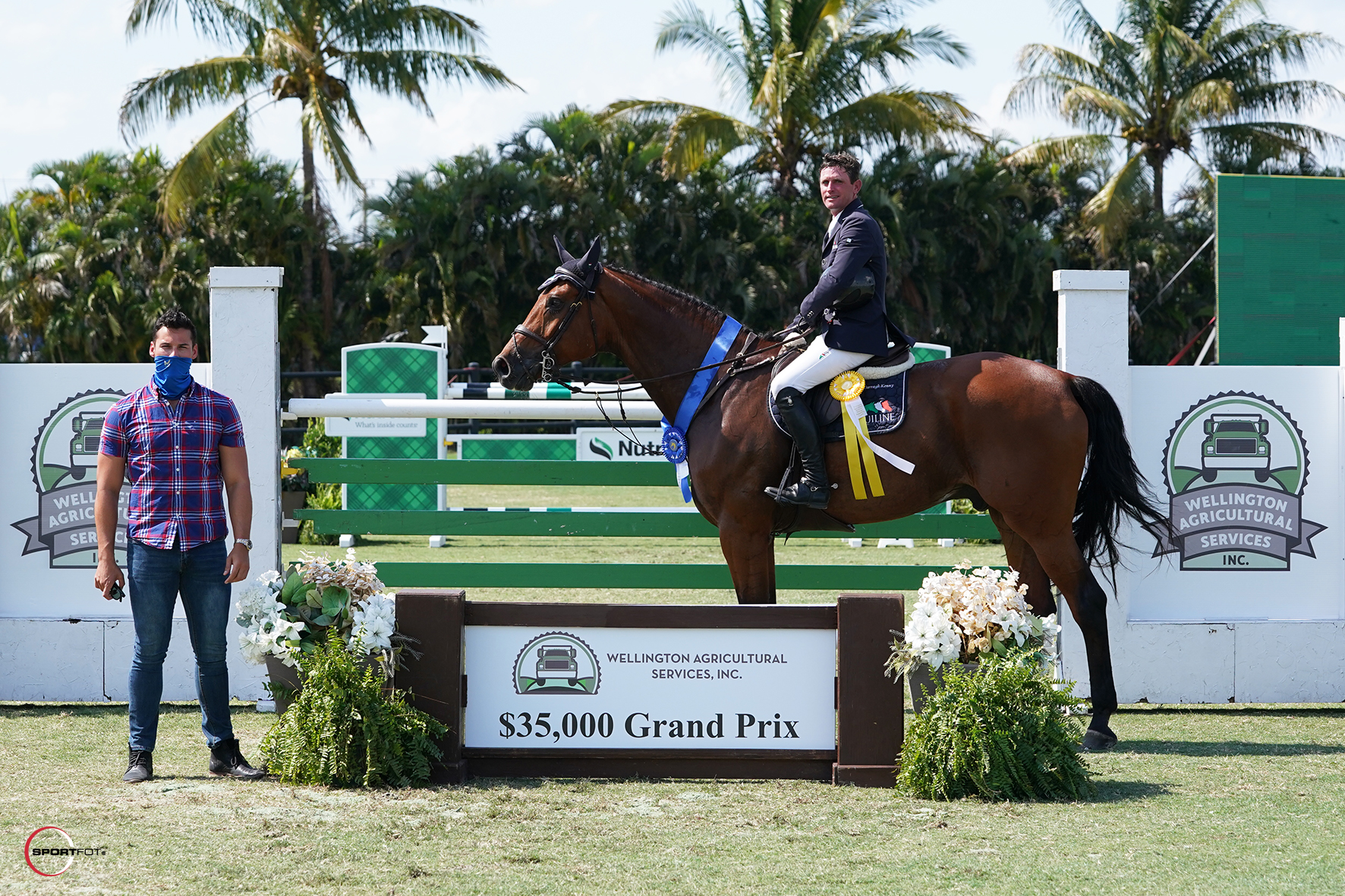 Kenny capitalized on the opportunity of riding the track multiple times, landing on the podium with two of his rides. It was with his final entry, Sangris Boy, owned by Heathman Farm, LLC, that the ninth-ranked rider in the world picked up the victory. Kenny and the 11-year-old British Sport Horse gelding by Sandro Boy x Gorona flew to a double-clear finish, stopping the clock in an impressive 35.73 seconds.
"I tried to jump clear," he said with a laugh. "I knew Michael [Murphy] was very fast and I'm just getting to know all my horses so I just went as fast as I could and hoped the jumps stayed up. Luckily, they did. They're all very good horses. They're all new, this is my first week showing all four of them, but they're all very talented. They're all different types with different jumps, but all careful, scopey, and really easy to ride."
"I think Guilherme [Jorge] does a great job," Kenny continued. "He's always done a great job. The three-star was a super class today with a great jump-off and this was a very exciting jump-off, as well. I think he's one of the best course designers and he did a great job all week."
Michael Murphy (USA) put forth an impressive double-clear effort of his own aboard the Ilan Ferder-owned entry, Catoki's Son Z. Murphy and the 12-year-old Zangersheide gelding by Catoki x Aldo du Reverdy posted a time of 36.21 seconds to finish in second place.
Kenny continued his successful day with a third-place finish aboard Crispo R, owned by Kerry McCahill. He and the eight-year-old Holsteiner gelding by Casall x San Patrignano Corrado crossed the finish line in 37.59 seconds.
For Kenny, the victory comes at the end of a lengthy and very successful campaign during the winter season in Wellington, FL. He picked up numerous wins throughout the 2021 WEF and was crowned overall champion of CaptiveOne Advisors 1.50m Classic Series during WEF 12.
Following Sunday's class, Kenny was also named the overall winner of the Omega Alpha 1.35m Series. For his success, he was given a $500 bonus and a $500 Omega Alpha Products gift certificate, after capturing the title through consistent results during the first three weeks of the 2021 ESP Spring Series.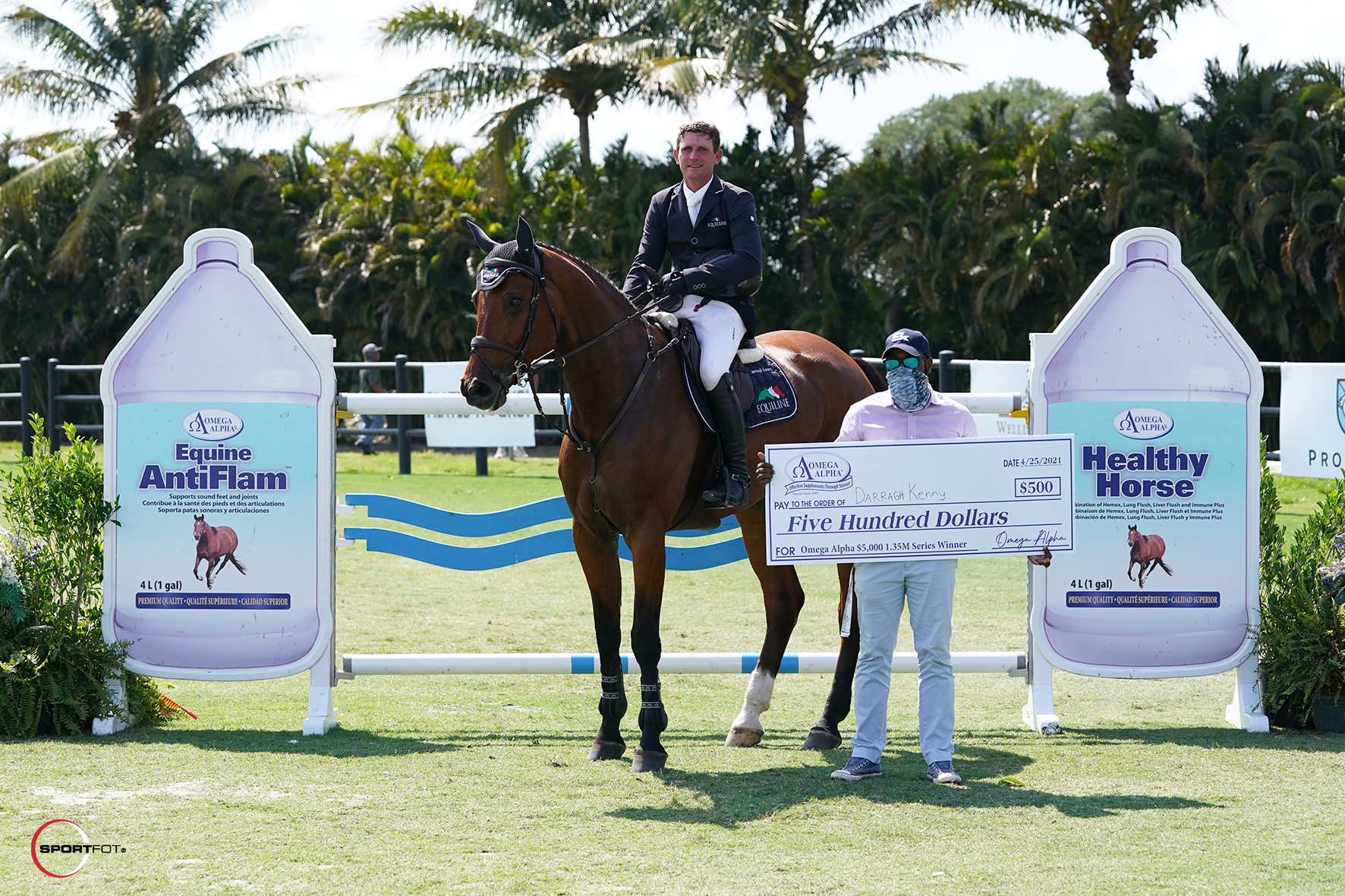 "I'm tired, that's for sure," he said after his 15th straight week of competition. "I've been really lucky; we've had a great circuit and all the horses have been brilliant. We have a fantastic group of staff that work so hard to try and make all of this happen. I'm really happy."