By Kate Pettersen for Equestrian Sport Productions
A successful week continued for Egypt's Nayel Nassar, who claimed his second victory in three days on Saturday, riding Evergate Stables, LLC's Igor Van De Wittemoere to top honors in the $37,000 Nutrena 1.50m Classic CSI3* on the grass Derby Field at Equestrian Village.
Sunday, April 25, will mark the final day of the third week of the ESP Spring Series. The schedule will feature a stellar lineup of show jumping at Equestrian village with the $137,000 Palm Beach County Sports Commission Grand Prix CSI3* followed by the $35,000 Wellington Agricultural Services Spring III Grand Prix. You can watch both feature classes live and on-demand for free on the livestream.
An impressive field of 38 top competitors set out over the 1.50m track set by Olympic course designer Guilherme Jorge (BRA) with a dozen combinations jumping clear to punch their tickets to the jump-off. In the subsequent round, Nassar kicked it into high gear aboard the 13-year-old Belgian Warmblood gelding by Cooper VD Heffinck x Orlando 96, flying across the course for a double-clear effort in 39.21 seconds.
"He's so quick across the ground and it was a great jump-off for that," said Nassar of the talented gelding. "It really only had one rollback to slow you down. For a little horse, he covers so much ground, so I was able to leave the strides out. I just got on a roll and stay like that the whole way through. He felt unbelievable."
"It was a pretty big jump-off," Nassar continued. "It's great to have Rob Hoekstra here on the ground helping me these couple of weeks, so he went up and watched Kristen [Vanderveen] go. He noticed she did seven strides up the first line pretty easily so that was the one place we changed our plan. After that, it was just a matter of sticking to the numbers."
It was a tight battle to the finish as Ireland's Daniel Coyle came close aboard Legacy, owned by Ariel Grange. He and the 11-year-old Zangersheide mare by Chippendale Z x Bon Ami also finished the day fault-free, stopping the clock in 39.40 seconds to land in second place.
Once again it would be three different nations represented on the podium as Emily Moffitt (GBR) piloted Tipsy Du Terral, owned by Poden Farms, to a third-place finish. The 23-year-old rider partnered with the 14-year-old Selle Français mare by Toulon x Quat'sous for a fault-free effort in a time of 39.46 seconds.
Nassar had the chance to compete throughout the winter circuit in Wellington, FL, and has three horses jumping in this week's three-star classes at Equestrian Village. At this point in the season, the rider ranked 39th in the world feels as though all aspects of his program are coming together nicely.
"It has been great to show week in and week out after a slow year last year [due to the COVID-19 pandemic]," he said. "I probably have the deepest string of horses I've ever had and I feel like I'm clicking with every single one of them. Having that depth allows me to jump as many grand prix classes as possible and it has been a privilege. I'm super grateful to my whole team at Evergate Stables for the huge opportunity to feel like I'm constantly in the ring, to the point where I don't even think anymore when I'm in there, I just know what I'm doing."
While Nassar is really hitting his stride, it has been a long road to get to this point. With some new horses in his string, it has been a steady climb to reach this point of comfortability with all of his top competitors.
"Obviously, we as humans like instant gratification, but horses teach us patience," he said. "I have been working hard to just trust the process. I felt even throughout circuit I was regularly putting in consistent rounds, but I had a lot of cheap four-fault rounds where the horses jumped well, and I jumped well. I kept telling myself that it's not a matter of 'if,' it's 'when.' I just stayed the course, trusted what I'm doing at home and trusted the horse's improvement."
"It is just nice to have these extra weeks at the end of circuit," he continued. "I have a few new horses I was trying to get to know, and Igor is one of them. I finally feel like I'm in a place to really compete, so it has been really nice to test that out on the field. It's an amazing venue and Igor was just unbelievable today. He is a totally different animal than he was last year."
In the final class of the day, 94 horse-and-rider combinations contested the $5,000 Omega Alpha Equine 1.35m Classic with prizes awarded in Section A and Section B.
Darragh Kenny (IRL) took home the title in Section A aboard the Heathman Farm, LLC, entry Carla. The pair put forth a clear first-round effort and matched that in the jump-off with the fastest time of the day, crossing the finish line in 36.80 seconds. Andrew Welles (USA) and Primo Troy, owned by Itasca Group, LLC, jumped into second position with a double-clear score in 36.97 seconds. James Chawke made it two on the podium for Ireland as he guided his own Gamble to a third-place finish in a time of 38.86 seconds.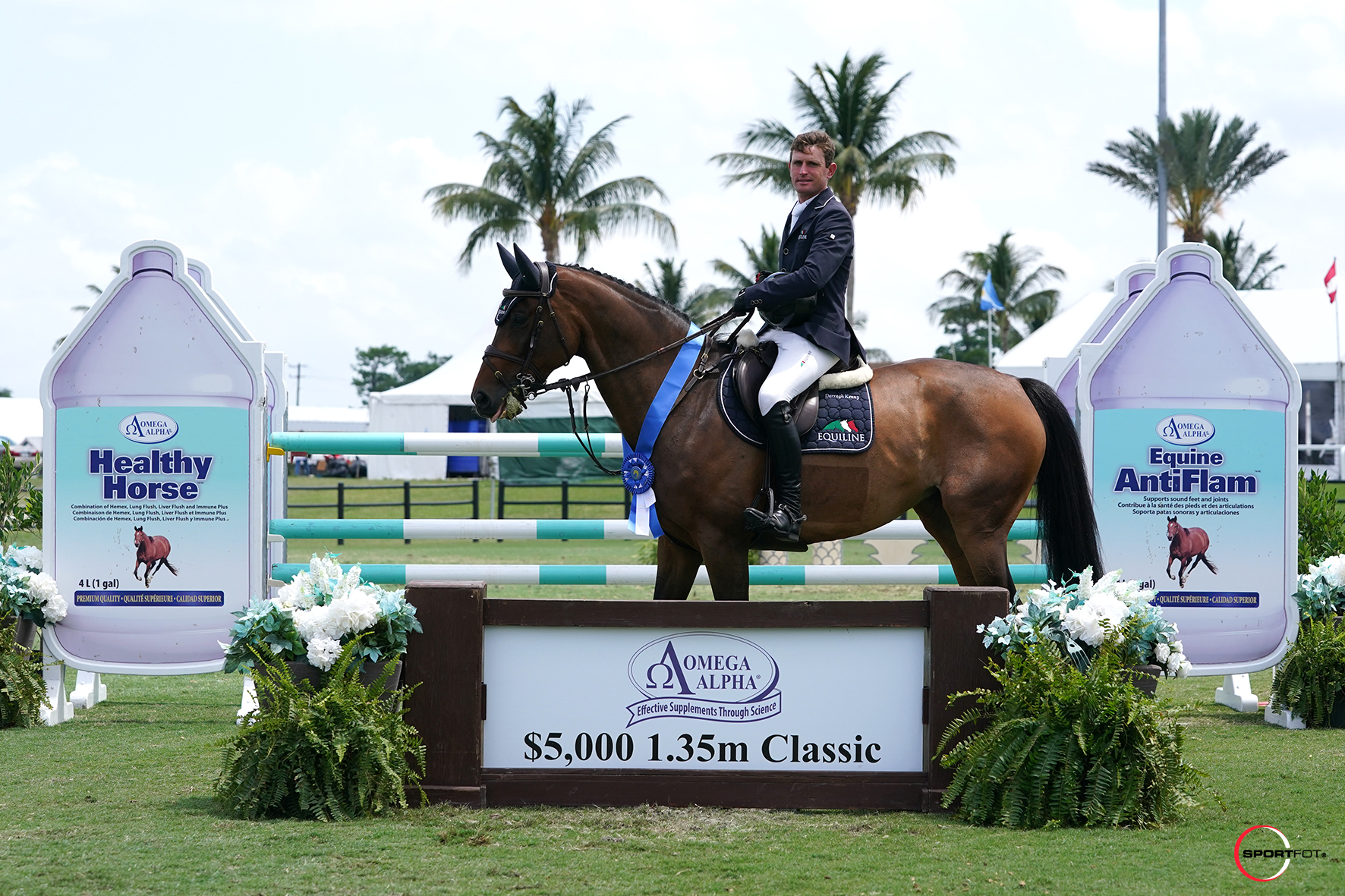 In Section B, it was a win for Alison Robitaille (USA) aboard Ginger Pop, owned by Bertram Firestone. The dynamic duo raced around the jump-off track, leaving all the jumps in their cups in a time of 37.55 seconds. Isabel Roth (USA) and Vive The Quine, owned by Two Socks Farm, LLC, flew to a double-clear finish in a time of 44.15 seconds to take home second place. Peter Leone (USA), who was victorious in the $6,000 Bainbridge Companies 1.40m Jumpers on Thursday, finished the day in third place with Cedric 84, owned by Maarten Huygens. The pair completed the jump-off with just four faults in a time of 38.98 in the jump-off.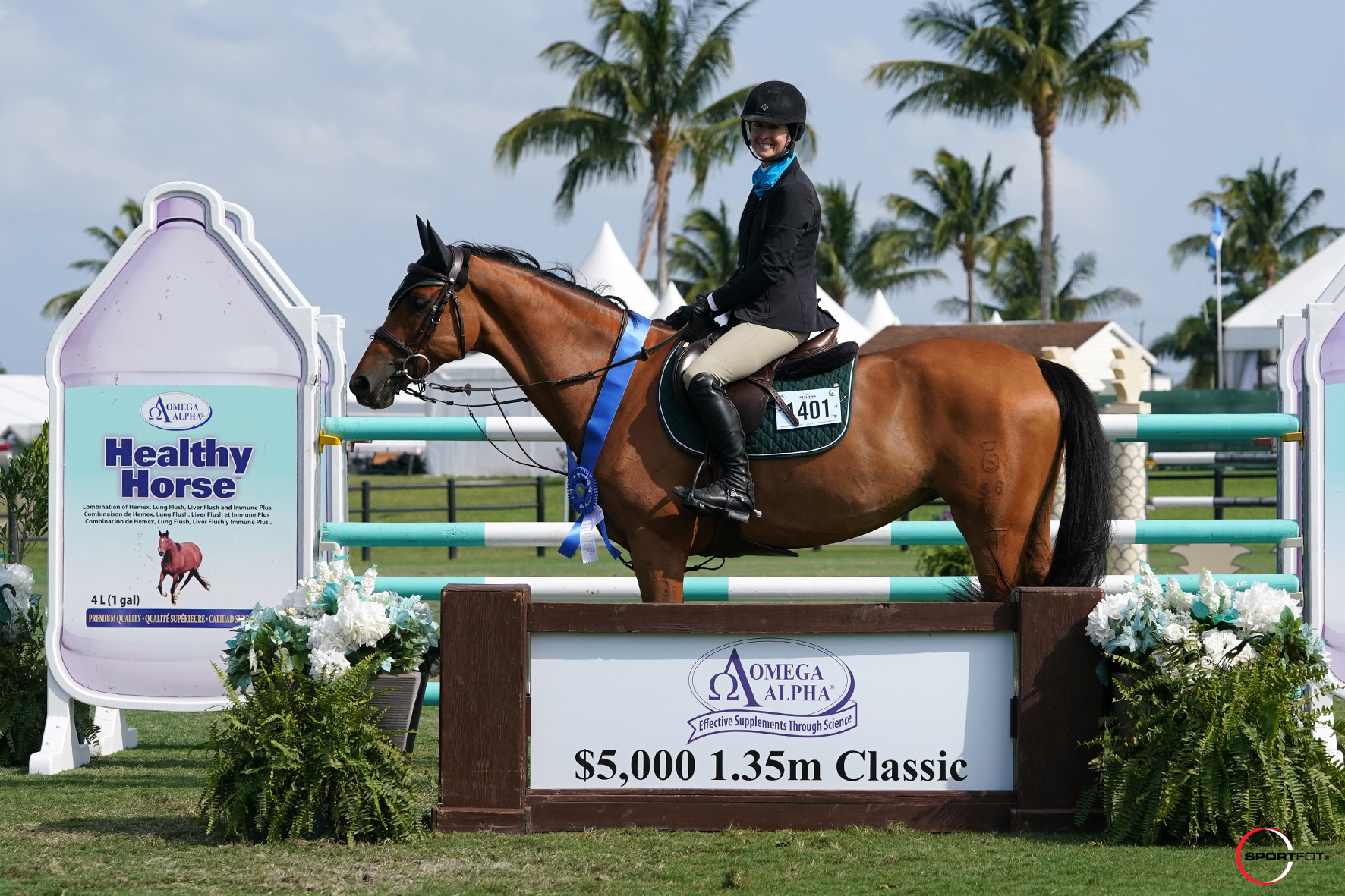 Final Results: $37,000 Nutrena 1.50m Classic CSI3*
1. IGOR VAN DE WITTEMOERE: 2008 Belgian Warmblood gelding by Cooper VD Heffinck x Orlando 96
NAYEL NASSAR (EGY), Evergate Stables, LLC: 0/0/39.21
2. LEGACY: 2010 Zangersheide mare by Chippendale Z x Bon Ami
DANIEL COYLE (IRL), Ariel Grange: 0/0/39.40
3. TIPSY DU TERRAL: 2007 Selle Français mare by Toulon x Quat'sous
EMILY MOFFITT (GBR), Poden Farms: 0/0/39.46
4. BULL RUN'S PRINCE OF PEACE: 2009 Holsteiner gelding by Cardenio x Contender
KRISTEN VANDERVEEN (USA), Bull Run Jumpers Six LLC: 0/0/39.70
5. LAURIER: 2011 Belgian Warmblood stallion by Zirocco Blue x Chin Chin
NICOLA PHILIPPAERTS (BEL), Nicola Philippaerts: 0/0/40.22
6. KALINKA DE KALVARIE: 2010 BWP mare by Mr Blue x Acord I
BEN MAHER (GBR), Poden Farms: 0/0/41.11
7. BOHEME DE FLEYRES: 2011 Selle Français mare by Vargas De Ste Hermelle x Easy Boy
ASHLEE BOND (ISR), Little Valley Farms: 0/0/41.56
8. CHUCK 27: 2007 Hanoverian gelding by Cassus 2 x Ramiro's Son II
HILARY MCNERNEY (USA), Hilary McNerney: 0/0/42.23
9. VENITIENNE: 2009 Selle Français mare by Lando x Flipper D'Elle
ALEJANDRO KAROLYI (VEN), Karolyi Showjumping Inc: 0/0/43.15
10. CONTAGO: 2011 Oldenburg gelding by Cornet Obolensky x Cassandra
EUGENIO GARZA PEREZ (MEX), El Milagro: 0/0/44.59
11. CARLSON 86: 2008 German Sport Horse gelding by Colorit x Auftritt
EMILY MOFFITT (GBR) Poden Farms: 0/4/42.94
12. COMTESS 202: 2011 Westphalian mare by Comme Il Faut 5 x Pilot
SANTIAGO LAMBRE (MEX), Mario Onate: 0/4/46.94
For full results from the $37,000 Nutrena 1.50m Classic CSI3*, please click HERE.