The fourth week of the ESP Spring Series took place May 6-9, 2021, at Equestrian Village, with the $25,000 Palm Beach Equine Clinic Spring IV Grand Prix serving as the highlight event. The fifth and final week of the 2021 ESP Spring Series will be hosted once again at Equestrian Village from May 14-16, 2021, followed by a short break ahead of the ESP Summer Series. 
Competition culminated on Sunday with a victory for Kent Farrington (USA) in the $25,000 Palm Beach Equine Clinic Spring IV Grand Prix, his second major win for the week. Farrington had a total of three mounts in the class, but it was Kaprice, the 11-year-old Belgian Warmblood mare by Echo van't Spieveld x Carthago, co-owned by Farrington and Haity McNerney, with whom he took the top prize. Eighteenth to go in the order, the pair cleared the jump-off in 40.27 seconds to move to the top of the leaderboard.
"I thought the course was great, which I know everyone says when it goes well, but it's not just because it went well today," Farrington commented of the course set by Andy Christiansen (ECU) for the 41 contestants. "[The course] wasn't built as a big class, but it still had all the elements of one with a liverpool, a real triple combination on a related distance off a triple bar, and a complicated line at the end on a very short stride to a three-stride with a plank. These kinds of things are a great way to bring up horses and to help produce riders to get to the next level."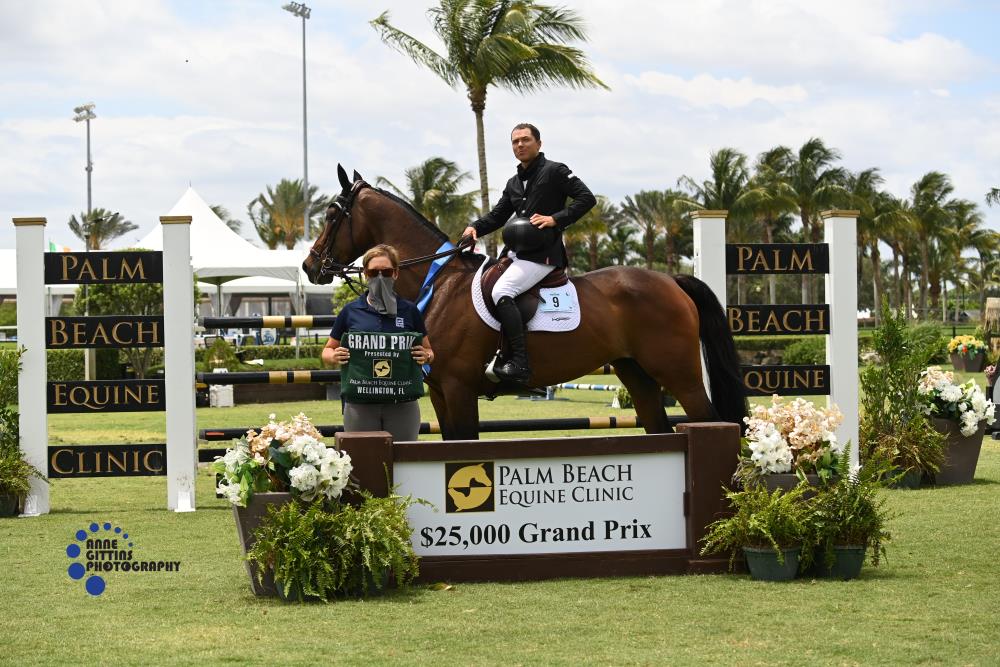 Opting to return at the end for the second round, Abigail McArdle (USA) and I&H Boogy Woogy, a 15-year-old gelding owned by Parot Horses LLC, produced a double-clear finish in 43.47 seconds to claim second place. Rounding out the all-American podium was Todd Minikus, who guided his own Juju VDM, a 12-year-old Belgian Warmblood mare by Toulon x For Pleasure to a clear jump-off, stopping the timers at 44.68 seconds. 
Farrington will return for ESP Spring V with plans to continue to take advantage of classes on the Derby Field before heading to Europe to compete in CSIO/CSI observation events for the rescheduled Tokyo 2020 Olympic Games. "I think this is the best arena that we have here in Florida, so I'm really happy that they're using it a lot. It's a great opportunity for us to produce horses and riders."
Friday's action was highlighted by a win for Israel's Ashlee Bond and Contefina LVF, owned by Ashlee Bond Show Jumping, in the $10,000 Bainbridge Companies 1.40m Open Stake. As only the second pair in the order, Bond and the nine-year-old Holsteiner mare (Contefino 2 x South Pacific) led from start to finish, blazing the trail in the immediate jump-off with a foot-perfect time of 34.11 seconds. Known for his quick riding, Farrington came the closest to the leaders' time on his own Orafina, tripping the timers fault-free but one second too slow in 35.18 seconds to claim the second-place position. Conor Swail of Ireland rounded out the top three podium spots on Balzane Du Mazes, owned by Vanessa Mannix, in a double-clear time of 35.67 seconds.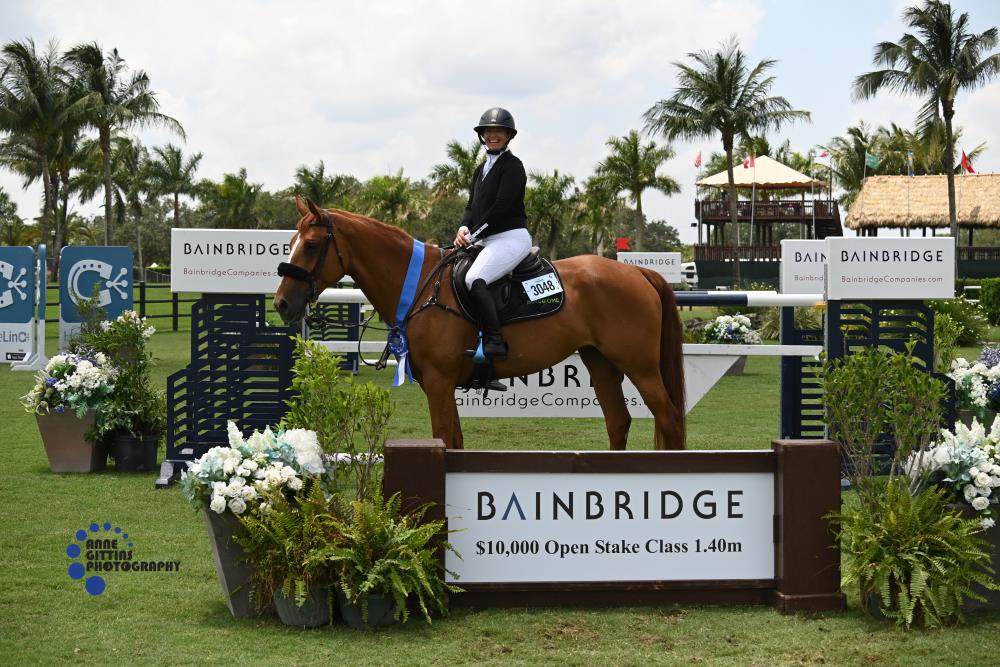 On Thursday, competition concluded on the Derby Field with a reversal of Friday's one-two finishers as victory went to Farrington and Kaprice in the $5,000 Omega Alpha 1.35m Jumper Stake, while Bond took second place. As fifth in the order of go out of 30 exhibitors, Farrington and Kaprice cleared the first round to advance to the immediate jump-off and set the time to beat as 29.18 seconds with no faults. Although no one could beat their time, Bond and Aurora Farms LLC's Lazy came close, stopping the jump-off timers fault-free at 29.54 seconds to earn the red rosette. The USA's Vanessa Hood piloted Fairytale 86, owned by Take Two LLC, to third-place honors with a clear jump-off time of 30.57 seconds.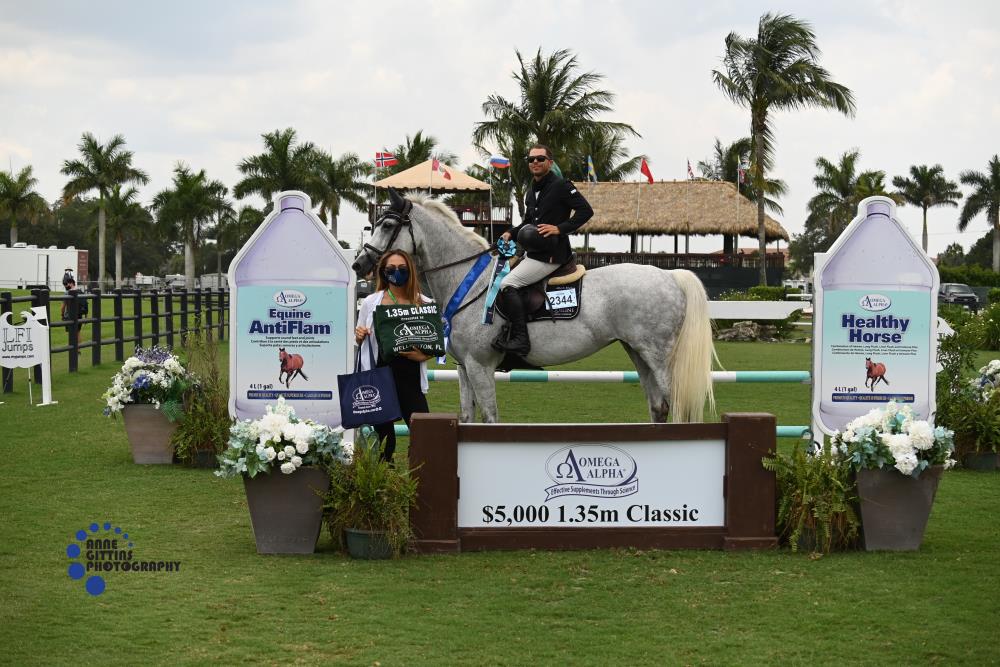 Final Results: $25,000 Palm Beach Equine Clinic Spring IV Grand Prix
1. KAPRICE: 2010 BWP mare by Echo van't Spieveld x Carthago
KENT FARRINGTON (USA), Haity McNerney & Kent Farrington: 0/0/40.276
2. I&H BOOGY WOOGY: 2006 Dutch Warmblood gelding by Faldo x Ginus
ABIGAIL MCARDLE (USA): Samuel Parot Jr: 0/0/43.472
3. JUJU VDM: 2009 BWP mare by Toulon x For Pleasure
TODD MINIKUS (USA), Todd Minikus, LTD: 0/0/44.687
4. CON COLEUR: 2009 Hanoverian gelding by Contendro I x Couleur Rubin
REBECCA CONWAY (USA), Blue Hill Farm, LLC: 0/0/44.981
5. KIRSCHWASSER SCF: 2010 BWP stallion by Amaretto d'Arco x Nebab de Reve
FREDDIE VAZQUEZ (PUR), Freddie Vazquez and G6 Holdings: 0/0/45.193
6. MEADOW VALE CRUISE: 2011 gelding by S Creevagh Ferro Ex Siebe x Tullibards Pretty Young Thing
DIEGO PEREZ BILBAO (ESP), Wyndmont: 0/0/45.999
7. LINCOURT GINO: 2003 Irish Sport Horse gelding by Gino III x Graf Magna
ALEJANDRO KAROLYI (VEN), Monica Carrera: 0/0/46.872
8. ASTILBE: 2008 Swedish Warmblood mare by Empire x Stanford
HILARY MCNERNEY (USA), Hilary McNerney: 0/4/44.349
9. BOREALE DE TALMA
AARON VALE (USA), Empire Show Stables: 0/4/46.655
10. ASTILBE: 2008 Swedish Warmblood mare by Empire x Stanford
HILARY MCNERNEY (USA), Hilary McNerney: 0/4/47.695
11. KOSS VAN HEISTE: 2009 Belgian Warmblood gelding by Breemeersen adorado x Contact vd heffinck
CONOR SWAIL (IRL), Dalco Ltd: 0/8/40.537
12. GAZELLE: 2006 Belgian Warmblood mare by Kashmir van Schuttershof x Indoctro
KENT FARRINGTON (USA), Kent Farrington & Robin Parsky: 0/12/47.171
For full results of the $25,000 Palm Beach Equine Clinic Spring IV Grand Prix, please click HERE.