Seventeen elite horse and rider combinations gathered in the Sanctuary Arena for an action-packed afternoon of showjumping at World Equestrian Center – Wilmington; all vying for the win in the $30,000 WEC Grand Prix over a course designed by Bobby Murphy of Lexington, Kentucky.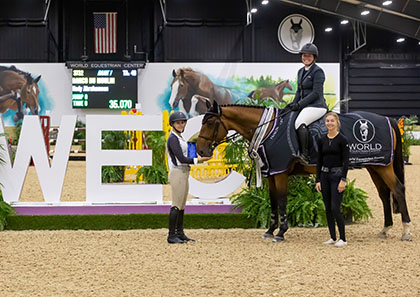 Ten horses qualified for the jump off, but it was Kady Abrahamson of Abrahamson Equestrian LLC, Georgetown, Kentucky, and Banco Du Moulin (Popstar Lozonais x Gerboise Du Moulin) who prevailed to take the win. 
"This girl is on fire!" exclaimed Keely O'Hara, a friend of Abrahamson's. Banco Du Moulin, now owned by Abrahamson Equestrian LLC, is a newer mount for Abrahamson. She and the 10-year-old Selle Francais gelding began riding together only five months ago. Time is no object for this team, as they notched wins in two $20,000 Welcome Prix classes during the Winter Spectacular at WEC Ocala. Now the pair is adding a $30,000 WEC Grand Prix win to their list of accomplishments.
"I didn't go as fast with him last weekend…Today I knew that I didn't want to be second again – so we just did it!"
Abrahamson and Banco Du Moulin jumped the first round clear in 73.416 seconds, securing their spot in the jump off where they stopped the clock at an unbeatable 35.070 seconds.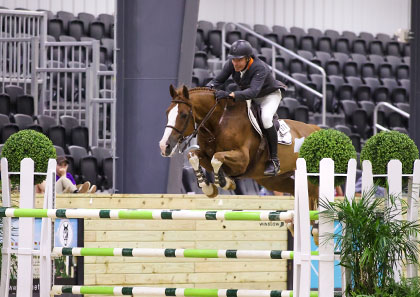 Wilhelm Genn and Bugatti (Heartbreaker x Nona Bella ) took second place in the $30,000 WEC Grand Prix. Genn, of Rheinland Farm in Lebanon, Ohio, and Bugatti, a 15-year-old KWPN gelding owned by Eduardo Leon, stopped the clock at 35.922 seconds in the jump off.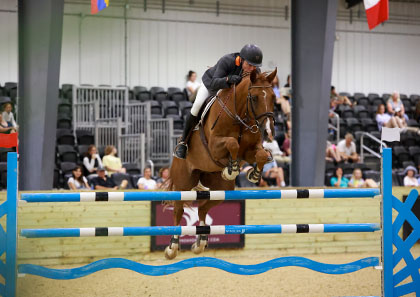 Willhelm Genn and his own Van Gogh(Valentino x Calina Z), a 13-year-old chestnut Oldenburg gelding, rounded out the top three finishers. This popular pair took third place in the $5,000 Welcome Stake earlier this week.
Banco Du Moulin, Kady Abrahamson – 0 | 0 | 35.070
Bugatti, Willhelm Genn – 0 | 0 | 35.922
Van Gogh, Willhelm Genn – 0 | 0 |  35.976
Maraca LS La Silla, Kady Abrahamson 0 | 0 | 37.892
Snow White, Natalie Thornell 0 | 0 | 40.752
Catch A Star Hss, Kevin McCarthy 0 | 4 | 36.583
VDL Gerinus T, Ryan Genn 0 | 4 | 38.112
Tyson Uno, Maria Roberts 0 | 4 | 38.229
Billionaire, Sarah R. Meier 0 | 4 | 38.856
Coco Chanel M, Ryan Genn 0 | 76.815
Photos courtesy of Winslow Photography.