A rainy Ohio Thursday couldn't stop Essince W and David Beisel from winning the $10,000 Welcome Stake, to kick off the second week of the 2021 WEC Summer Show Series in Wilmington.
Sixteen horse and rider combinations took to the Sanctuary Arena for the class, where eight pairs went clean to earn a spot in the jump-off. It was Essince W and Beisel of David Beisel Stables, Goshen, Ohio, who swept the class, notching another trip to the winner's circle this afternoon with a double clear effort and an impressive jump-off time of just 36.762 seconds.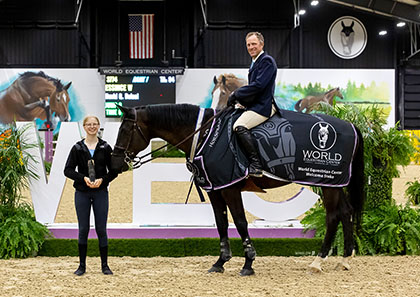 Essince W (Chacco Blue x Rossan) is a 12-year-old KWPN gelding that has been stabled with Beisel for a little over three years. "He is careful, has his own style, and loves to gallop", said Beisel. "This was a nice challenging course. We are looking forward to the Grand Prix on Saturday." Biesel and Essince W earned a second place finish in the April 25, 2021 WEC $25,000 Grand Prix.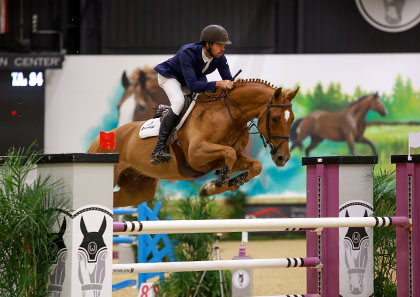 Coming in second place, with a time of 38.646 seconds in the jump-off, was Ryan Genn aboard VDL Gerinus T (Arezzo VDL x Rosalina). Genn and VDL Gerinus T, a 10-year-old Dutch Warmblood gelding owned by Rheinland Farm, Lebanon, Ohio, have seen success in the Grand Prix ranks, recently winning the $25,000 WEC Grand Prix on April 25, 2021.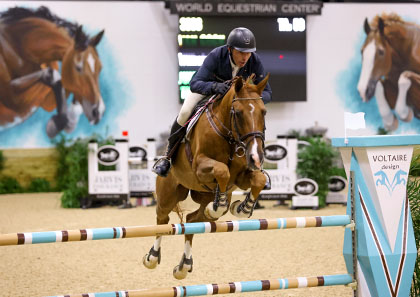 Van Gogh (Valentino x Calina Z), a 13-year-old chestnut Oldenburg gelding, and Wilhelm Genn did not fail to impress the crowd, taking third place in tonight's Welcome Stake with a fast and clean run and a jump-off time of 39.405 seconds. Genn of Rheinland Farm, Lebanon, Ohio, and the a 13-year-old Oldenburg gelding won the $5,000 WEC Welcome Stake in April.
$10,000 WEC Welcome Stake 1.35 Results
Essince W, David Beisel – 0 | 0 | 36.762 
VDL Gerinus T, Ryan Genn – 0 | 0 | 38.646 
Van Gogh, Wilhelm Genn – 0 | 0 39.405 
Strawberry, Molly Kindness – 0 | 0 | 40.118 
Bugatti, Wilhelm Genn – 0 | 0 | 42.155 
Marca LS La Silla, Kady Abrahamson – 0 | 4 | 41.067 
Tyson Uno, Maria Roberts – 0 | 4 | 45.881 
Snow White, Natalie Thornell – 0 | 8 | 41.188 
Ecuador W, Logan Taylor – 4 | 67.700 
First Finch, Logan Taylor – 4 | 69.215 
Photos courtesy of Winslow Photography.