By Sarah Madden for TIEC
Mill Spring, NC – June 5, 2021 – Ashlee Bond (ISR) and Donatello 141 flew to win the $137,000 Cleghorn Gun Club Grand Prix CSI 3* on a jump-off time of 37.447 seconds under the lights at Tryon International Equestrian Center & Resort (TIEC). Erynn Ballard (CAN) collected the reserve award after clearing the short track in a time of 39.849 with Gakhir, the 2011 Dutch Warmblood stallion (Spartacus x Indorado), while Sharn Wordley (NZL) and Verdini D'Houtveld Z, the 2011 Dutch Warmblood gelding (Verdi TN x Caretino 2), secured third with their 40.658-second performance over the jump-off course.
Anthony D'Ambrosio (USA) tested 35 horse-and-rider pairs over the first round of his course design, with five pairs qualifying for the abbreviated challenge. Bond and the 2011 Westphalian gelding (Diarado x Lamoureux I) had a bit of a discouraging week to start Tryon Spring 5 competition, admitted the thrilled Bond, whose selective risk-taking over the short course worked out perfectly in her favor:
"I was actually feeling really disheartened after the last couple of days. 'Donnie' was good on Thursday, but we had one down and he was a little rusty, but I thought he should be good for Saturday," she recalled. "I think the Nations Cup in Wellington was the last night class he's jumped, so he hadn't jumped under the lights in a while! He always does well, but my week has been not-so great. He felt really great in the warm-up. I would say by the triple I felt in my groove, and I felt like I was on it, and was just hoping I didn't have a cheap rail."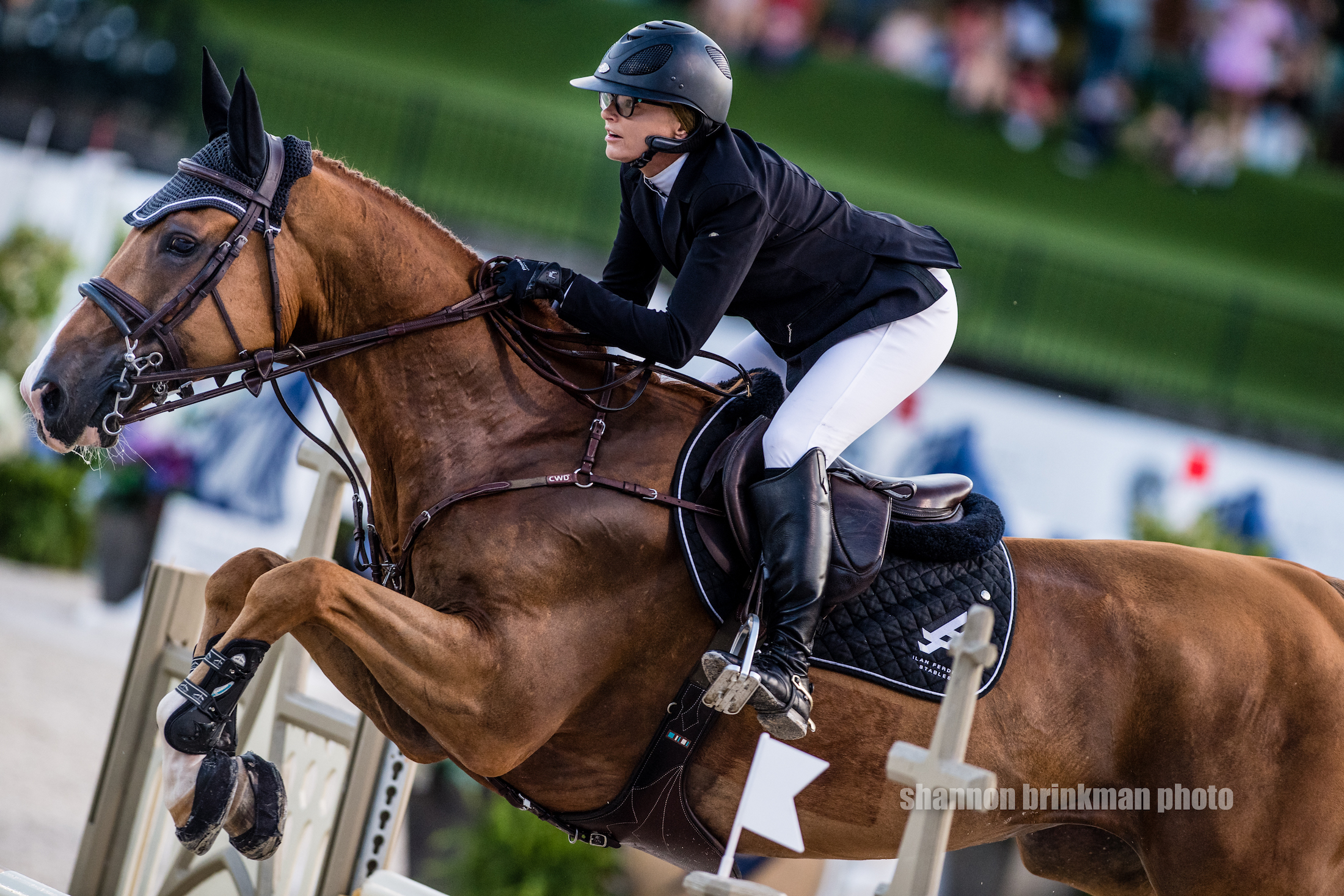 Bond herself has not competed at TIEC since the FEI World Equestrian Games™ Tryon 2018 (WEG), which did not go in her favor. "Coming here worked out really nicely since we've relocated to Wellington. The prize money is good, the competition and the footing is great – I knew the facility would be great," she emphasized. "The last time I was here was for WEG, and it didn't go well for me. I got jumped off, and it was awful. That was my last memory here, and I came hoping things would go better this time!"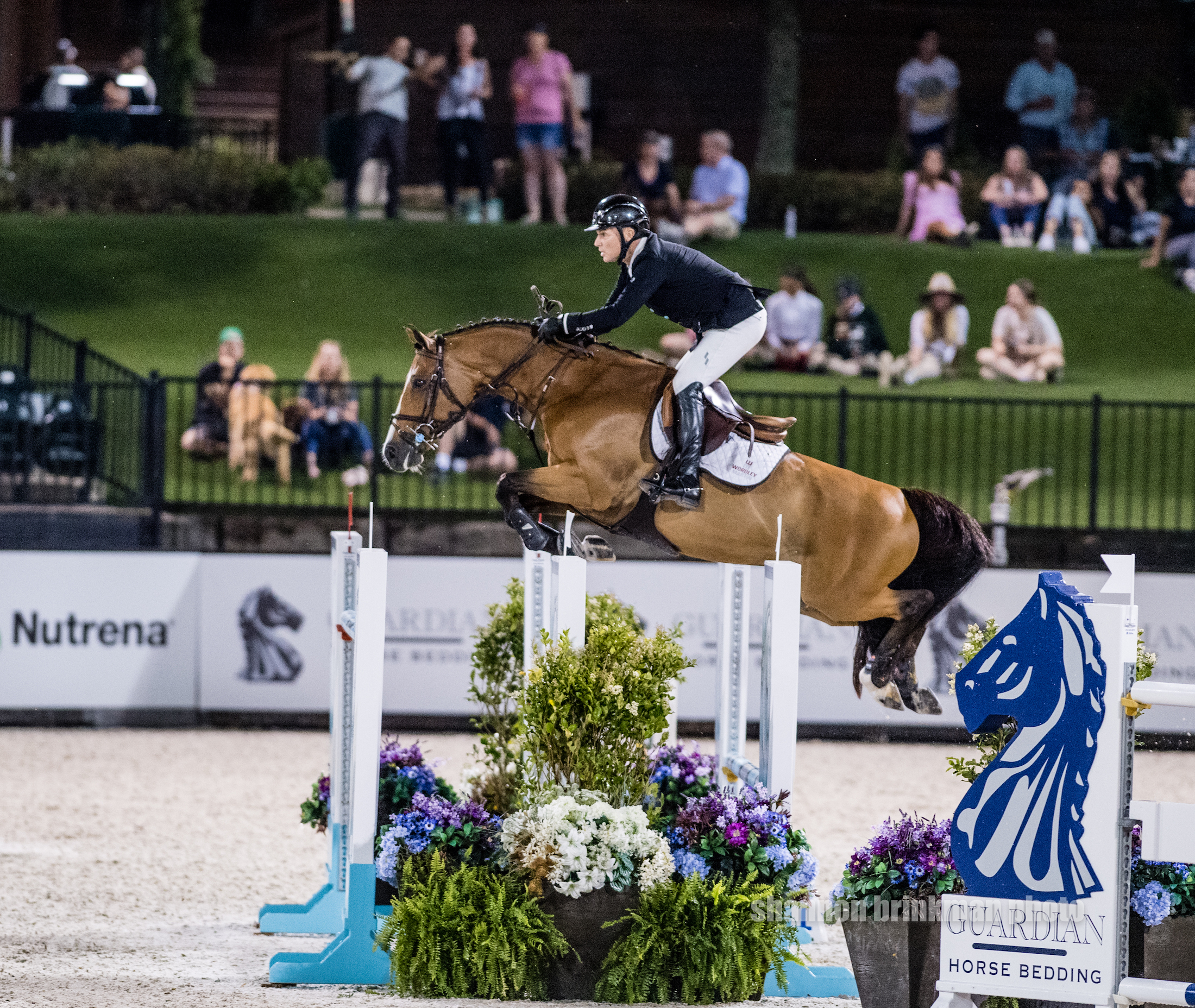 "When there's only five in the jump-off, in my opinion you can risk it and really go for broke, because either way, you're getting some money," Bond relayed about her jump-off strategy. "He just felt so good. He's usually always better in the second round or jump-off – he knows the game! He's one of those [horses] that you kind of have to ask him to run, so he kind of bounces back off you, which can work against you if the track doesn't suit you. So, I do better on rollbacks and slice jump-offs rather than just long gallops. This [course] really worked to our strengths. And to the last fence, I trust him, and he's got so much scope that I knew I could leave long and trust that he wouldn't get too flat."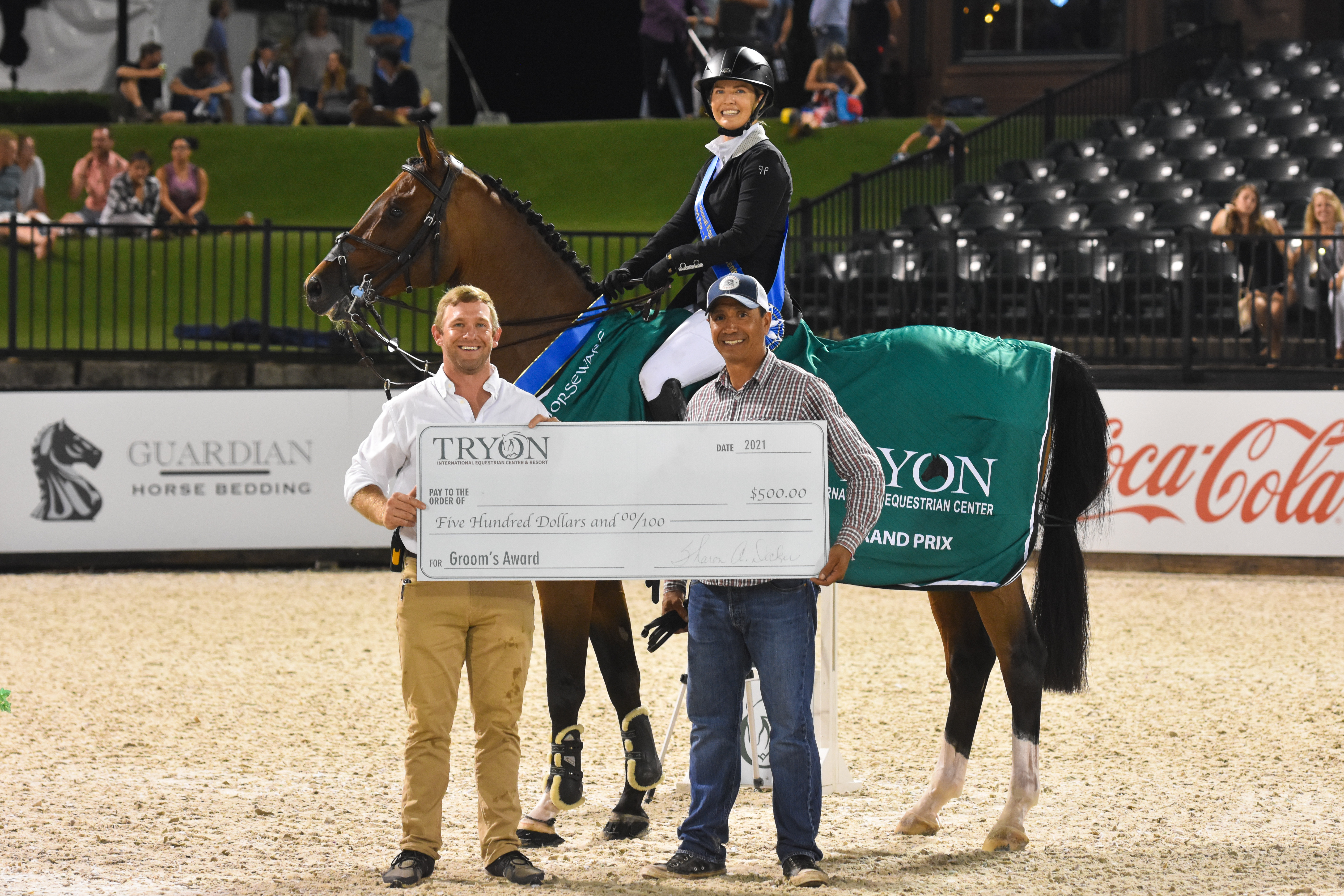 Now that her Tryon memories are a bit more positive than her last visit, Bond emphasized that she will be adding the venue to her permanent show calendar – though she's hoping to be Tokyo bound in the meantime and has used the venue as continued preparation for what she hopes to replicate in Europe next.
"The team gets named for Tokyo on July first, and we are flying him to Europe on the 23rd, in hopes that it goes our way and we get named. I'm hoping to do either Valkenswaard or Rotterdam in early July if I can get in," she revealed. "Hopefully it mimics this situation – he doesn't have to win, but double-clear is what I'll be aiming for! Hopefully, we'll be named to the team and go from there! I am really hoping to come back here this year and if not, it'll be in my seasonal plans every year going forward."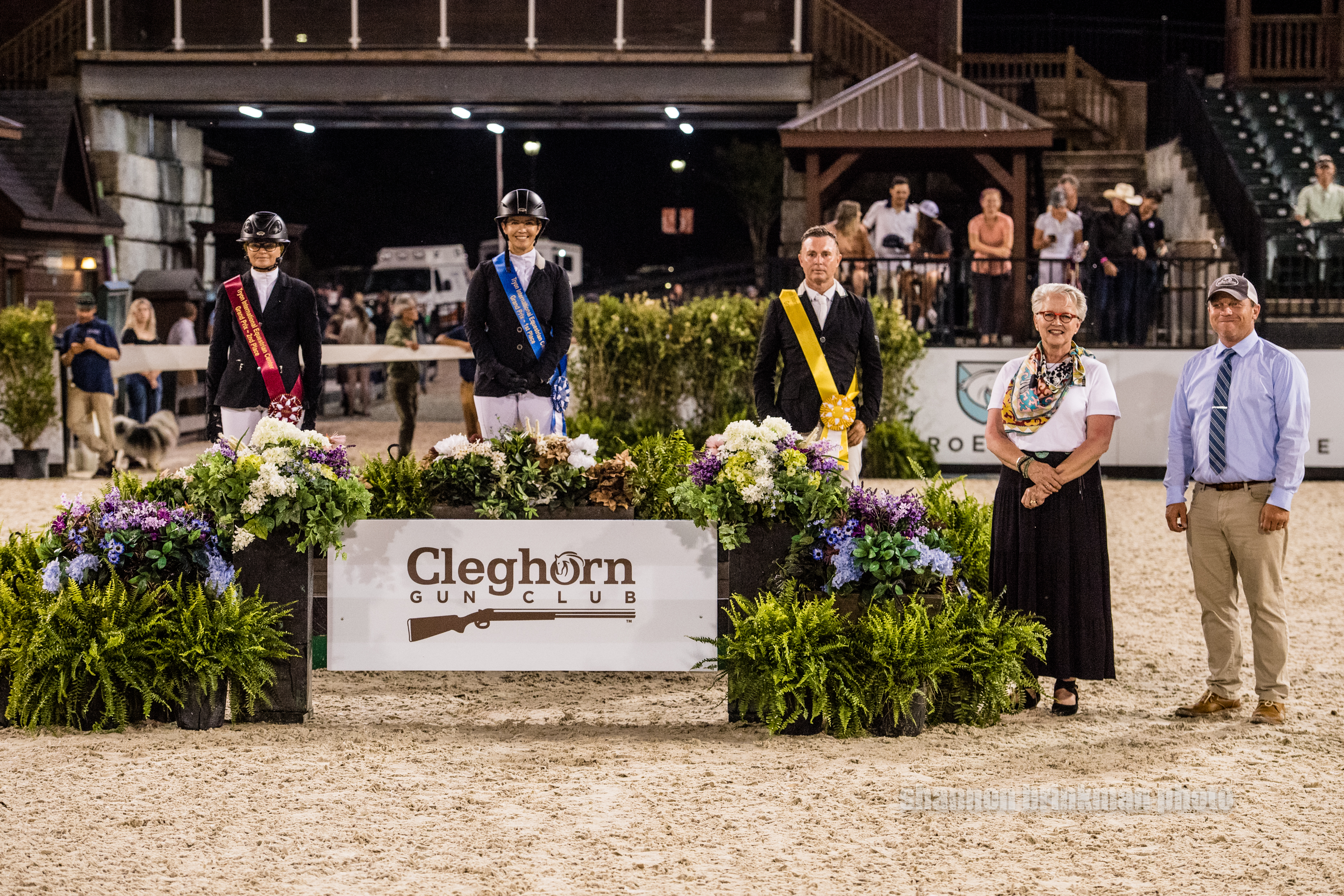 Bond concluded, "I just want to thank my whole team, my family, my parents, my husband and my daughter. Hugo, Willow, and the whole team are behind me – it takes a village, and I could not be doing this without them."
RESULTS: $137,000 Cleghorn Gun Club Grand Prix CSI 3*
Horse Name, Year Breed gender (Sire x Sire of Dam)
Rider (COUNTRY), Owner: Faults/Faults/Time
1. Donatello 141, 2011 Westphalian gelding (Diarado x Lamoureux I)
Ashlee Bond (ISR), Ashlee Bond Showjumping: 0/0/37.447
2. Gakhir, 2011 Dutch Warmblood stallion (Spartacus x Indorado)
Erynn Ballard (CAN), Ilan Ferder and Esperanza Imports: 0/0/39.849
3. Verdini D'Houtveld Z, 2011 Dutch Warmblood gelding (Verdi Tn x Caretino 2)
Sharn Wordley (AUS), Lauren Balcomb: 0/0/40.658
4. Hadja Van Orshof, 2007 Belgian Warmblood mare (Cabrio van de Heffinck x Darco)
Kelli Cruciotti-Vanderveen (USA), Kelli Cruciotti-Vanderveen: 0/0/41.065
5. Hamilton, 2011 Holsteiner gelding (Quadros 3 x Acolord)
Tiffany Foster (CAN), The Hamilton Group: 0/21/64.993
6. Fasther, 2010 Dutch Warmblood gelding (Vigo D'Arsouilles x Farmer)
Lillie Keenan (USA), Chansonette Farm LLC: 4/74.13
7. Pepita Con Spita, 2011 Westphalian mare (DSP Con Spirit x Come On)
Hunter Holloway (USA), Hays Investment Corp.: 4/73.37
8. Bull Run's Prince of Peace, 2009 Holsteiner gelding (Cardenio 2 x Contender)
Kristen Vanderveen (USA), Bull Run Jumpers Six LLC: 4/74.94
9. Vital Chance De La Roque, 2009 Selle Français gelding (Diamant De Semilly x Rivage Du Poncel)
Conor Swail (IRE), Conor Swail: 4/76.24
10. Ashton Dakota, 2008 British Sport Horse gelding (Lupicor H x Corofino I)
Rowan Willis (AUS), Rowan Willis: 4/76.32
11. Hilton van de Breepoel, 2007 Belgian Warmblood gelding (Contact Van de Heffinck x Opium)
Brittni Raflowitz (ISR), ESI Show Jumpers, Maarten Huygens & Darragh Kerins: 4/76.32
12. Austria 2, 2008 Holsteiner mare (Cassall x Corrado I)
Kent Farrington (USA), Take The High Road LLC: 4/78.08
For full results from the $137,000 Cleghorn Gun Club Grand Prix CSI 3*, click here.