Wellington, FL – June 6, 2021 – Two new names were at the top of the leaderboard in the $2,500 USHJA National Hunter Derby, presented by Equiline, during ESP's June I show of the ESP Summer Series, as Ella Bostwick of Wellington, FL, and Melissa Burns' six-year-old Cake Walk both earned their first derby victory as the highest-scoring pair. Impressively, the class was the first rated derby for Cake Walk, but the gelding proved to be unfazed as he carried Bostwick to a final score of 172 and the lead spot in the victory gallop.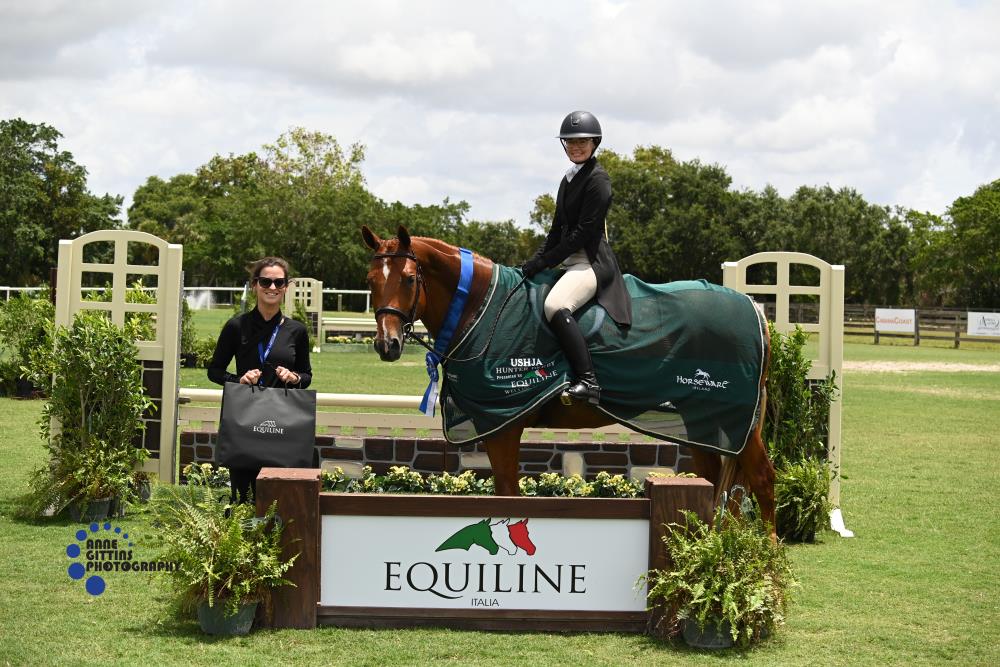 The 2021 ESP Summer Series will continue at Equestrian Village first with the ESP Equitation Day #2 on June 9, followed by ESP June II, which will be held June 10-13, 2021. ESP June II will give exhibitors the opportunity to earn USEF Premier "AA" points due to the USEF Presidential Modification. The series will have a short hiatus before picking up again with ESP Summer II from August 19-22, 2021, and will then continue through the final event that concludes on October 3. To view the ESP Summer Series Prize List, please click HERE.
"The idea was that he would live up to his name, and he has!" commented Burns, Cake Walk's owner. "I got him as a four-year-old and he is almost seven. Its so great and exciting for him to have a derby win at this age. We couldn't do it without Ella; she is a genius out there." 
Bostwick mirrored Burns' praises of Cake Walk, saying, "He will jump fire without any preparation and does not have to see his space before going into it. He has never walked into this ring before today. I have been riding him since he was four years old, so I am very familiar with him. I am lucky to show. I just flow around the course and everything comes up with him; he's awesome. He does the jumpers sometimes too, so he gets to see different jumps and liverpools."
Following the first round of riding in the derby, Bostwick and Cake Walk sat in second position with a score of 84. Though it was the horse's first rated derby class and first time in the grass ring, Bostwick felt confident in the gelding's abilities to put in a strong handy round to go for the win.
"When I first went in, I originally was going to play it safe, but he felt so good I thought I could do the harder turns and be more strategic to make it more impressive," reflected Bostwick of their handy round.
The combination's handy round trip, which included all four high options, earned them a score of 88 and pushed them to the top of the scorecard, securing victory for Bostwick and Cake Walk. Isabel Beltran of Jupiter, FL, and Sazerac, owned by IMB of Jupiter LLC, jumped to second place just one point behind the leaders with a score of 171. With 161 points, Carlo Graziani of Wellington, FL, and Wakefield Stables LLC's Cancun rounded out the podium.