Ocala, FL – June 11, 2021 – Friday marked the first Derby Day of the World Equestrian Center – Ocala Summer Series. More than 50 horse-and-rider combinations took to the Captive One Indoor Arena to be awarded $22,500 between two derbies: the $12,500 WEC 3'6" – 3'9" Hunter Derby and the $10,000 WEC 3' Hunter Derby. Tucker Williams of Ocala, Florida, designed the courses for today's derbies, each containing natural fences with several high option fences throughout.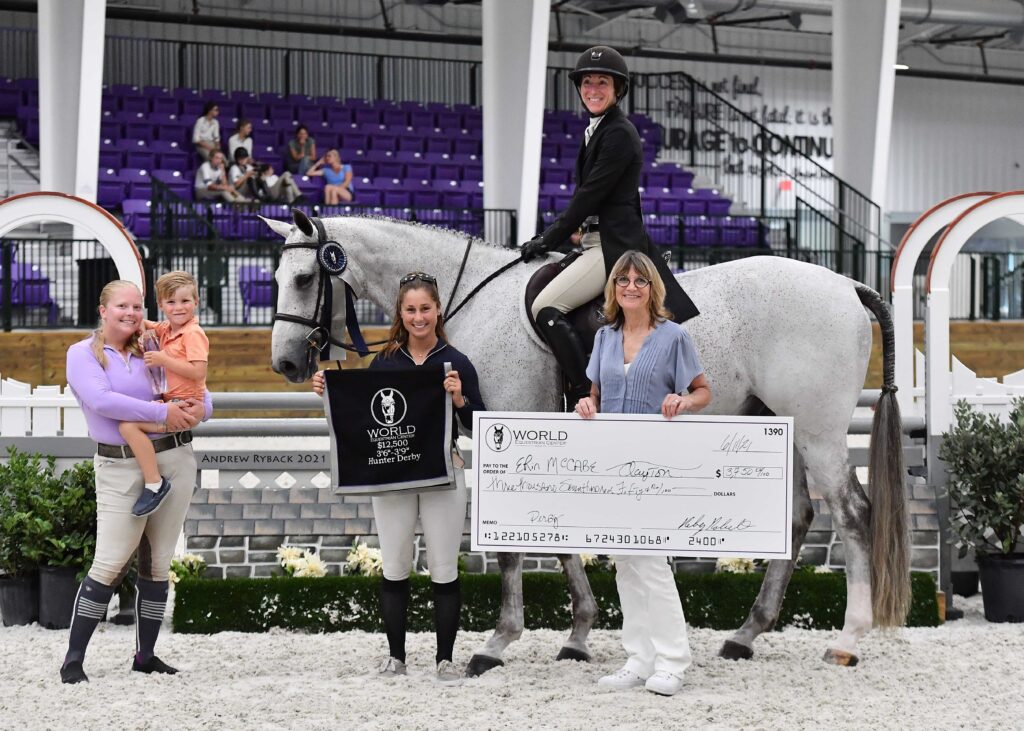 Erin McCabe Clayton of Ocala, Florida, and Champs Élysées (Norman Pre Noir x Mouette De Cresnay) owned by Bays and Greys, LLC, delivered a beautiful first round taking four high options to earn a total score of 86. "He's soft and beautiful to ride," said Clayton. "We are very lucky to have him. It was simple for him."
Clayton and the recently imported nine-year-old Selle Francais gelding returned for the handy round and performed a flawless course which featured sliced fences and forward distances for a score of 82.50, giving them a combined total of 168.5 for the win. It was a solid win for the newly-minted hunter that was competing in only his second show in the derby division.
"I did have a plan for the handy round," said Clayton, who moved to Ocala from Indianapolis two years ago and competed at WEC throughout the Winter Spectacular Series. "I did want to go inside to the trot jump, but I got jumped a little loose in the air and I made the decision to go around. Everywhere else he was great; I did all the inside turns. It's nice that he was previously a jumper a few months ago."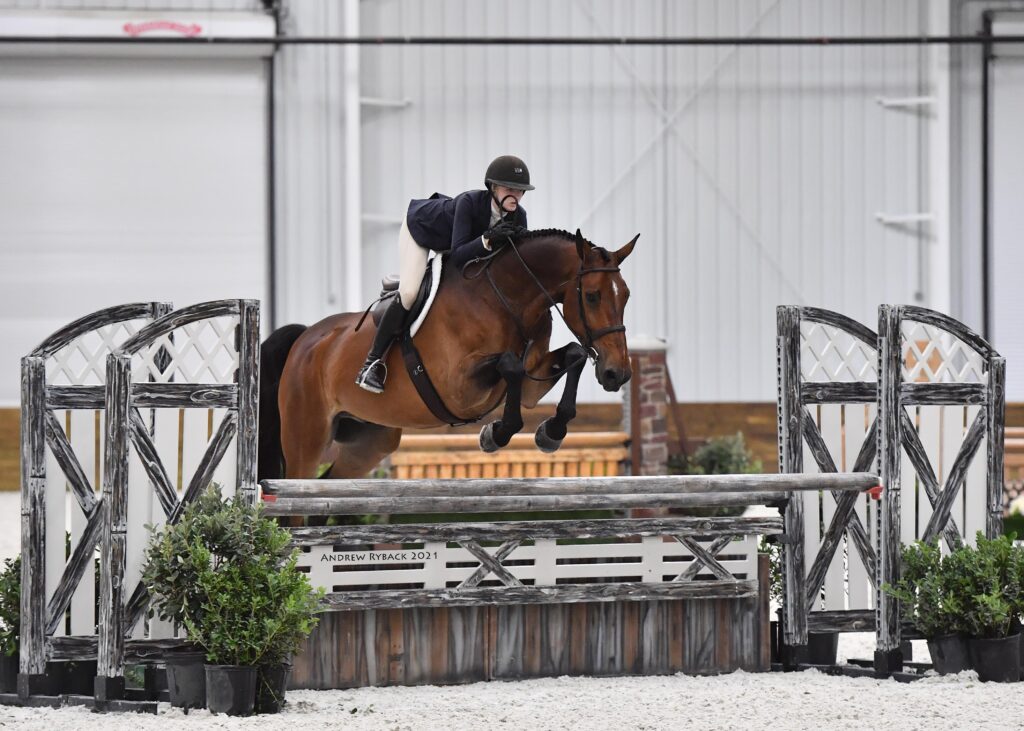 Just behind Clayton and Champs Élysées were Carlee McCutcheon of Aubrey, Texas, and KT Hedwich, a nine-year-old KWPN gelding owned by Michael Kirby. The pair earned a first-round score of 82 and a handy round score of 86 for a two-round total just off the winning mark at 168.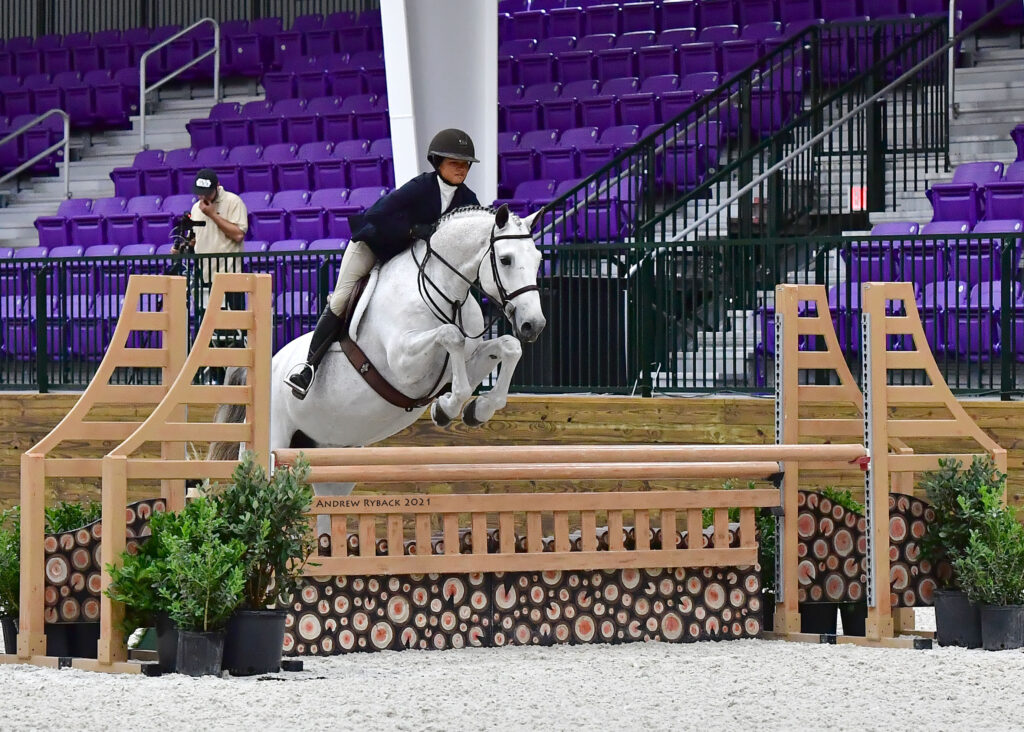 Mackenzie Clayton and Semi-Automatic C (Cicero Van Paemel Z x Ulise Uit Noorden) earned a first-round score of 85. Clayton and Semi-Automatic C, a 12-year-old Belgian Warmblood gelding owned by Edith Rameika, returned for a beautiful second round scoring an 83 for a total of 168 to secure a third-place finish. While McCutcheon and Mackenzie Clayton tied with total scores of 168, McCutcheon earned second place by virtue of a higher second round base score.
$12,500 WEC 3'6″-3'9″ Hunter Derby Results
1 Champs Élysées, Erin McCabe Clayton – 86 | 82.5 | 168.5
2 KT Hedwich, Carlee McCutcheon – 82 | 86 | 168
3 Semi-Automatic C, Makenzie Clayton – 85 | 83 | 168
4 Maguro, Madison Ramsey – 80.75 | 85 | 165.75
5 Casaletta, Jessica Law – 86.5 | 72 | 158.5
6 Charismo, David Wilbur – 72 | 81 | 153
7 Eyewitness, Chelsea Stopford – 77 | 71 | 148
8 Dax Frisco, Shannon Dickinson – 55 | 76 | 131
9 Condor, Wyette Felton – 84 | 46 | 130
10 ESH Round Trip, Christie Saunders – 48 | 78 | 126
Photos courtesy of Andrew Ryback Photography.