The WEC Grand Arena hosted 20 horse-and-rider combinations Saturday afternoon for the $7,500 Futures Prix 1.30m – 1.35m. Seven pairs qualified for the jump-off, and it was Karl Beyer and Hannah Matts's Emeraldo, an eight-year-old Warmblood gelding, who took the win in the class.
Beyer rode I Adermie R 4, an eight-year-old Dutch Warmblood mare (Den Ham Blue R x Waderie 1) earlier in the class and also qualified for the jump-off. A friend sent the horse to Beyer, who described it as "a bit marish, but can ride a track like no other horse."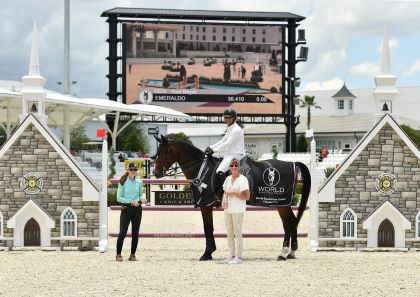 He continued, "I was really planning on winning with her. So, I thought [about Emeraldo], 'Come on buddy, you have to help me out.' He did, so I am very happy."
Beyer and Emeraldo stayed in the WEC Grand Arena after their first round to contest the second round course immediately. With tight turns and forward distances, Beyer and Emeraldo stopped the clock at 36.410 seconds for the win. Beyer described, "He is so scopey, and he's incredibly bred. He's meant to be an amazing horse."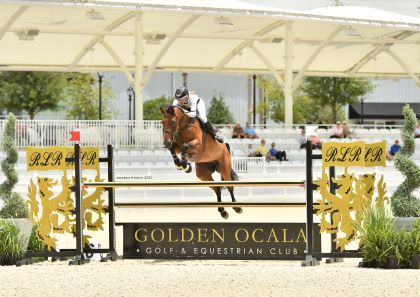 Gemma Paternoster of Loxahatchee Groves, FL, and Terri Brent Stables and Cynthia Gordon's Charming Force B delivered a flawless first round. After completing her first-round course, Paternoster jumped off immediately, to earn second place in a time of 36.878 seconds.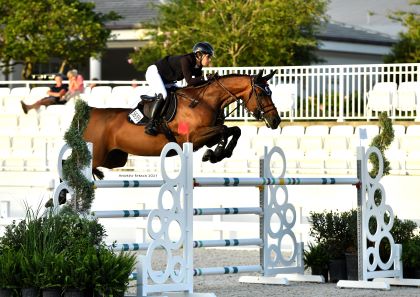 Rebecca Conway of Wellington, FL, and HBC Sport Horses's Stakkatisa, a nine-year-old Oldenburg mare (Stakkatol x Chaccisa), recorded a time of 37.879 seconds for the third-place finish.
Final Results: $7,500 Futures Prix 1.30m – 1.35m
1. Emeraldo, Karl Beyer, Hannah Matts: 0 | 0 | 36.410
2. Charming Force B, Gemma Paternoster, Terri Brent Stables and Cynthia Gordon: 0 | 0 | 36.878
3. Stakkatisa, Rebecca Conway, Hoc Sport Horses: 0 | 0 | 37.879
4. Canaan, Jenna Friedman, Oakridge Farm Performance Horses, LLC: 0| 0 | 38.634
5. Ode, Johan Kachelhoffer, Johan Kachelhoffer: 0 | 0 | 38.808
6. I Adermie R 4, Karl Beyer, Sabrina Lefebvre: 0 | 0 | 52.565
7. Kastar Hof Ten Zoetendaele, Kyle Dewar, Kyle Dewar: 0 | 8 | 45.653
8. Hickory HBC, Justine Dutton, The Superman Syndicate LLC: 4 | 68.272
9. Ivano Van De Zeihoek, Fabio Costa, Bonne Chance Farm: 4 | 71.590
10. MTM Catoki's Clever, Katlynn Butler, Katlynn Butler: 4 | 73.567