Wellington, FL – June 13, 2021 – The hunter ring's spotlight was on Joao Eduardo Ferreira de Carvalho of Delray Beach, FL, and Quail Run Partnerships' Patent Pending during ESP June II, which saw the newly-formed pair ride to a derby victory and a division championship. In the $2,500 USHJA National Hunter Derby, presented by Equiline, Ferreira de Carvalho and "Panda" edged out the field to win during the horse's first time competing on the grass and one of the rider's first hunter derby performances.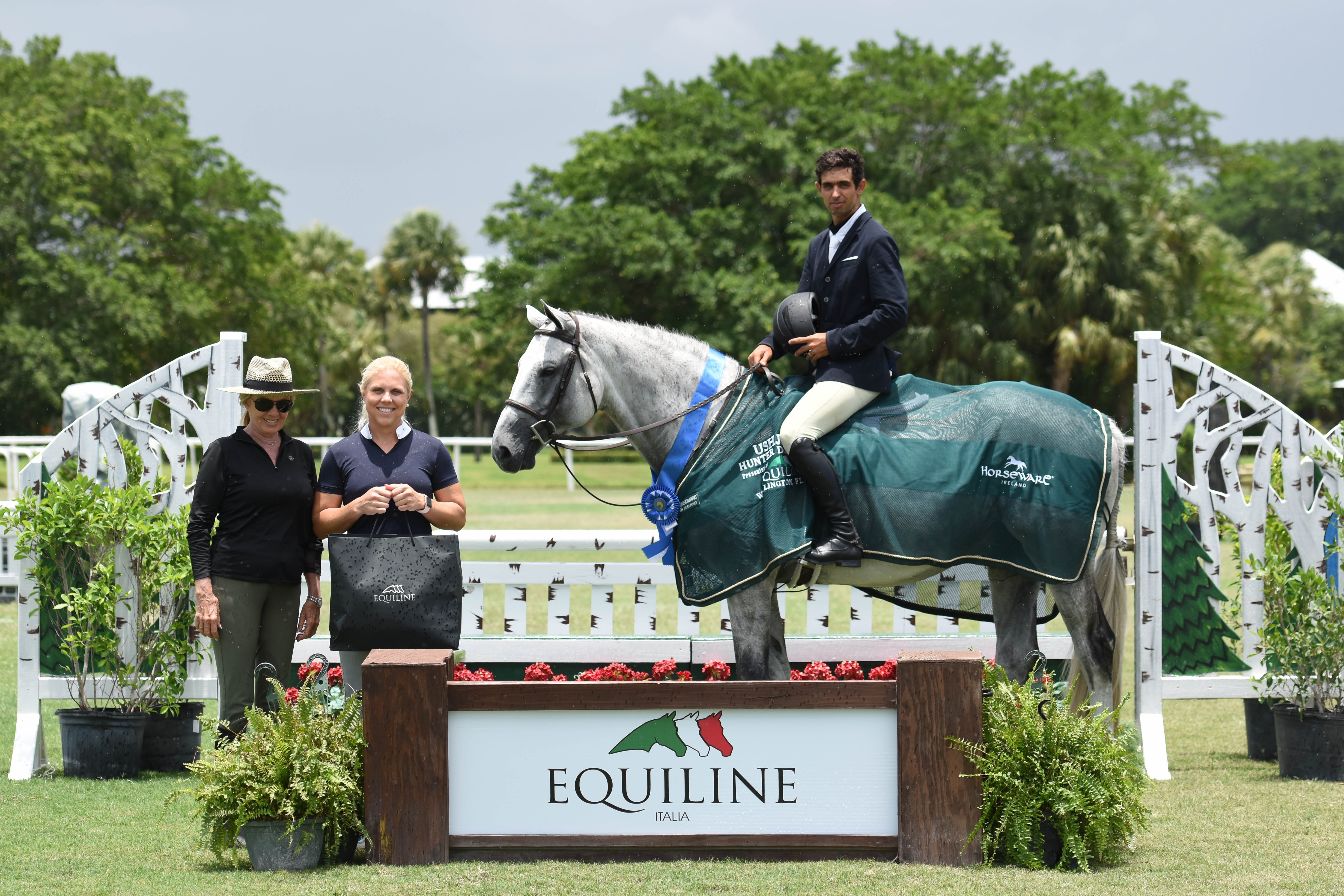 Following the conclusion of the ESP June II show, the 2021 ESP Summer Series will take a break before picking up again with ESP Summer II from August 19-22, 2021. The circuit will then continue through the final event that concludes on October 3. To view the ESP Summer Series Prize List, please click HERE.
"I've ridden this horse for about two weeks and am just starting to ride in the hunters," commented Ferreira de Carvalho, who has had success as an international grand prix rider. "He is a perfect horse to teach me how to ride the hunters because it is a bit difficult to change over from the jumpers. It feels really, really good to win a derby already; I'm so happy. Mary [McKenzie] has worked with me a lot and I hope we can continue this."
Friday's $2,500 USHJA National Hunter Derby, presented by Equiline, was a close contest as the top three finishers concluded the contest with a mere 2.5 points separating them. Following the first round of riding, Carlo Graziani of Wellington, FL, and Cancun, owned by Wakefield Stables LLC, led the pack with a score of 90. The eventual winners, Ferreira de Carvalho and Patent Pending claimed the fourth spot after their Classic trip with 87.50 points. Though the showing was the horse's first time on the grass and one of his first times back in the show ring after his owner and rider had surgery, Patent Pending proved to be a competitor with his smooth rounds.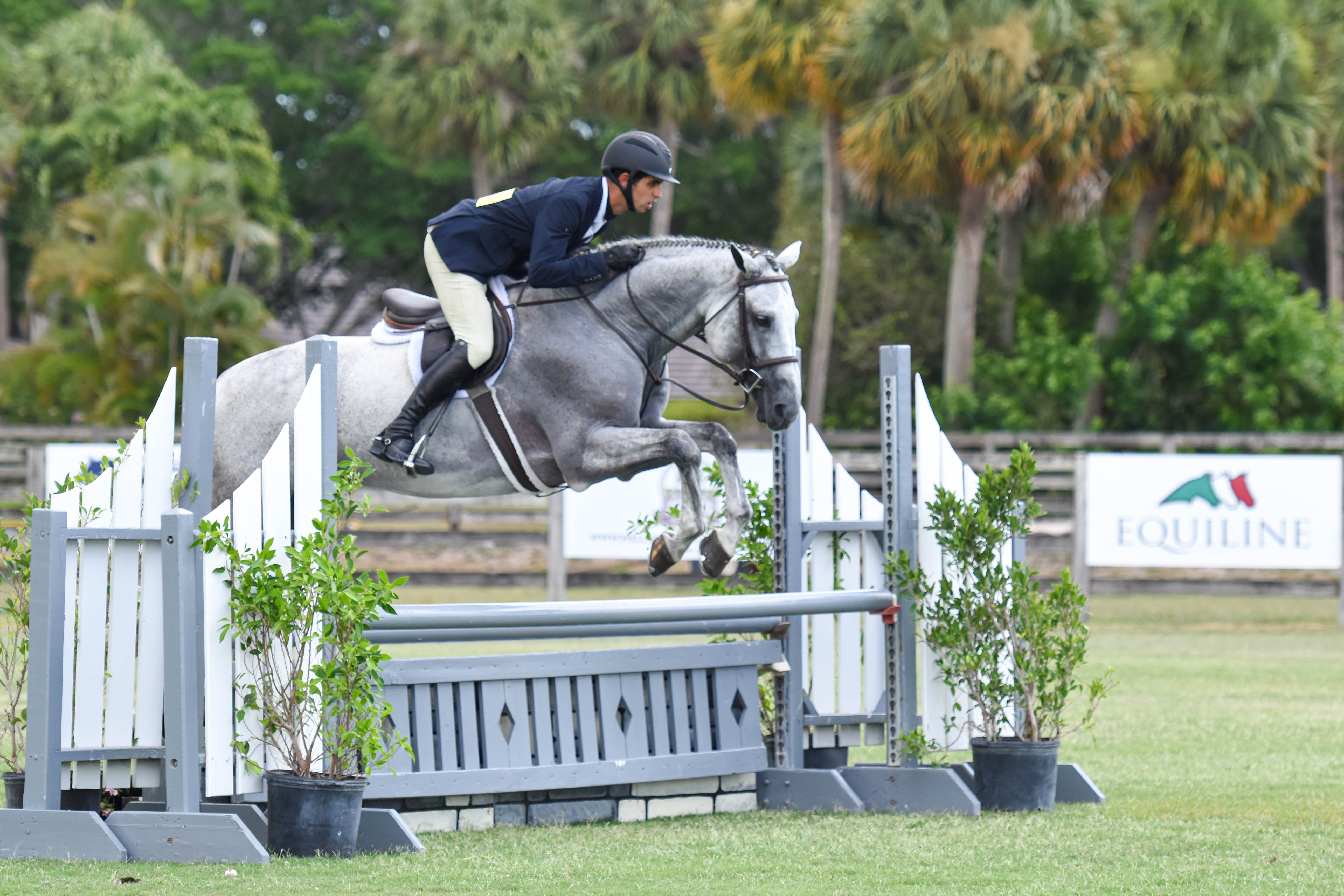 "This is his first derby on the grass. He had not shown for a while due to my inability to ride after a hip replacement," noted owner McKenzie. "He did not show at the Winter Equestrian Festival this year, so he is still relatively green, but he was champion in the Performance Hunters this week so we thought we would try him in the derby today. We are really pleased with the prospect that he will learn how to do this really easily and really well."
Returning for the handy round, Ferreira de Carvalho and Patent Pending improved upon their earlier performance to score a base score of 86 plus four points for the high options to earn 90 points, pushing them to a cumulative score of 177.50 and the top of the standings with three duos left to ride. Ultimately, none would match their efforts, solidifying the combinations as the derby champions.
Cecelia Perry of Boynton Beach, FL, and her own Icadello claimed the runner-up honors, just half of a point off the top spot with a final tally of 177 points. Sonya Crampton of Ocala, FL, and Happy Boy, owned by La Galerna, rounded out the podium with a final score of 175.
Adding to their success, Ferreira de Carvalho and Patent Pending also rode to the championship in the Performance 3'3"/3'6" Hunter division. Over the course of five classes, the partnership never ranked lower than second place, earning a total ribbon count of one first-place finish and four second-place results. Just off the lead on the overall scorecard, Keri Kampsen of Wellington, FL, and Arezzo, owned by Woodland Way LLC, put in a series of top-earning performances to conclude the division with three first-place ribbons and a fourth-place result to capture the reserve championship.