By Sarah Madden and Emily Carpenter for TIEC
Mill Spring, NC – July 9, 2021 – Tryon International Equestrian Center & Resort (TIEC) hosted its second $50,000 USHJA International Hunter Derby of the season during the Tryon Summer 4/Tryon Riding & Hunt Club Charity II Horse Show, with top honors earned by Harold Chopping (CAN) and Catchphrase, who combined for a two-round total score of 384. Havens Schatt (USA) and Cascartini, the Holsteiner gelding owned by Ken and Amy Wexler LLC, were named to reserve after their two-round score of 378. Finishing on a score of 374, Dorothy Douglas (USA) and MTM Lolah LOL, the 2013 Westphalian mare (Los Angeles x Palma) owned by Abigail Davenport, took home third-place honors.
Chopping and the 2010 Zangersheide gelding (Marome NW x Prelude) owned by Barbara Scott were leading on a score of 181 after the classic round, and navigated the Andres Christiansen (USA) course design with a past loss in mind to maintain their lead, Chopping revealed.
"Years ago, I remember I was leading by quite a bit going into the handy round on a horse that I really trusted – he was really a winner – and I was a bit conservative and I ended up second. I cannot forget riding around in the ring that night, because it drives me crazy that I didn't just walk in there and try and win both rounds," he explained. "So, my strategy this time was to just be aggressive and try and put in a good score."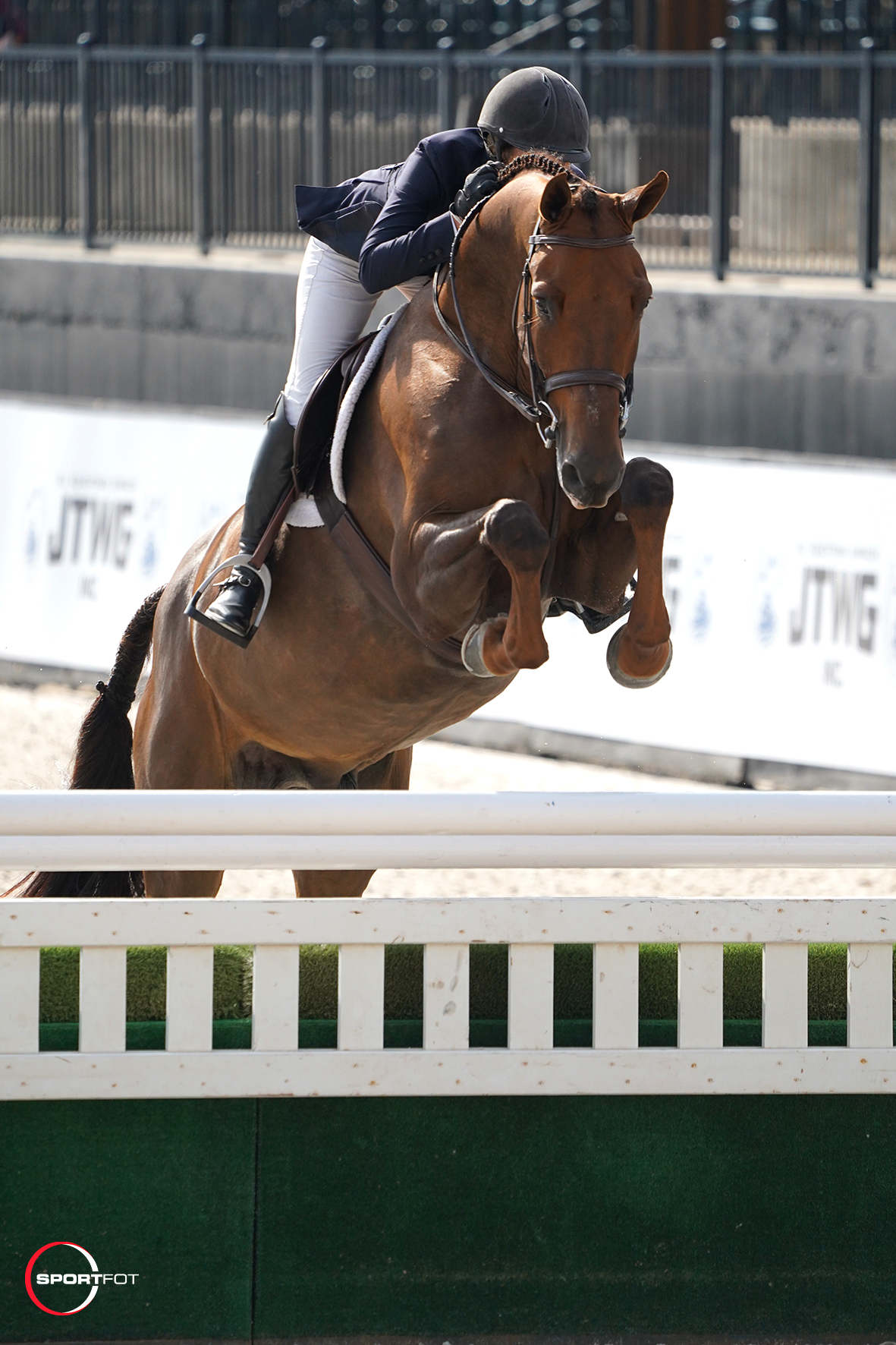 Luckily for Chopping, Catchphrase is a proven derby horse and "ultra-reliable" ride, he described of his mount of several years. "I don't get to ride him too many times a year, because the owners and their trainers are up in New Jersey and our show schedules only match up occasionally, but I have him all winter and this was the first time since Ocala there was a big derby."
Catchphrase has been due for a win after numerous top finishes, Chopping continued. "He was third the last time I rode him; this was the first time he's won! He's had a lot of seconds, thirds, and fourths, and tons of good, two-round performances, but this is the first one he's won. I'm thrilled for him because he always does such a good job, and he deserves it!"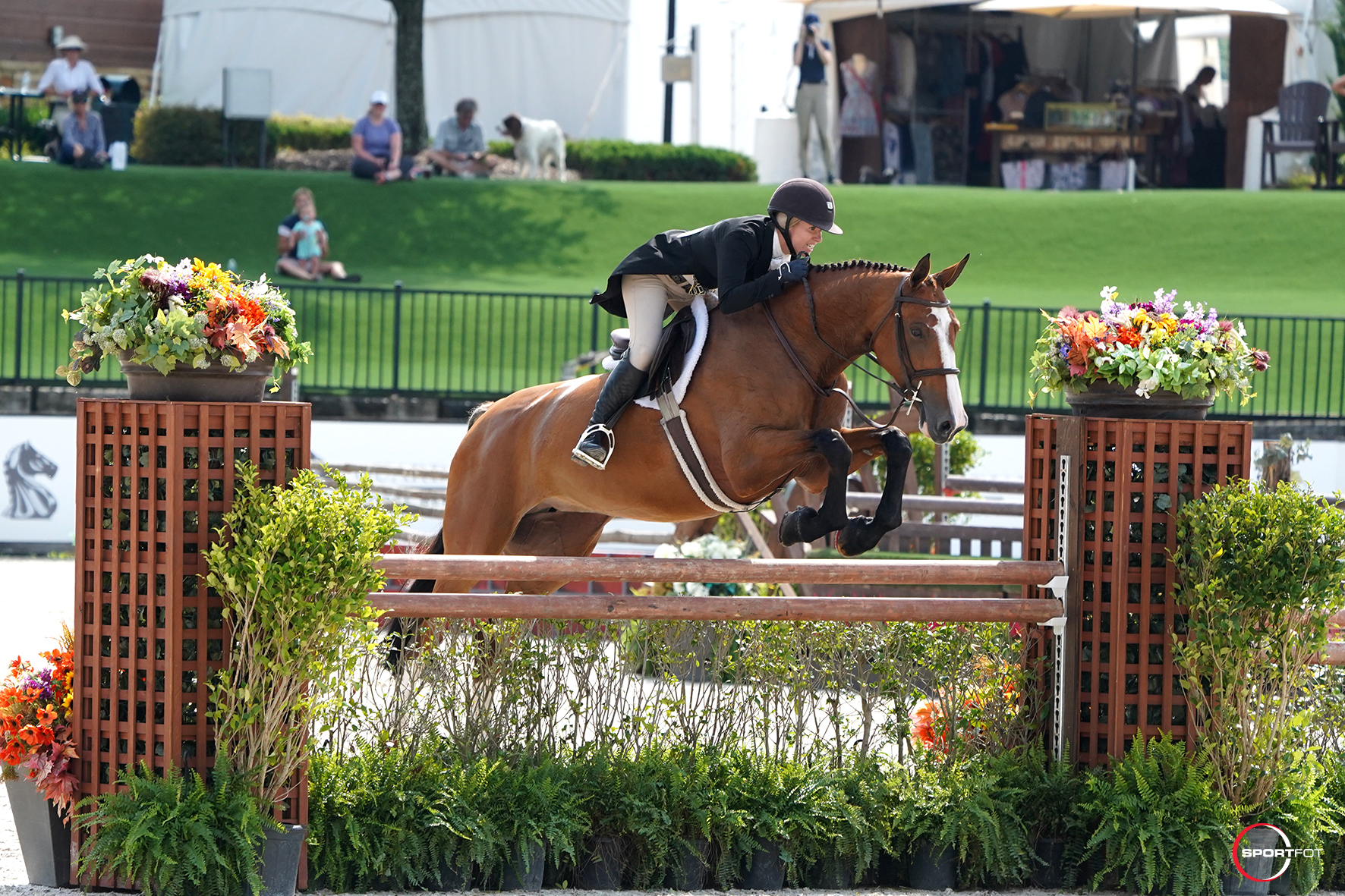 A frequent competitor throughout the calendar year at TIEC, Chopping finds the level of competition offered and easy commute – plus the convenience of the property – worth returning for weeks at a time. "We really enjoy it here. Next week, I'll have a horse in the FEI, and then there's these big derbies, so if you have a hunter to ride, you can really do it at the highest level," he shared. "I have to say, it's an easy place to work, because the barns are nice. I just drive my golf cart home to the camper area at night. It's a nice place to be. We're here for three weeks this time. It's a fun place to be."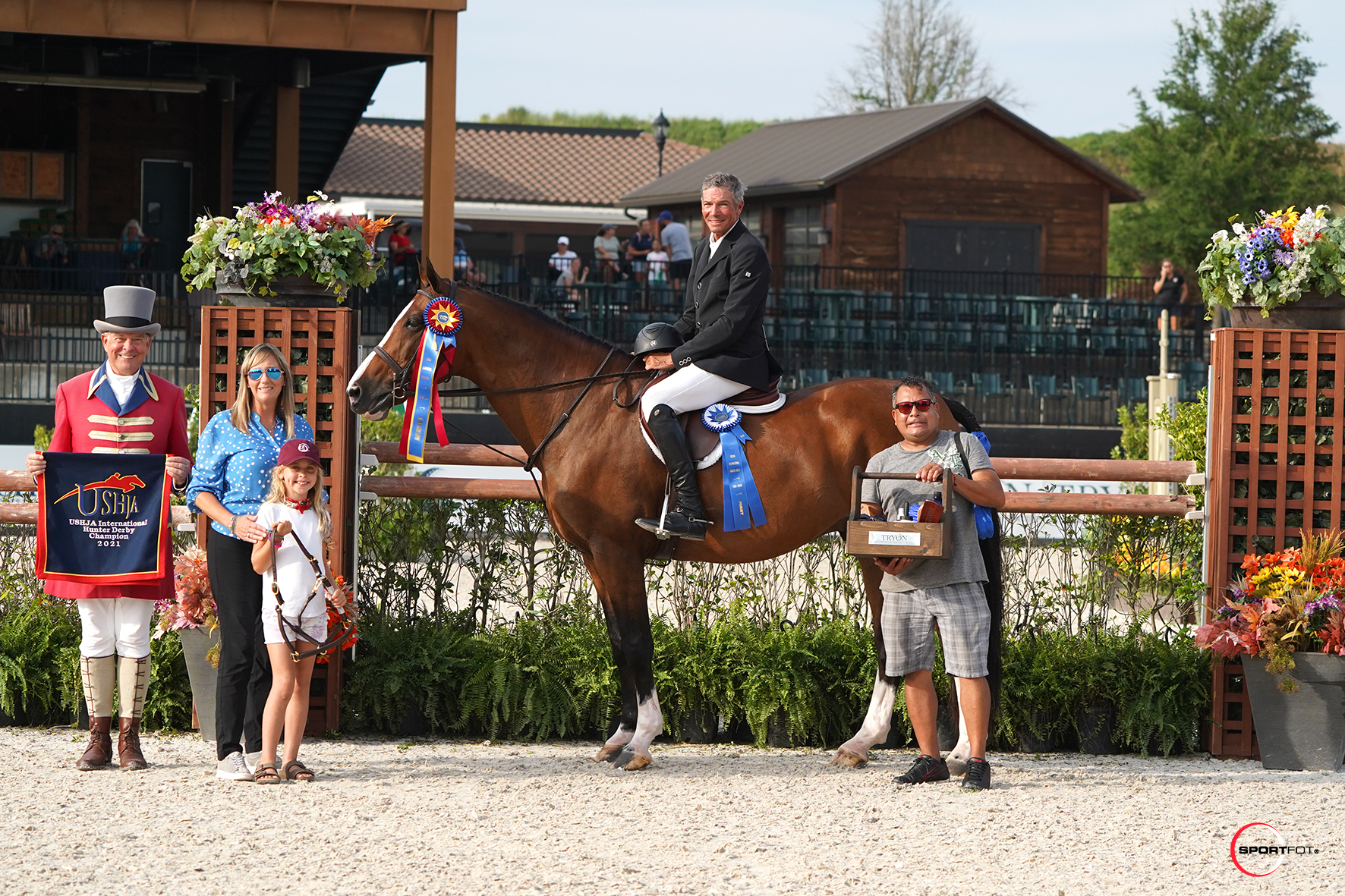 Though glad he avoided letting the win slip from his fingers this time, Chopping emphasized that riding a horse as reliable as Catchphrase is less about the scores received and more about the feeling of producing two solid rounds:
"It's really a lot of fun riding that horse, because it's so nice when you have one that is reliable. You just know you can do whatever you feel like you have to do. You never know how the others are going to go or how scoring will end up. You're thrilled if your horse goes well and both rounds are solid. You can't ask for more than that," he concluded. "I was lucky today that I ended up on top!"
Colin Syquia Claims $5,000 USHJA National Hunter Derby Win
Colin Syquia (Wellington, FL) and Front Page jumped to the front of the pack in Friday's $5,000 USHJA National Hunter Derby, scoring 181.5 over two rounds for the win. Havens Schatt (Georgetown, KY) and Caroline Moran's Havana, the 2014 Westphalian mare with unknown breeding, earned a two-round total of 181 points for reserve honors, while Eve Westfall (Boulder, CO) and her own Bon Amour, the 2006 Dutch Warmblood gelding (Indoctro x Ramour VDL), combined for 175.5 points and third place.
Syquia and the 2014 Belgian Warmblood gelding (Vigo D'arsouilles x Cartagena Indias Ecaussinnes) were one of 38 entries to challenge the Andres Christiansen (USA)-designed classic round, with a threshold of 81 points for the top 12 entries to qualify for the handy round. With a score of 91 going into the handy round, Syquia planned to carry out a smooth course for his young horse.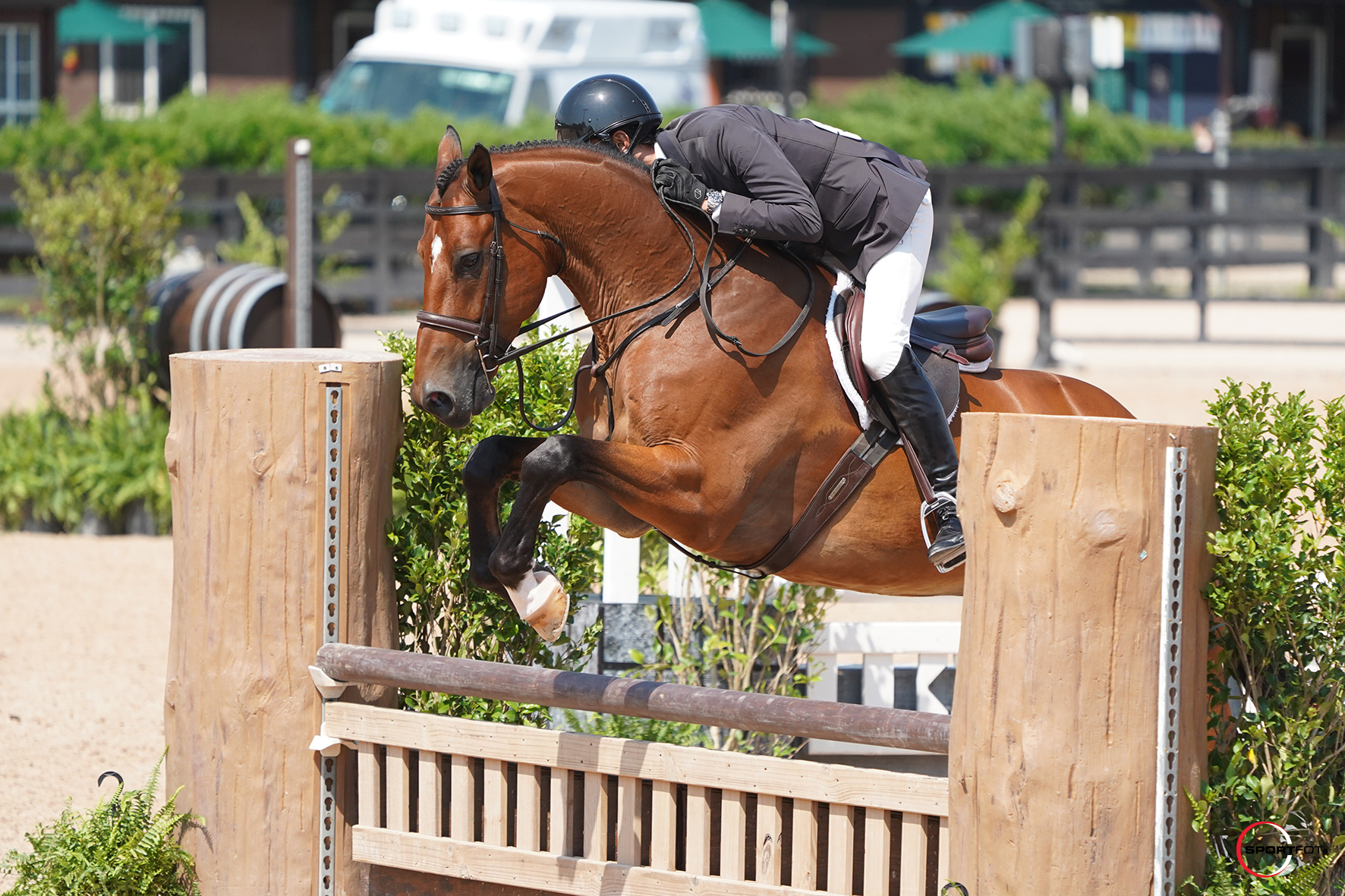 "He's been knocking at the door for our last four derbies. He had been fifth [multiple times, and] in two of the $10,000 [USHJA National Hunter Derbies] here. He's only a pre-green horse, so we have been getting off-handed by all of the veterans. Little by little, we have been adding more and more turns," he detailed. "Today, I did the full slate of all the inside [turns] and everything, and he just answered every question and was very handy. I actually think he jumped even better the second round!"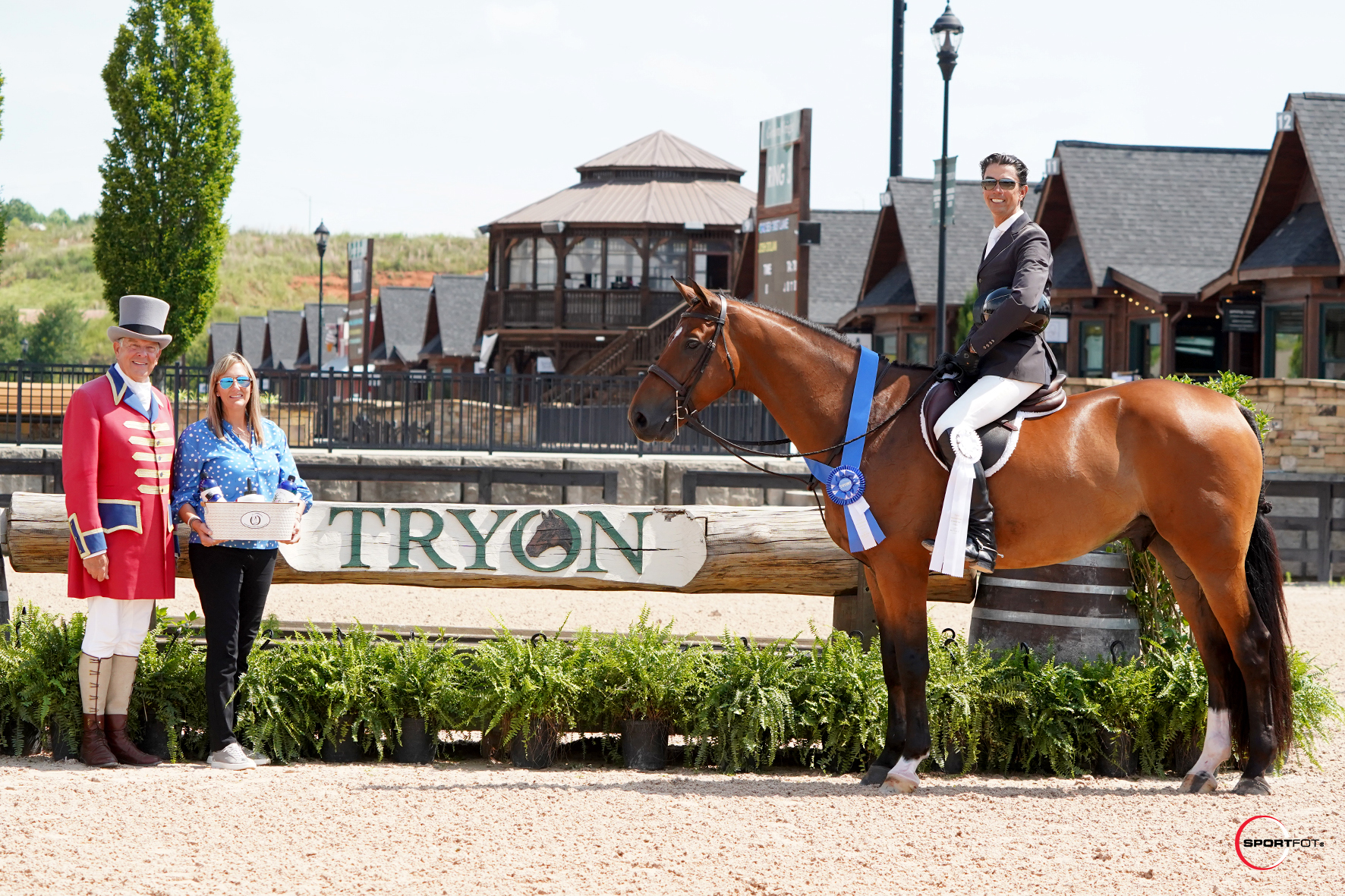 Syquia shared his gratitude towards TIEC and the derby class offerings, saying, "It's such a nice stepping stone for young riders, or inexperienced riders and horses trying to move up, you know, and get that kind of derby experience, so I feel like the more you [host], the merrier! I'm really glad they keep doing these [classes]."
For full results from the $50,000 USHJA International Hunter Derby, click here.
For full results from the $5,000 USHJA National Hunter Derby, click here.