By Allie Hay and Emily Carpenter for TIEC
Mill Spring, NC – July 10, 2021 – The July edition of "Saturday Night Lights" returned to the Tryon International Equestrian Center & Resort (TIEC), bringing a lively crowd to watch as Brittni Raflowitz and Hilton van de Breepoel claimed their first FEI Grand Prix victory in the $137,000 Night in the Country Grand Prix CSI 3* with a jump-off time of 41.15 seconds. Sean Jobin (CAN) and Darius, the 2008 Dutch Warmblood gelding owned by Foxridge Farms Stables (Warrant x Calvados/Sable Rose), followed close behind, claiming the second place spot with a time of 44.961 seconds. Riding in the victory gallop with a third place ribbon and a time of 40.267 was Scott Keach (AUS) and Fedor, the 2005 Belgian Warmblood gelding (Kashmir Van Schuttershof x Orkaan) owned by Keach himself along with Southern Cross Equestrian LLC.
Thirty riders tackled the first round of the Alan Wade (IRL) designed course, six of which returned for the shortened second round. After Jobin laid down the first double-clear performance of the night, Raflowitz followed and posted an unbeatable time using her new strategy: not walking the jump-off track prior to riding it. "I talked to Scotty Keach right before I went in and went over it. He told me, 'I don't know if you can get eight down the first line, but you can try to do that. Definitely try to do seven [strides] from oxer to oxer.'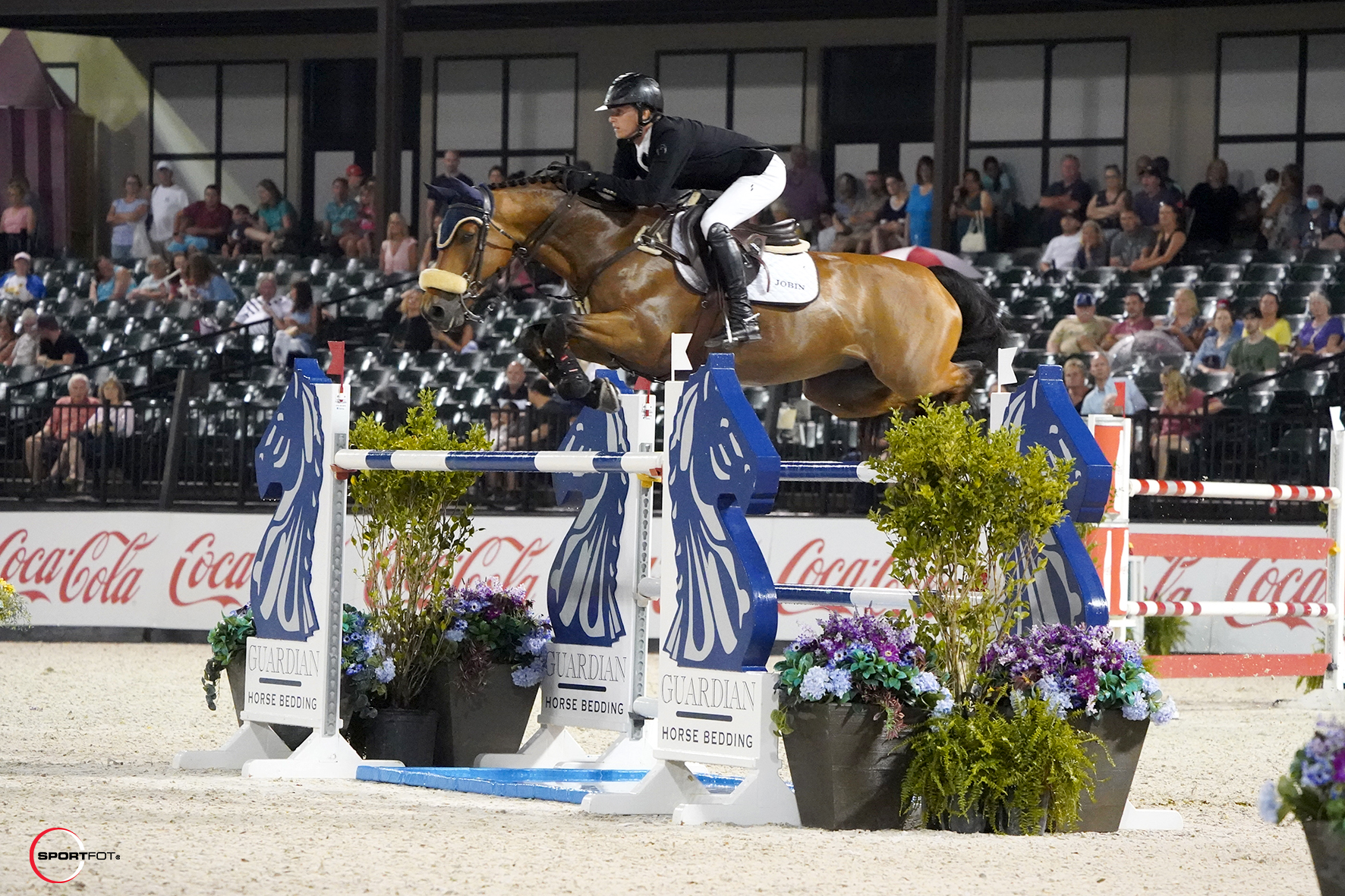 "I landed off of fence one, I moved up, and said, 'Ooh! I see eight!' And then I turned back to the seven and rode it exactly how he told me. I tried not to go too crazy on the rollback or the in-and-out. Going home, I let him go, but then brought him back to say, 'Okay, take a breath now. There's only one clear.' So, that was kind of my thought process as it went on!"
Raflowitz has owned her mount, affectionately known as "Hilton," for the past eight years, culminating in a partnership visible to fans in Tryon Stadium. "I'd like to say that we're bonded in a way that I've never had with a horse, and I know pretty much everything he's thinking," she said, smiling. "He knows what I'm thinking and feeling, so I think it really helps to have a partner going into a competition like this and just know that you can trust him."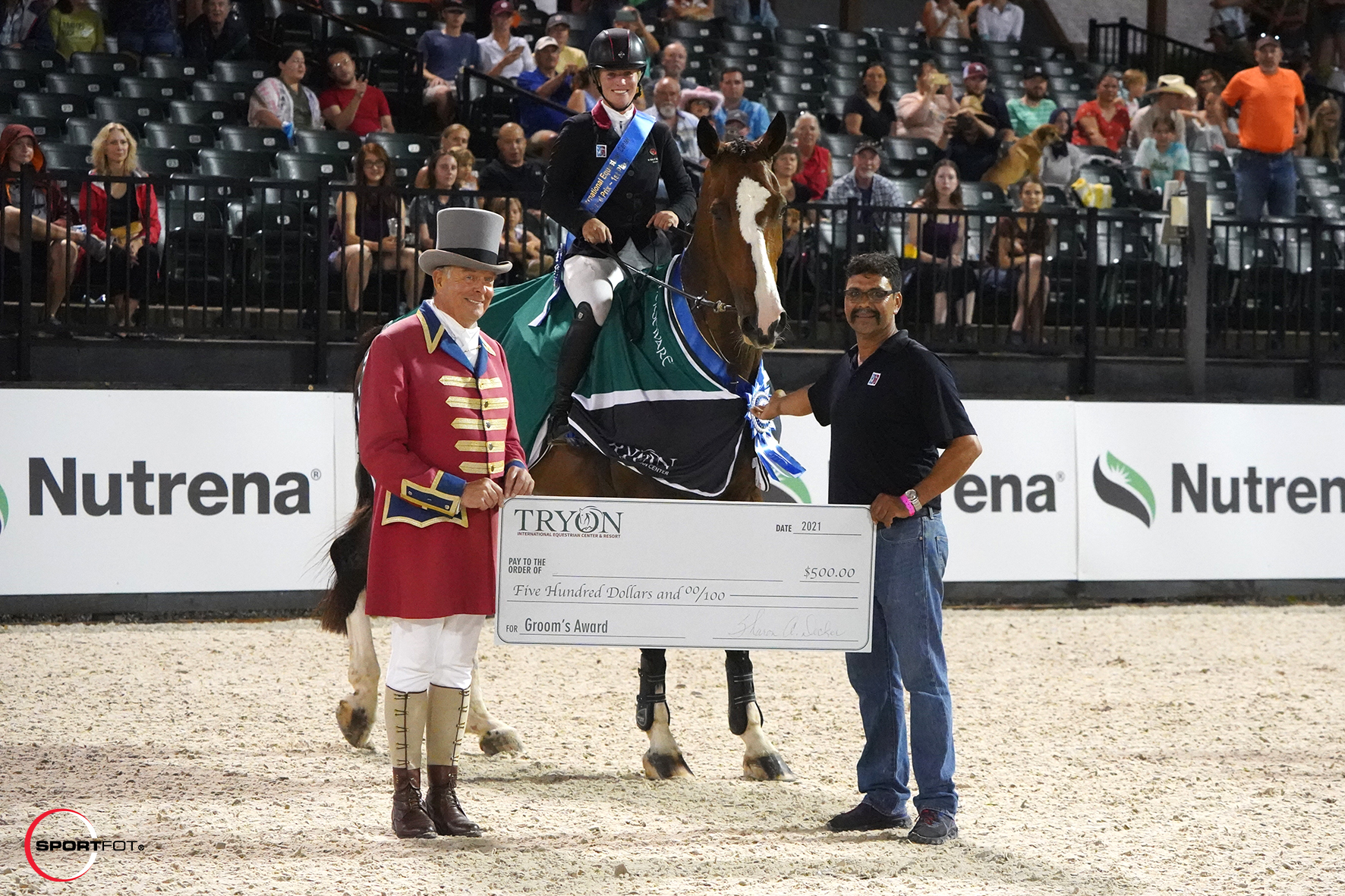 With a farm only ten minutes from TIEC, Raflowitz considers the facility home. "I love Tryon. It's one of our favorite horse shows. We have a farm ten minutes away from here. Really, it's home for us, and that makes this win all the more exciting!" Coming off an exciting first FEI Grand Prix win, she hopes to be heading to Michigan to compete at the CSI 5* level after her success at TIEC.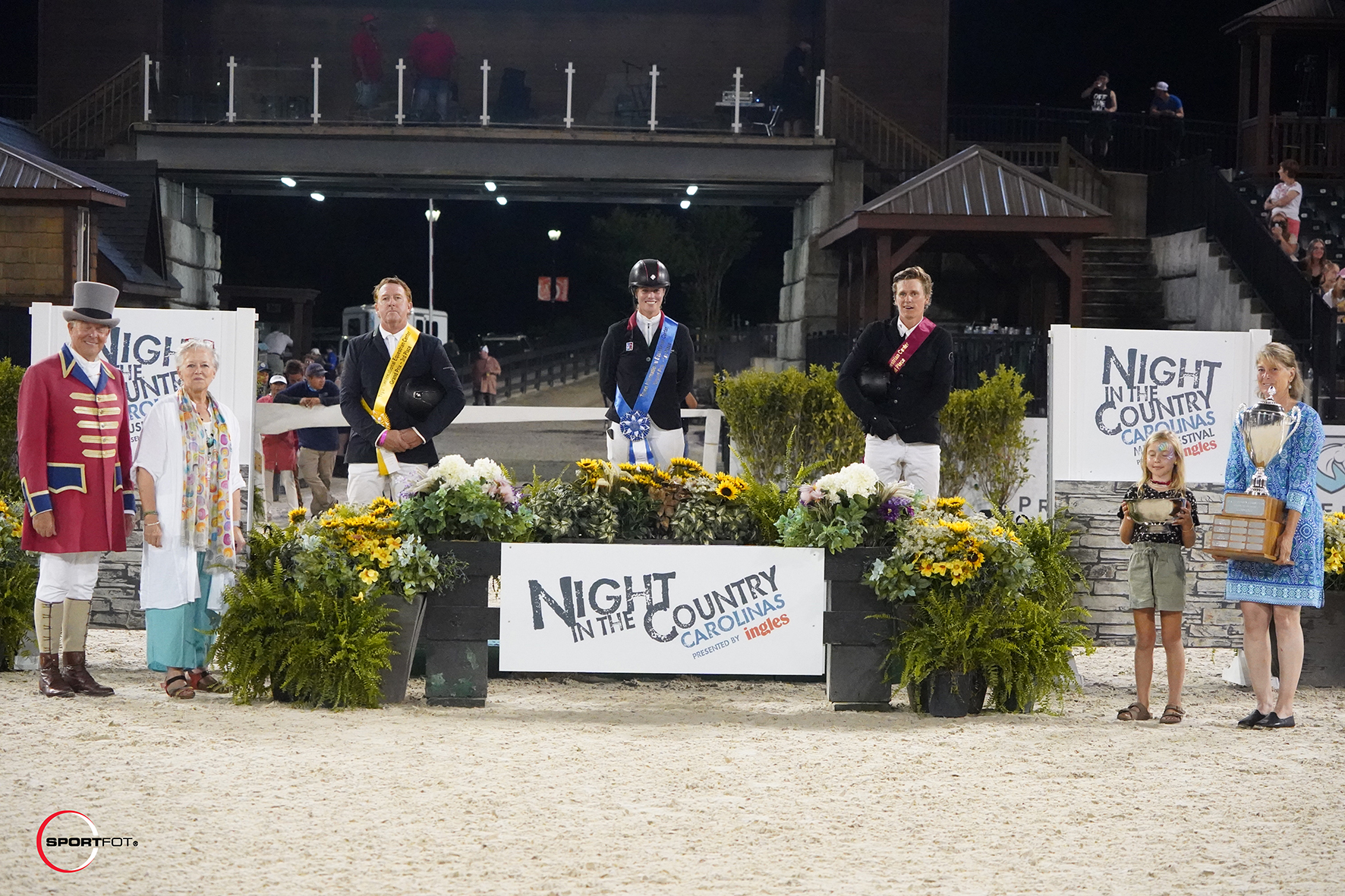 Raflowitz concluded by saying, "I'm just so grateful to my whole entire team and to my horse. My horse is my heart and my soul, and I am just so happy that my first FEI Grand Prix win could be with him. To hear my country's national anthem for the first time on the podium, I got so teary eyed. So now, we go home, we go back to work, and we see what happens next time!"
RESULTS: $137,000 Night in the Country Grand Prix CSI 3*
Horse Name, Year Breed gender (Sire x Dam Sire)
Rider (COUNTRY), Owner: Faults/Faults/Time
1. Hilton van de Breepoel, 2007 Belgian Warmblood gelding (Contact Van de Heffinck x Opium)
Brittni Raflowitz (ISR), ESI Show Jumpers, Maarten Huygens & Darragh Kerins: 0/0/41.15
2. Darius, 2008 Dutch Warmblood gelding (Warrant x Calvados/Sable Rose)
Sean Jobin (CAN), Foxridge Farms Stables: 0/0/44.961
3. Fedor, 2005 Belgian Warmblood gelding (Kashmir Van Schuttershof x Orkaan)
Scott Keach (AUS), Scott Keach and Southern Cross Equestrian LLC: 0/4/40.267
4. Catinka 25, 2009 Oldenburg mare (Catoki x Luxano)
Vanessa Mannix (CAN), Vanessa Mannix: 0/4/42.24
5. Carnaval, 2005 Oldenburg gelding (Chacco-Blue x Landadel)
Hector Florentino (DOM), Spruce Meadows: 0/8/48.3
6. El Balou Old, 2012 Oldenburger stallion (Eldorado VD Zeshoek x Balou du Rouet)
Chansonette Farm (IRL), Chansonette Farm LLC: 0/12/43.155
7. Valentino Du Soleil, 2009 Selle Français gelding (Sandro Boy x Diamant De Semilly)
Ali Leopold-Moreno (USA), Odyssey LLC: 1/80.72
8. Lissino, 2011 Holsteiner stallion (Limbus x San Patrignano Cassini)
Darragh Kerins (IRL), Eve Jobs: 4/74.01
9. Tupac Van De Vrombautshoeve Z, 2010 Zangersheide gelding (Thunder VD Zuuthoeve x Karioka Del Follee)
Kevin Mealiff (IRE), Oakmont Stables LLC: 4/74.57
10. Rocksy Music, 2008 Irish Sport Horse gelding (Ars Vivendi x Diamond Serpent)
Richie Moloney (IRE), Equinimity LLC: 4/75.49
11. Berlinda, German Warmblood mare (Berlin x Gento)
Alessandra Volpi (USA), Alessandra Volpi: 4/76.56
12. Hadja Van Orshof, 2007 Belgian Warmblood mare (Cabrio van de Heffinck x Darco)
Kelli Cruciotti-Vanderveen (USA), Kelli Cruciotti-Vanderveen: 4/76.74
For full results from the $137,000 Night in the Country Grand Prix CSI 3*, click here.