By Allie Hay and Sarah Madden for TIEC
July 11, 2021 – Conor Swail (Wellington, FL) and Koss Van Heiste flew to a win in the $25,000 Sunday Classic at Tryon International Equestrian Center with a jump-off time of 37.304 seconds. Sean Jobin (Dunnellon, FL) and Foxridge Farms Stables' Coquelicot VH Heuvelland Z, the 2012 Zangersheide gelding (Catoki x Cybelle V't Heuvelland Z), earned second place honors with a time of 38.088. Rounding out the top three with a time of 39.358 seconds was Kevin Mealiff (Wellington, FL) aboard Oakland Ventures LLC's Uccello De Will, the 2008 gelding of unknown breeding.
Course designer Alan Wade's course saw 35 riders in the first round of competition, nine of which qualified for the second round jump-off. Swail and Eadaoin Aine Ni Choileain's 2010 Belgian Warmblood gelding (Breemeersen Adorado x Contact Van de Heffinck) sat in third place going into the shortened second round, but were able to leave out a stride in each of the lines to help secure a win. "As always, Alan Wade put up a nice, difficult course. My guy has got a big step so those lines from jump one to two and from jump three to four, I'm leaving out a step. Even from the double to the oxer, it was a steady section where I did five strides," Swail explained. "Leaving out those three steps was something maybe everyone didn't do. That was, basically, the main strategy and then just trying to give him a good ride and give him the opportunity to do a good job!"
Koss Van Heiste is usually Swail's CSI 5* mount, so the pair used the Sunday Classic to school for future Grand Prix competition. Swail is using his time at TIEC to prepare his horse for the fall, and noted, "We're basically trying to build him up with Spruce Meadows in September in mind. So, we're trying to get him in a good frame of mind for that. I was really pleased! He jumped great."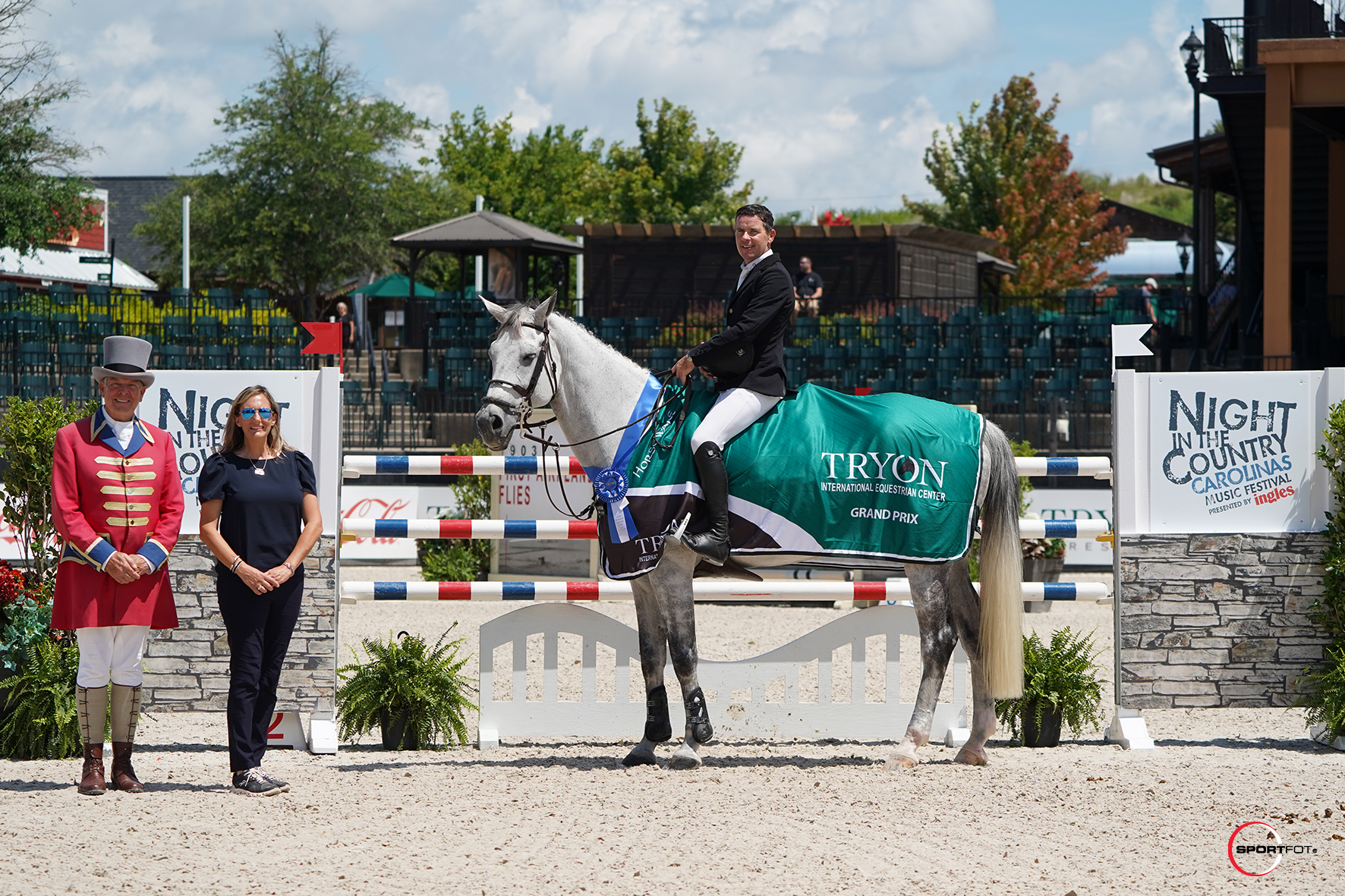 Swail and his team will compete at TIEC throughout the Tryon Summer Series before taking a few weeks off and migrating north. "Tryon has been great so far!" he concluded. "We were here for the last series and now we are back again! My horses are in good form and I'm looking forward to the next couple of weeks."
Luis Larrazabal and Caristina Conquer $6,000 Speed Stake CSI 3*
July 9, 2021 – Caristina and Luis Larrazabal (COL) finished the single-round $6,000 Speed Stake CSI 3* with a time of 56.41 seconds to capture the win in the Tryon Stadium at TIEC. Larrazabal and the 2010 mare of unknown breeding sped through the timers nearly three seconds faster than the second-place finishers. Owner/rider Emma Sargent (USA) piloted Giolita, the 2011 Dutch Warmblood mare (C-Ingmar x Padinus) to a second place finish with a time of 59.23. Doug Payne (USA) and Quintessence, the 2011 Holsteiner gelding of unknown breeding owned by Jane Dudinksky, rounded out the top three with a time of 60 seconds.