In this series, StreamHorseTV will be talking Tokyo Equestrian with the lovely and knowledgeable Catie Staszak, international Show Jumping commentator, multimedia sports journalist, and CEO of Catie Staszak Media—and The Plaid Horse's Show Jumping Content Manager and Plaidcast co-host! Staszak and StreamHorseTV Director of Content Natalie Mayrath, will provide discussion, insight and commentary around all the action happening on the ground during the Tokyo Olympic Equestrian Competitions.
In Episode Four, they sum up a historic Olympics Eventing competition that saw the best ever team score in history and the first-ever female gold medalist.  While the two-time reigning gold medalist was pitted against the world-ranked number one rider, they both incurred jumping penalties to slip in the standings, dipping below our first female gold medalist, and an eventing legend in his eighth Olympic Games, who unsurprisingly was the only competitor to finish on his dressage score.
Gold Medal History — Twice
The cross-country phase of three-day eventing usually proves influential, as Phillip Dutton described. In these Tokyo Olympics, it caused some riders to slip in the standings, but it gave Great Britain their prelude to punching the best score ever recorded in Olympic Eventing history to claim the gold medal. 
Australia took the silver in deserved fashion boasting the likes of Andrew Hoy, Kevin McNab, and Shane Rose. France, who won team gold in Rio, settled for bronze here.
Team Great Britain was flawless with three double-clear rounds on cross-country, and they sealed their powerhouse performance by turning in exemplary show jumping rounds, although they were so far ahead that they had many rails to spare. Staszak says, "They still had three rails in hand. It was so, so impressive." 
Also entering the record books is eventing's first-ever female Olympic Gold medalist.
First Female Strikes Gold
Women have historically had massive success throughout the ranks of three-day eventing, where women and men compete as equals, but throughout history that gold medal box hadn't been checked, until now.  "That is a celebration," Staszak says.
Under enormous pressure and going last (first place always rides last in the show jumping order), Julia Krajewski on Amande De B'Neville nailed it, going double-clear in the team round, while incurring just .40 time penalties in the individual round to clinch the gold medal, with a final score of 26.0. After clearing the final jump, she put her hand over her mouth, was engulfed by emotion, and pointed emphatically down at her mount, an 11-year-old Selle Francais mare who was not originally her top mount for Tokyo. How fitting that the first-ever gold medalist does it on a female horse.
She also brought up Michael Jung's Olympic mount for these games, Chipmunk, who was sold and ended up in Jung's string.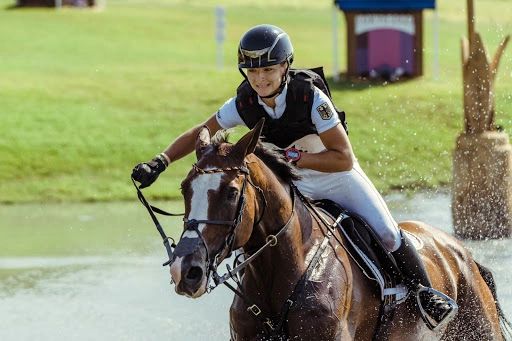 The jumping course itself was fairly straight-forward, but riders and horses encountered it more than usual. Entering a territory not seen at any other eventing competition worldwide, the top 25 combinations at the conclusion of team competition returned for one last round of jumping to determine individual medals.
While the youngest rider in the group finished respectably, the oldest rider did what he's known for: artfully putting together an exquisite piece of riding.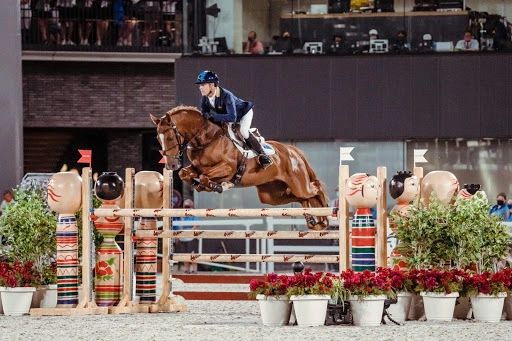 Andrew Hoy demonstrated why he's been to eight Olympics. Hoy and Vassily de Lassos finished on their 29.6 dressage score, the only competitors in the entire competition to do so. His show jumping double-clears, coupled with a brilliant cross-country round, got him into bronze position, after Oliver Townend dropped a rail with a couple of time penalties earlier on. He is now the oldest Olympic Medalist since 1968, at age 62, and he did say that age helps him under pressure. Hoy already owned 3 team gold medals, plus an individual silver in the 2000 Sydney Games, and now takes his tally to six including Australia's team silver in Tokyo.  
Tom McEwan was also impressive as a part of Great Britain's electric gold medal team, and he got the silver on a 29.3
As far as the impact of the new format on the competition? Staszak shares the US Show Jumping Chef D'Equipe's remarks in this episode. Mayrath commented, "It ups the ante of competition. It might not be good for pressure. In this case, we had some top-class long, long-term veterans […] It seemed like it just kind of intensifies everything and promotes a really high level of sport."  She continued discussing whether Team USA was really impacted by not having that fourth dropped score. 
Team USA Will "Live To Ride Another Day"
Team USA ended up 5th, a disappointment for them, although they rode solidly and each just ended up with rails in the end. Individually, Doug Payne finished 16th on Vandiver, Boyd Martin took 20th on Tsetserleg, and Phillip Dutton ended up in 21st on Z. 
In his Dutton's Diaries wrap-up edition, veteran eventer and seven-time Olympian Dutton shared his comments with StreamHorseTV on the team's performance. "I was proud to be a part of this U.S. team with Boyd and Doug and the horses that we had. We live to fight another day!"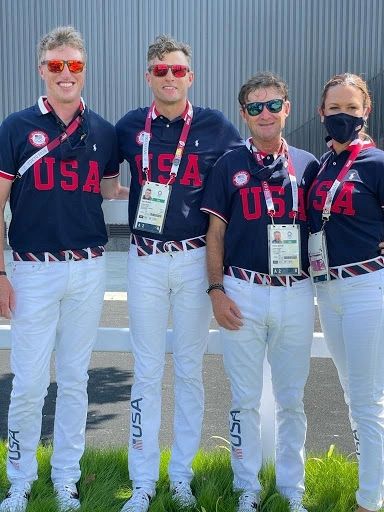 As the eldest Olympian on Team USA across all sports, Dutton stamped his own spot in history, clocking his seventh Olympics. It just so happens he and Hoy were on Australia's gold medal team in the 1996 Atlanta Olympic Games, and we certainly hope we see them riding at future Olympics, breaking records and inspiring us all!
Controversy Around Fence #14C — How It Impacted Medals
The outcry continues about the frangible device triggered by so many riders at Fence #14C. Dutton had flagged this as a difficult test, and rider after rider triggered it, with the commentators mentioning that some were saved from a fall in doing so, while others were not.
The most noticeably substantial impact of this was on the two-time defending gold medalist Michael Jung of Germany, who lodged an appeal after his horse set off the device by brushing his front hooves over the jump. The 11 penalty points took him well out of the gold medal position he was sitting in going into the cross-country day. The conversation has been flowing around social media, with riders, including USA's traveling reserve Tamra Smith speaking out about the incident she witnessed while standing by the jump.
Smith posted the following on social media: "Watching @michaeljungofficialnews get his frangible pin at the corner in person was gutting to watch as his horse barely touched it with his right front toe, but that is our sport right now. Hopefully, there is some change to make it more fair."
Additionally, a photo of Chipmunk has been circulating on social media.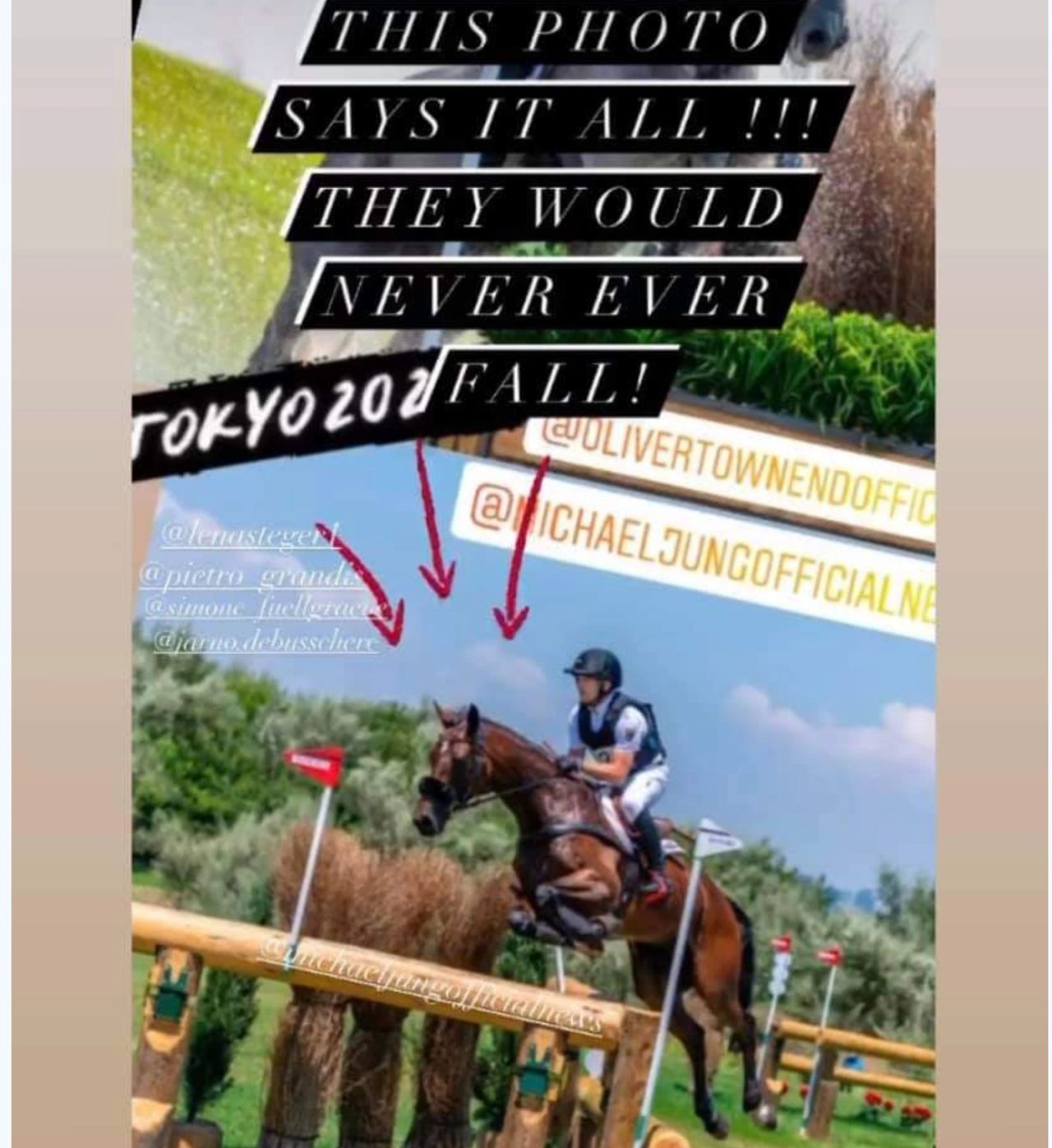 Mayrath emphasized that for someone like Tamie Smith of Team USA to speak out like this, and for others such as Ireland's Sam Watson to mention that their horse barely touched it, means the conversation must continue.  In playing devil's advocate, Staszak countered that the playing field is even, and the pins are ultimately there for the best of reasons. 
Jung posted on social media that his horse, Chipmunk, "did a great jump that doesn't deserve that!!!!" He made it clear that these systems are good in his opinion, if they prevent a fall, but suggests in this case they would not have fallen.  He continued, "It is so hard to get this at the Olympics."
Show Jumping Preview: What has Catie scratching her head?
Catie reveals the major surprise that came up during the first horse inspection for Show Jumping in Tokyo. A big name gets slotted in the reserve spot for Team USA. Watch THE FULL episode for more.
Join us again in the coming days for Episode #5, where we will watch Show Jumping unfold. Watch all episodes here. For Team USA and all of the competing countries, we wish everyone a safe and successful ride in these Olympic Games!
Follow StreamHorseTV on Facebook, Instagram, YouTube, and Twitter and subscribe for free at StreamHorse.TV
READ WATCH & LISTEN MORE:
Tokyo Takeaways Episode #3: Women Hunt Gold-medal History
The Brains Behind the Tokyo Cross-Country Course
Win A $300 Prize: StreamHorseTV's Olympic Torchbearer Campaign