In this series, StreamHorseTV will be talking Tokyo Equestrian with the lovely and knowledgeable Catie Staszak, international Show Jumping commentator, multimedia sports journalist, and CEO of Catie Staszak Media—and The Plaid Horse's Show Jumping Content Manager and Plaidcast co-host! Staszak and StreamHorseTV Director of Content Natalie Mayrath, will provide discussion, insight and commentary around all the action happening on the ground during the Tokyo Olympic Equestrian Competitions.
In Episode #5, Individual Show Jumping medals have been awarded, but where was the USA? And Catie discusses how impactful a Sumo Wrestler was on the overall results. The team behind Dressage's viral #ravehorse moment describes how they mixed the music that has made Steffen Peters and Suppenkasper the "horse at the club," and why upbeat, fun music can help elevate the entertainment value of Dressage. 
Explosion Lives Up To His Name
Explosion W, a horse that was expected to fare well in Tokyo — as he customarily does at all of his international elite competitions — lived up to his name.
With Ben Maher of Great Britain in the saddle, he soared over the course, sealing the gold medal in a final jump-off consisting of six horse and rider combinations.  When asked what sets this horse apart, Staszak says he checks off every box for what you'd want in the perfect jumper.  "He is without a doubt the best horse on this planet," she says. Maher reportedly said this horse is "a real athlete, not a normal horse," and that "he grew wings for me."
All three of Sweden's individual team members made the jump-off, with Peder Fredericson repeating his silver medal at Rio with All In. The Swedes all finished in the top five. Netherlands' Maikel van der Vleuten on Beauville Z won bronze.
Sumo Wrestler Looms Large
A Sumo Wrestler made its presence known as the most striking, perhaps startling, visual feature of the courses, and possibly any that we've ever seen.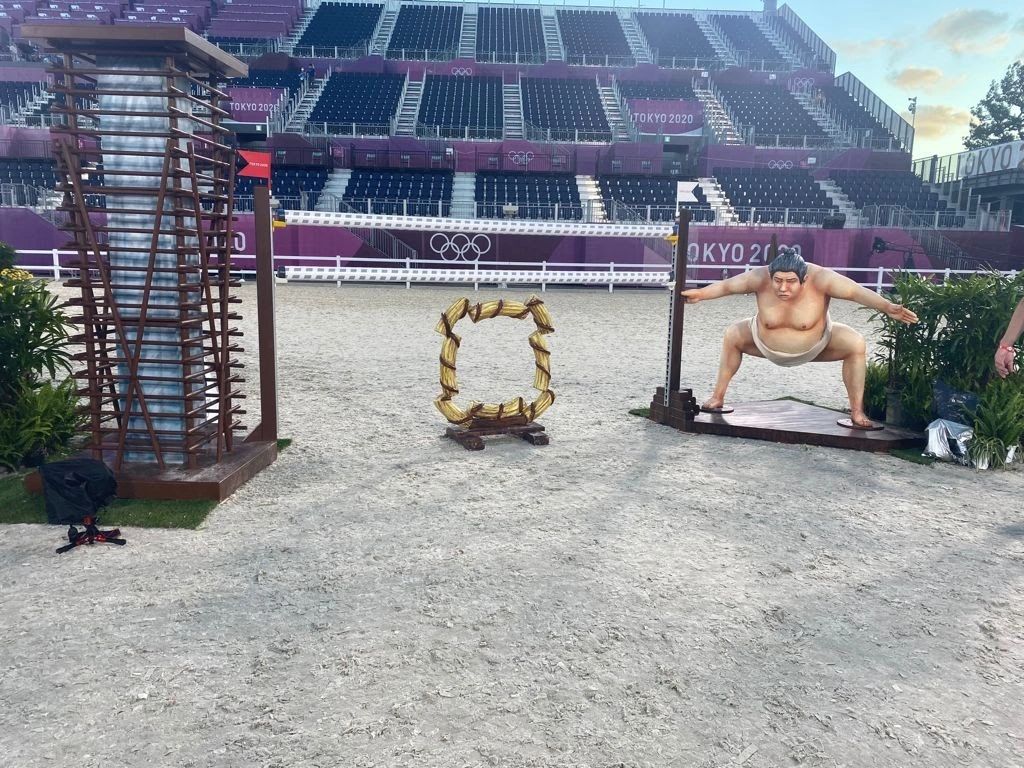 Certainly catching a few horses by surprise, the wrestler had a definite impact on the early jumping rounds. Staszak laughed,"Dressage had rave horse, show jumping got a sumo wrestler […] I would love to chat with the course designer about this […] I've certainly not ever seen anything like it!"
She added, "You won't forget it!" 
Americans Just Miss In A Tight Qualifier
The American individual jumpers all had penalties in a qualifier that was loaded with top-notch rounds. Jessica Springsteen, Kent Farrington, and Laura Kraut all came up short as the final was decided. They hope to rebound in the team event.
"It was really shocking not to see a single American in the individual final… of course we will see them again in team qualifying on Friday," Staszak remarked. As Staszak reported, little mistakes proved costly.  A single rail in this loaded qualifier was the difference between making or missing the final, which is what Olympic-level sport should look like.
Going Viral In Dressage
Steffen Peters and Suppenkasper's Dressage Freestyle to dance beats went viral on TikTok when a presumably non-equestrian user coined Suppenkasper (otherwise known as "Mopsie") the #ravehorse. Tens of millions have now viewed Mopsie and Peters' routine during the Tokyo Olympics, giving Dressage a mainstream party hat, and perhaps signifying future entertainment value in a sport generally known as stuffy and boring. 
The duo behind the #ravehorse music mix is hoping to take Dressage to that next level of fun, and they visited StreamHorseTV's Tokyo Takeaways to share more about how this infamous project came together.
Marie Medosi is a Dressage rider and also a pianist who has been putting together Dressage music mixes for years, mainly on the more customary classical side. Peters is known for his progressive music selections, having ridden in the past to David Bowie, Kanye West, and Queen tracks. "It's been a dream of mine that freestyles (in Dressage) should be better-edited with better music selections," Medosi explains.
Medosi knew Taylor Kade, an EDM music producer, through mutual friends, and when she heard that Peters envisioned dance party music for his Olympic-qualifying routines, she knew it was a match made in Heaven! Medosi says of Kade, "he was able and willing, and he took it to the next level for Steffen." A long-standing producer named Terri Gallo, who has been to the prior Olympics creating music for riders, was also instrumental in creating the perfect mix for Peters' Olympic routine, perfecting every detail in the lead-up for Tokyo.
Not in Kade's wildest dreams did he think he would find himself in such an Equestrian niche. But he sees the important opportunity for bringing Dressage a fresh new approach. He explains that dance music is universal, it doesn't usually have lyrics, and it relates to everyone globally.
Staszak agrees, "It made it more relatable, and brings in a new audience, and it was one of the most exciting, entertaining Dressage events that I've ever had the pleasure of watching […] I thought, 'Wow, whoever wrote this is a genius […] and can you please do this for everyone?'" Kade and Medosi admit they pushed the envelope on music selection, but there was a happy medium to ensure they didn't startle the judges. Natalie Mayrath of StreamHorseTV and Staszak both note that Peters received high scores, almost proving that the music choices were successful. "He got such tremendous scores [for musicality]," Staszak recounts.
Staszak says she just couldn't get enough. "I watched the freestyle live, and even still, I couldn't stop playing the TikTok video," she says.  "The way the beats met Mopsie's footfalls, it just looked like that song was written for them […] It's the best thing for the sport of dressage."
"This is proof that people love it," Medosi says. "More popular music brings a huge attraction to the sport." Medosi continues, "I think the sport needed someone like Steffen to carry […] the torch […] There's no better person than Steffen who's a beautiful rider, with this magnificent horse Mopsie, to push the envelope." 
The Tiktok user who originally ignited the #ravehorse revolution was watching the competition on television. At one point she yells to another person off screen, "Alex, come look at this rave horse." (Raves are all-night electronic music dance parties.) You can view the official NBC Olympics version of the Ravehorse tiktok here. Read more about the rise of modern music in dressage here.
Watch THE FULL episode for the entire #ravehorse conversation, and find out what the #ravehorse team will be working on next, while we get Staszak's preview of the team Show Jumping competition, happening Saturday.
Join us again in the coming days for Episode #6, where we will discuss who makes the podium in Olympic Team Show Jumping! Watch all episodes here.
For Team USA and all of the competing countries, we wish everyone a safe and successful ride in these Olympic Games!
Follow StreamHorseTV on Facebook, Instagram, YouTube, and Twitter and subscribe for free at StreamHorse.TV
READ WATCH & LISTEN MORE:
Tokyo Takeaways Episode #3 — Cross-Country Recap, Who's In Medal Contention, The Women Hunting History, Every Score Counts Dearly, Heartbreak Losing A Horse
Tokyo Takeaways Episode #4: Gold Medal History Twice, Lone Dressage Score Finisher, Favorites Slip, Impact of Format & Frangibles
Win A $300 Prize: StreamHorseTV's Olympic Torchbearer Campaign