By StreamHorseTV Staff
While the world grumbled about Simone Biles pulling out of most of her Olympic events, athletes' mental health has been thrust to the forefront of most Olympic conversations.
It's been interesting to watch the negative attention fallout following Biles' decision to focus on her health. Everyone seems to have a say about what she did, including Piers Morgan, who already has an opinion about everything.
But Simone is not alone. Five leading equestrian riders across all equestrian Olympic sports, Beezie Madden, Liz Halliday-Sharp, Jessica Phoenix, Adrienne Lyle, and Cian O'Connor pulled their horses from their respective equestrian competitions along the journey leading up to, and while in Tokyo, citing concern for the wellbeing of their horses.
BEEZIE MADDEN
As a life-long equestrian and one of the most decorated professional riders of all time, Beezie has had a lot of experience in and out of the ring, partnering with incredibly talented horses over her career. After spending the amount of time and effort to work with each one, Madden develops a bond with her mounts. While the depth of the friendship cannot be surmised in words, it is obvious that the duos always have a common understanding supporting the partnership. It's with this knowledge that any rider makes decisions for their mount.
On July 2, Madden exercised her expertise as Garant's rider. In a Facebook post following Garant's performance then withdrawal at the Nations Cup in Rotterdam, Madden explained that Garrant was not ready for the Olympic Team this year. She wrote, "We all believe strongly in Garant's future as a championship horse, but know it's not the right time for him yet. We hated to let our country and teammates down today, but the only thing more important than the team is the horse."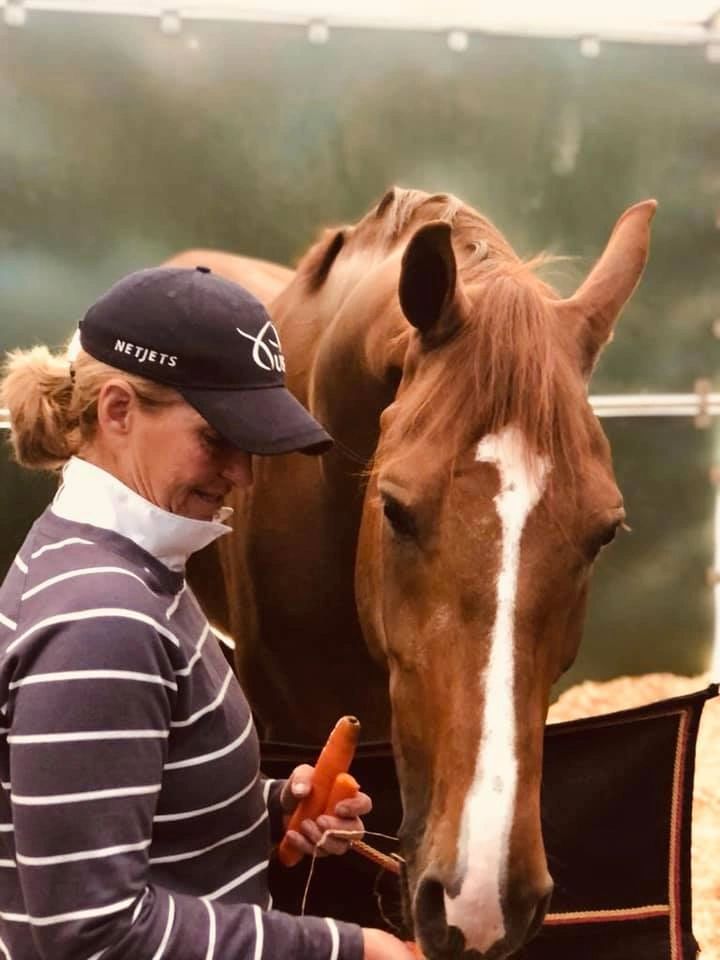 Watch her post-decision interview here.
It's worth mentioning that the 2020 Tokyo Olympics were meant to be Madden's last appearance, a crowning achievement to her previous four Olympic appearances and multiple medals. According to Madden, she is semi-retiring from high-performance sport following the Games. This was discussed recently on StreamHorseTV's Tokyo Takeaways. What does she plan to do in retirement? Why, search for and develop the next generation of pro-jumper horses and riders, of course. Read more about her retirement plans here.
LIZ HALLIDAY-SHARP
Prior to entering mandatory equine quarantine (in order to board the flight to Tokyo), Halliday's horse, Deniro Z, was pulled from the Olympic's team roster. After further evaluations by veterinarians, they confirmed that Deniro Z had sustained an injury (bone bruising), and it was in his best interest to sit this Olympics out. He is expected to make a full recovery.
The 2020 Tokyo Games was going to be Halliday's Olympic debut. On July 7, 2021, Halliday posted an update to her Facebook where she announced the decision to withdraw from the team. You can see the full post on her Facebook.
"While I am completely devastated to not get the chance to represent my country in Tokyo this year, Deniro is my friend and my partner above all else and it would not be fair to put him in an environment as intense as the Olympics if he is not 100%."
Doug Payne and Vandiver filled Halliday and Deniro Z's spot on the team.
JESSICA PHOENIX
Phoenix's mount, the 19-year-old Westphalian gelding Pavarotti, sustained a minor injury during his final preparation gallop on July 27. With the best interest of Pavarotti, Phoenix, and the sport in mind, Team Canada decided against presenting Pavarotti at the first eventing horse inspection on July 29.
"We were so excited to see Pavarotti finally take on Olympic competition but horse health and safety remains priority number one," said Eventing Chef d'Équipe, Fleur Tipton. "We are thankful that Pavarotti's injury is minor and eternally grateful to his care team for ensuring his comfort and ability to fully recover. Jessica and Pavarotti are a team for the ages and we fully support them both through this heartbreaking turn of events."
ADRIENNE LYLE
After competing during the Team Dressage Finals and helping Team USA finish with a historic silver medal, Lyle pulled her horse, Salvino, from the Individual Dressage competition happening later that week.
When asked why she withdrew Salvino, Lyle explained that "[Salvino] did not feel quite like his usual self."
Steffen Peters and Sabine Schut-Kery (Lyle's teammates) competed in the Individual Dressage finals.
CIAN O'CONNOR
In a surprise event, Cian O'Connor pulled his horse, Kilkenny, from competition following a severe nosebleed during their individual Show Jumping round.
"Clearly, the images are distressing to see, but Cian O'Connor's horse Kilkenny was immediately checked by veterinarians straight after the competition," said an FEI spokesperson in a statement. "The vets established that this was a nosebleed (epistaxis) and, as a precaution, the horse has gone to the onsite Veterinary Clinic for a further examination."
There is a silver lining, however. After receiving a thorough examination, Kilkenny was cleared to continue competing, but O'Connor decided otherwise; "He looks great; the vets have checked him over, and he seems fine. We're allowed to continue to compete, but for me, his future is more important," O'Connor announced.
These athletes are not the first to withdraw from the games citing wellbeing concerns, nor will they be the last.
So much of the conversation surrounding these incredible athletes (human and equine) focuses on their perceived "duty" or "debt" to the country they represent. Being an athlete has nothing to do with where you're from and everything to do with what you do. Spoiler alert: what they do is not focused on providing you with entertainment. Regardless of whether athletes are jumping fences or diving off platforms, performing is everyone's right, and so is the option not to.
Additionally, American athletes do not receive government funding from their home country. US athletes pay for everything they do to get to the international stage. Things like training, coaching fees, travel, food, increased health costs due to various injuries, and most importantly, time. They spend years investing in themselves hoping to gain some of that investment back through sponsorships. It's easy for the average person to forget that these athletes spend four years of their lives getting ready for one, maybe two Olympic events.
When's the last time you committed to doing something for four years and funded it yourself?
Don't say college. Let's be honest. You did not get a medal for that. 
Read more at StreamHorseTV.