Wellington, FL – September 5, 2021 – The ESP Labor Day horse show concluded with a second victory from the week going to Lebanon's Jad Dana. Dana and After Eight, owned by Peter Howard and Laure Sudreau, edged out the competition in the $25,000 Palm Beach Equine Clinic Grand Prix to capture the lead spot in the victory gallop. The partnership mastered two tracks designed by Oscar Soberón (USA) as the fastest of five double-clear duos.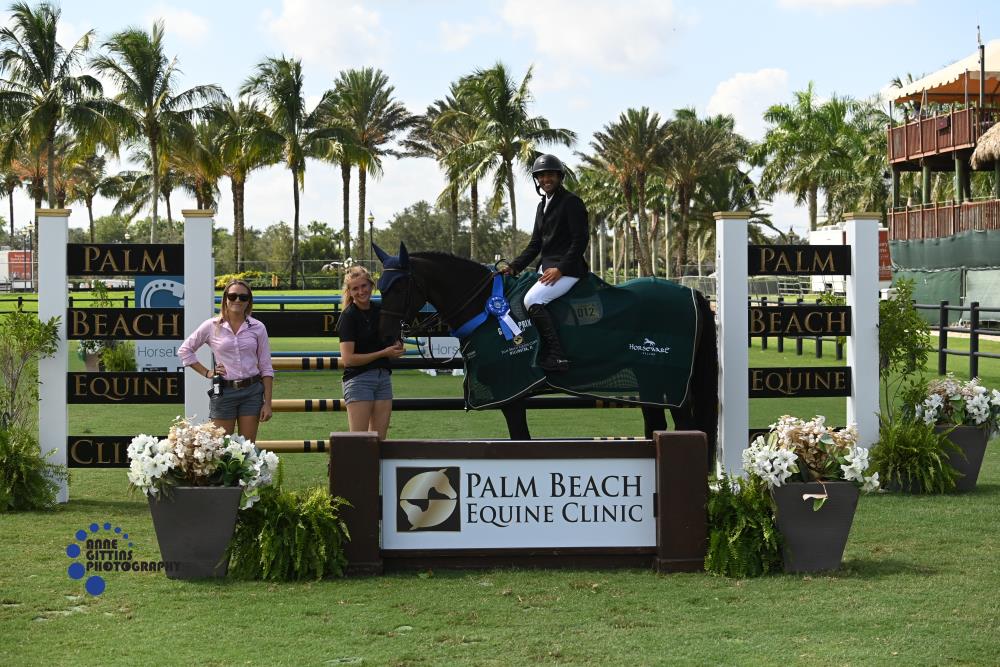 The 2021 ESP Summer Series will continue at Equestrian Village with ESP September, which will take place from September 16-19, 2021. Only two more events follow, beginning with the ESP Florida State Fall and Region 3 ASPCA/NHSAA Maclay Championship and concluding with the Rita & Irish Flynn Memorial. The ESP Fall Series will start soon thereafter. To view the ESP Summer Series Prize List, please click HERE.
"My trainer, Leslie Howard, usually rides her, but she just had hip replacement surgery, so I've been riding and showing her horses," explained Dana. "I clicked the best with [After Eight]. She's been on a clean streak lately. Every Grand Prix she has done so far, she's been clear. We were really close last week and the week before, and today was our lucky day!
Having competed in the two previous Grand Prix competitions at Equestrian Village together, Dana and the 11-year-old Swedish Warmblood mare are no strangers to the Derby Field, but this was their first performance to land them at the top of the leaderboard with a jump-off time of 44.72 seconds.
"I think the real sport is on the grass. The horses like it and I think this is one of the most beautiful venues to show at," remarked Dana. "The courses [also] really suited her. She has a bit of a short stride and since the lines walked a bit tight, I didn't have a ton of options. I just had a fixed plan, and tried to stick to it and she was right there for me today. My plan in the jump-off was simply to go really fast from beginning to end."
Of the six other pairs that returned for the jump-off, Elin Uppling (SWE) and Salamandra Baloubina, owned by Caroline's Kids LLC, were the second-fastest, clearing the jump-off in 45.46 seconds. Alberto Michan (ISR) represented the third nation on the podium with a clear jump-off time of 46.69 seconds to secure third place with his own entry, Firewall.
As a final remark, Dana concluded, "I would really like to thank Leslie because there's absolutely no one like her. She has believed in me and given me every chance to succeed. I would also like to thank the owners, Peter Howard and Laure Sudreau, for allowing me to ride her and giving me a chance to do what I love to do."
Click here for the full results of the $25,000 Palm Beach Equine Clinic Grand Prix.
Early in the morning on Friday, Ashlee Bond (ISR) and Boheme de Fleyres, owned by Ashlee Bond Show Jumping, hit the ground running to take the blue ribbon in the $10,000 Bainbridge Companies 1.40m Open Stake. The class saw a field of 17 entries tackle the track in the grass Derby Field, and out of the original starting pack, 10 pairs turned in clear rounds, with a smaller group of six finishing the class double-clear. Only the fourth in the order, Bond and Boheme de Fleyres turned in a quick fault-free time of 38.74 seconds in the immediate jump-off to solidify themselves as the frontrunners. The remainder of the contenders chased down the leading time, but none were able to catch it, confirming Bond and Boheme de Fleyres as the victors. Diego Vivero (ECU) and his own Zambia Mystic Rose captured second place in a double-clear time of 40.18 seconds. They were followed by Elin Uppling, who represents Sweden, on Salamandra Baloubina, owned by Caroline's Kids LLC, in third position with a penalty-free time of 40.61 seconds.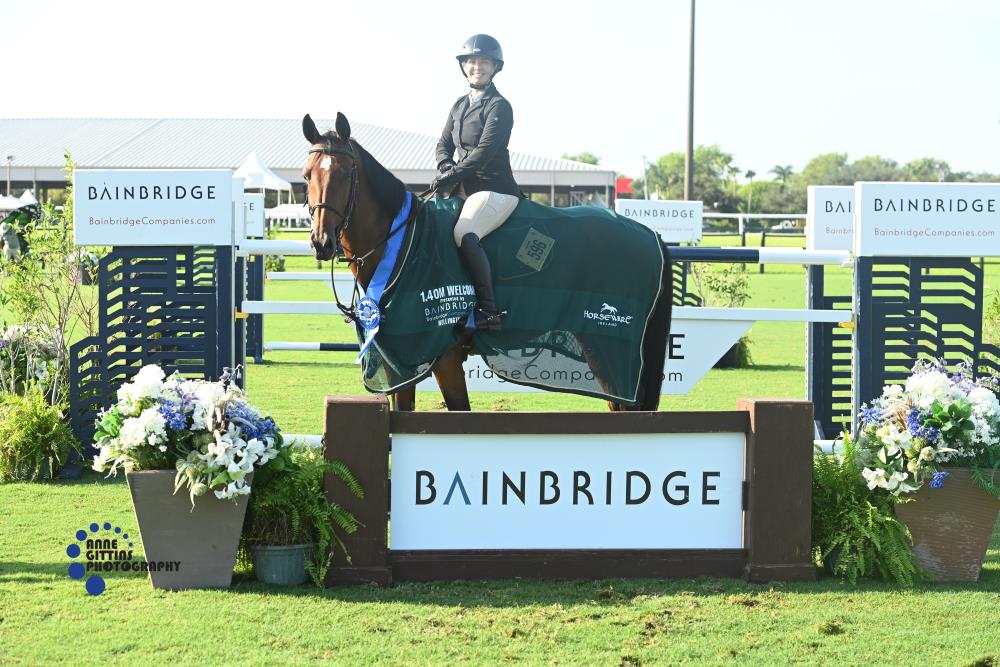 In the Perfect Products 1.35m Stake on Saturday morning, Dana and Fleur-de-Lis' Cherie, owned by Kathleen Gannon-Ledsome, ran away with the class as the clear-cut winners. Of the starting field, seven duos advanced to the immediate jump-off, initially led by Uppling and Genesis, also owned by Caroline's Kids LLC, with a double-clear time of 43.013 seconds. Never letting up on the gas, Dana and Fleur de Lis' Cherie went midway through the pack and tripped their jump-off timers without faults in a blazing 39.13 seconds. No other competitors were able to come close, giving Dana and his mount the first prize by nearly four seconds. Uppling and Genesis finished the class in second place, and Uppling added to her success with the third-place and fourth-place results, also. The final podium spot went to Uppling on Dudok, again owned by Caroline's Kids LLC, with a double-clear time of 43.018, less than one-hundredth of a second off her runner-up horse.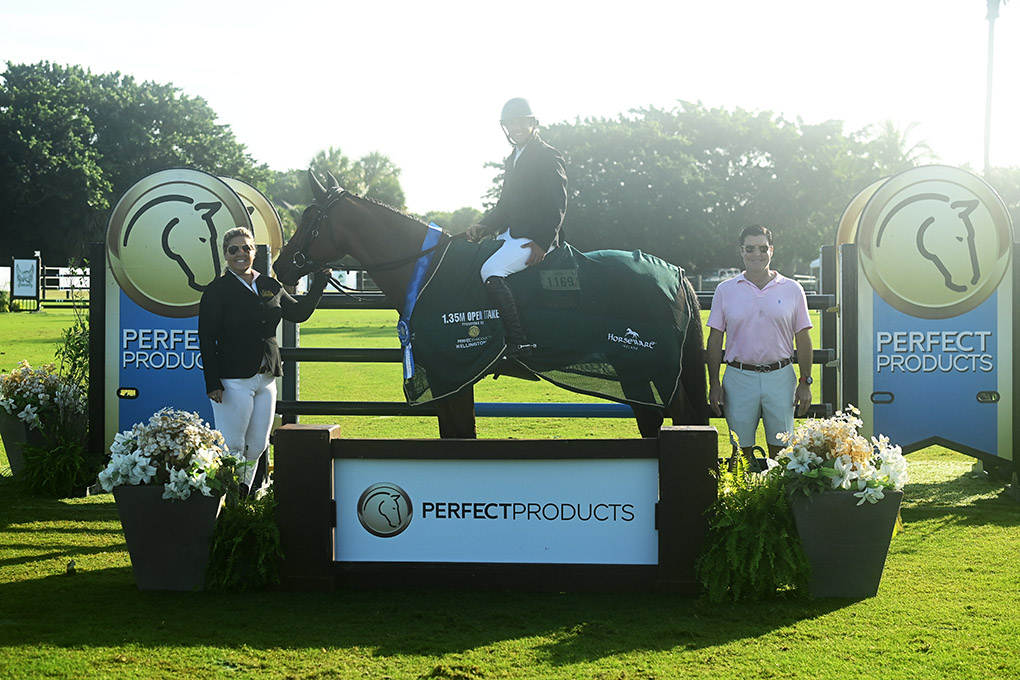 Sunday morning saw the Medium Amateur-Owner/Junior Classic, presented by Equiline, challenge a field of horses and riders on the Derby Field. Four pairs reached the jump-off stage, two of which had Sophia Ahearn of Wellington, FL, as the rider. In the end, only three-hundredths of a second separated the top two finishers, with the victory going to Caroline Drummond of Wellington, FL, on her own Tsunami with a double-clear time of 40.66 seconds. Ahearn and Quick Bob, owned by Esperanza Imports LLC, finished in second place with a fault-free effort in 40.69 seconds. Ahearn also grabbed third position riding Esperanza Imports LLC's Langobardo BF.