By Natalie Mayrath

In this series, StreamHorseTV will be talking Tokyo Equestrian with the lovely and knowledgeable Catie Staszak, international Show Jumping commentator, multimedia sports journalist, and CEO of Catie Staszak Media—and The Plaid Horse's Show Jumping Content Manager and Plaidcast co-host! Staszak and StreamHorseTV Director of Content Natalie Mayrath, will provide discussion, insight and commentary around all the action happening on the ground during the Tokyo Games.
They relive the sensational performance of the USA Para Dressage Team with special guest, double individual gold and team bronze medalist Roxanne Trunnell, who broke a world record in capturing freestyle gold. They're also joined by Team USA physiotherapist, Joanna Frantz, for commentary. 
A recurring theme of Roxanne Trunnell's dominant performance in Tokyo — capturing 2 gold medals, one in record-breaking fashion, while also anchoring for team bronze — is her cool head. 
Even though her freestyle test broke the world and Paralympic record, she didn't realize she'd broken a record until well afterward. "I thought it was a good test, and was proud of him (Dolton)," Trunnell recounts. "She congratulated Dolton and was so proud of him that he did such a good job, but it wasn't until she was in line for the awards ceremony that she realized she had broken the record," says Frantz. "She had broken the world record before in the US, but to do it on such a grand stage, in front of the whole world, it was so incredible."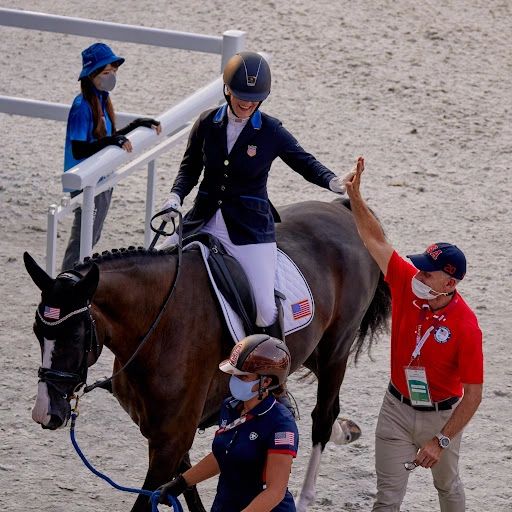 "She is a true athlete," Frantz explains. "She gets in her game zone, she gets into her own headspace… she just wants to focus on her score, so she goes out there and rides her best test. It's kind of interesting because the rest of us are sitting there biting our nails, we're so nervous!"
For something many athletes work on for a lifetime, Trunnell seems like she's mastered the mental game for herself and her team. "It seems like you're the glue… Kudos to you for being able to stay so present and calm and accept what will be will be and just ride your best. As riders we all will use that every time we go in the ring," Staszak said.
Trunnell described her experience as pressure-free, because "what happens, happens."
The Most Special of Three Medals? Not Gold
History officially stands as the USA Para Dressage team took home its most medals since 1996 in Tokyo, and the team bronze was the first team medal for Team USA since Para Dressage began at the Atlanta Paralympics in 1996.
The score, tallied over the course of two competition days, was exceptionally close, as USA captured bronze by a minuscule 3/10 of a point. It was described as a nail-biter, but what struck our hearts most was that Trunnell told StreamHorseTV the bronze medal meant the most to her, given that it had been a life-long goal of her teammate, wheelchair-bound Rebecca Hart. Frantz noted that Hart is in a wheelchair, and has been working toward this goal for many years. "Like Roxie said, Rebecca is wheelchair-bound, so for her to be able to come up to the podium and stand for that team bronze, was really really special." Staszak was completely touched by Trunnell's sentiment. "How badly she wanted it for not only herself, but her teammates… that just spoke volumes to me," she said.
Hart, who has represented the U.S. in every Paralympics since 2008, said afterward, "I'm so incredibly blessed and happy to be standing here with these two amazing riders. It was a complete and total team effort. For all the people and all of our supporters and grooms and everyone behind the scenes that make all of this happen, to be able to finally, after so many years, get to stand on that podium as a country, it's so fulfilling. It's a lifelong dream that has just come true."
"It matters even more, since everyone won it," Trunnell explains.
The photo of them on the podium together, with Hart standing there, really says it all.
The Equine "Forrest Gump"
Of Dolton's winning freestyle to the Forrest Gump soundtrack, "He really likes it," Trunnell said. "When you watch them compete with that music, you can't imagine anything different," Frantz added. This was the second time ever that Dolton hit the music cues perfectly in competition. "During the freestyle, he came right in, marched to the music, and you were on cue the whole time."
Trunnell lit up remembering the moment. After all, she considers Dolton her own little equine version of Forrest Gump, saying he is "really weird but at the same time completely loveable."
We've discussed the importance of music in Dressage on Tokyo Takeaways before, as we interviewed the #RaveHorse Team, and Trunnell has emphasized its importance in suiting the horse, as well as the judges. In this case, the music selection clearly had a role in drawing the record-breaking score!
Another subtle, and clearly effective training detail for Trunnell and Dolton is that she's so dedicated to his walking test that they only ever walk, signaling to Dolton that when she rides him, he will only be walking. Read our full interview with Roxie to find out more about her relationship with Dolton, how he became her horse, and more about her journey to 3 medals in Tokyo.
Watch ALL EPISODES of Tokyo Takeaways on StreamHorseTV.
Haygain steamers were provided in Tokyo during the Paralympic Games, as they were for the Olympic Games. "They used it for a couple of the horses and I think it was a good thing for them to have on-site," Frantz said. In addition to the Team USA Para Dressage riders, several international riders were able to keep their horses in top condition due to the presence of Haygain steamers. Rodolpho Riskalla of Brazil, Individual Grade IV Silver medalist on his mount Don Henrico, commented, "Having the possibility of bringing Haygain to Tokyo, kept my horse in his everyday kind of food, with the clean and healthy hay, without any dust. The Haygain team was amazing making that possible for us!"
Noni Hartvikson of Team Canada had a good report as well. "Steamed hay by the Haygain system has eliminated coughing caused by hay dust, and also clears up skin allergies. Every horse can benefit from this system," she said. Visit Haygain.com for more about steamed hay.
Follow StreamHorseTV on Facebook, Instagram, YouTube, and Twitter and subscribe for free at StreamHorse.TV
For more about Joanna Frantz, visit RefineYourRide.net.
READ AND WATCH MORE:
USA Dressage Records First Team Silver Medal Since 1948
"I Hear Her In My Mind… " A Tribute To Jane Savoie
Decorated Olympian Shared Abuse Story To Save The Children
Music Is Taking Dressage Mainstream