Wellington, FL – September 19, 2021 – The ESP September show reached its pinnacle on Sunday as 23 entries took to the Derby Field for a chance to win the lion's share of the prize money in the $25,000 Wellington Equestrian Realty Grand Prix. The course, designed by Andy Christiansen (ECU), proved to be a difficult one to master as only three starters advanced to the jump-off, but was no match for the only double-clear contenders of the contest and the class winners, Luiz Francisco de Avezedo (BRA) and Collin, owned by Santa Cecilia Stables. The win is one of many victories earned by the Brazilian and Collin during their longtime partnership, which amazingly began by purchasing the horse before he reached the slaughterhouse.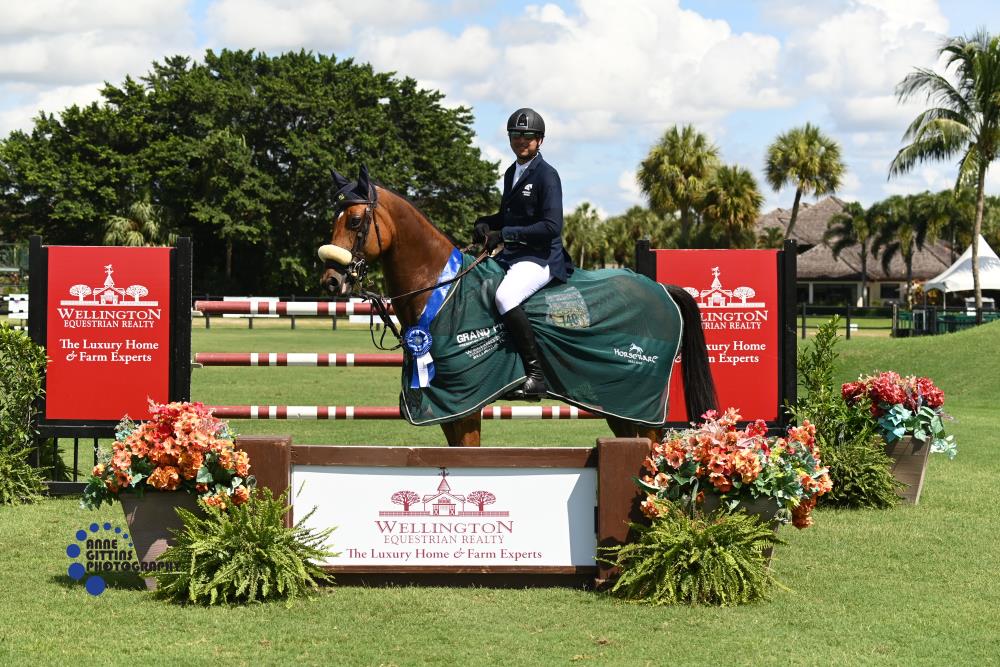 The ESP Summer Series has nearly concluded, but two more weeks remain. The ESP Florida State Fall and Region 3 ASPCA/NHSAA Maclay Championship will take place September 23-26, followed by the Rita & Irish Flynn Memorial from October 1-3, 2021. The ESP Fall Series will start October 7 with ESP October. To view the ESP Summer Series Prize List, please click HERE.
"Collin is 14 now, but I have ridden him since he was 7. When we bought him he was going to the slaughter because he is a really sensitive horse and nobody was able to keep him at home," reflected Francisco de Avezedo. "My friend bought him for the price of the meat and sent him to me. It has been a great journey together. He has been doing amazing the last five or six years, winning at big shows in Calgary, Europe, and here in Wellington. He was here in Florida only flatting for six months while I was out of the country for the Olympic Games, so he didn't compete at all. Today he came right out and won after six months without competing, so it is fantastic."
Riding 18th in the order, Francisco de Azevedo and Collin forced a jump-off as only the second combination to finish the 16-effort course without any faults. The pair joined Daniel Cyphert (USA) and Alma Z, owned by owned by Heathman Farm, in the short list of pairs with clear rides, and later welcomed one final team to the jump-off list in the form of Kyle Dewar (CAN) and his own Kastar Hof Ten Zoetendaele. In the jump-off, Francisco de Azevedo and Collin left out a stride in one of the lines and took some tight turns, and in the end they were the only pair to finish the abridged track without any faults in a quick time of 35.45 seconds to secure the lead spot in the victory gallop.
"The weather is really warm today, so it makes the horses a little tired. For my horse, because he has a lot of blood, he was really fresh and that helped out," remarked Francisco de Azevedo. "The course was really well done. When I walked I didn't think it looked too difficult, but [Andy Christiansen] was really intelligent and did a couple of tricky things. There were a lot of rails down, so I was happy to make it into the jump-off.
Cyphert and Alma Z finished the class as the fastest four-faulters to claim second place with a time of 38.86 seconds. The final podium spot went to Dewar and Kastar Hof Ten Zoetendaele, who crossed the finish line with four faults just off the pace in 39.92 seconds.
Since becoming partners seven years ago, Francisco de Azevedo and Collin have accrued victories up to the CSI5* level all across the world in places such as Spruce Meadows; the Hampton Classic; Lier, Belgium; and Arezzo, Italy, in addition to the Palm Beach International Equestrian Center. The horse's comeback is a true Cinderella story, going all the way from unrideable to a grand prix winner.
"He was really difficult to ride and very sensitive, almost impossible to jump at home. We tried to understand what he was thinking and why he was so nervous," commented Francisco de Azevedo. "He had such good quality to his jump, so I knew he could do it if we gave him a chance. I only gave him the opportunity to show what he could do and how good he is. We didn't push him or hurry him, we tried to give him confidence and that was the key. The fact that he is showing so well after being so scared and sensitive is amazing. I feel really pleased to have saved his life, but what he has given me is a lot, so we are good friends."
For the full results of the $25,000 Wellington Equestrian Realty Grand Prix, please click HERE.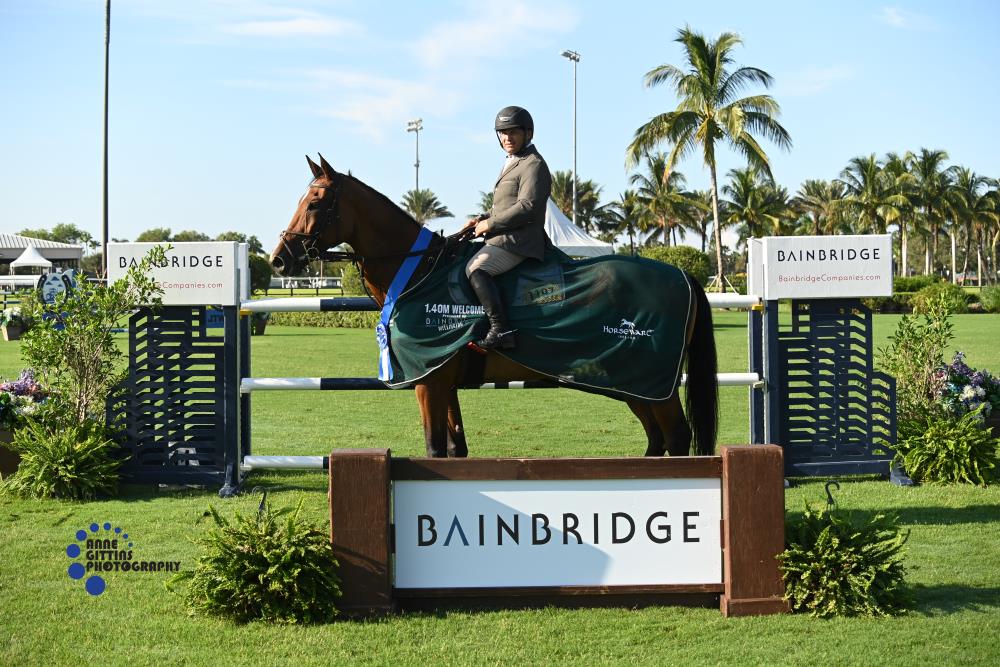 Competition on the Derby Field kicked off Friday morning with the $10,000 Bainbridge Companies 1.40m Open Steak. Diego Vivero (ECU) and his own entry, Zambia Mystic Rose, sped their way to the top of the leaderboard after clearing the jump-off in 37.15 seconds. Less than a second behind the winning pair, Tanimara Macari (MEX) and her own Starfly cleared the jump-off in 37.93 seconds to secure the red ribbon. Diego Perez Bilbao (ESP) piloted ABC Quantum Cruise, owned by Wyndmont, to a top-three finish with a clear jump-off-time of 38.95 seconds.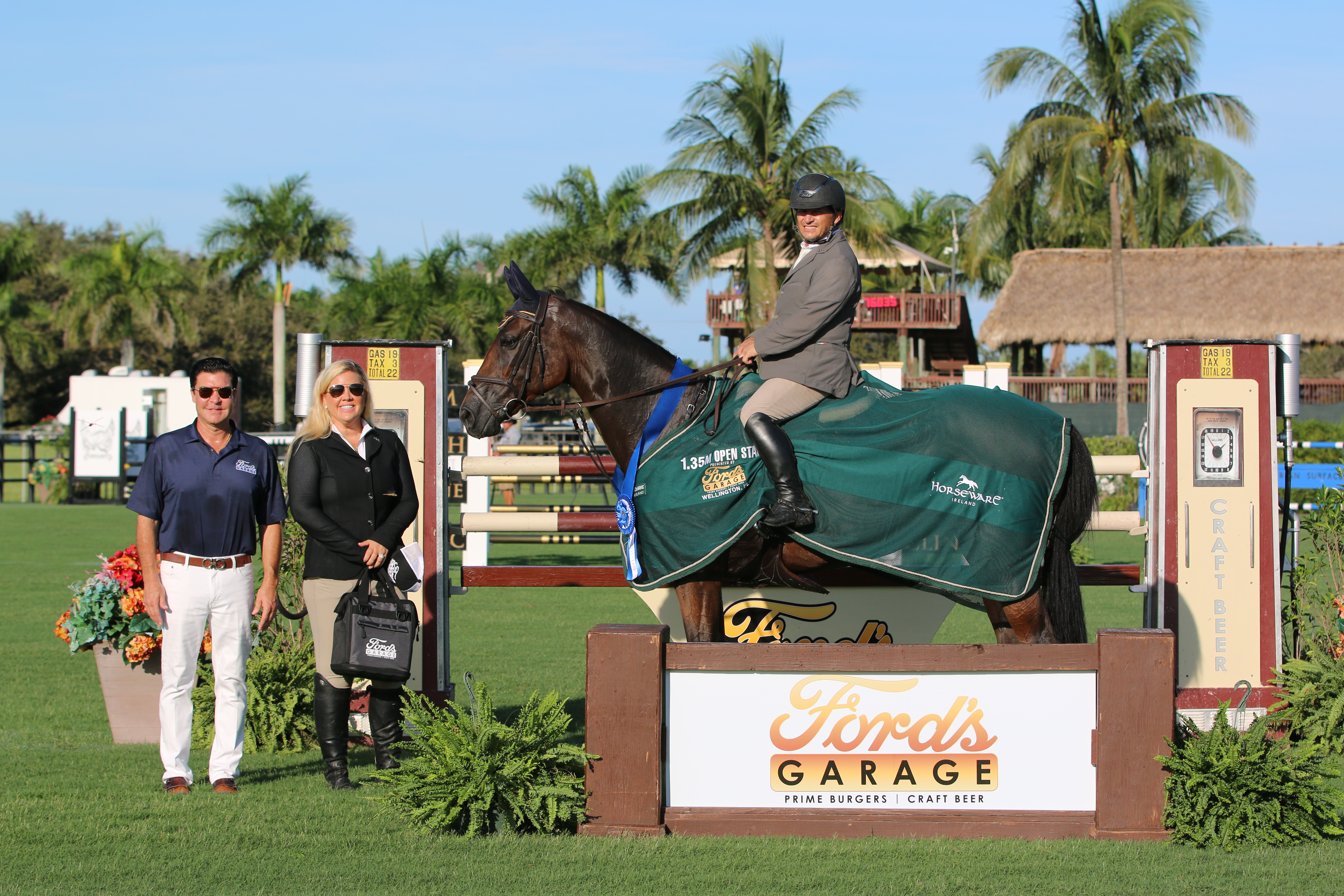 Vivero found himself in the winner's circle once again on Saturday after topping the Ford's Garage 1.35m Stake. He and his own Flipper Lady posted double-clear rounds with a jump-off time of 35.74 seconds to take home top honors. Juan Bolanos (ESA) and Zilouet Mystic Rose, owned by Mariella Godoy, rode to second place with two fault-free rounds and a jump-off time of 36.83 seconds, followed by Adrian Jones (USA) on Elizabeth Patrick's Cailan WEF in third place with a clear jump-off time of 37.39 seconds.
In Sunday morning's $2,500 Medium Junior/Amateur-Owner Jumper Classic, presented by Equiline, six pairs advanced to the jump-off over the 1.30m fences. Of that group, a smaller number of only four finished the class without any faults, led by Catalina Peralta of Geneva, FL, on Wendy Peralta's Amore From Second Life Z. The duo won the class with a double-clear time of 38.85 seconds, followed by Carolina Drummond of Wellington, FL, and her own Tsunami in second place thanks to a final penalty-free time of 42.21 seconds. Owner-rider Mireya Godoy of Wellington, FL, and Cecedille De L'Ortier claimed third place in 42.54 seconds without any faults. Peralta and Amore From Second Life Z also earned the championship honors in the division.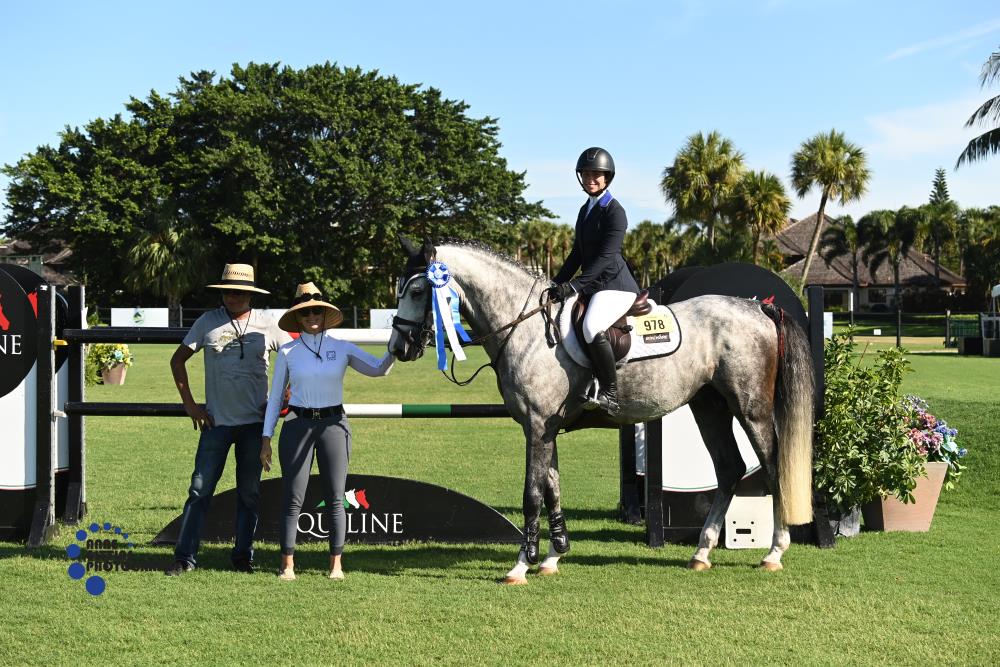 The championship honors in the Omega Alpha 1.15m Jumper division were won by Gianni Gabrielli of Wellington, FL, and Bruna Silva's Cachassina. Thanks to two victories in the division's classes, the partners set themselves apart as the clear overall victors. With a first-place result and two fifth-place finishes, Katherine Dewar of Ocala, FL, and her own Ode claimed the reserve championship title.