By Catie Staszak for Thunderbird Show Park
Tiffany Foster (CAN) used her start position to her advantage Saturday afternoon in the $15,000 CSI4*-W Winning Round 1.45m at Thunderbird Show Park.
After producing the fastest clear of the first round in the uniquely formatted competition with Artisan Farms' Galino, Foster earned the opportunity to return last of seven over Peter Holmes' (CAN) shortened track. She replicated her first round feat, taking the victory with a final time of 42.36 seconds. Justin Prather (CAN) and E Z Ace finished second (42.87 seconds), with Hilary McNerney (USA) and Lovelight third (47.49).
"Even though there weren't a huge amount of entries in the class, Peter Holmes definitely didn't under-build. It was a full 1.45m, and he didn't go any softer for the jump-off," Foster said. "Because I was the fastest clear in the first round, I had the advantage of going last again in the jump-off, so I was able to watch everybody. Justin Prather had a very fast round. I was kind of hoping I'd be able to just cruise around and have a nice round, but I realized I had to go quite fast."
Prather indeed put the pressure on, and after having a rail in the first round, the winning round format enabled him to return on a clean slate. He made the most of the opportunity and didn't hide his satisfaction with his performance, emphatically praising his horse after crossing through the finish timers.
Foster was watching, and when it was her turn to take her shot, she didn't let up on her gallop. One of Galino's boots even fell by the wayside as the pair sliced their turn back to the penultimate fence.
"I slipped a little bit in the turn, but I'd seen my distance and I was pretty committed to it. I think that's probably where we won it," Foster said.
"Everything was flying! Sand was flying, we were flying," she exclaimed. "By the time I looked up, [the distance to the fence] was there. My horse was really with me in that turn, and that's very important in those situations. If the horse isn't with you, a slightly long distance becomes a very long distance. Thank you, 'Gino' for that!"
Foster has been partnered with the handsome bay gelding for nearly three years, and he's been competitive from the start. Galino has jumped to podium placings from Samorin (SVK) to Dinard (FRA) and Spruce Meadows (CAN). His win at Thunderbird marks the biggest of his young career.
"He's a really competitive horse. He's always been a bit of an old soul, so I've been able to compete with him sort of the whole time I've had him," Foster said. "He's really fun to enter in classes like this, because I always know I have a bit of a shot."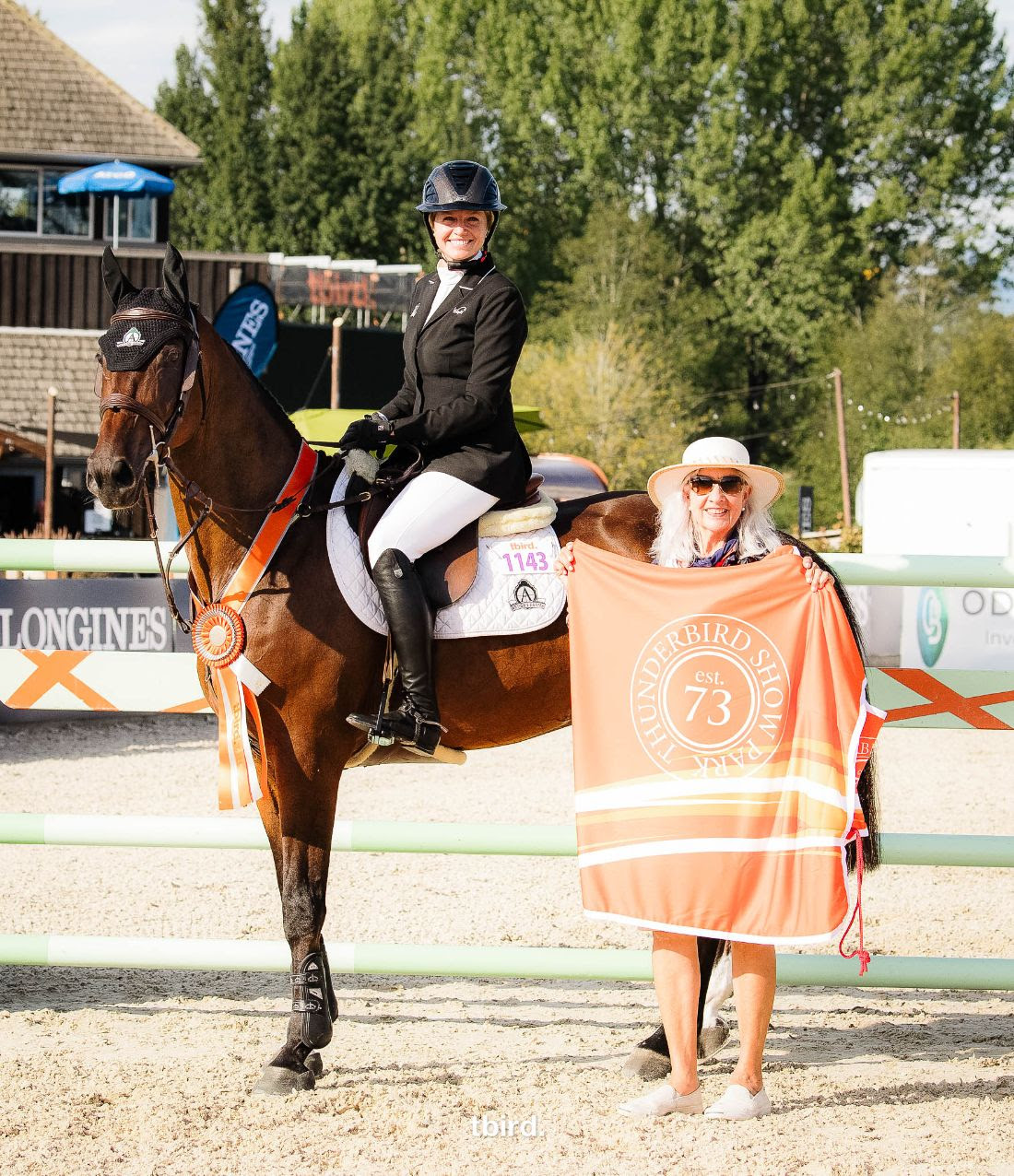 Stella Chernoff is Flawless in $15,000 CSIU25-A MarBill Hill U25 League 1.40m Powered by Grant Productions
As the first of five riders to take on Peter Holmes' jump-off in the $15,000 CSIU25-A MarBill Hill U25 League 1.40m, Stella Chernoff (CAN) had the pressure on.
"I was kind of just going for speed, because I was the first one in and you've just got to go for it," she said.

The 16-year-old was not only quick, but she and her 11-year-old KWPN mare Fay also laid down a critical clear round. It would prove to be the only double-clear effort of the class.

After her sister Nyah (CAN) took Thursday's $10,000 CSIU25-A MarBill Hill U25 League 1.35m, Stella took her turn atop the podium. Kassidy Keith (CAN) finished second with Havana (4/37.09), with Halle Duke (CAN) and Ilana third (4/39.14).

"I had a good gallop going, and I got a good distance to jump five. And then she slipped a little in the corner to [fence] six, but she cleared it," Chernoff said. "At that point, I [thought], 'We're just going to keep going.' She jumped [the double] really nice, and then it was just a full-on gallop to the last jump!"

Chernoff has been partnered with Fay just under a year, and the key to the pair's success, according to Chernoff, has been adjusting her position to give the mare as light of a contact as possible.

"We had a lot of trial and error, and we realized she hates having a bit in her mouth. So, we went to the hackamore, and then we realized that I need to ride her with a longer rein so that I can have my own balance, separate from hers, so that she can really use her body and jump the jumps," she said. "She's so much happier if I have a longer rein."

The Chernoff sisters, who train with Braden James (CAN), compete their string while managing full-time studies. While Nyah pursues a nursing degree at Western University in London, Ontario, Stella is a senior in high school and is looking toward a business degree. The two are keeping their circuit close to home to balance both more manageably. 

"[Riding] has always been such a passion," Stella said. "It's really nice after a hard day to just go and ride and just see your horses. It's calming."
$15,000 CSI4*-W Winning Round 1.45m
Place / Horse / Rider / Nationality / Owner / Faults / Time
1. Galino / Tiffany Foster / CAN / Artisan Farms, LLC / 0/0 42.36
2. EZ Ace / Justin Prather / CAN / Bradon Equestrian Ltd / 4/0 42.87
3. Hilary McNerney / Lovelight / USA / Hilary McNerney / 0/0 47.49
4. Johanna Siefert / Chico ASK / USA / Jill Davidson and Johanna Siefert / 8/0 50.36
5. CMS Garadice Shore / Karianne Boyce-Lockhart / USA / Karianne Boyce-Lockhart / 13/0 50.60
6. Kactus/ Johanna Siefert / USA / Jill Davidson and Johanna Siefert / 9/0 50.58
7. Carre d'As Lili / Sebastien Devrainne / FRA / Alix Grandchamp des Raux / 9/12 46.57
$15,000 CSIU25-A MarBill Hill U25 League 1.40m Powered by Grant Productions
Place / Horse / Rider / Nationality / Owner / Faults / Time 
1. Fay / Stella Chernoff / CAN / Stump Lake Ranch & Cattle Co. / 0/0 35.89
2. Havana / Kassidy Keith / CAN / Kassidy Keith / 0/4 37.09
3. Ilana / Halle Duke / CAN / Halle Duke / 0/4 39.14
4. Lestat OLD / Ashley Arnoldt CAN / Jennifer Arnoldt / 0/4 42.55
5. Pasquinelle / Emily Fitzgerald / CAN / Emily Fitzgerald / 0/17 60.01
6. Lux la Loi / Cassie Gorsline / CAN / Lisa Carlsen / 4 72.50
7. Crown Royal / Hayley Mercer / CAN / Hayley Mercer / 4 73.78
8. Chinell / Stella Chernoff / CAN / Stump Lake Ranch & Cattle Co. / 8 72.94
9. Fiventum Kieni / Nyah Chernoff / CAN / Stump Lake Ranch & Cattle Co. / 8 73.78
10. Zelusiena / Dane Calfa / CAN / Stump Lake Ranch & Cattle Co. / 8 73.94