Lexington, Ky.—Sept. 27, 2021—Winning the Sallie B. Wheeler/USEF/USHJA Hunter Breeding National Championships, presented by Mr. and Mrs. Ernest Oare, became a reality for Reality Star NHF as the filly earned the 2021 Overall Best Young Horse title. Only The Best claimed the bicoastal championship's reserve title.
After winning the 2-Year-Old Filly class in 2020, Reality Star NHF returned to the East Coast Championship at Virginia Young Horse Festival in Lexington, Virginia, on August 28 with Emily Anne Belin-McDonnell, of Honey Brook, Pennsylvania, to top the 3-Year-Old Filly class and be named the Best Young Horse. As the leading East Coast filly, Reality Star NHF earned the Masquerade's Cover Perpetual Trophy. The 2018 Oldenburg filly by Rosenthal and out of Feiner Dance, who is also the dam of 2019 Overall Best Young Horse Quite A Star, is bred and owned by North Hill Farm in Fabius, New York. With the win, Belin-McDonnell, who also handled the 2020 and 2019 Overall Best Young Horse winners, claimed the Leading East Coast Handler award and Belcourt Farms Perpetual Trophy for the fourth consecutive year.

"I have been partnered with breeder Maggie Neider at North Hill Farm for a long time. So we've had a really good partnership of us showing horses for her and she has a great program," said Belin-McDonnell. "I have been involved with Reality Star since before she was even born. She came to my farm for the German Oldenburg Verband inspection as a baby in 2018 and they went absolutely crazy over her; she was just sensational."

"She has a star quality about her—a star power we would say—that you can't deny. She is stunning to look at; she is a very quiet, well-mannered filly. She is a sensational mover, and when you watch her move across the ground, she strokes the ground both at the walk and the trot as she moves. She has such a great use of her topline when she moves and a great athletic quality about her; it's something that is very uncanny for a young horse of that age to be able to move so sophisticatedly and well beyond her years," continued Belin-McDonnell, noting what made the filly stand out amongst the crowd. "One of the judges made a comment that they really wouldn't have been hard-pressed to put tack on her and look like you're going to walk her down to the Junior Hunter ring; she looked a little wise beyond her years even physically."

The West Coast Championship at Blenheim Equisports' International Jumping Festival in San Juan Capistrano, California, on September 22 saw Doug Snell, of Temecula, California, handle Only The Best, taking the 2-Year-Old Colt/Gelding class. By All The Best and out of Mosegardens Carina, the 2019 KWPN colt bred and owned by Tish Quirk, of Carlsbad, California, finished the day by claiming the West Coast Best Young Horse honor. Snell was awarded the Ted Fieger Memorial Trophy as the Leading West Coast Handler.

Following both events, judges Gary Duffy and Megan MacCallum, who preceded over both coasts' Championships, crowned Reality Star NHF the Overall Champion with the Dave Kelley Perpetual Trophy. As the owner of Reality Star NHF, North Hill Farm was awarded the J. Arthur Reynolds Memorial Trophy.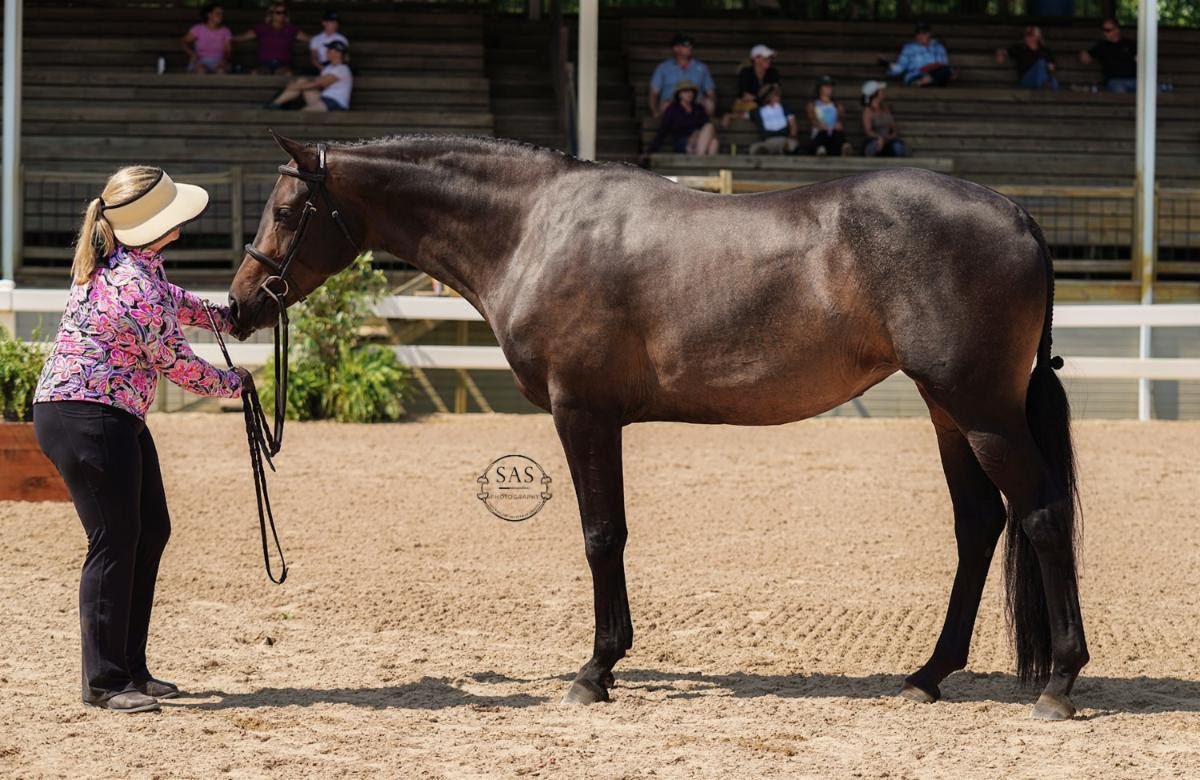 Coordinated by the USHJA since 2019, the Sallie B. Wheeler/USEF/USHJA Hunter Breeding National Championships aim to increase awareness of the Hunter Breeding sport and provide an arena for handlers, owners and breeders to showcase their talented young horses.

The Championships are open to yearlings, 2-year-olds, 3-year-olds and 4-year-olds of any breed that have a current USEF Horse Recording and are registered with the USHJA. In addition to in-hand classes, other offerings include an Amateur/Junior Handler class, 3-Year-Old or 4-Year-Old Hunter Under Saddle, 3-Year-Old Hunter Hack Classes and 4-Year-Old Conformation Over Fences classes. Horses are judged on athleticism, conformation, way of moving, quality, substance and suitability to become hunters. The same panel of judges officiate at both coasts' Championships, then an Overall Champion is named following the final event.

"I love that the Championships always get super knowledgeable performance judges who come and judge these youngsters. These are people that judge and train horses at all the big circuits, and it's really great to get a fresh set of eyes on them, which I particularly love because I feel like these folks have a great finger on the pulse of what's winning in our sport in the performance divisions up through Palm Beach. When they get a chance to pick and sort through these youngsters and evaluate them, to get a ribbon under those folks is no joke," said Belin-McDonnell of the Championships. "I'm really glad that all of ours made the cut. We showed in five of the six championship classes and we won three and were second in two. To me, that's a great reflection that we are doing things right; we are raising and scouting the type of horses that people are wanting to see out there showing in the performance division. It just validates what we're doing."
The USHJA would like to thank the many donors and supporters that helped make these Championships possible, including Presenting Sponsors Mr. and Mrs. Ernest Oare and Official Sponsors CWD, Nutrena, Parlanti and Rood & Riddle Equine Hospital. Thank you to Program Supporters Jennifer Porter of Marshall & Sterling and Zone 10 and Class Supporters Jessica Schindler, Ahna Phelps, Anne Hedge, Hunters Haven, Hickory Manor, Sheila and Shirley Murphy, Virginia Horse Show Association, Maryland Horse Show Association, North Carolina Hunter Jumper Association, USHJA Zone 2, USHJA Zone 3, USHJA Zone 4, Aliant Private Client, Margot Snowdon, Olde Oaks Farm, Wild Turkey Farm, and Cyndi Jones Fletcher.

Thank you to Ribbon and Trophy Supporters Amy Lambert, Catherine Parke, Amy Watt, Kathleen Rice, Kalea Maxwell, Three Bars Farm, Elizabeth Capor, Kristen Hamel, Nicole Marin, Margot Snowdon, Rendevouz Show Stables, Doug Snell, Olde Oaks Farm, Hunter's Haven, Mr. & Mrs. Ernest Oare, and Karan Aurelius; and Groom Tote Supporters Chuck and Sue Tice-Grossmann, Donna Ward, Jane Winegardner, MK Sport Horses, Joni Werthan, USSHBA, Kellen Brady and Rachel Galambos. Finally, thank you to Award Donors A Bar Above, DaMoor's Tack, Essex Classics, Olde Oaks Farm, Parlanti, Quillin's Leather & Tack, Shapley's, SmartPak, The Clothes Horse, Three Bars Farm, Marin Farm, Remarkable Leather Goods and Topline Design Ribbon Wreaths.

A special thank you to the competition and facility management teams at the Virginia Horse Center and Blenheim Equisports for hosting the Championships.

For more information about the Sallie B. Wheeler/USEF/USHJA Hunter Breeding National Championships, presented by Mr. and Mrs. Ernest Oare, visit ushja.org/SallieB.

Photos by SAS Equine Photography and McCool Photography.
East Coast Results
Best Young Horse
Champion – Reality Star NHF (Rosenthal x Feiner Dance), a 2018 Oldenburg (OHBS) filly bred and owned by North Hill Farm, handled by Emily Anne Belin-McDonnell
Reserve – Qrazy Love HF (Qredit x Sarah Smile), a 2019 Oldenburg gelding bred and owned by Donna Wayson, handled by Dowell "Junior" Johnson
Champions
Yearling Colt/Gelding – Covington (Conteros x Allegria), a 2020 Belgian Warmblood gelding bred and owned by Elizabeth Capor, handled By Charlie Brown 
Yearling Filly – Lovestruck (Lordanos x Remarkable), a 2020 ISR-Oldenburg NA filly bred and owned by Laurie McDowell, handled by Emily Anne Belin-McDonnell 
2-Year-Old Colt/Gelding – Qrazy Love HF
2-Year-Old Filly – Bewitched (Bliss MF x Run Lucy Run), a 2019 Oldenburg filly bred by Ashley Martindale, owned by Audry Giles-Gates, handled by Emily Anne Belin-McDonnell
3-Year-Old Colt/Gelding – Alls Well (Apiro x Chips of Clay), a 2018 Westphalian gelding bred, owned and handled by Jamie Sullivan 
3-Year-Old Filly – Reality Star NHF
3-Year-Old Hunter Under Saddle – Revoir BR (Rosenthal x C'est La Vie), a 2018 Oldenburg gelding bred by High Point Hanoverians, owned by Lucy Coll, ridden by Elizabeth Fitzgerald 
3-Year-Old Hunter Hack – Nidavellir (Ragnarok x Bay City Kitty), a 2018 KWPN filly bred and owned by Gina Filewicz, ridden by Aubrey McPherson 
4-Year-Old Hunter Under Saddle – Caberneigh (Cabardino x Special Consideration), a 2017 North American Studbook filly bred by Linda Mancini, owned by Kelsey Calabro, ridden by Rebecca Gibson
4-Year-Old Conformation Over Fences – Cabalero (Cabalito x Allegria), a 2017 Belgian Warmblood gelding bred, owned and ridden by Elizabeth Capor
Amateur/Junior Handler – Namesake (Livello x Greta X by Dinken), a 2020 Holsteiner filly bred by Fredrich Riewerts, owned and handled C.J. Caniglia 
Special Awards
Leading East Coast Handler – Emily Anne Belin-McDonnell
Leading East Coast Owner – North Hill Farm
Leading East Coast Thoroughbred and Foxwick Farm Perpetual Trophy – Jazz Biscuit (Producer (GB) x Spanish Lullaby) a 2019 filly owned, handled and bred by Tessa Redd 
East Coast High Score Filly – Reality Star NHF
3-Year-Old High Point Award – Nidavellir
Breed Awards
American Hanoverian Society – Sirtified KZ (Sir Wanabi x A La Mode) a 2020 gelding bred, owned and handled by Katie Zuzelo 
AWSSR – VHS MY Moonlight (Movado x Keyhole Cassidy by Green Valley Crown Scott) a 2018 filly bred by Virginia Sport Horses, owned by Mallory Denison, handled by Makayla Long
BWP-NA – CovingtonNAS – Seven Wonders (Casander x Czech Me Out) a 2019 gelding bred by Select Sport Horses, owned and handled by Amy Clemson
ISR-Oldenburg NA – LovestruckKWPN – Be Easy (Cabana x Zyarah) a 2018 filly bred and owned by Cindy Gerhart, handled by Emily Anne Belin-McDonnell 
OHBS – Revoir BRWestfalen – Alls Well
USSHBA – Reality Star NHFZangersheide – Escona Z (El Salvador x Quality Cona Z) a 2020 filly bred and owned by Nicole Marin, handled by Jay Raach 
Holsteiner – Namesake
West Coast Results
Best Young Horse
Champion – Only The Best (All The Best x Mosegardens Carina), a 2019 KWPN colt bred and owned by Tish Quirk, handled by Doug Snell
Reserve – Catoiki's Blue (Catoki x U-Contessa), a 2019 Holsteiner colt bred and owned by Melinda Blue, handled by Emily Esau Williams
Champions
2-Year-Old Colt/Gelding – Only The Best
2-Year-Old Filly – Kaleidoscope (Shine x Clara K), a 2019 Oldenburg-NA filly owned by Kristina Novak, bred by Olde Oaks Farm, handled by Kira Plymire
3-Year-Old Filly – Phoenix (Parcival x Bellisma), a 2018 KWPN Filly owned and handled by Carol Schwanz, bred by Four Fillies Farm
4-Year-Old Hunter Under Saddle – Candlelight (Chamani de la Pomme x Bijoux Z), a 2017 Zangersheide gelding owned by Beth Luth, ridden by Emily Esau Williams, bred by Comb de Conder & Vanderschueren
4-Year-Old Conformation Over Fences – CandlelightAmateur/Junior Handler – Phoenix
Special Awards
Leading West Coast Handler – Doug Snell
Leading West Coast Owner – Tish Quirk

Breed Awards
ISR-Oldenburg NA – Kaleidoscope
KWPN – Only The Best
OHBS – FIF Bondalier (Bliss MF x Footloose), a 2019 German Oldenburg colt owned, bred, handled by Rachel Benson
Zangersheide – Candlelight
Holsteiner – Catoiki's Blue